Who doesn't know a child that is fascinated by the whys and hows of weather? Even I wonder about the mysteries of our complex climates.
If you know a kiddo that's curious, or you're looking for something to do with your kids/grandkids that's not only fun, but expands their grey matter a bit, man, have I got a great book for you.
Bonus: it's a classic, circa 1990!
Wheeee!
~ A gentle reminder: OMT! uses Amazon referral links. When you do your shopping through the Amazon links on this page, you support the blog at no cost to yourself. It's much appreciated!~
Simple Weather Experiments With Everyday Materials: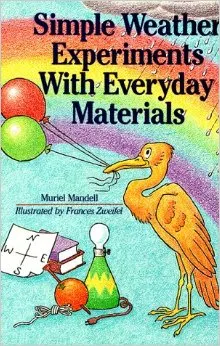 (source: Amazon)
A few things:
* We homeschooled and used this book from 1st grade all the way through 4th or 5th grade.
* You can start at any chapter.
* Each experiment is easy to set-up and uses common household materials.
* Each experiment follows this format: You need; What to do; What happens; Why.
* The book starts with the simplicity of how the sun warms us and ends with how to build a weather station.
We used this book for years and enjoyed every experiment we tried. Not only did Boy learn something new, but I did as well.
We made a straw thermometer, an indoor cloud, discovered air has weight, and dissected a hail stone.
When I came across it recently, I immediately thought of the fun Sweet E was going to have as he worked his way through the experiments.
SCIENCE!
Happy learning!