The German gave me her cookie press when I got married and it's on its last leg. That wonderful workhorse has lasted through at least 40 Christmases.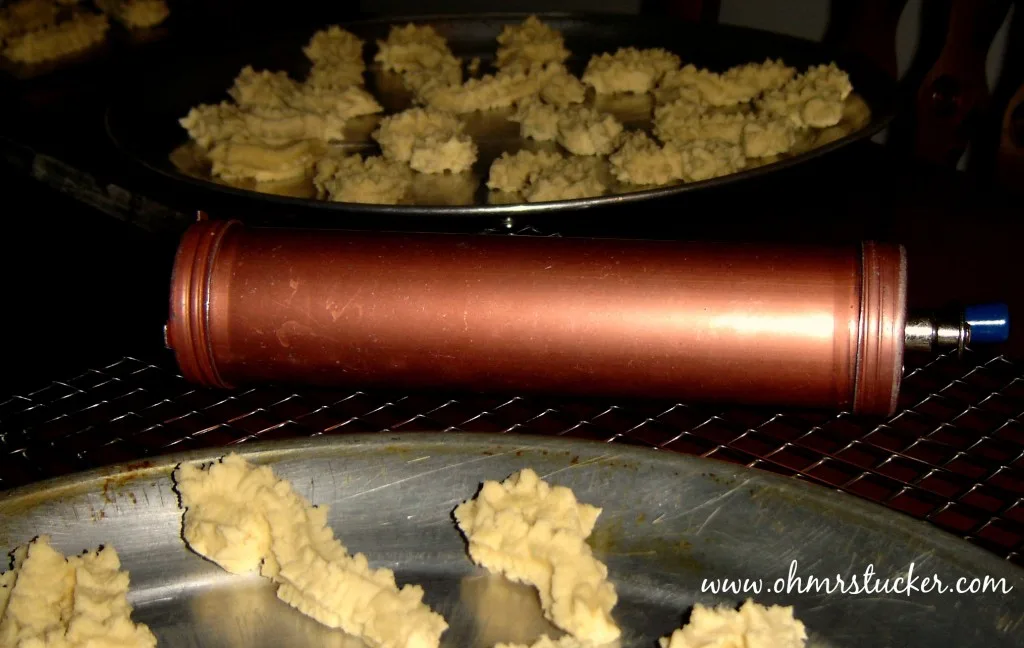 It's a vintage aluminum tube with a screw-on top. You crank the handle and it pushes the dough through the tube to get the desired length and form for your cookies. I don't know what I'm going to do when it finally gives way…maybe start hunting through antique shops for one.
~ A gentle reminder: OMT! uses Amazon referral links. When you do your shopping through the Amazon links on this page, you support the blog at no cost to yourself. It's much appreciated!~
I have a newer Wilton cookie press, but it's just not my old one. A baker wants what she wants, no?
Nevertheless, old or new cookie press, one of our favorite family favs is the Spritz cookie.
Who doesn't love a good butter cookie?
When I bake these during the holidays, I always make more than intended, so I can stash some in the freezer until after the Christmas/New Year's rush has passed. Then I wait for a particularly cold and miserable day, make some hot chocolate and grab a few cookies from the freezer. Talk about making all right with the world again. So much YES!
Ingredients
1 cup butter, softened
1/2 cup sugar
2 1/4 cups of flour
1/2 tsp salt
1 egg
1 tsp vanilla or almond extract
Instructions
Heat over to 400°.
Mix butter and salt.
Mix in remaining ingredients.
Place dough in cookie press; form desired shapes on ungreased cookie sheet.
Bake until set but not brown, 6 to 9 minutes.
Immediately remove from cookie sheet.
Notes
* Chocolate Spritz: Stir in 2 ounces melted unsweetened chocolate (cool) into butter mixture.
https://ohmrstucker.com/spritz-cookies/
With the holidays so far ahead of us, I figured this may be the time to start seriously looking for a new vintage press.
Cause come on, we gotta have these cookies.