Grace for the day; grace for the way, baby. Having a saving grace, saves. Burdened with sin; blessed with grace.
grace
noun \ˈgrās\
1. a : unmerited divine assistance given humans for their regeneration or sanctification
b : a virtue coming from God
c : a state of sanctification enjoyed through divine grace
2. a : approval, favor <stayed in his good graces>
b archaic : mercy, pardon
c : a special favor : privilege <each in his place, by right, not grace, shall rule his heritage — Rudyard Kipling>
d : disposition to or an act or instance of kindness, courtesy, or clemency
Sweet E, by now you know your grandmama loves life; she relishes the goodness that abounds daily. I worry that through these What I will Tell… essays that I am unduly focused on the harshness that life delivers. So know this: grace serves in the thrilling good and the pained-filled bad.
[Tweet "Grace is facing the winters of your life with faith that spring is near."]
When I think of grace, I think of God. For me, the two are as intertwined as my love and concern for you, sweet boy; you can't have one without the other. Yet, grace is not solely God's. It is ours as well.
We can not demand nor force grace, it is something we are mercifully offered or we tenderly give. To be filled with grace, to witness grace, or to extend grace is transcendental. Whether you are offering grace or receiving grace, your life is undeniably altered in the exchange. Do not doubt me, sweet boy, grace is as powerful as any force on this earth for good, and we would all do well to increase our contribution.
How many times do we offer a blind defense in response to the pandemonium of this world? Think now, how we might become as people, if instead we allowed ourselves to be channels of goodness through grace.
This is not to say that we should respond to all push-back in this manner, only to say that it is a viable option, a powerful option, yet one that requires something from us.
Grace. Like anything, you can not offer it unless you have it. To have it requires practice and patience.
As a young girl, I was raised to practice the art of grace, yet it wasn't until I became a mother that I saw its value. It is not weakness to show compassion; it is strength to hold back a sharp tongue. It is not weakness to forgive; it is strength to accept the failings of others and yourself. It is not weakness to be kind in the face of hurt; it is strength to see pain in others and not be afraid.
Sweet E, my prayer for you (among thousands) is that you may be blessed with abundant grace throughout your years. I pray that you may learn to receive it as well as generously offer it.
Grace is strength. Grace is compassion. Grace is kindness.
Grace is facing the winters of your life with faith that spring is near.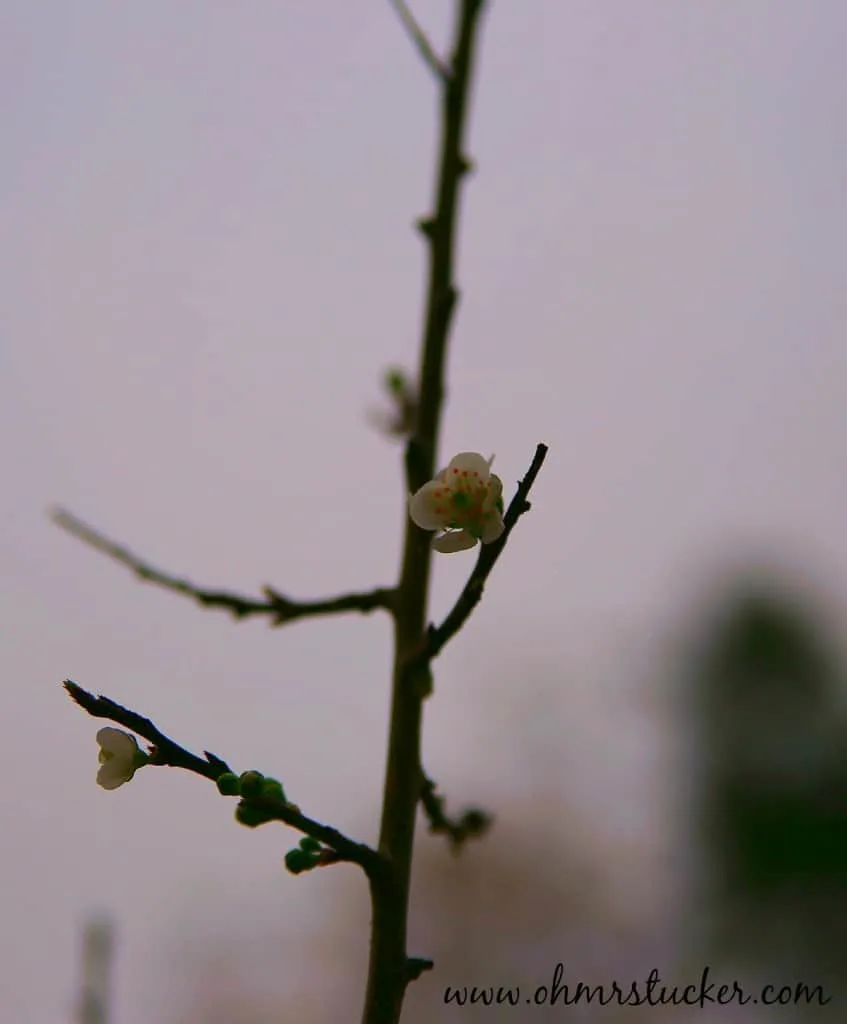 Grace endures, baby.