Who doesn't love cookies?
Who also doesn't like turning the oven on in the summer?
~ALL OF US~
Chocolate Yummies to the rescue.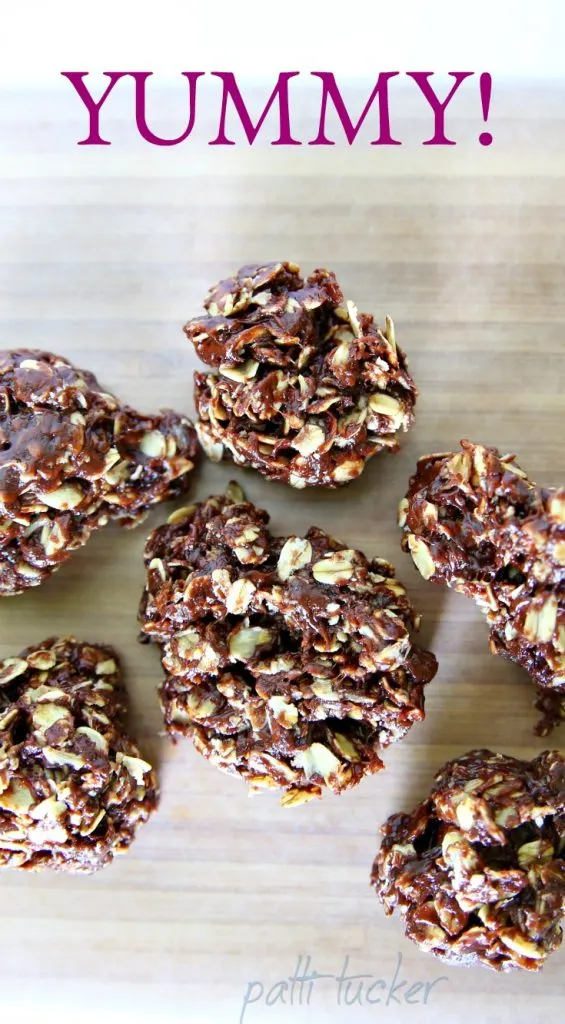 I make these every year for Christmas, but in recent years have also been making them in the summer when I neeeed cookies, but don't want to heat up the whole danged house by turning on the oven.
After I make them, I pop them in the freezer.
Frozen Yummies = my favs.
I also have been known to crumble them over ice cream and eat them warm, right out of the pot.
~oh, momma~
Let's get to it.
Try not to faint at the ridiculous easiness of the recipe.
Chocolate Yummies
Ingredients:
12 ounces of semi-sweet chocolate chips*
2/3 cup of butter
32 large marshmallows
1 tsp vanilla
4 cups of regular rolled oats (not instant)
Directions:
Melt chocolate, butter and marshmallows in a double boiler; stir until smooth.**
Remove from heat.
Stir in vanilla and oats and mix thoroughly.
Drop by teaspoons (oh, who are we kidding…TABLESPOONS!) onto waxed paper.
Cool.
* Do not use milk chocolate. It doesn't come together properly.
** If you keep your flame on low and watch the pot carefully for scorching, you can use a big soup pot instead, which is how I do it.
Here's what goes through my mind when they're ready to eat:
~ Eat. EAt. EAT.
~ Stop eating.
~ Well, just one more.
~ Oh, and these little pieces that don't actually make a cookie.
~ OMGosh, where did they go?
~ They're good for us, right? All that dark chocolate and oats.
~ Better make more.
~ Just one more. Gonna need my strength for all that mixing.
I've even been known to eat these for breakfast. Obviously, there's the health benefits of oatmeal and dark chocolate is an antioxidant, y'all!
Chocolate Yummies = a great start to the day!
I mentioned I store mine in the freezer. When I need a chocolate bomb, they're there for me. Crunchy and hard and satisfying.
Some of my family thinks I'm crazy for eating them that way, but I suggest you give it a try.
Join me in the cool zone, why don't ya?
Now, git. No bake you some cookies.
Tired of searching for a popular OMT! recipe?
Rest yer weary fingers.
Except to click on the image.
You still have enough strength for that.
COME ON!
YOU CAN DO IT!