Comfort food is a big deal in the South, as I'm sure it is everywhere.  Stuff like Easy Mac, Chicken and Dumplings, or Texas Chocolate Sheet Cake all have the power to comfort a needy heart.
Get ready to add one more dish to your list: Corn Fritter Casserole.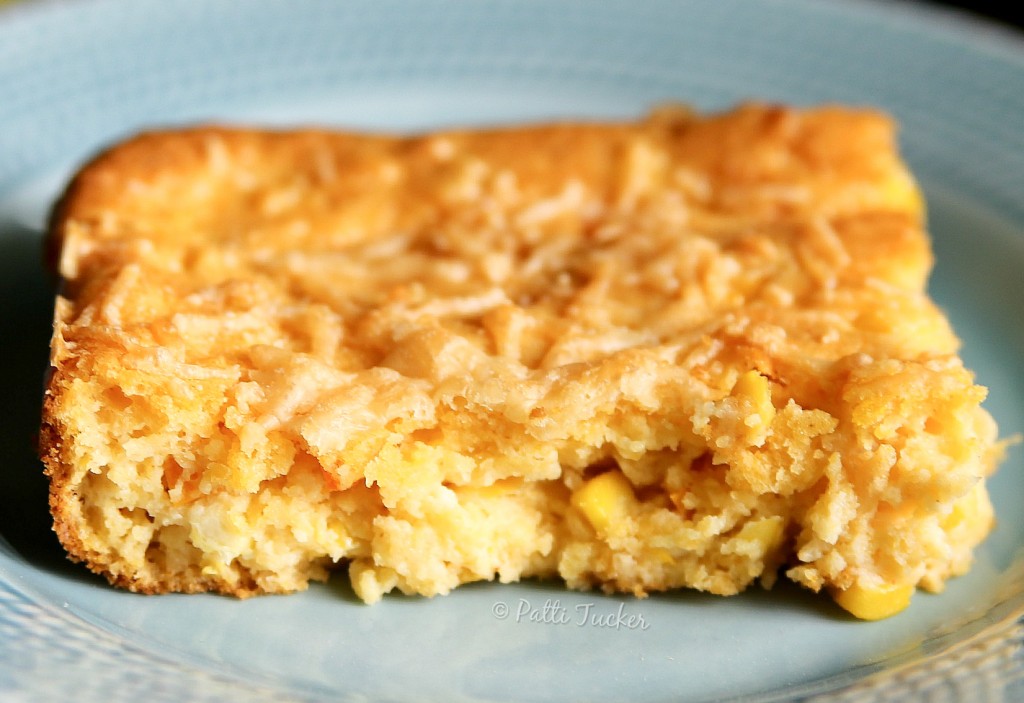 Yum.
It's creamy and carby in the middle, with a nice crunch of cheese on top.
While I originally found the recipe in Cooking Light years ago, I did what I do best, I revamped the recipe to suit my family's taste.  In other words, I fatted that casserole up, y'all!  In the printable recipe, I will give you the original next to the Patti-ized version.
Just know that this casserole is worthy of your comfort-needing taste buds.
Ingredients
3 tbsp softened butter
2 large eggs (O: or 3 large egg whites)
1 8-oz block of softened cream cheese (O: or 8-oz. fat-free cream cheese)
1/2 cup finely chopped onion
1/2 cup finely chopped red bell pepper
1 can 15 oz can whole-kernel corn, drained
1 14 oz can of cream-style corn
1 8 oz package of corn muffin mix (like Jiffy)
1 tsp smokey paprika
1/4 tsp fresh ground pepper.
Shredded Parmesan cheese for topping
Instructions
Preheat oven to 375°
Combine first three ingredients in a large bowl, stirring with a whisk until smooth.
Stir in onion, bell pepper, both corns and mix well.
Add muffin mix, smokey paprika and pepper, stirring until combined.
Pour into a 11 x 7 baking dish (or equivalent round), coated in butter (O: coated with cooking spray).
Bake for 40 minutes, then sprinkle Parmesan on top and return for oven for 10 more minutes, or until toothpick inserted in the center comes out clean.
Notes
All ingredients/instructions denoted with an "O" are from original recipe. I have also substituted frozen organic corn and fresh for the can of whole-kernel corn with good results.
Garry likes to add chopped jalapenos, too.
Adapted from recipe at Cooking Light
https://ohmrstucker.com/corn-fritter-casserole/
While this is a great night-in kinda dish, it's also a great addition to any party table.  Easy to make; easy to love.
Happy casseroling, y'all.
Please Share on Your Favorite Social Media! ~ OMT thanks you! ~