Comfort food is a big deal in the South and Corn Fritter Casserole is about as comforting as it gets.
You'll see these casseroles at holiday tables, church potlucks, and funeral meal buffets.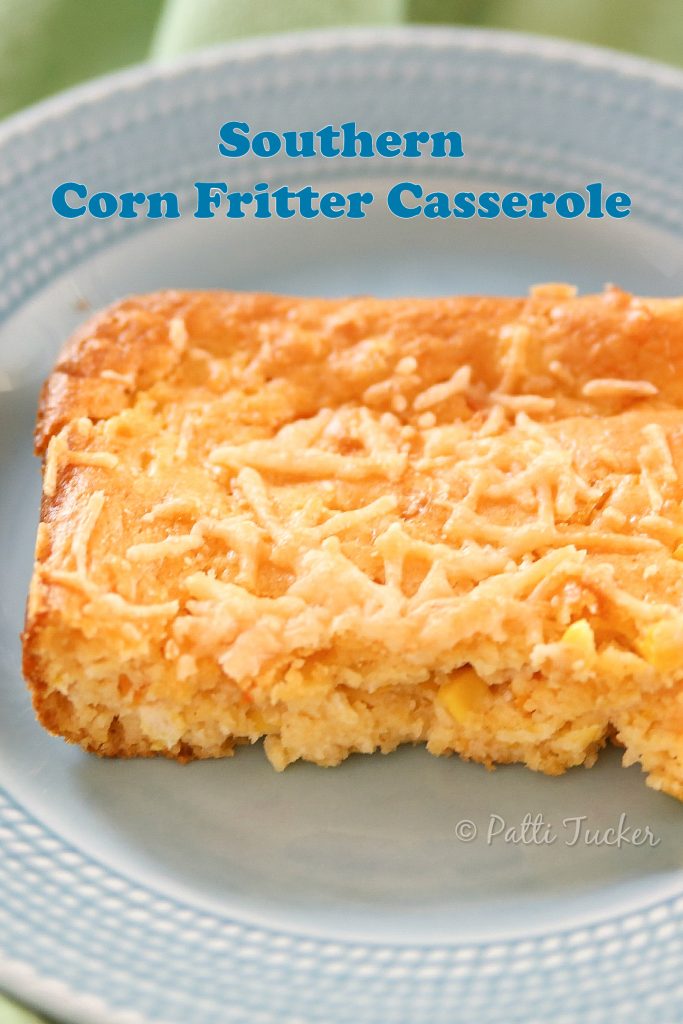 What the heck is a corn fritter casserole?!
Actual corn fritters are fried patties of a bready corn and cheese mixture.
Oh, momma – a Southern treat!
Corn Fritter Casserole is a variation of an actual fritter, except there is no frying and spatter mess to clean up.
It's a delicious and beautiful dish.
I mean, come on, it's the color of sunshine and baby chicks – who doesn't love sunshine AND BABY CHICKS?!
When we're in need of a foodie hug, Easy Mac, Chicken and Dumplings, or Texas Chocolate Sheet Cake all have the power to comfort a needy heart.
But does Corn Fritter Casserole really belong on that

list

?
Should we rock – paper – scissors the decision?
STOP RESISTING!
I offer that Corn Fritter Casserole is classic comfort food.
Look at this comforting hug of deliciousness: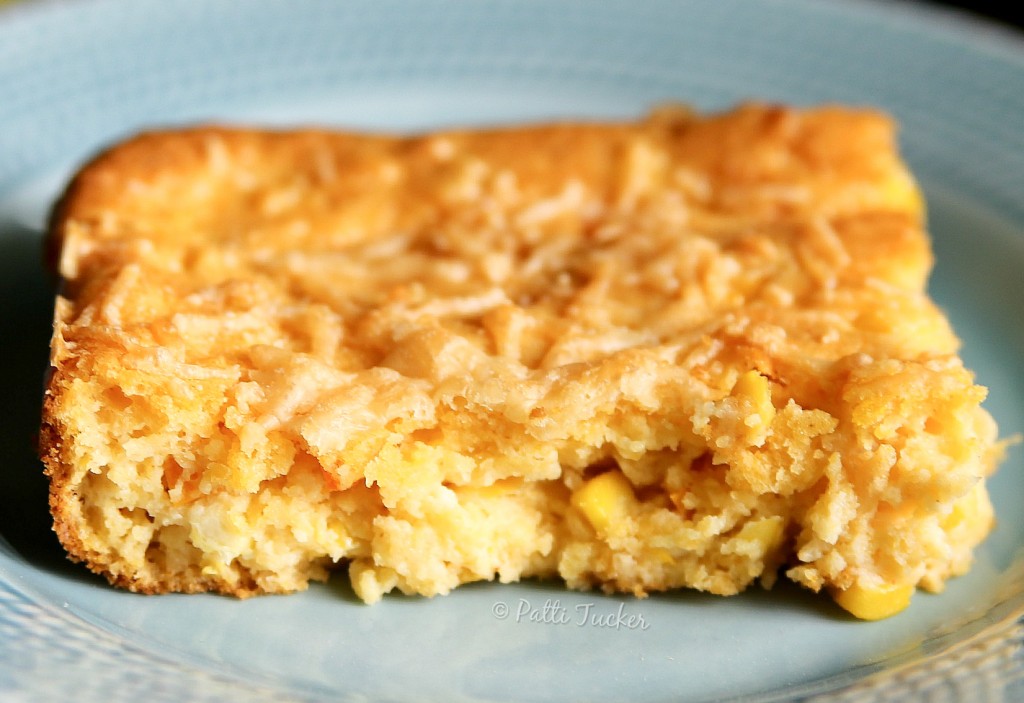 Hold me.
Corn fritter casserole comes in many forms, this one is creamy and carby in the middle (like the actual fried fritters), with a nice crunch of Parmesan cheese on top.
It's the creamy corn insides coupled with the crispy cheese outsides that mimics its namesake of corn fritters.
Lawsy.
While I have made this as a meal on its own (my broken heart required I eat waaaay more than one serving), if you're looking for side dishes for ham, this one is a contender.
Put it on the holiday table, a picnic table or a community potluck table and watch it go first.
Stop Googling "Easter side dishes to go with ham" – or – "what goes well with spiral ham" – cause I have solved yer dilemma, right here, right now.
The crunch and lightness of this dish juxtaposed with savory ham = perfection.
AHEM: Also need a recipe for ham? (I know ya do!): THIS ONE (< click it, yo!) not only is that post a how-to on ham, but it includes an addictive (enter at your own risk) pineapple honey glaze.
While I originally found a corn fritter recipe in Cooking Light years ago, I did what I do best, I revamped the recipe to suit my family's taste.
In other words, I fatted this baby up.
CALM DOWN! Some days you neeeed a bit of fat to help you over the hump.
Fat = comfort. Trust.
When your heart is broken, you do not want a light version of anythang.
Nope.
You're gonna want to soothe your soul with butter and sour cream and creamed corn
If you're getting impatient – if I have sold you the goods! – scroll to the printable recipe is at the end of the post.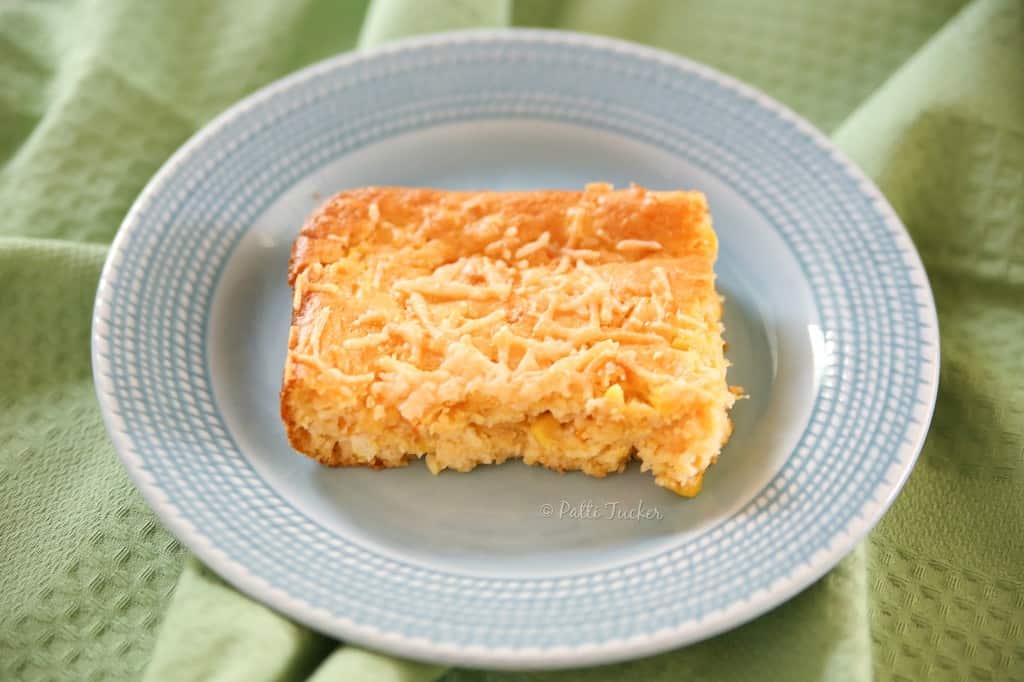 Just know that this casserole is worthy of your comfort-needing taste buds.
Do you have particular dishes you only make in the winter and only make in the summer? Yep, me too.
Corn Fritter Casserole will be added to your year-round rotation.
Why?
Because it's that good.
In the winter, it will remind you of the warmness to come – of springlike days and summer fun.
In the summer, it will remind you of how of much you love summer.
It's all about summer, right? (I love you pumpkin spice-everthang lovers too, but summer rules!)
Another bonus is if you need to bring a casserole for any occasion, that won't take days to make and has a weirdo list of ingredients, Corn Fritter Casserole has got yer back.
Just pure summer corn flavor.
Effortless Southern bragging rights, too.
For Those Unfamiliar with Southern Culture: Dem rights be important. We may seem like sweet gals/guys with our sweet tea and easy smiles, but we are ruthless when it comes to cooking for others.
GIMMEE MY BRAGGIN' RIGHTS!
Keep in mind that while this dish is a comforting addition to any table (funeral or otherwise), it's also a great night-in kinda dish. Easy to make; easy to love.
Garry prefers I make it with added jalapenos, but I prefer the less spicy version.
It's easy enough to double the batch and make two pans: one for the folks who'd like to keep their taste buds and one pan for those who like burning stuff.
Now go on.
Git.
Happy casseroling, y'all.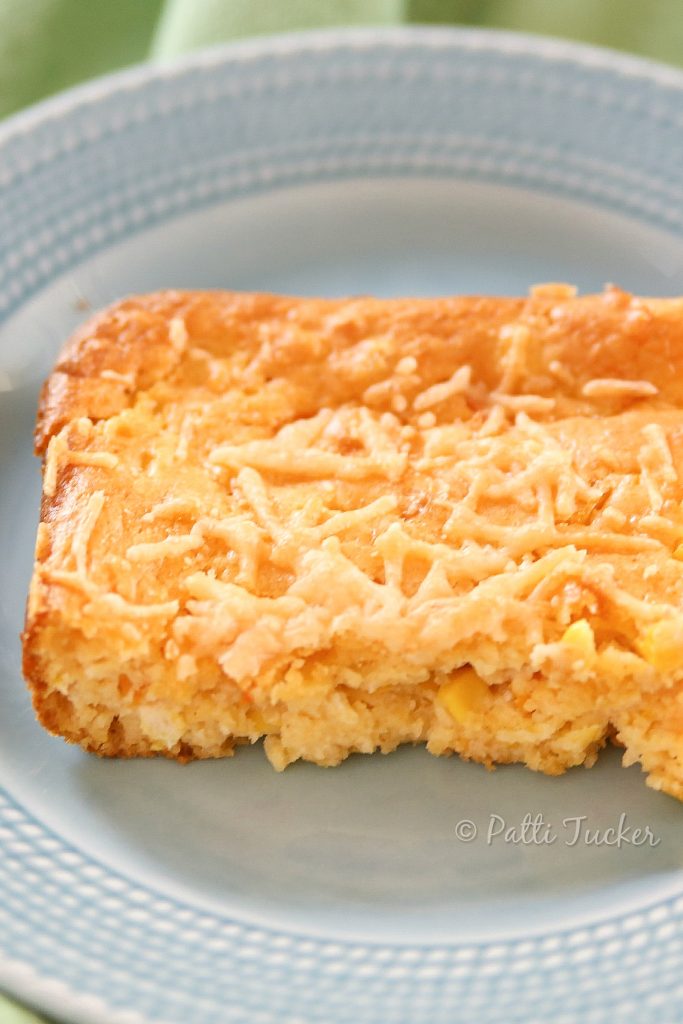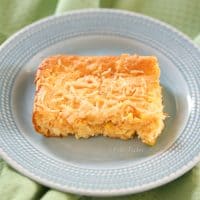 Corn Fritter Casserole
Yield: 8 servings

Prep Time: 15 minutes

Cook Time: 40 minutes

Total Time: 55 minutes

Comfort food is a big deal in the South and Corn Fritter Casserole is about as comforting as it gets.
Ingredients
3 tbsp softened butter
2 large eggs
1 8-oz block of softened cream cheese
1/2 cup finely chopped onion
1/2 cup finely chopped red bell pepper
1 can 15 oz can whole-kernel corn, drained
1 14 oz can of cream-style corn
1 8 oz package of corn muffin mix (like Jiffy)
1 tsp smoked paprika
1/4 tsp fresh ground pepper.
1/2 cup shredded Parmesan cheese for topping
OPTIONAL: 1/2 cup diced jalapeno for additional zing
Instructions
Preheat oven to 375°
Combine first three ingredients in a large bowl, stirring with a whisk until smooth.
Stir in onion, bell pepper, both corns and mix well.
Add muffin mix, smoked paprika and pepper, stirring until combined.
Pour into a 11 x 7 baking dish (or equivalent round), greased with butter.
Bake for 40 minutes, then sprinkle Parmesan on top and return for oven for 10 more minutes, or until toothpick inserted in the center comes out clean.
Notes
I have substituted frozen organic corn and fresh for the can of whole-kernel corn with good results.

If you have never used smoke paprika - you're in for a flavor-filled surprise. It's a go-to spice of mine (even on popcorn!).

I prefer without the added jalapenos - Garry says add 'em!

Adapted from recipe at Cooking Light
Recommended Products
As an Amazon Associate and member of other affiliate programs, I earn from qualifying purchases.
Nutrition Information:
Yield: 8 Serving Size: 1
Amount Per Serving:Calories: 322 Total Fat: 20g Saturated Fat: 10g Trans Fat: 0g Unsaturated Fat: 7g Cholesterol: 98mg Sodium: 489mg Carbohydrates: 31g Fiber: 2g Sugar: 10g Protein: 9g

Original post: April 6, 2015. Newly updated March 12, 2019.
Please Share on Your Favorite Social Media! ~ OMT thanks you! ~