Y'all know OMT! loves her cake.
Since I had a hankerin' (Texas-to-the-rest-of-y'all translation: a powerful neeeed) for something cakey, I went looking for a recipe and found this oldie but YUMMY: Texas Chocolate Chocolate Sheet Cake.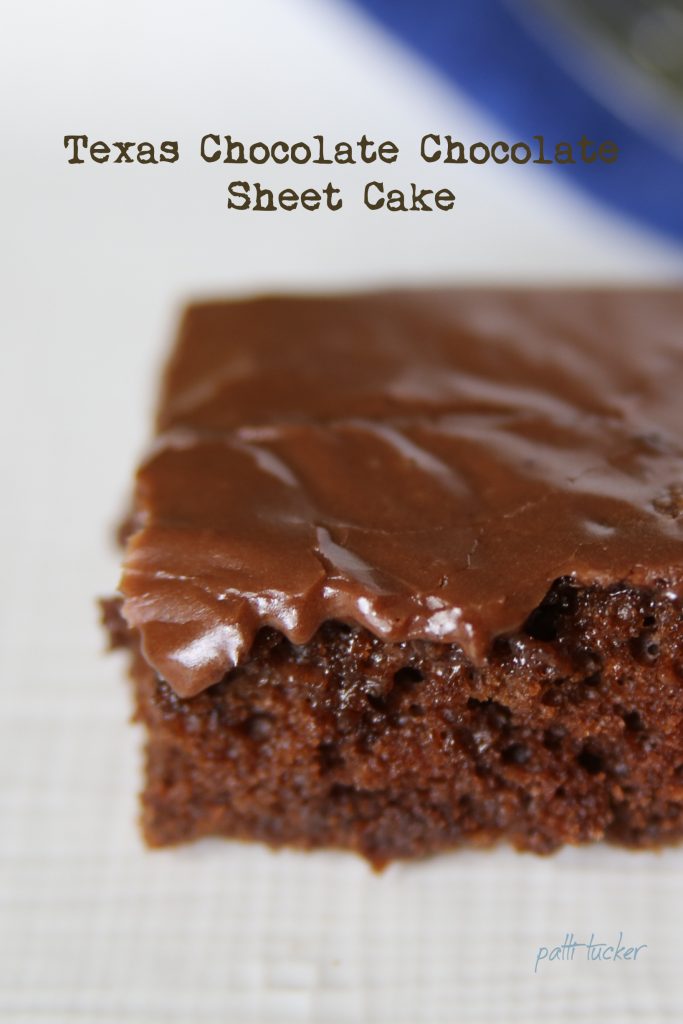 As soon as I saw the recipe card, I was whisked back into time.  Sheet cakes were all the rage in the 80s and 90s.   Every baker had a go-to; this one was mine.
When my family knew I was baking this cake, they'd hang around the kitchen waiting for a piece straight out of the oven.  Oh, man.
Sadly, I don't know to whom the credit goes for this deliciousness, as it's written on a well-worn index card.
What is Texas Chocolate Chocolate Sheet Cake?  Basically, it's a chocolate sheet cake that is iced right out of the oven.  The icing makes the cake gooey and decadent…no poking required.
Are you the designated dessert person for an event or get-together?  Do you love to bake folks cake?  Is there a special someone (maybe YOU?!) that needs a cake pick-me-up?  Make this.  Do it. Now.
Then stand back as you witness folks experience rapture by cake. CAN I GET AN AMEN?! (oh, I'll get that AMEN! as soon as you take your first bite)
Texas Chocolate Chocolate Sheet Cake
Ingredients
CAKE

2 cups flour
2 cups sugar
1 cup of butter
4 tbsp cocoa
1 cup water
1/2 cup buttermilk
2 eggs, lightly beaten
1 tsp baking soda
1 tsp cinnamon
1 tsp vanilla

ICING

1/4 cup butter
2 tbsp cocoa
3 tbsp cream
1/2 tsp vanilla
8 oz powdered sugar
1/2 cup chopped pecans (opt)
Instructions
CAKE

Mix flour and sugar and set aside.
Put butter, cocoa and water in a saucepan, bring to a boil.
Pour cocoa mixture over flour and sugar. Mix until well blended.
Add buttermilk, eggs, baking soda, cinnamon and vanilla.
Pour into greased and floured 11 x 13 pan. *
Bake at 350 degrees for 30-35 minutes.
Ice cake as soon as it is removed from oven.

ICING **

Put butter, cocoa and cream in a saucepan. Heat over low heat until butter melts.
Remove from heat and add remaining ingredients.
Mix until well blended.
Spread over hot cake.
Sprinkle nuts on top.
E-A-T!
Notes
* When flouring a pan for a chocolate cake mix, I use cocoa instead of white flour. Cocoa won't leave a white mark on your cake. Pretty! Cause that matters when you're throwing it down your piehole, right?! ~more cake!~
** I ALWAYS double the icing recipe, cause well, MORE ICING!
https://ohmrstucker.com/texas-chocolate-chocolate-sheet-cake/
As I'm writing this post, in particular the recipe, my mouth is watering.  Even after all these years.
I think it's the cinnamon that makes it addictive.  Or the buttery icing.  Or the chocolate.
Come on y'all, grab a spoon (today we eat like hillbillies!) and get raptured by cake.
Now, can I get that AMEN?!
A-M-E-N!
If you're interested in having the Top 10 OMT! Recipes in one place (no searching!), click anywhere on the image below ▼

Please Share on Your Favorite Social Media! ~ OMT thanks you! ~