Y'all, I love corn on the cob. I love it plain. I love it grilled. I love it in a casserole, but mostly, I love it seasoned and baked.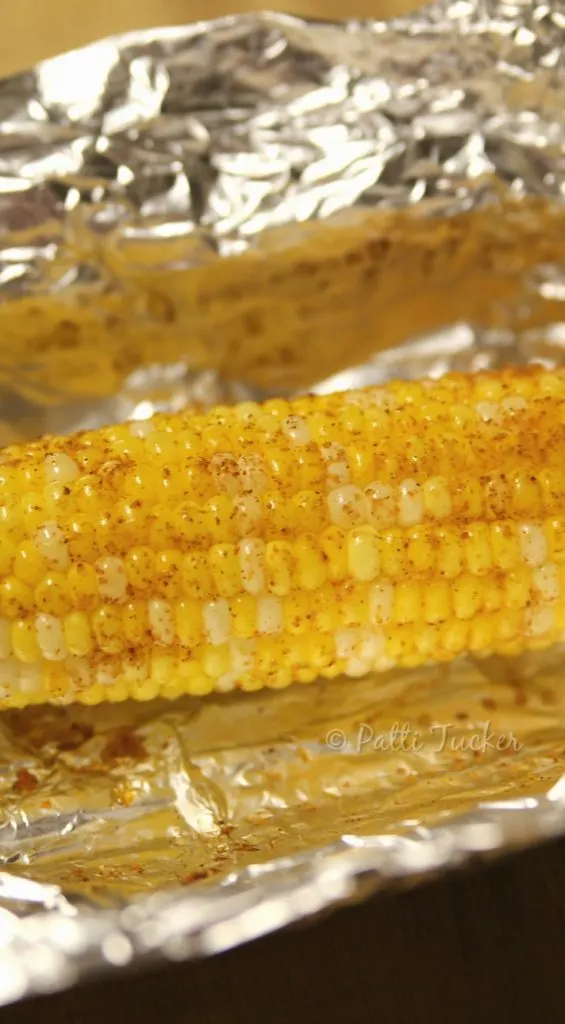 You may remember THIS POST of my oven-roasted corn on the cob. I love the presentation of the husks still attached to the corn. Rustic!
Today, I'm going to show you how I make my seasoned corn on the cob. It's insanely easy and very adjustable to whatever seasonings you and your family prefer.
Let's go!
Start with fresh corn and and a square of aluminum foil for each cob. These were newly husked/shucked, but you can definitely use the ones pre-packaged from the grocery store.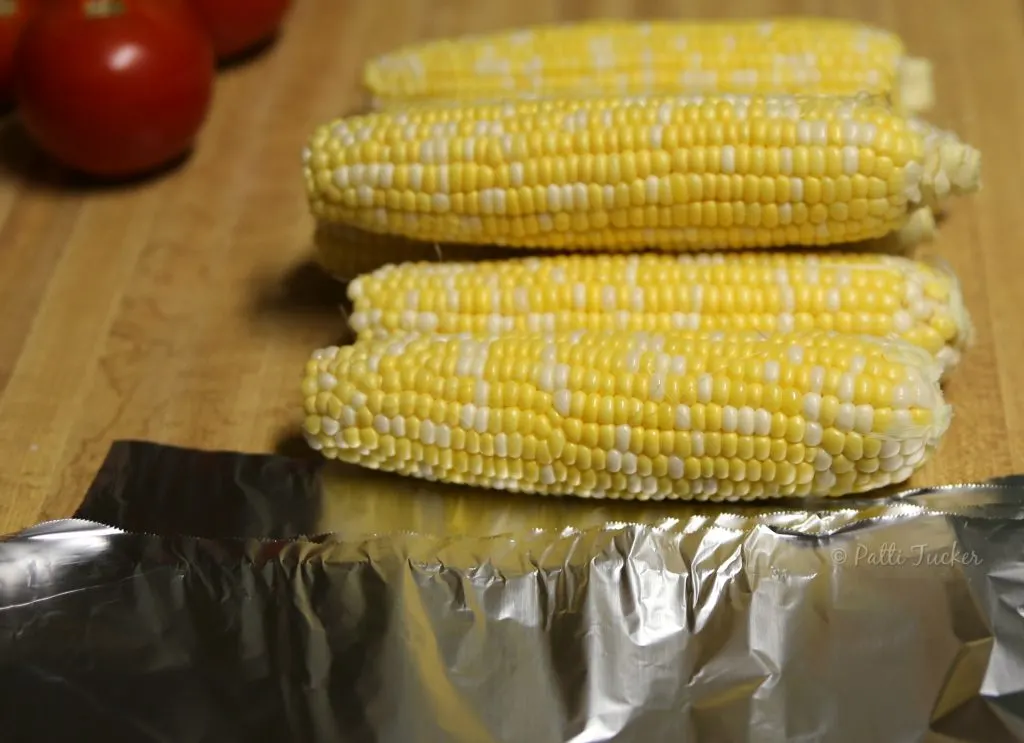 Grab some cold butter. A stick is handy for application purposes. As a side note, I find if my corn is cold, as well as the butter, the application is simplified.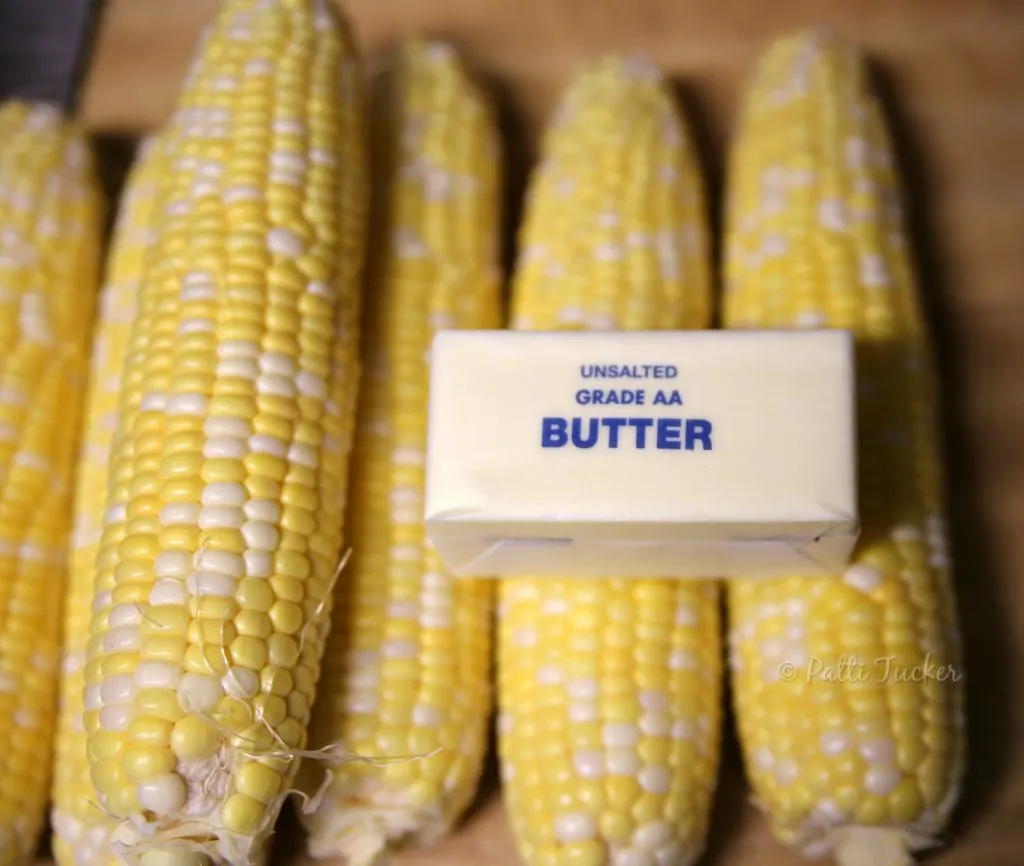 Rub the corn up and down with the cold stick of butter.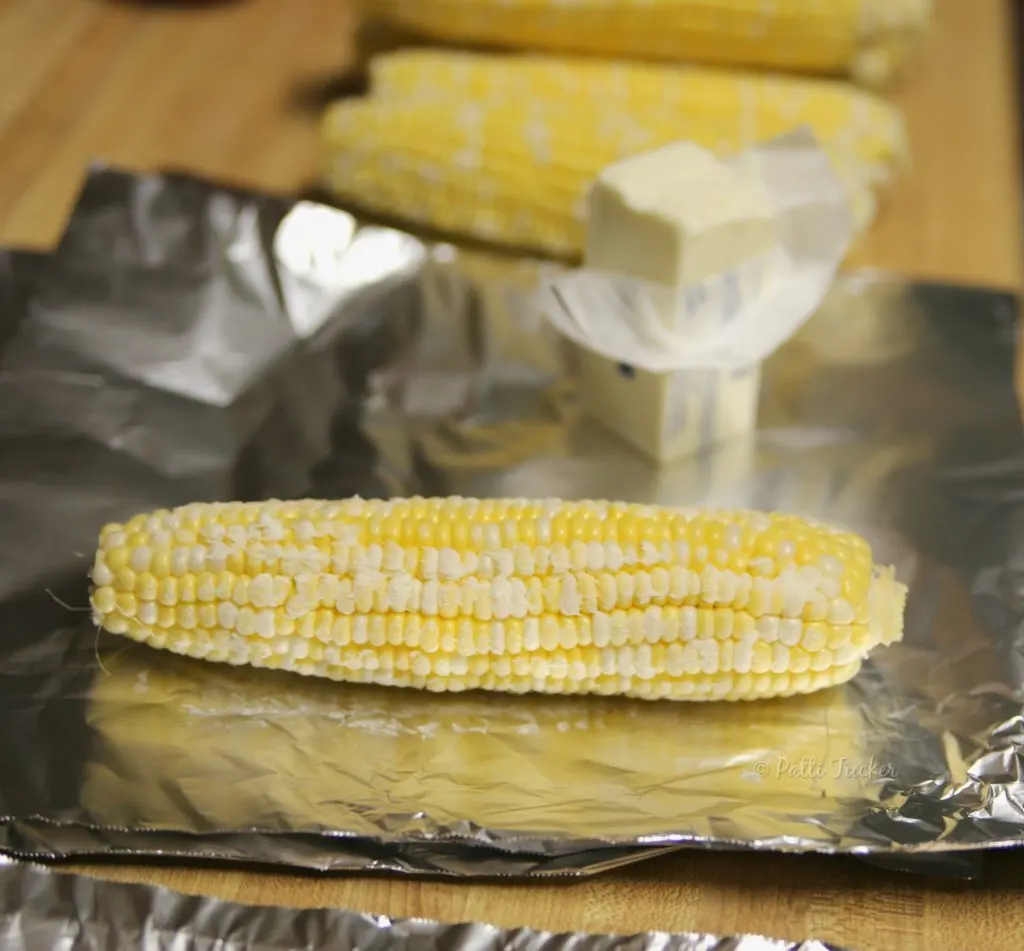 You know I never miss an opportunity to get those hands in a shot. He is the master butter shmearer.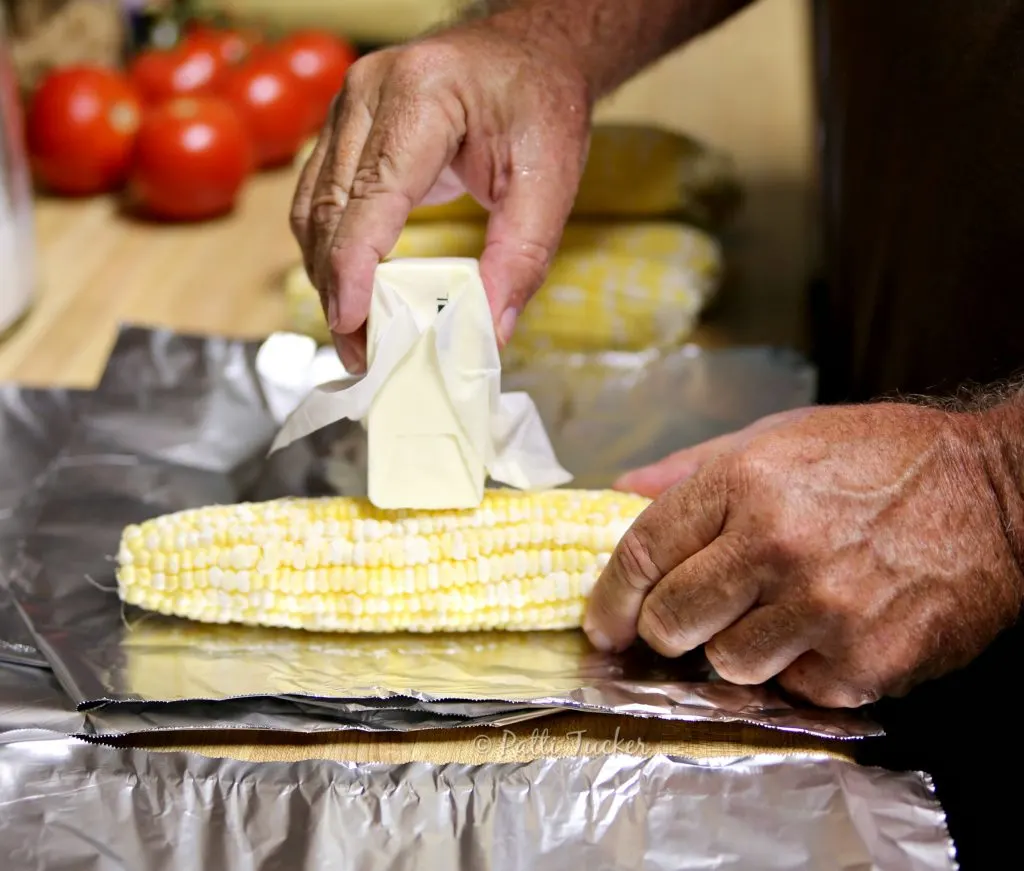 Once you have a solid layer of butter, grab whatever spices suits your mood. We used my favorite go-to (~ A gentle reminder: OMT! uses Amazon referral links. When you do your shopping through the Amazon links on this page, you support the blog at no cost to yourself. It's much appreciated!~): Fiesta Pinto Bean seasoning. I'm addicted!
♫ Shake shake shake, shake shake shake, shake your booty…SHAKE YOUR BOOTY! ♫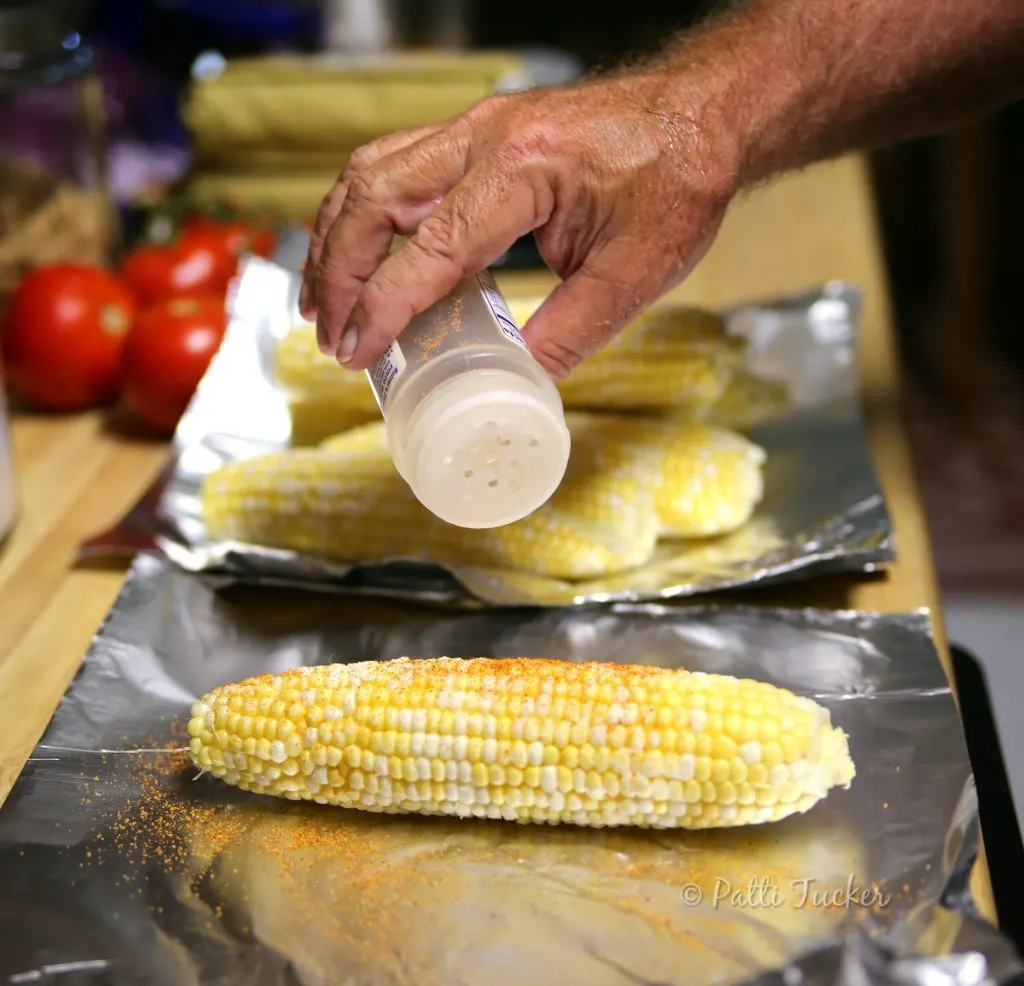 Time to wrap the corn and place in a preheated 425°-450° oven (I usually go the 425° route), aluminum foil seam-side up, for 30-35 minutes.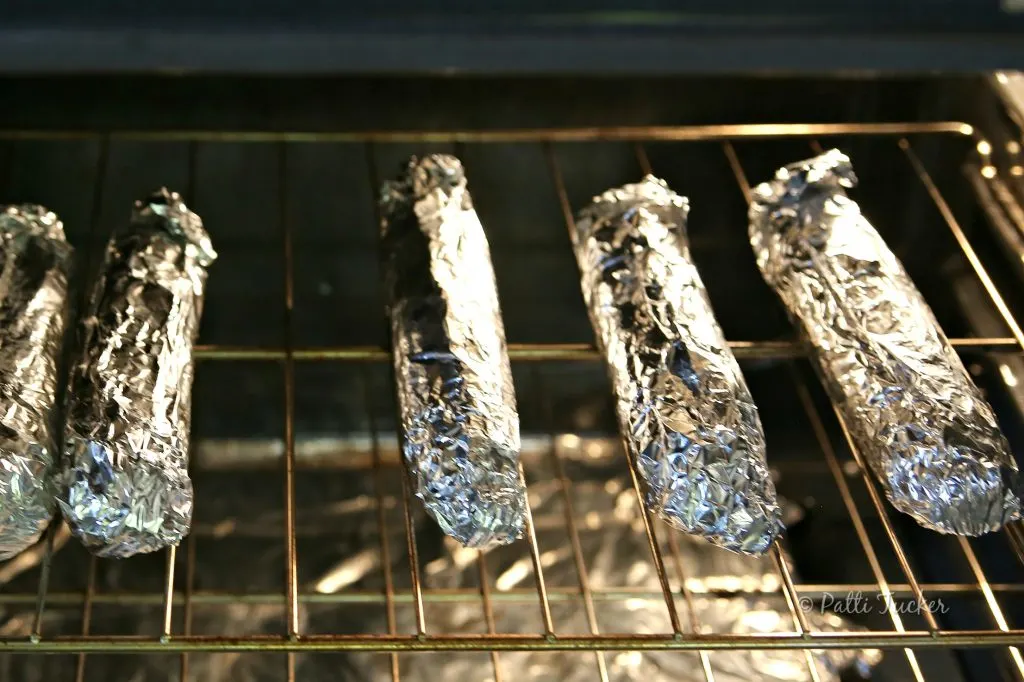 DING! They're done!
OMBabies, look at this seasoned piece of heaven. My first bite of this cob made my eyes roll back in my head from the delicious crunchiness of it all. Not to mention how easy it was to make.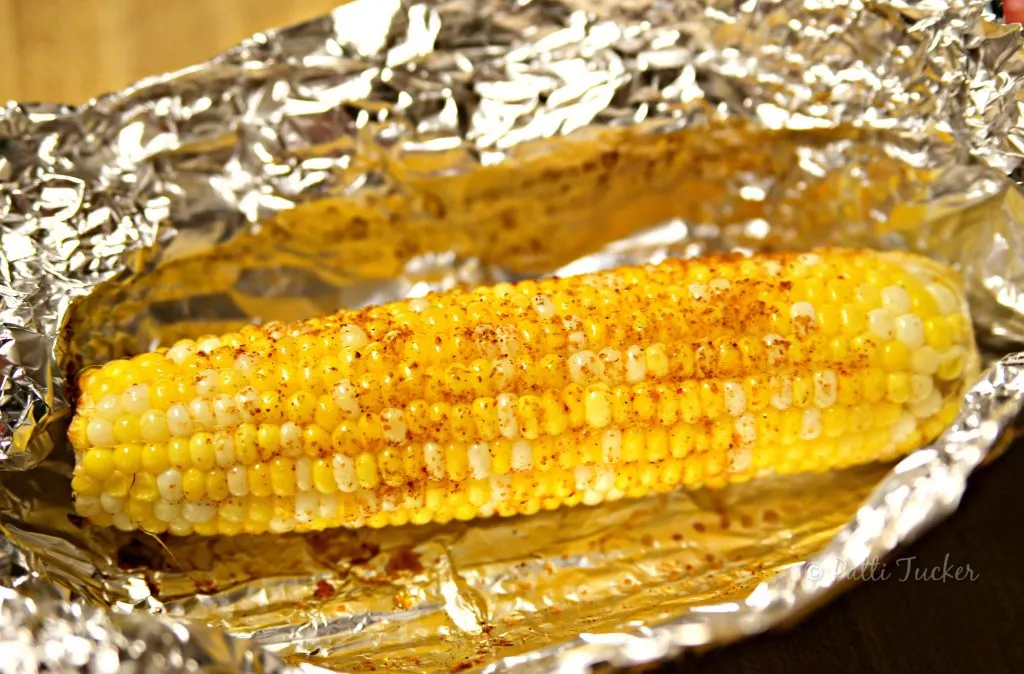 PRO TIP #1: I have slipped corn into the oven while a main dish was cooking at a lower temp. I simply adjusted the time (I left the corn in about 15 minutes longer) and it worked perfectly.
PRO TIP #2: I ALWAYS make more than I need for the meal at hand because seasoned corn is good in casseroles (see link at beginning of post), for corn salsa, or for leftovers later in the week.
PRO TIP #3: This is a good side for any gathering, for any time of the year, but especially in the winter when folks are craving a little piece of summer. It's easy to make and easy to take.
Happy nomming, y'all!
~Please feel free to Pin, Tweet, Facebook or otherwise share this post. OMT smooches!~