I am saddened and angry about the bombings at the Boston Marathon, as most of you are, and I hesitated to post this joyful entry, but the runners I know keep on runnin' when life gets tough. So, I'm taking a page from the runner's manual and I'll keep on runnin'. I hope you do too.
Fightin' Texas Mud Run Pictorial
Pre-race, Husband is designated as Sherpa. Duties include hugging the cute girls, taking pics, and carrying gear, including my pair of reading glazzez, so I could sign the waiver.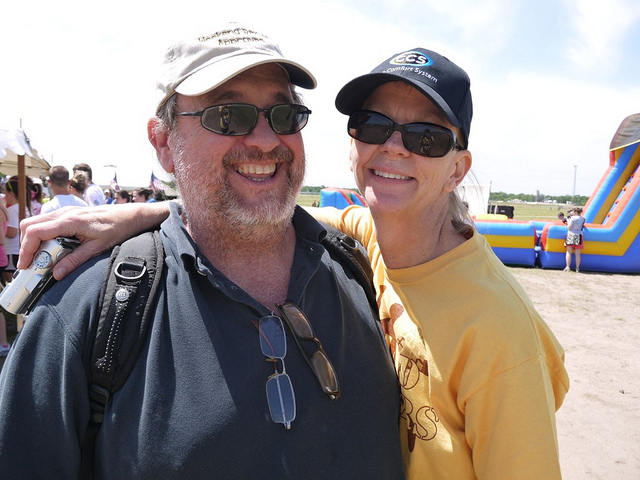 Sherpa and Grand Mudders. They love him.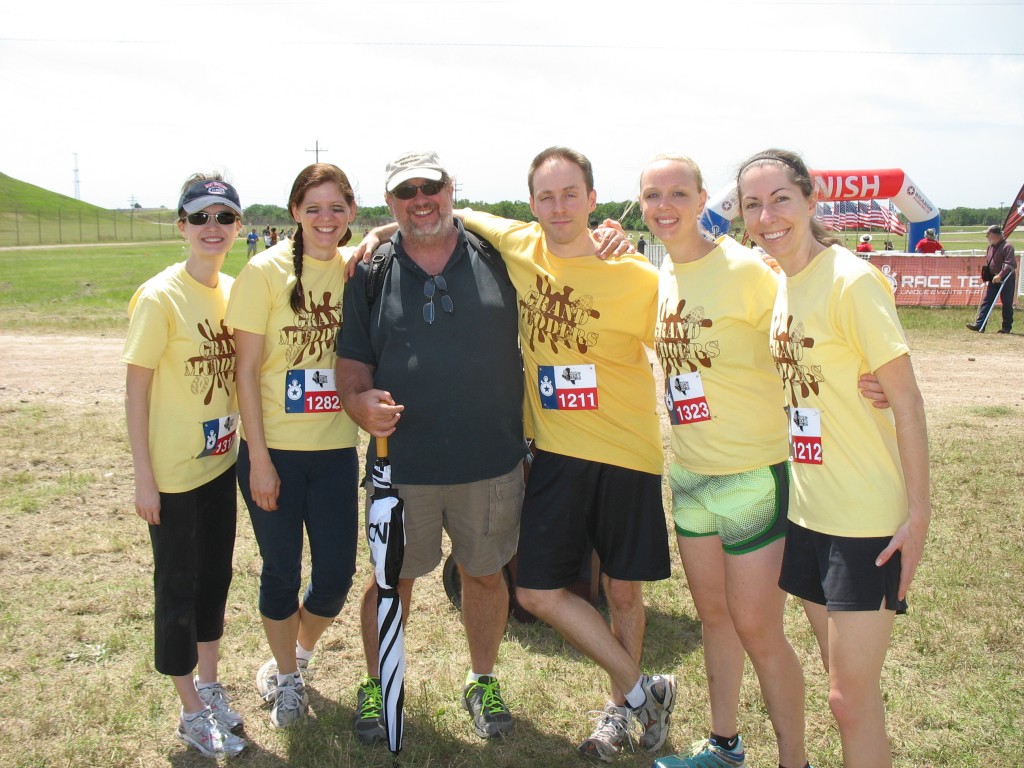 Here we are, spotless, in the great shirts Jay designed and made for us. From Left to Right: Krista, Tara, Evan, Me, Wendy-Loo, Jay. Yesterday, Jay asked me to tell y'all that I was the inspiration for the team name–new granny and all–and the team mascot. I'm a grandmama and a mascot?! I kinda feel gypped that I'm not wearing a giant fluffy costume.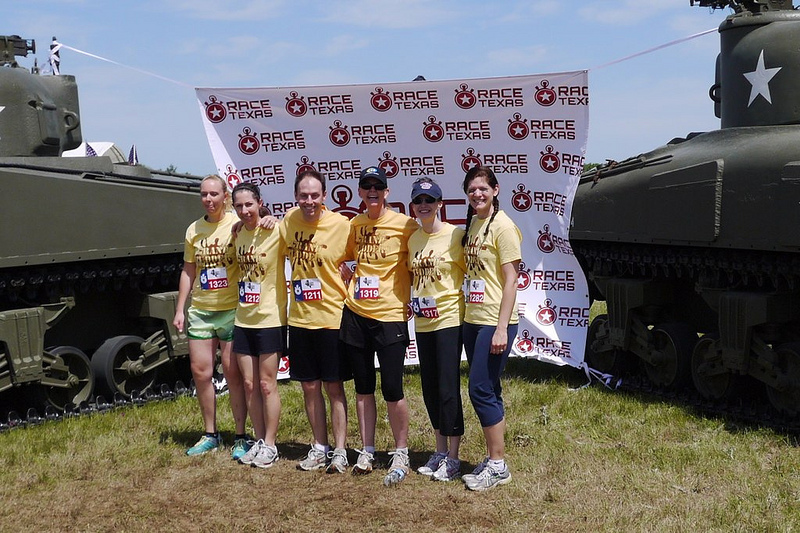 Hey Wendy-Loo there's no collapsing before the race!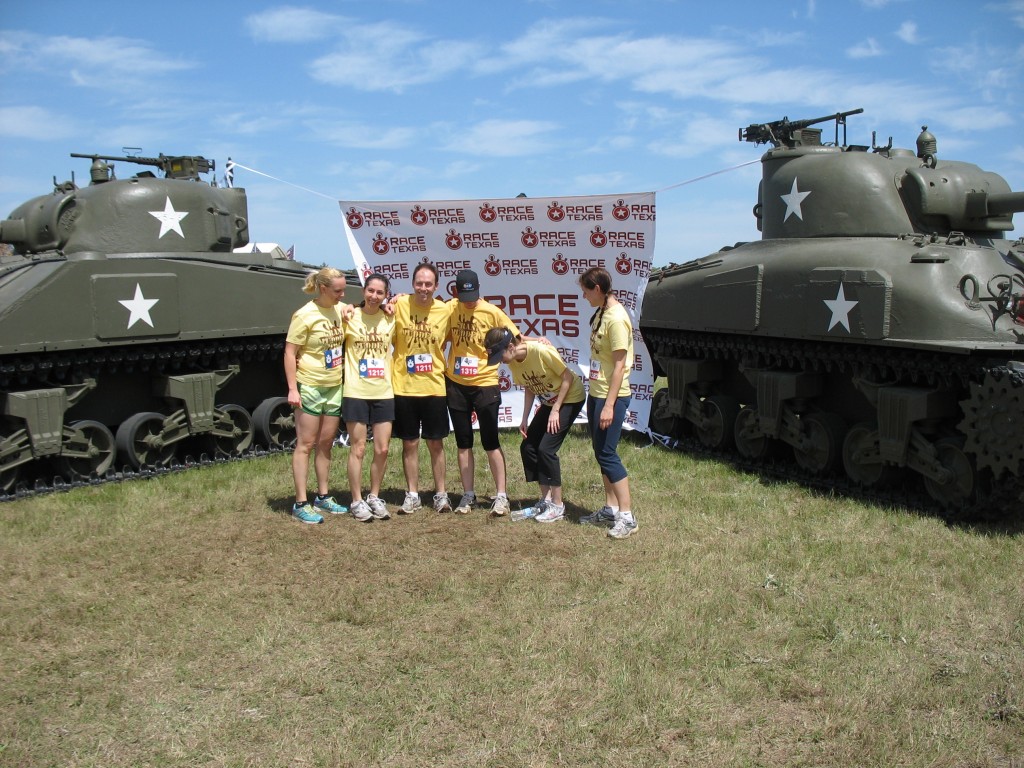 This is one of my fav shots. Why? Because before the race started most of us were all WHOOP!, but some of us ~coughEVANcough~ were all, "This is as excited as I get." Slight smile. I think.
But, put that dude in mud and HE LIGHTS UP!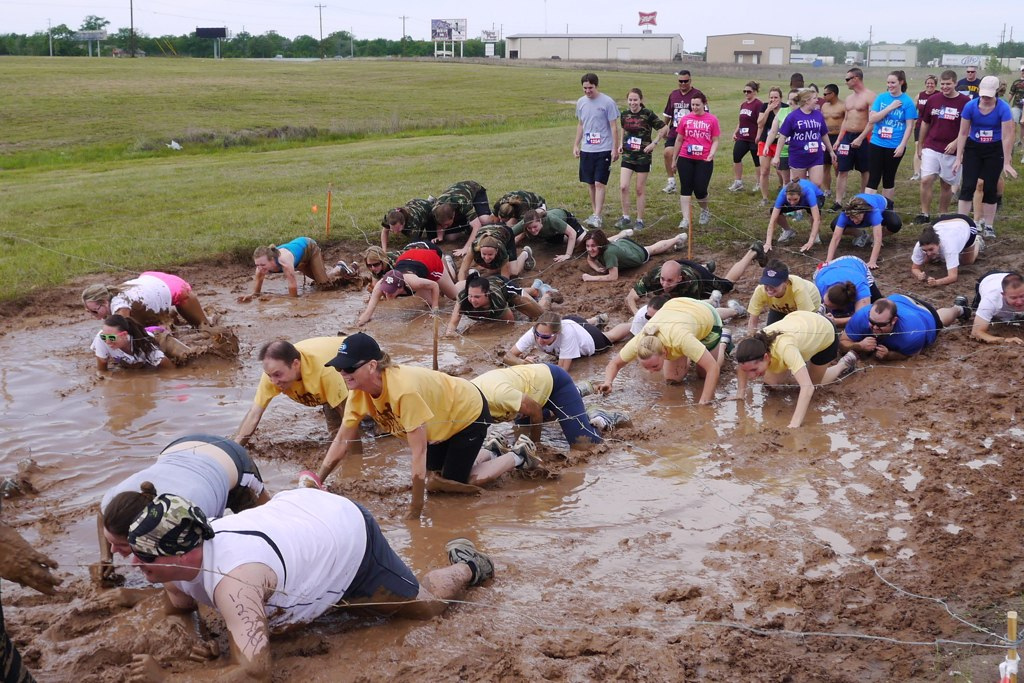 Next up…Handsie McGee. Jay thought I could use a handprint on my arse, so she planted one there. Krista is in on it, me thinks. Wendy-Loo is having a laugh too, while Tara is fighting on!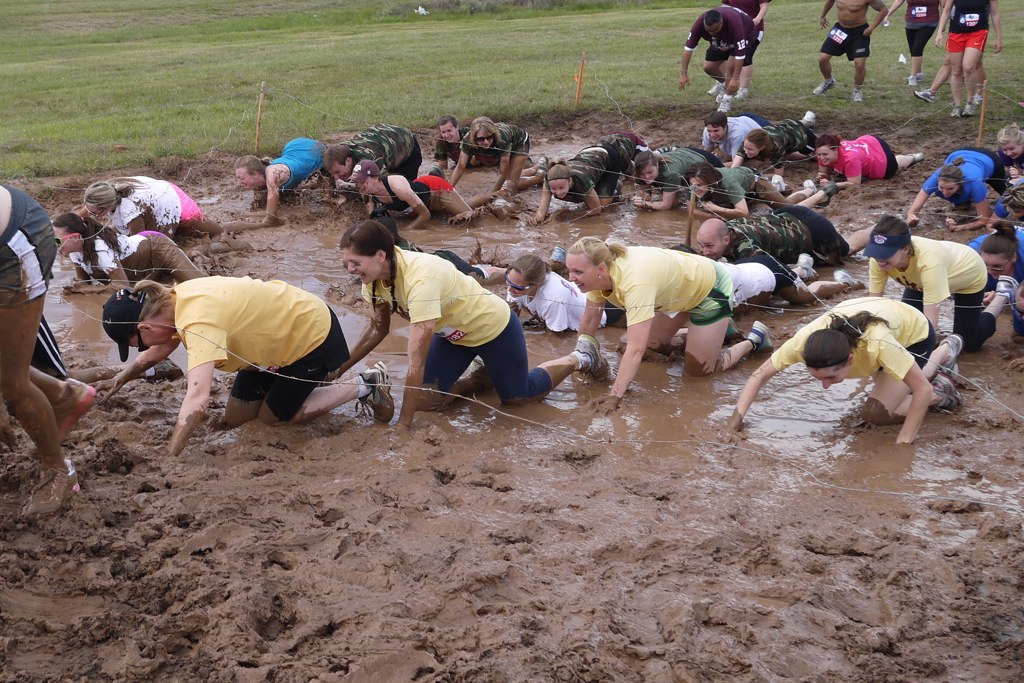 Next up, the giant slide, that is actually the "small" slide. Jay made it down first. I slide down roller coaster-style with arms up. There is a pit of mud and water at the end of the slide that you can see Jay climbing out of.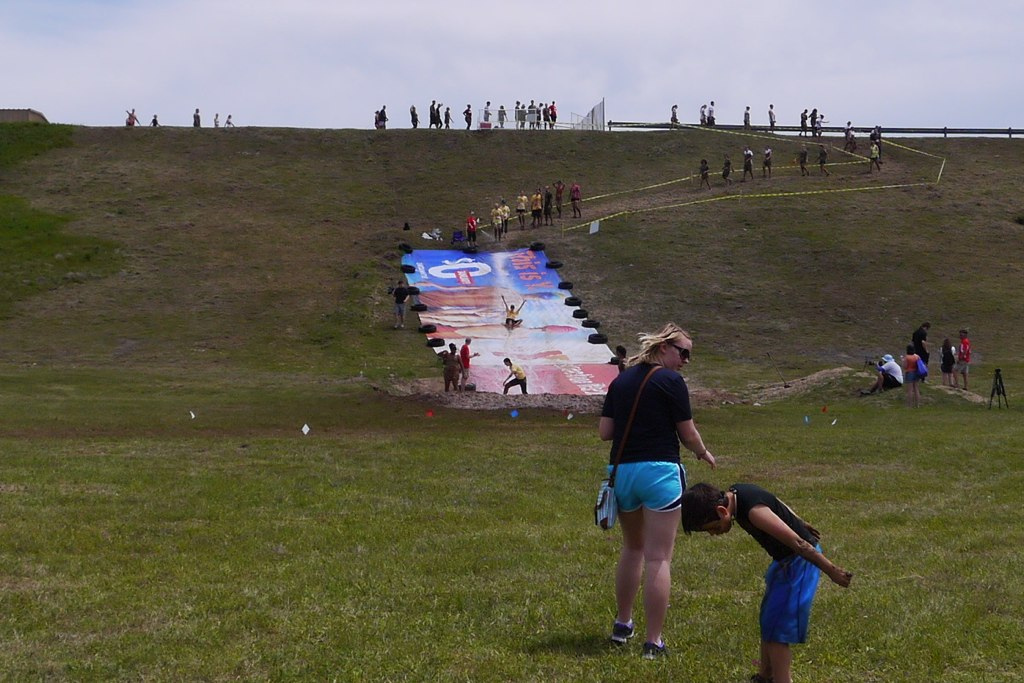 I lived! As did my yellow-shirted teammates.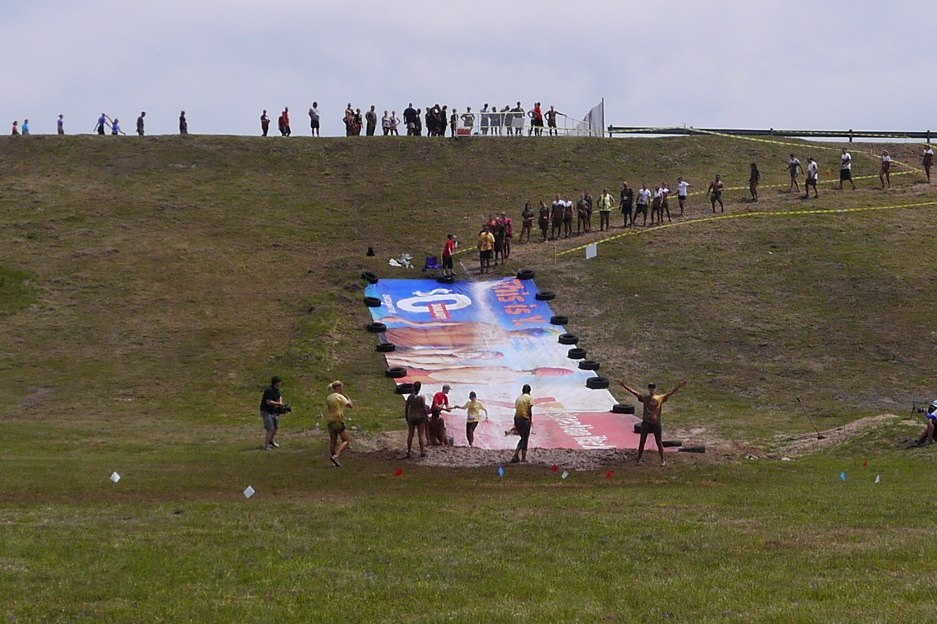 Jay and I stop for a Sherpa photo-op. He did a great job taking the pics you see here today. Don't feel bad for him though; he had his reward at Chuy's the next day!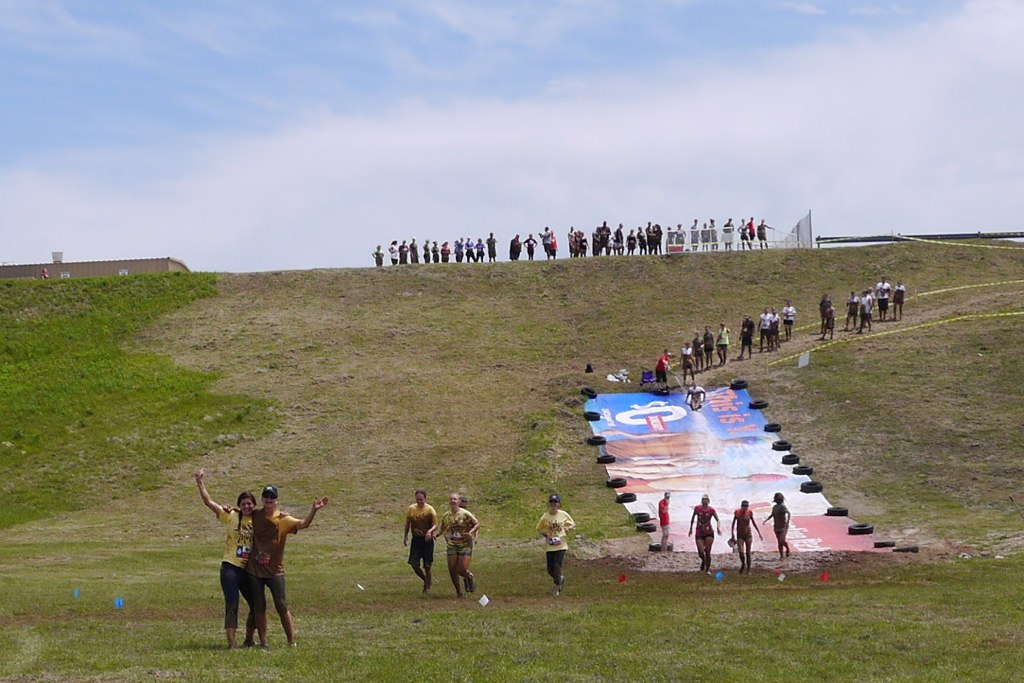 Mud runnin' is hard, yo. Jay and Krista lead the pack.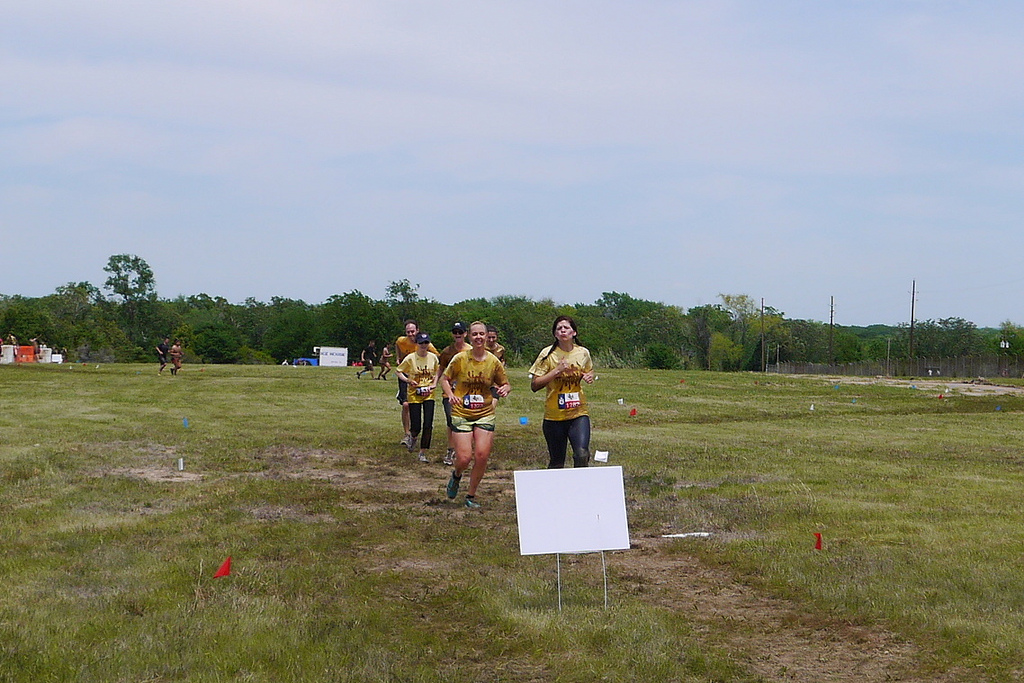 Omergard, there's a wall. GET OVER IT, Krista and Jay!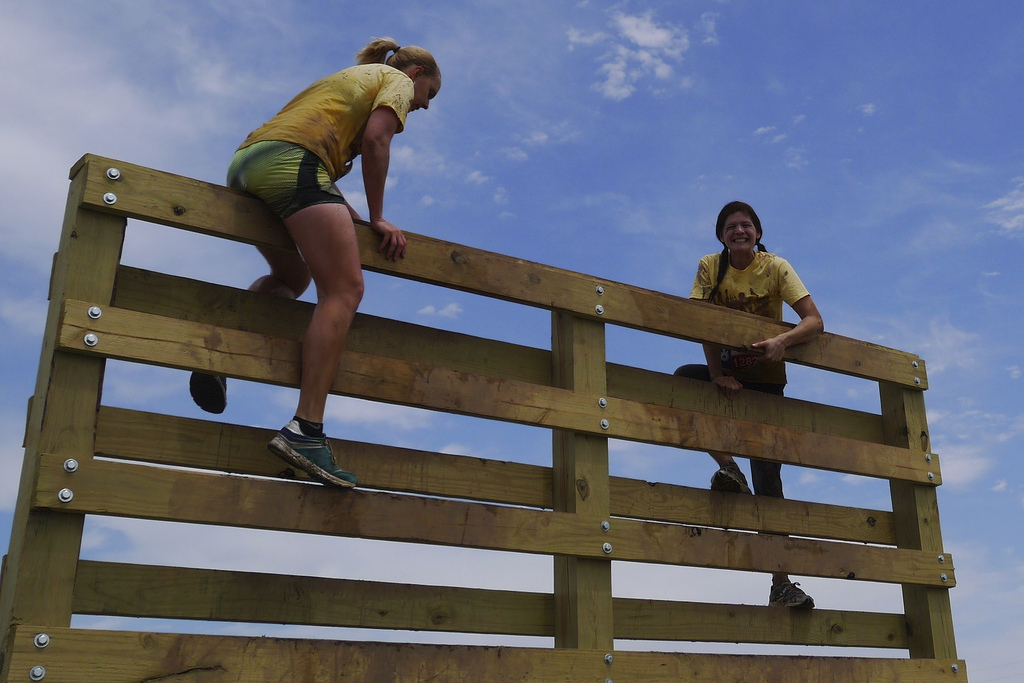 GET OVER IT, Wendy-Loo!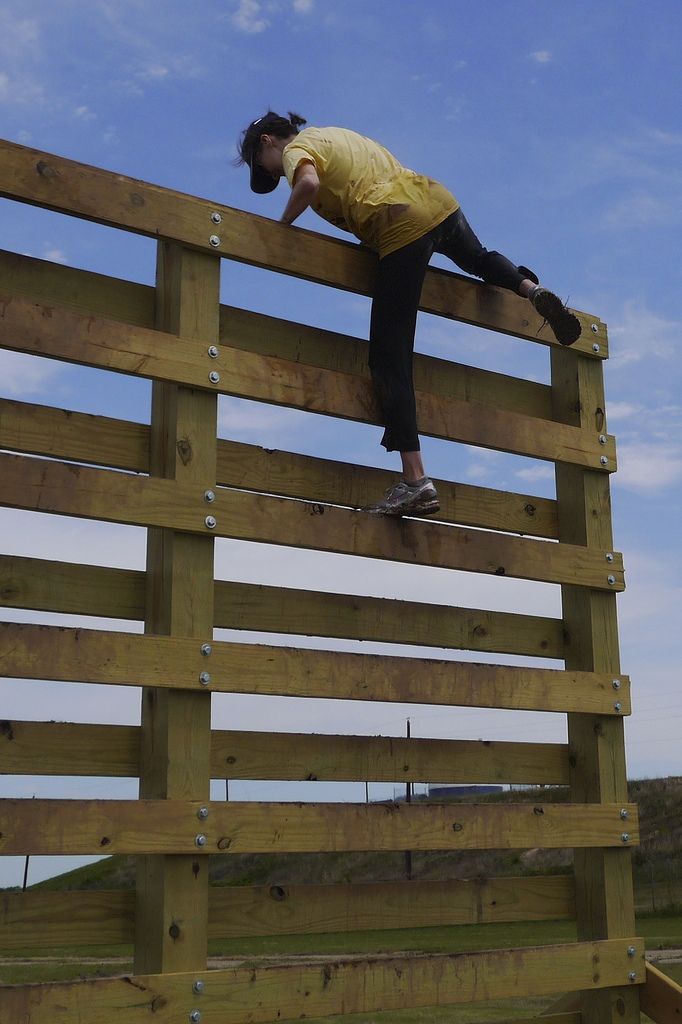 GET OVER IT, Evan and Tara!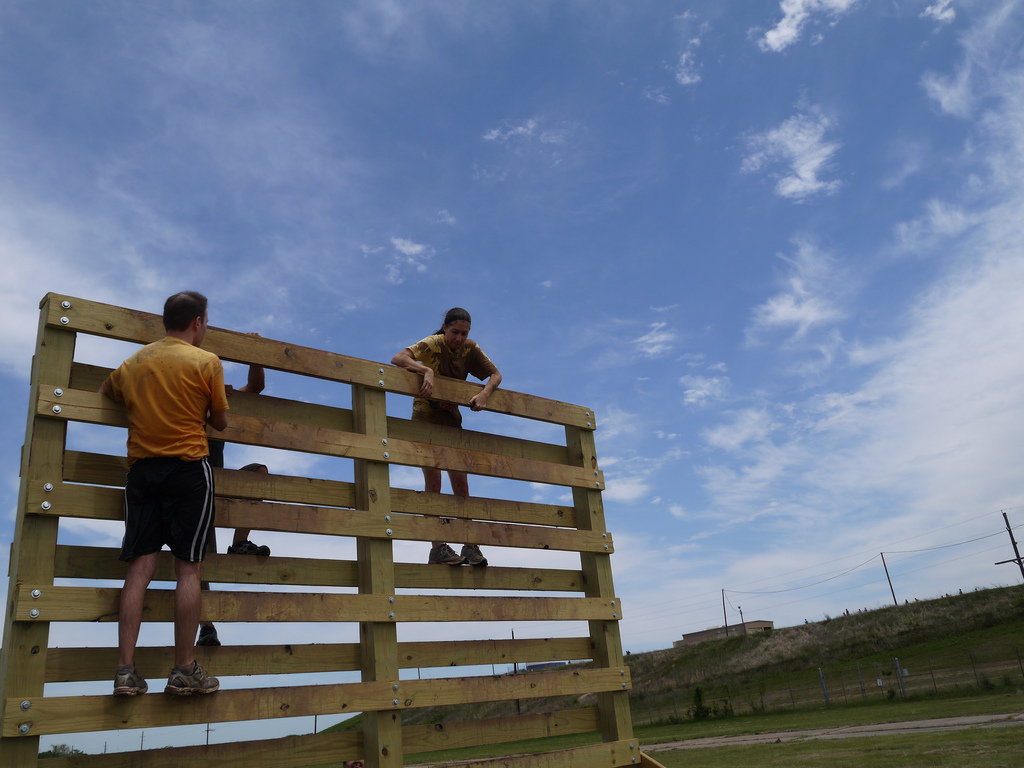 GET OVER IT, Patti! Um, Patti? Hey Girl, where are you? Husband said I climbed the front so fast that he missed the shot, and because I was rockin the wall with cat-like speed, he put the camera away as I came down the other side to catch me if necessary. No need. But, Best. Husband. Ever.
More runnin'. Krista and Jay lead, I'm in the middle with the HOLLA! and Evan, Tara and Wendy are closing ranks.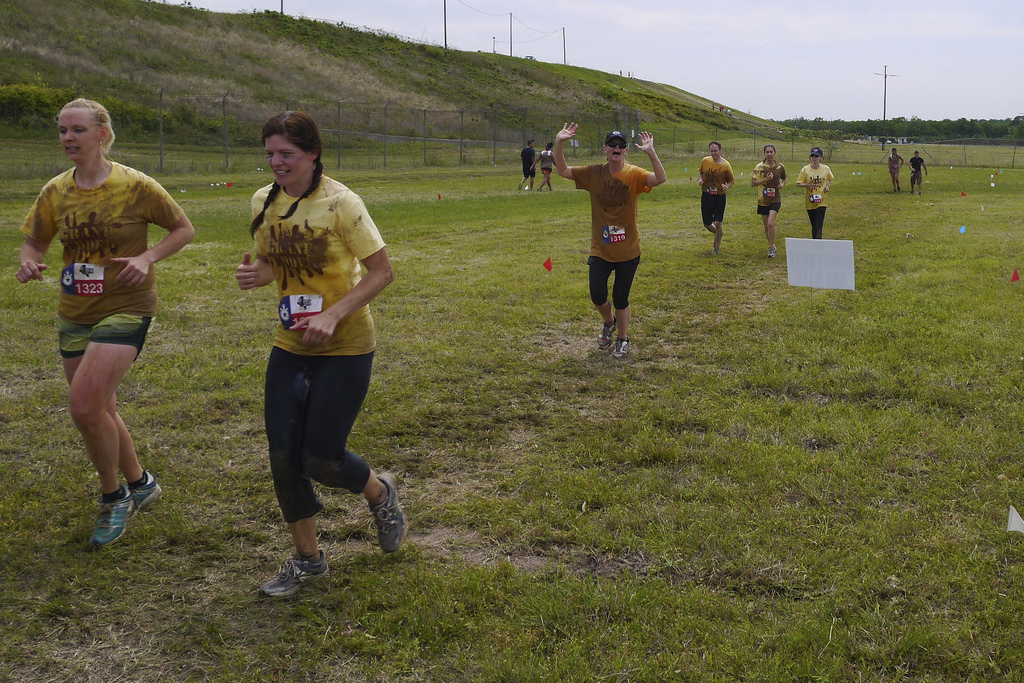 Hay Hill, or as I heard it, "Hey, Hill!" Jay and Krista get it!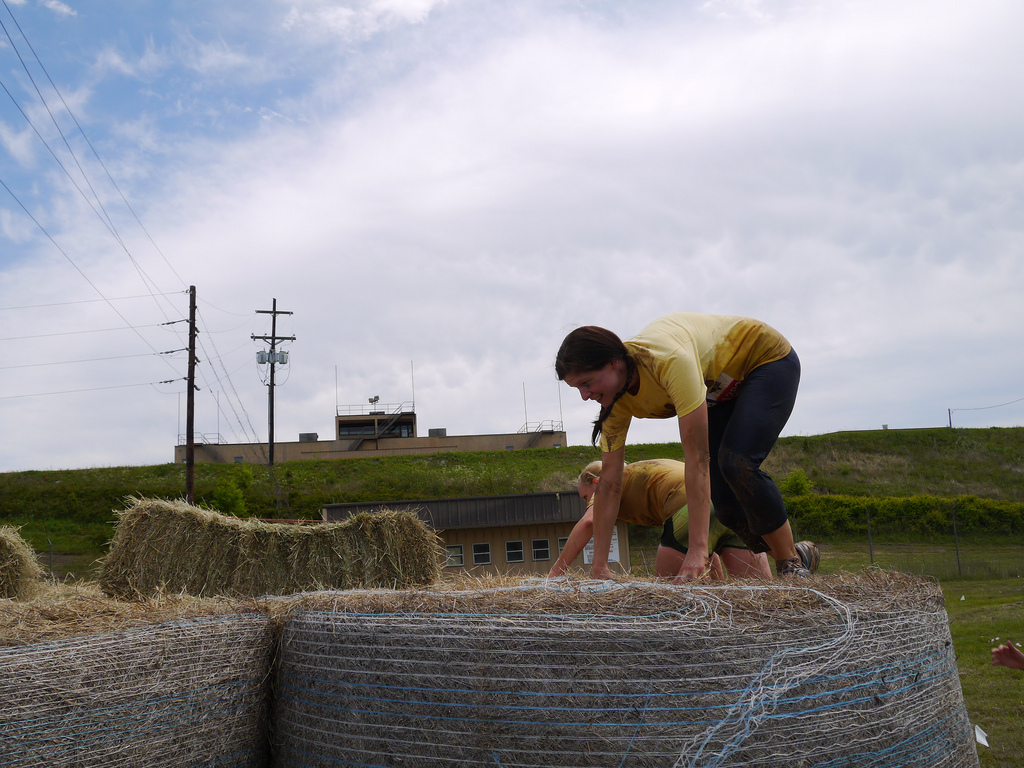 Let me stop here and say that every obstacle was wet and slimy, making what is normally an easy get, a more challenging one. I. Loved. It.
Evan conquered Hay Hill.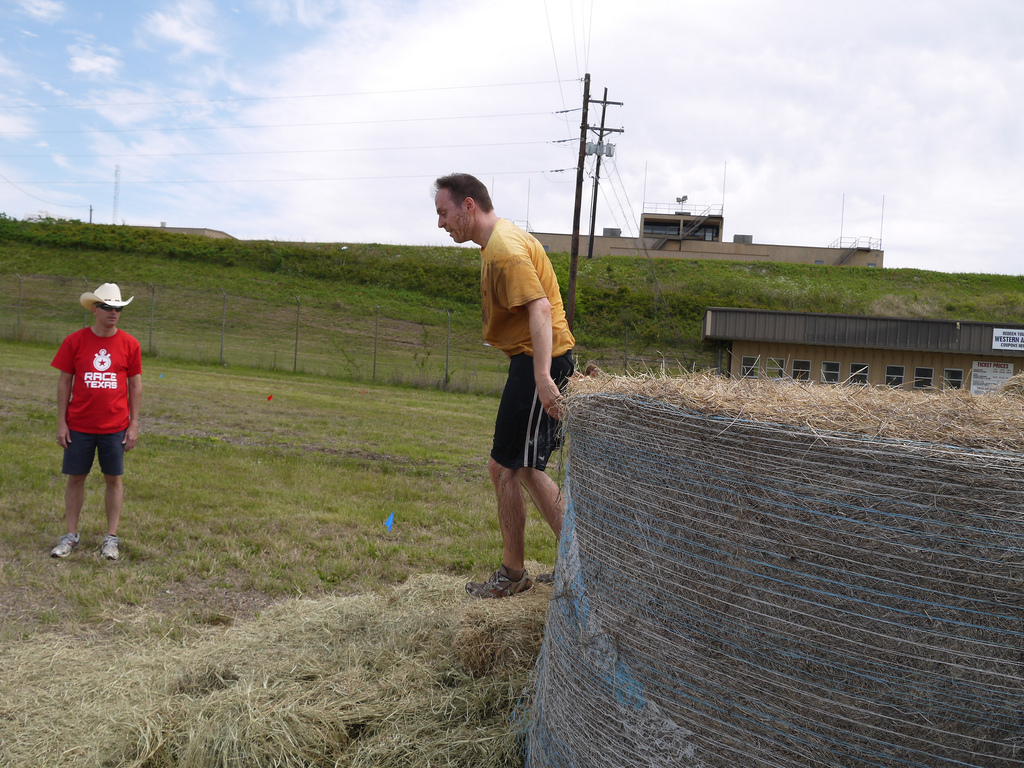 Talk to the hand, Hay Hill.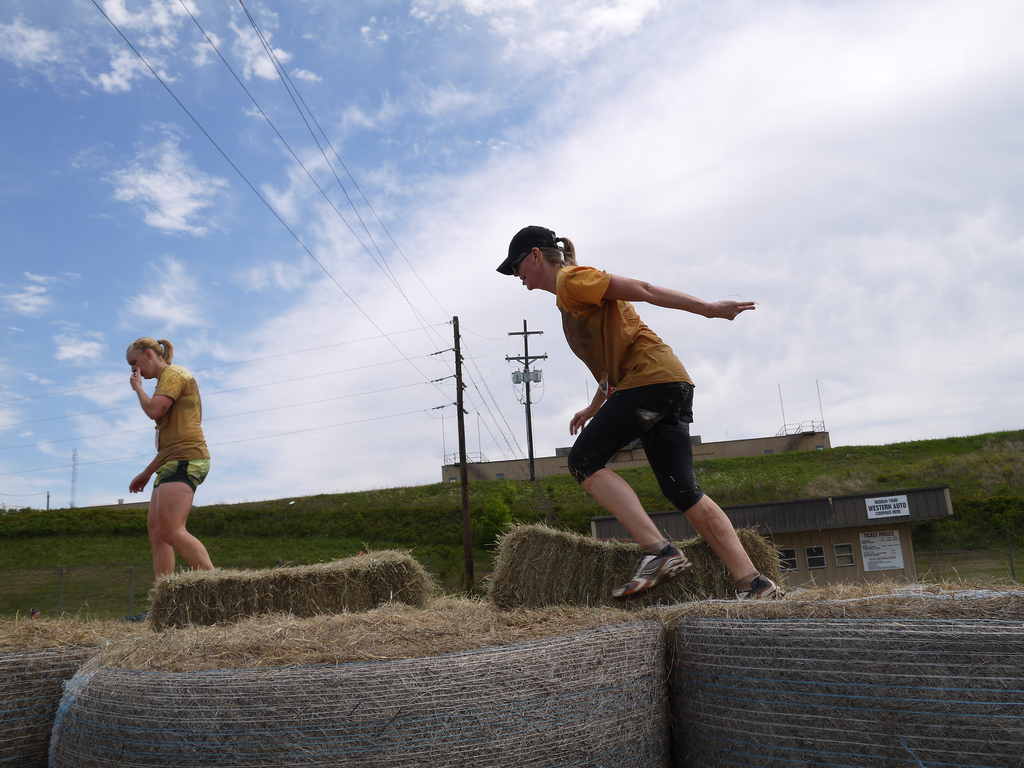 Throwing in some flair.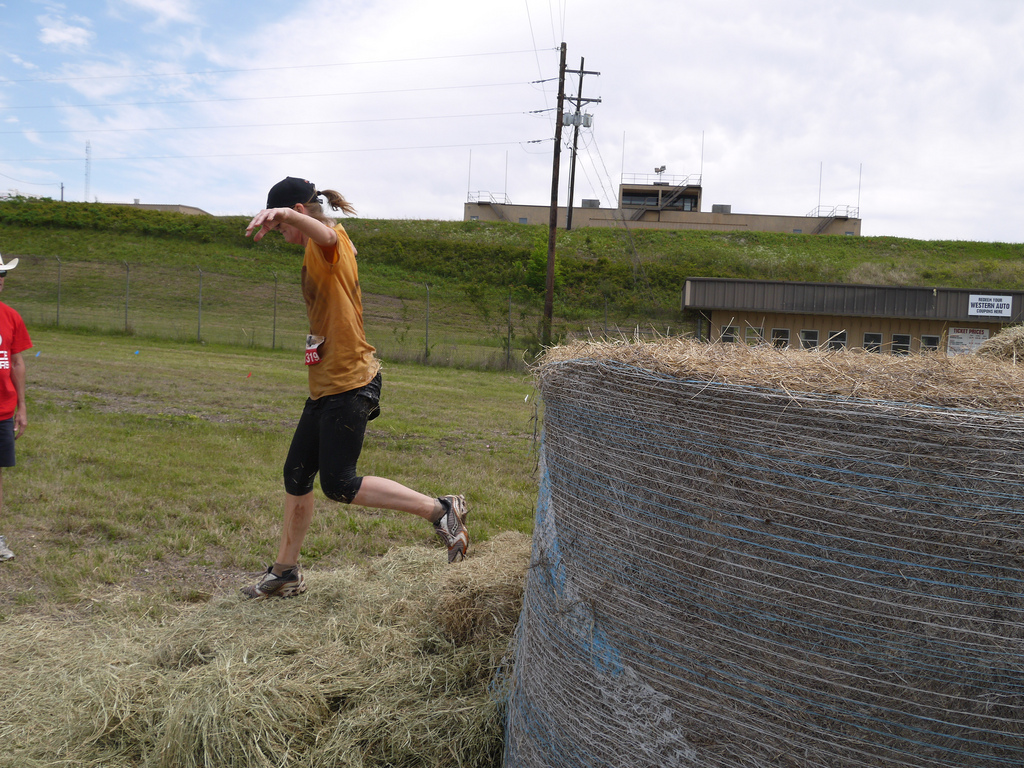 Why is Tara laughing?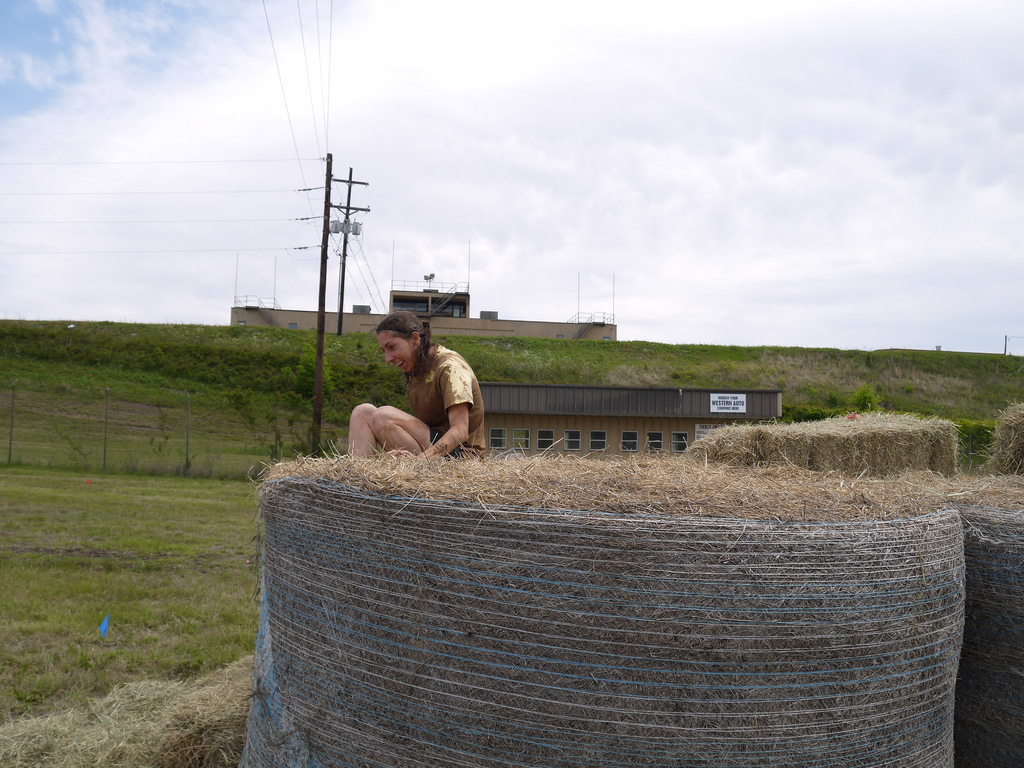 Just as I got off Hay Hill, I slipped in a pile of mud and went down. GRANNY DOWN! Jay was laughing so hard and yelling at the Sherpa to get the shot, but I was too quick. I took a knee and a mile later pulled hay out from behind my ear.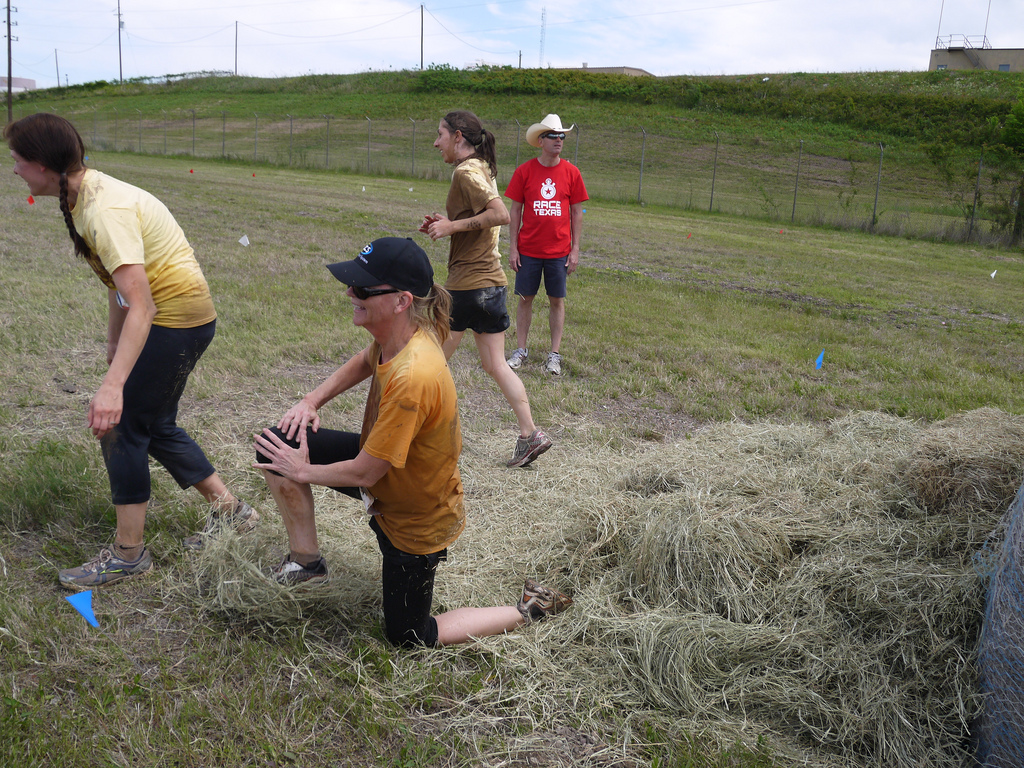 These next two shots look innocent enough, until you know that the Sherpa saw us coming and asked the gal to make it extra muddy for us. Damn his flirty ways!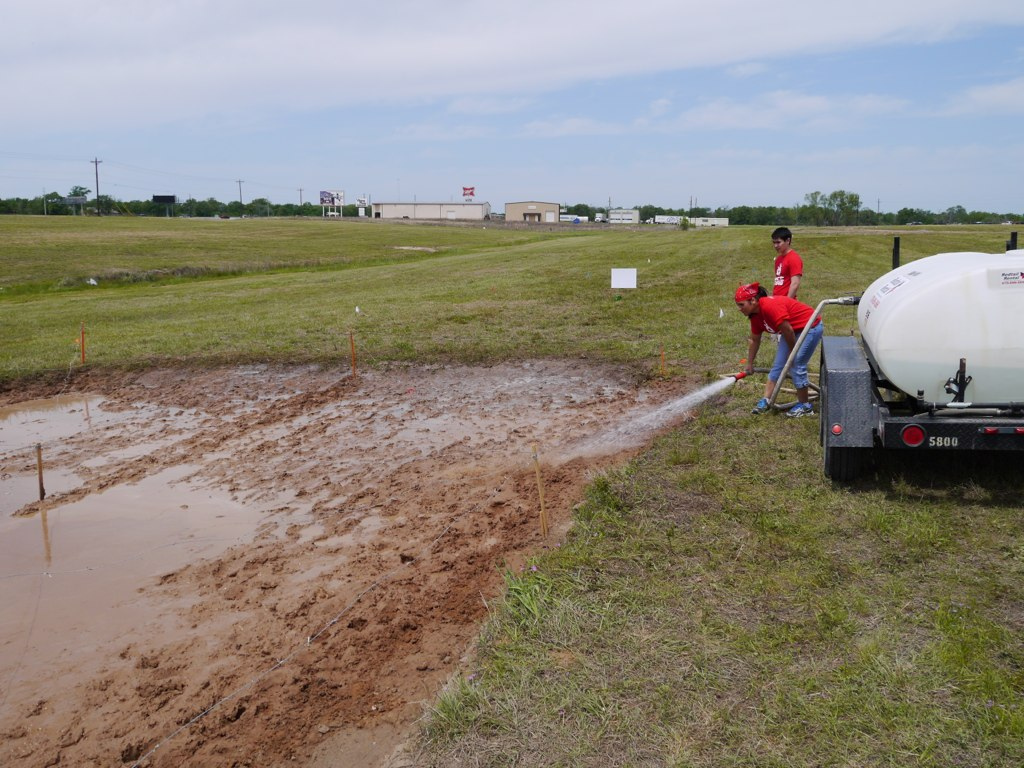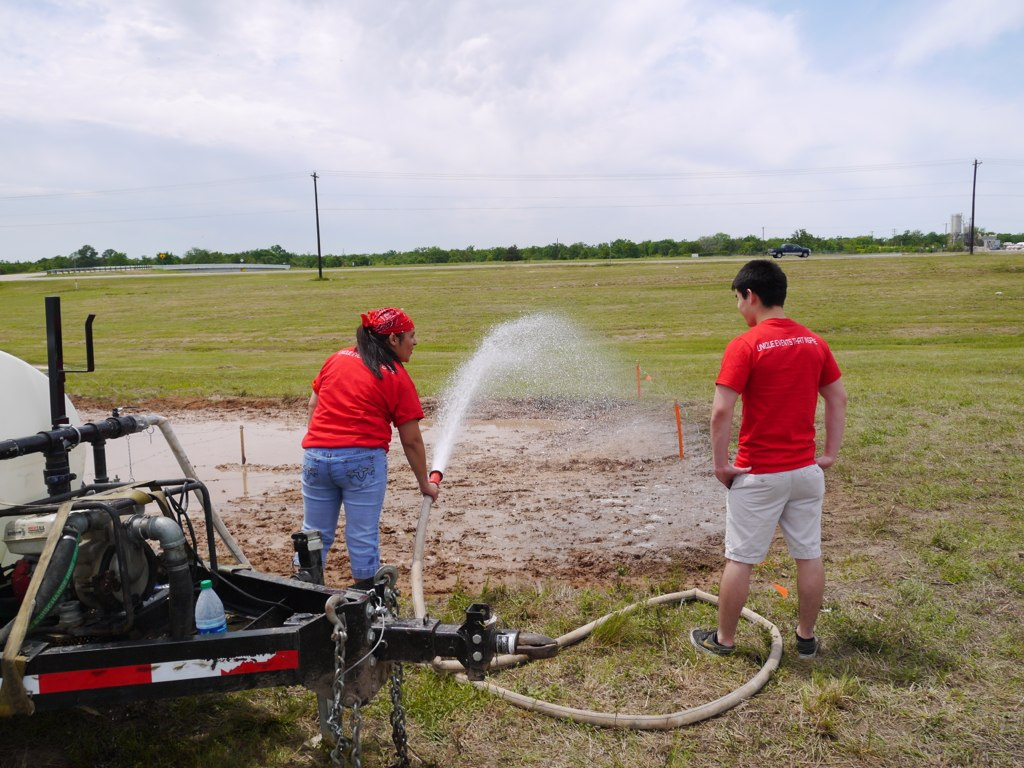 Here come the Grand Mudders! Mud Pit!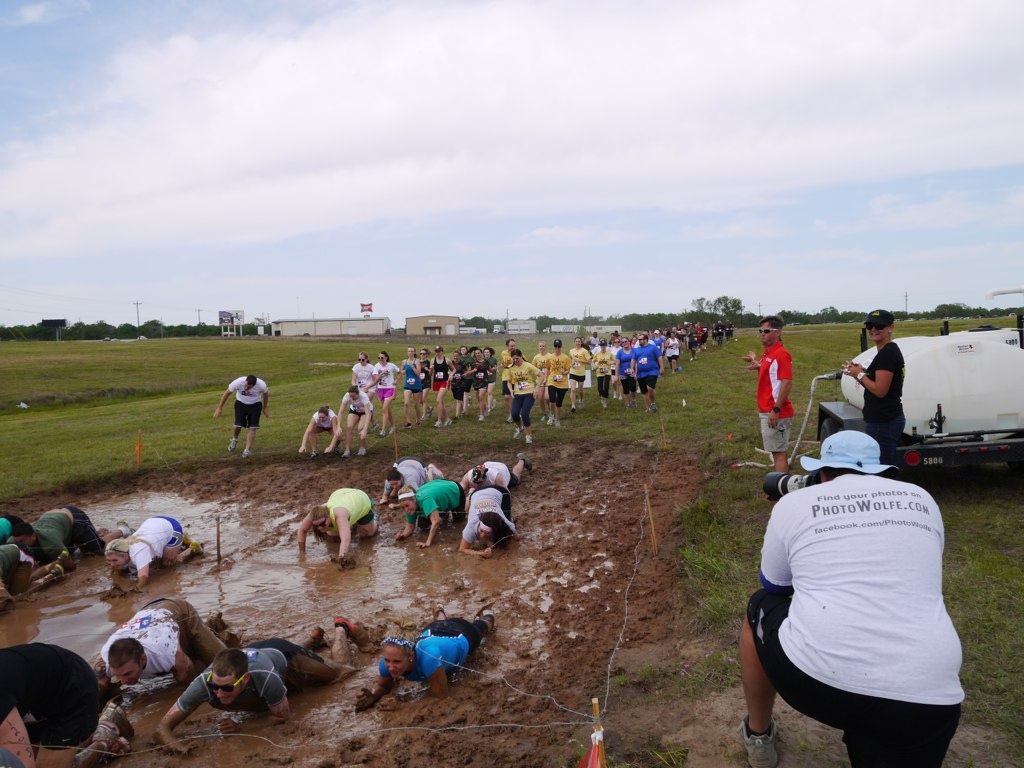 Another mud pit!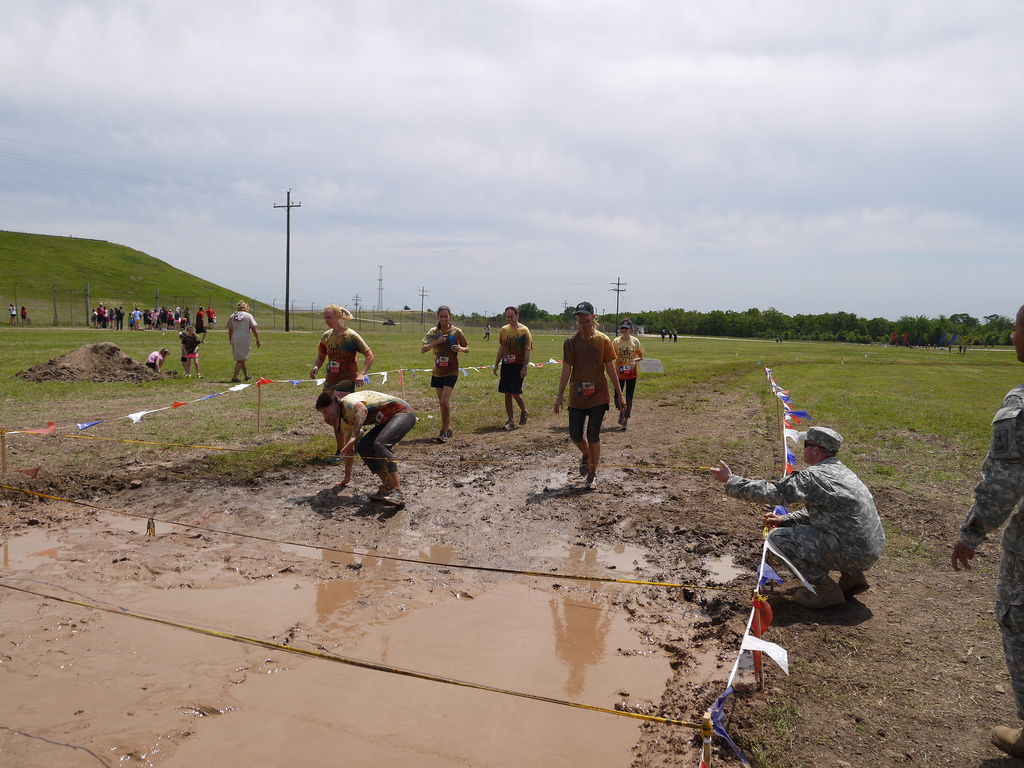 The dude squatting on the right was yelling at us military-style, mocking us if we weren't rolling. I'M ROLLIN'!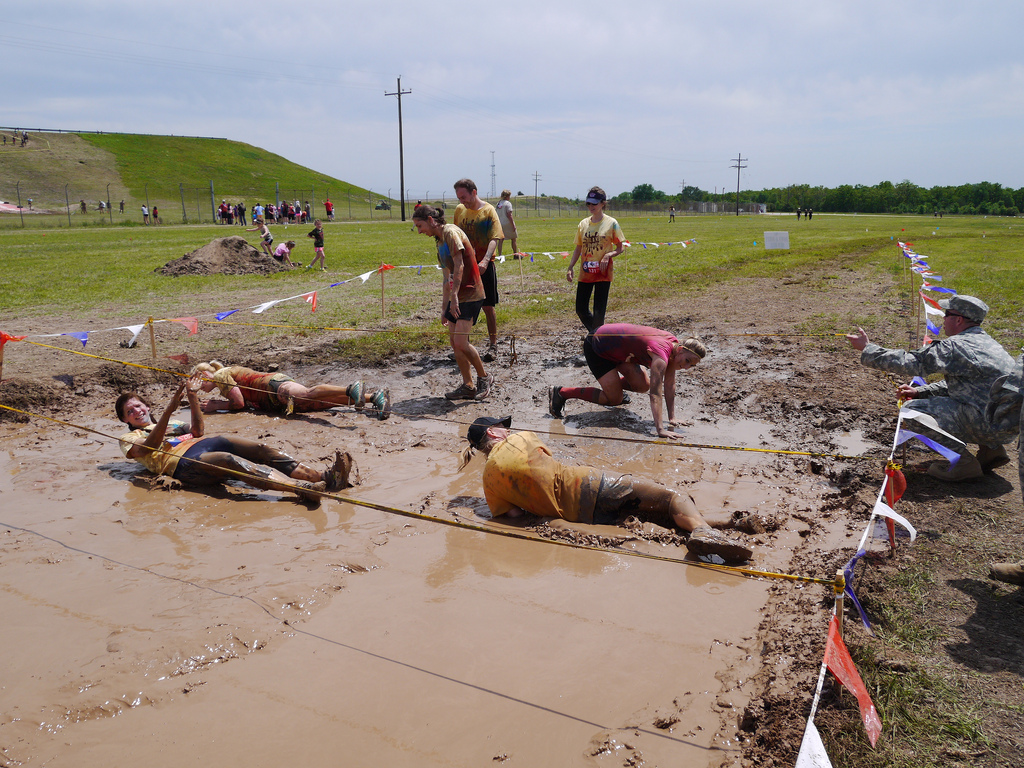 That doesn't look like a roll, Wendy! Did I mention that about 5 minutes into the race she told us that she doesn't like getting dirty? LOL! The rest of us are sopping up the mud, and loving it!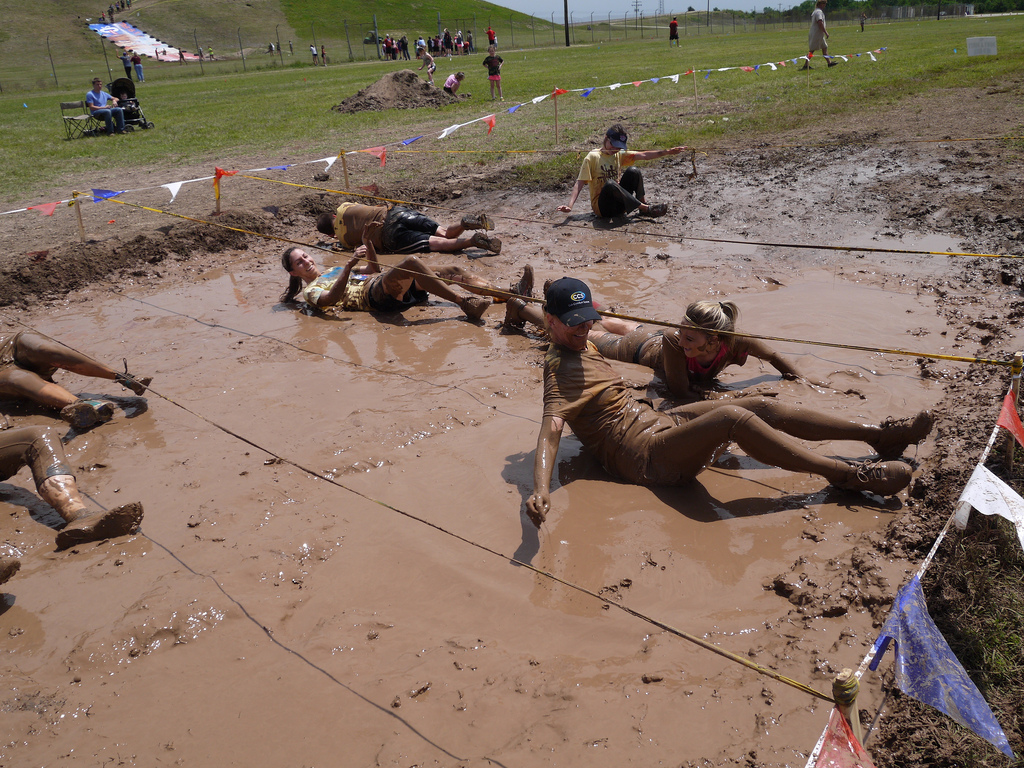 Look at those smiles! Be one with the mud!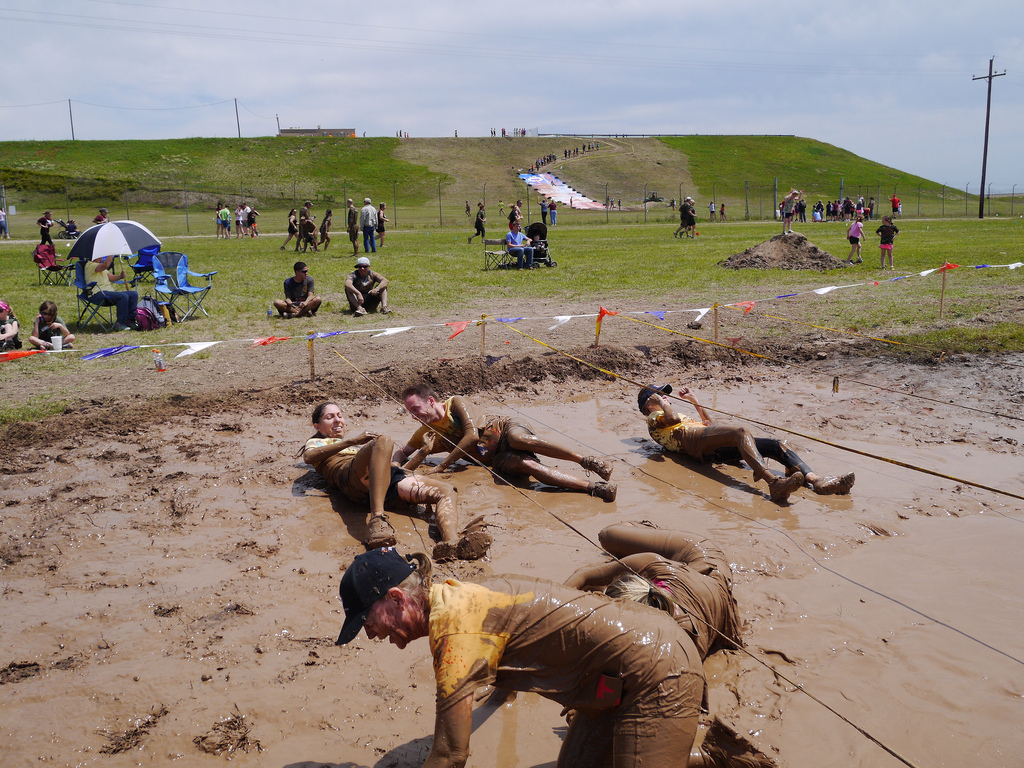 The finish-line! We made it! Wait, where's Wendy?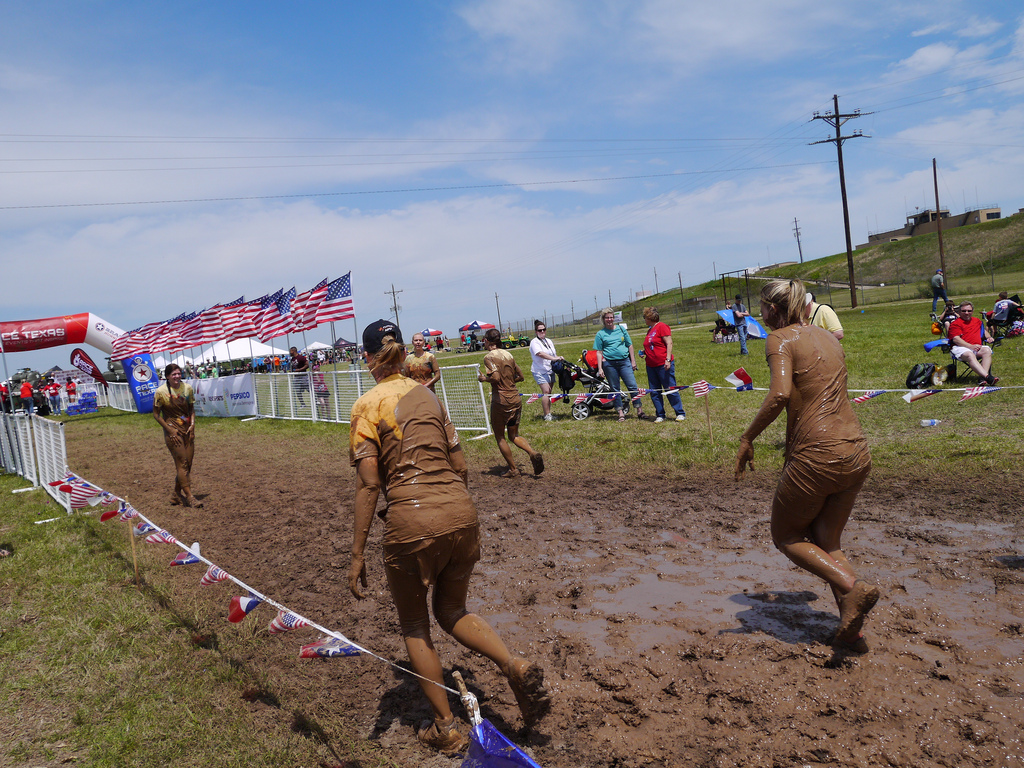 Come on, Momma!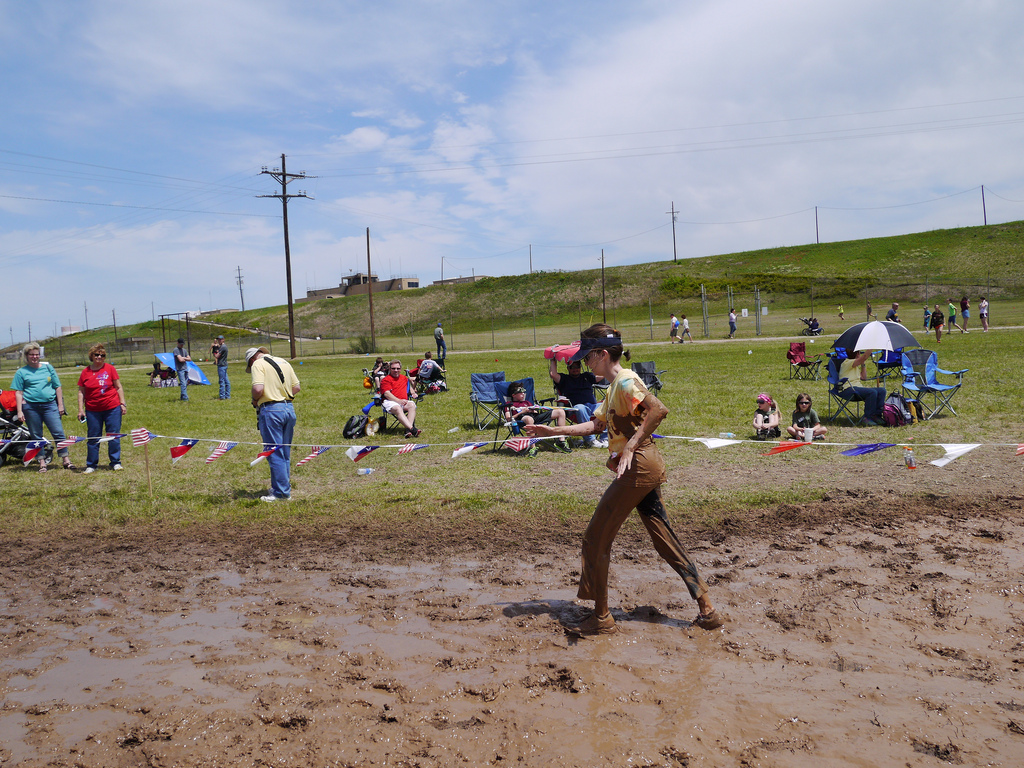 BAM! Official mud runners!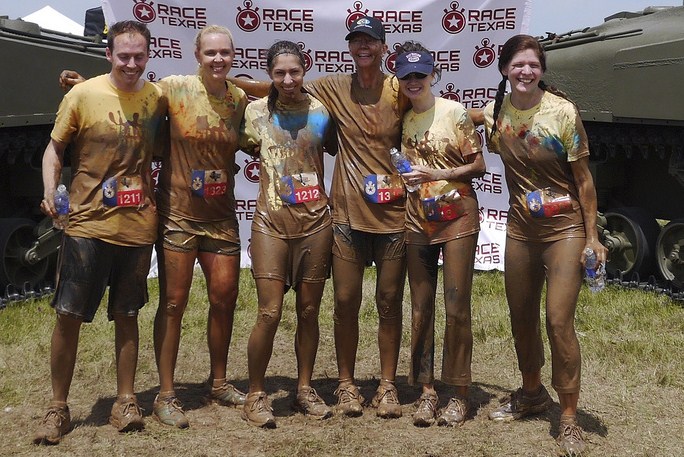 My newest Grand Mudder Stalkers!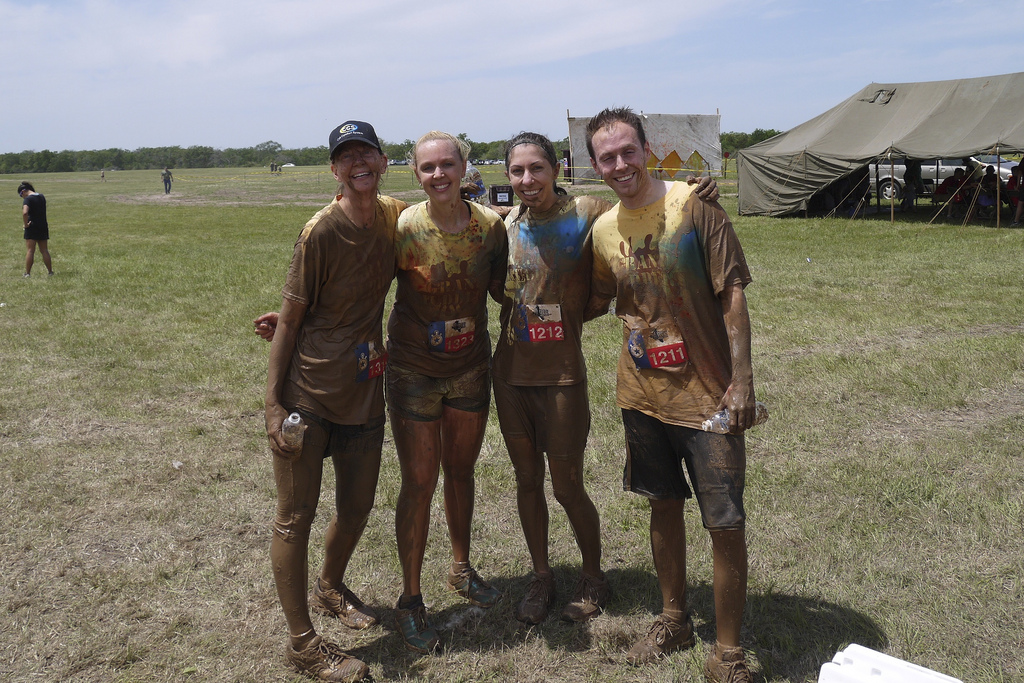 My original Grand Mudder Stalkers! When I saw this pic I loved it for two reasons: #1) I love these gals. They make me happy, happy, happy. #2) I love how I'm trying not to get my mud on Wendy or Jay's mud.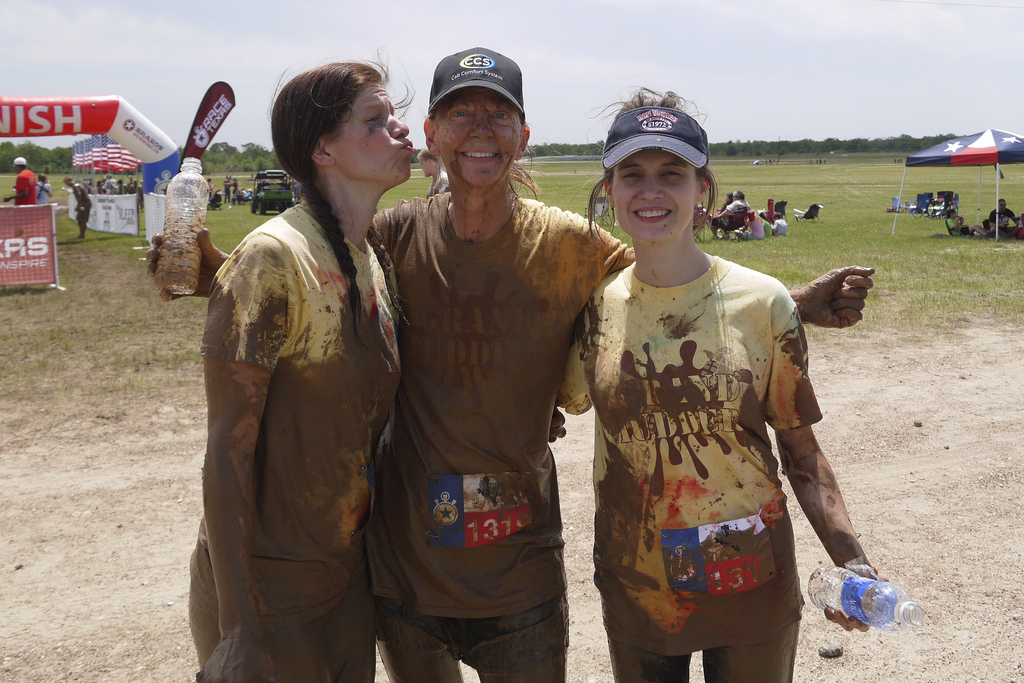 You'd think it was over, right? Nope. Time to get hosed off by actual firefighters using their hoses (insert "that's what she said" joke here).
I was DUDE! Easy! He was all BWHAHAHAHAHA!!!!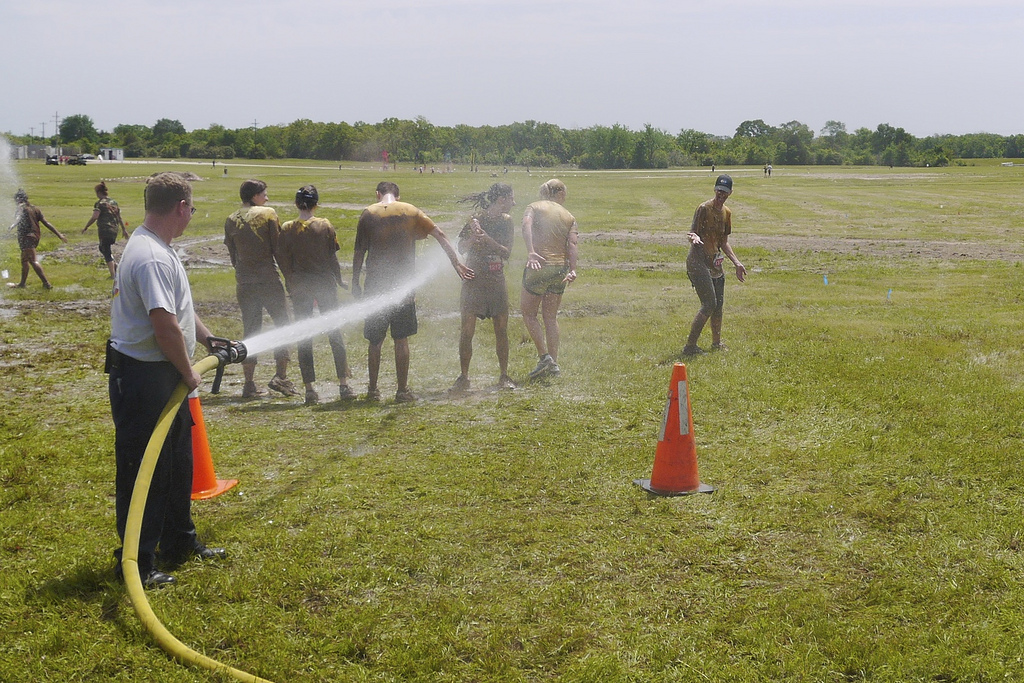 Look at Jay. She actually used the word ASSWIPE, loudly, while referring to the dude. Oh, my. Still laughing.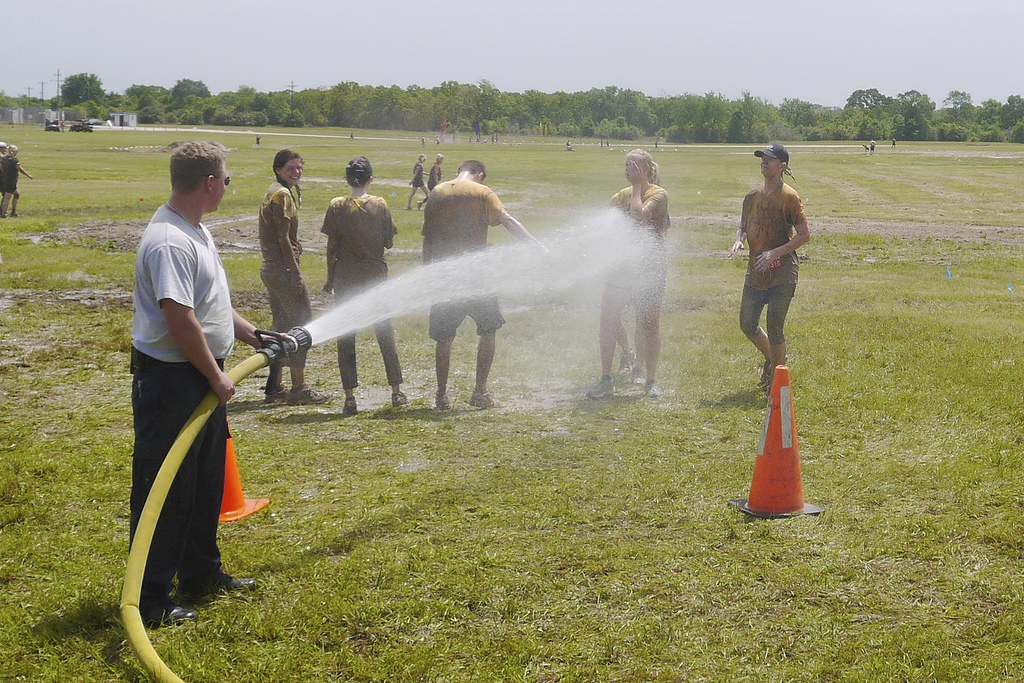 Fine. Do what you must do.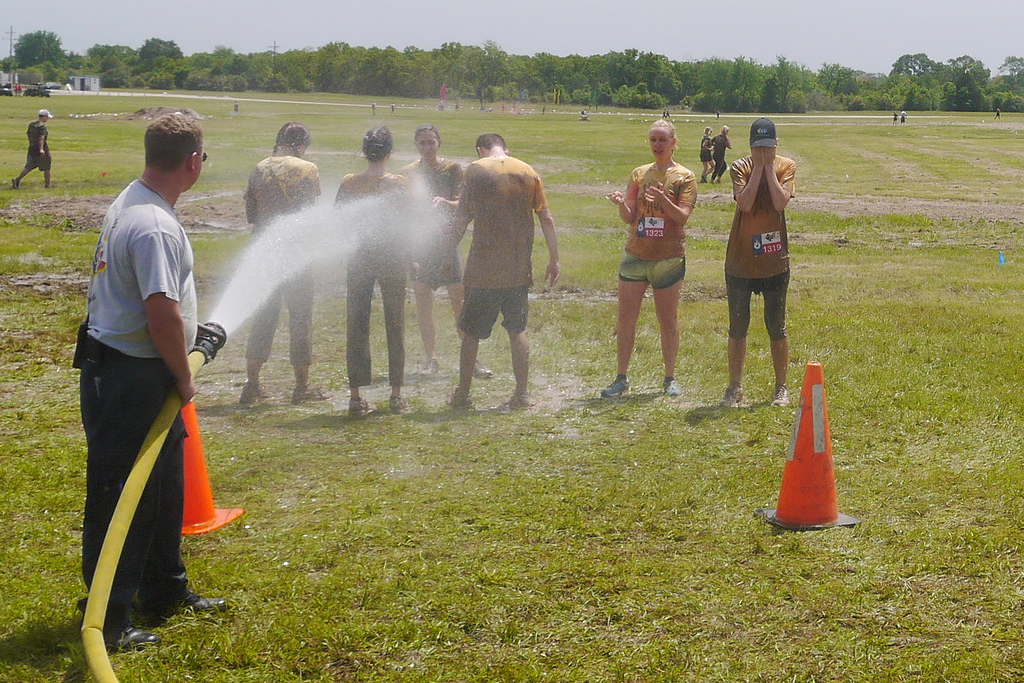 After that, Tara, Evan and Krista headed to the Maroon and White game and the rest of us stayed behind for burgers and beer.
For all my worry and angst about my back, I never once even considered using the Chicken Route to avoid an obstacle. For any runners/walkers out there looking for a fun day, I highly suggest a mud run.
This run was 3 miles. Very doable.
Where else can you play in the mud, slide down giant slides, shimmy through tunnels, climb stuff, run and play with your friends and not get yelled at by the neighbors? Where else can you look like this and be sooo happy about it?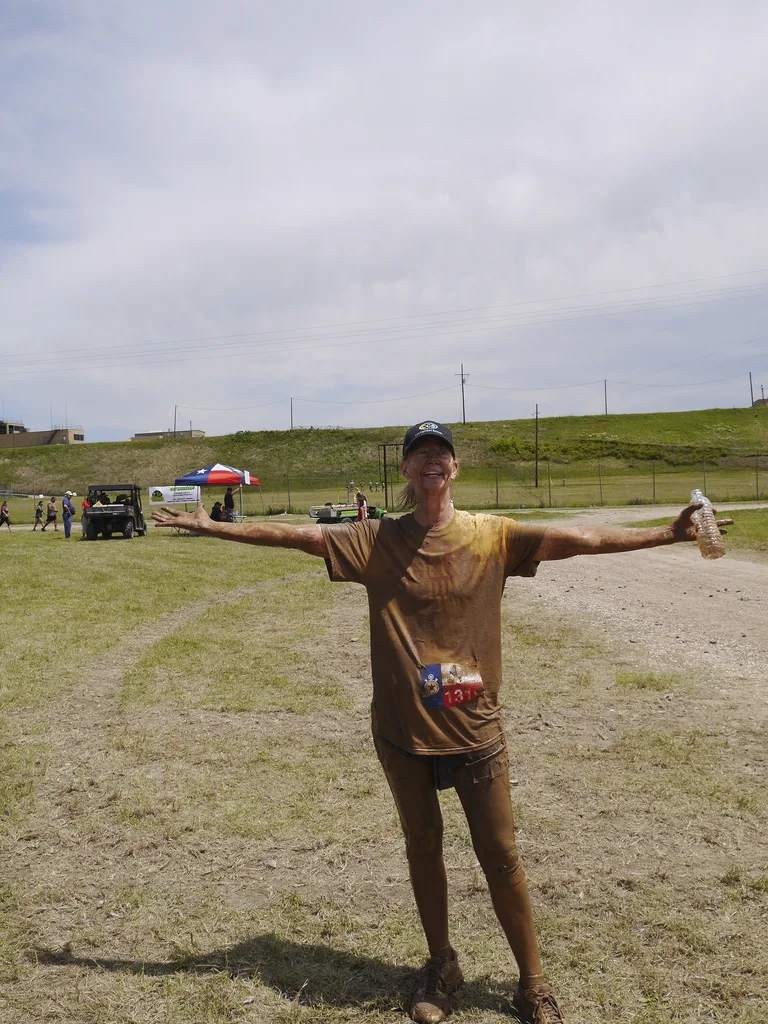 Great day with great people. Doesn't get much better than that.