Streusel Coffee Cake is a recipe that feeds a crowd. Around these parts we call these dishes "funeral food."
You know what I mean.
Funeral food is food you make to feed a crowd that doesn't need much tending; it's the kind of dish you put out on a buffet table and forget about.
Comfort food. Food that's not particularly healthy (kind of ironic, right?), yet insanely delicious. Food that mutes your pain for a second or two and brings a bit of cheer in a bad situation.
Streusel Coffee Cake was made for that kind of moment. Or a great potluck or brunch. Versatile!
Husband's aunt made a pan of this coffee cake for a family function when I was just learning how to bake and it became my go-to for many occasions. My favorite way to eat it is right out of the oven with a giant scoop of vanilla ice cream. Oh, momma.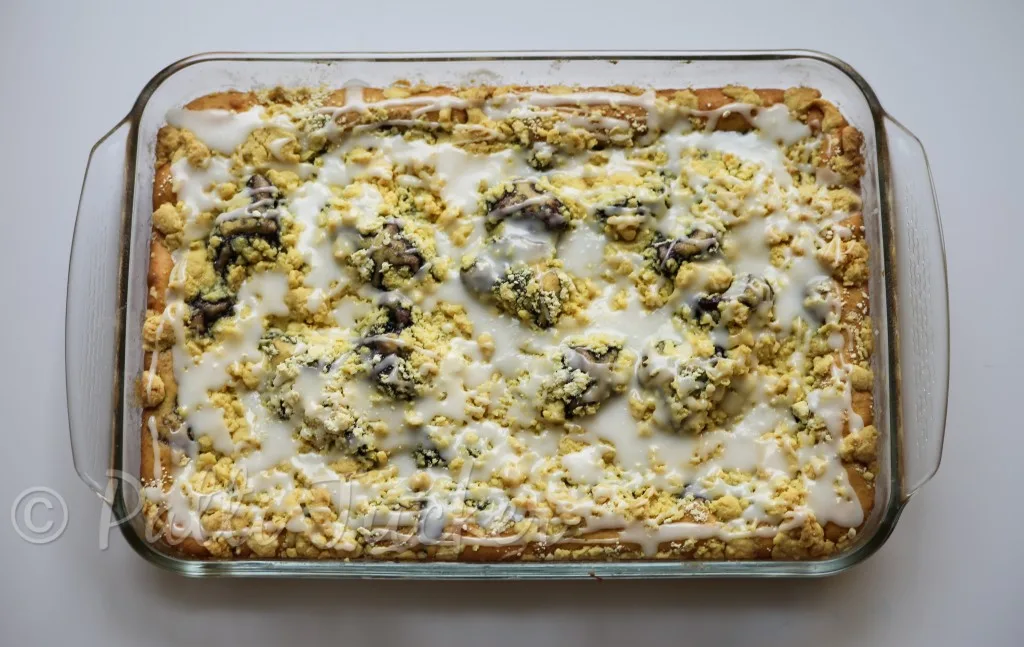 Even though I'm an experienced baker now, there are times I make this dish when I'm thinking about Husband's Aunt Jane. She was as unexpectedly delightful as this cake.
Ingredients
5 tbsp. butter
1 package yellow cake mix*
1 cup white flour
2 eggs
1 package dry yeast
2/3 cup warm water
2 tbsp sugar
1 can fruit filling (if using apple or peach, add 1/2 tsp cinnamon to sugar)

Glaze

1 cup powdered sugar
1 tbsp white corn syrup
1 tbsp water
Instructions
Preheat oven to 375°
Melt butter and cool.
In a large mixing bowl combine 1 1/2 cups dry cake mix (reserve remaining for streusel topping), yeast, flour, eggs and warm water. Beat 2 minutes at medium speed. Scrape bowl often.
Spread dough in a greased 13x9 pan. Set aside.
In a saucepan with cooled butter, combine reserved cake mix to make topping. Mixture will be crumbly. Set aside.
Spoon pie filling evenly over dough in pan. Sprinkle with 2 tbsp. sugar (or sugar and cinnamon mixture).
Sprinkle streusel topping over fruit.
Bake @ 375° for 30 minutes.

Glaze

Combine sugar, syrup and water. Drizzle over warm cake.
E-A-T!
Notes
* Always use a Deluxe Cake mix, never one with a pudding mix.
* Optional Glaze* Omit corn syrup and water. Substitute 1 tbsp heavy cream. Add cream slowly to find the consistency you want.
https://ohmrstucker.com/funeral-food-streusel-coffee-cake/
Have guests in the house? Have folks in need of a some happiness? Don't have a funeral to attend or bake for, but now you're hungry?
Get to it, my babies.
Happy baking!