I love to eat cake. Doesn't matter what kind, just GIMME cake!
I love to bake cakes. So much cake.
One summer was particularly scary in our household. In order to offset the plaguing what-ifs, I announced to Husband that we would now be enjoying The Summer of Cake.
We had a new cake every week; it was a glorious time.
Because we couldn't eat all that cake ourselves (well, I could have, but even for a runner, that's not smart), I would send out an I've made cake. Come and get some! message, and when it was gone it was gone. If you missed out, you'd have to wait until the next week.
It was a deliciously loved summer by all.
Most of the cakes were hits. Some were totally not. And some, you'd have to close your eyes to the ugly to enjoy the yum.
The Candy Bar Cake was runner up in the ugliest cake of the summer, but its saving grace was the O.M.GEEE taste. I've often said I'd take another shot at it, but it hasn't happened yet. Instead, I'm gonna give y'all the recipe (accompanied by my horrifying pic) and let you make it.
If you're brave, send me your glorious (or hideous) pics and I'll post them here.
Deal? DEAL!
The cake: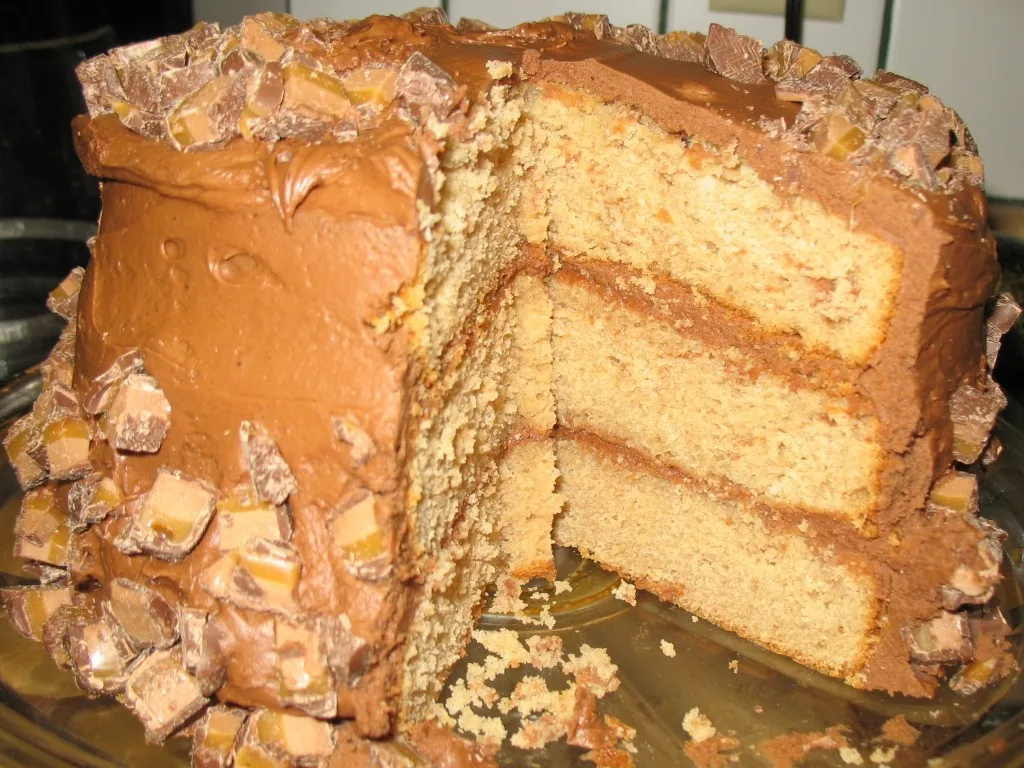 My shame is your gain.
I beg of you, no submitting to Cake Wrecks. And nope, you're not dreaming: those are chopped up Milky Ways pressed into the frosting. Cake + candy = my dream dessert!
The only difference in my cake and the recipe is that I used a regular buttercream frosting. We're not big marshmallow fans, plus it seemed like a pain to make. So lazy.
The recipe:
Ingredients
9 fun-size or 21 mini chocolate-coated caramel and nougat bars
1 1/2 cups of butter, softened and divided
2 cups of sugar
3 large eggs
2 1/2 cups all-purpose flour
1 tsp. salt
1 1/2 cups buttermilk
1/2 tsp. baking soda
1 tsp vanilla
Chocolate Marshmallow Frosting
Garnish: chopped frozen fun-size bars
Instructions
Preheat oven to 350°. Melt candy bars and 1/2 cup softened butter in a heavy saucepan over low heat, stirring constantly, 5 minutes or until smooth
Beat sugar and remaining cup of softened butter at medium speed with an electric mixer 3 minutes or until well blended. Add eggs, 1 at a time, beating just until blended after each addition.
Combine flour and salt. Whisk together buttermilk and baking soda. Gradually add flour mixture to sugar mixture alternating with buttermilk mixture, beginning and ending with flour mixture. Beat at low speed until well blended after each addition. Stir in melted candy bar mixture and vanilla. Spoon into three greased and floured 9-inch round cake pans.
Bake at 350° for 25-30 minutes or until a wooden pick inserted in center comes out clean. Cool in pans on wire racks 10 minutes. Remove cake from pans to wire racks, and let cool 1 hour or until completely cool.
Spread half of Frosting between cake layers. Spread remaining frosting over top and sides of cake. Garnish.
Notes
Recipe by Southern Living
Note: I used Milky Way bars
https://ohmrstucker.com/hideous-candy-bar-cake-of-shame-circa-2010/
Just reading that recipe makes my mouth water…
Ready for the frosting?!
Chocolate-Marshmallow Frosting
Ingredients
3 cups miniature marshmallows
3/4 cup butter, cut up
3/4 cup evaporated milk
6 oz. unsweetened chocolate, chopped
6 cups powdered sugar
4-6 Tbsp. milk
1Tbsp. vanilla
Instructions
Melt first 4 ingredients in a 2-qt. saucepan over medium low heat, stirring constantly, 5 minutes or until mixture is melted and smooth.
Transfer chocolate mixture to a large bowl. Place bowl into a larger bowl filled with ice and water. Gradually add powdered sugar alternately with 4 Tbsp. milk, beating at low speed with an electric mixer until blended after each addition. Increase speed to medium-high, and beat 5 minutes or until frosting is cool, thick and spreadable, adding up to 2 Tbsp additional milk, if necessary, for desired consistency. Stir in vanilla. Use immediately.
Notes
https://ohmrstucker.com/hideous-candy-bar-cake-of-shame-circa-2010/
Alrighy, bakers. Get to it and send me your finished product pics…if you dare!
Happy Baking!