When I think of French bread I suddenly speak with an extremely embarrassing French accent and imagine myself in a beret.
Oui Oui!
~ugh~
If you have never had homemade French bread, let me weep a little for you (yes, again in the French accent). If you have never made homemade bread of any kind, let me assure you that this is the recipe to start your bread baking adventures. While it might seem daunting, the hardest part is waiting for all the rises to finish.
Berets on, my babies! Let's bake!
WAIT! I need to preface the recipe with the fact that I have no idea where this recipe came from, but I've made it more times than there are fingers on my hands (FYI: all 10 are accounted for).
Simple Homemade French Bread
Ingredients
Yeast Mixture

2 packages of regular yeast
1/2 cup of very warm water
2 tsp salt

Dough

7 cups of flour
2 3/4 cup of water
Poppy seeds...optional
Instructions
Yeast Mixture

Mix the yeast, salt and 1/2 cup of very warm, yet not hot water.* Let sit for 5 minutes until foamy**.

Dough

Mix the flour and water together in a large bowl.
Add yeast mixture.
Knead by hand 5-7 minutes or in a mixer with dough hook, until elastic.
Set in large bowl. (there will a a large amount of dough that needs lots of room to expand)
Let rise 1 hour, then punch down.
Let rise second hour, then punch down and shape into loaves.
Let rise one hour.
Preheat oven to 350°.
Brush the tops of the loaves with an egg white mixture (1 egg or 1 yolk plus 2 tbsp water)
Dust with poppy seeds.
Bake 25 minutes or until loaves sound hollow when tapped.***
Notes
* You want the water sufficiently warm, but not so hot that it kills the yeast. This is how I make sure: run the tap on hot and put your wrist under the running water. Right before you need to pull your wrist away, that's about how hot you need it. Unscientific to be sure, but this method has never failed me.
** This is called "proofing" the yeast. If you look in the bowl of yeast after 5 minutes and it doesn't look significantly different from when you started (foamy), you either have bad yeast or you killed it. MURDERER! Start this step over.
Yeast is what expands the bread when baking, so you need a good proof.
*** Tapping the cooked loaves is fun. You should practice this. Do it a few times and you'll come to recognize the "hollow" sound. Kinda like thumping a good watermelon.
https://ohmrstucker.com/homemade-french-bread/
As you can see by the recipe (7 cups of flour!), this will make more than a couple of loaves: round loaves, braided loaves, small dinner roll-sized loaves. (I had already eaten two of the smaller loaves by the time this pic was taken. with butter. down the piehole. ~urp~)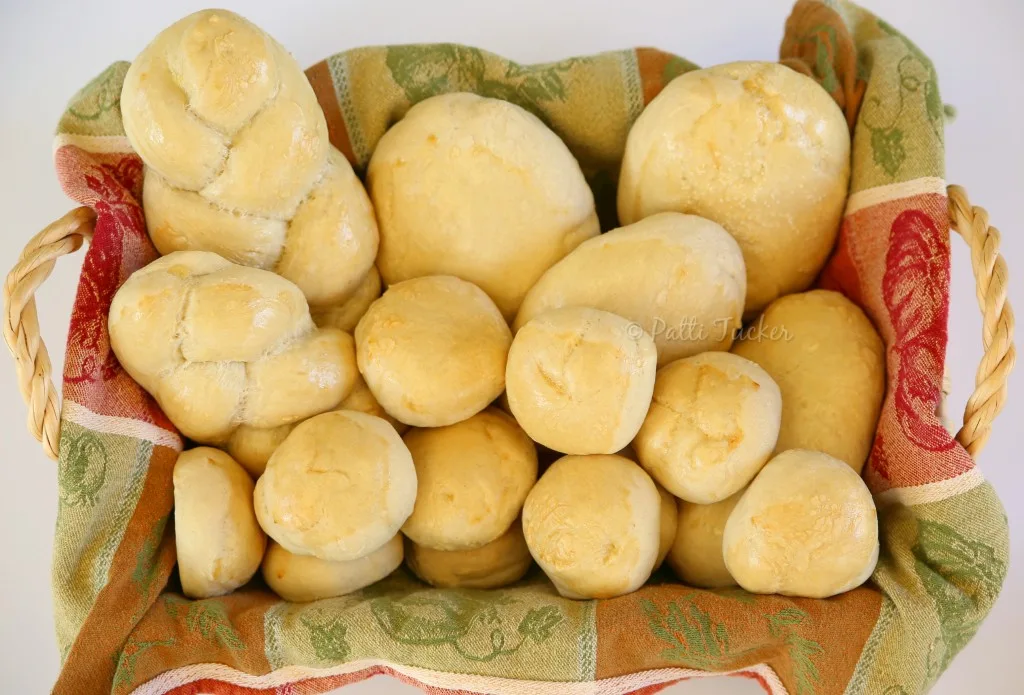 Here's how I break it down:
Loaf #1: eat right out of the oven slathered in butter. Maybe it's a smaller loaf, maybe not.
Loaf #2: have more with dinner, while pretending I didn't eat an entire loaf right from the oven earlier in the day. Fight over the last piece.
All other loaves: store in the freezer until needed, so I don't eat those loaves after dinner, slathered with butter. And jam. Or preserves. I'm not picky.
CAVEAT: this is pure white bread deliciousness. Those on a carbless diet might call you names, might mock your nutritional choices, tell you how horrible that ~gasp~ white bread is for you health, or, more likely, once they see and smell the deliciousness, try to steal your bread. DON'T LET 'EM!
French bread is a satisfying bread to make. This recipe is easy and elegant. Oh, and delicious. Especially hot from the oven. Don't say I didn't warn ya.
Happy Baking, mes bébés!