I'm a sucker for carbalicious bread, in any form.  Portuguese Sweet Bread.  Ever heard of  it?  Ever had it?  If you answered "yes" then you're smiling and wishing you had some RIGHT NOW!  If you answered "no" then you're in for a light, buttery, addictive addition to your baking arsenal of recipes to cherish.
That's right, cherish.  It's that good.
Head's up: in our house we call it Snail Bread.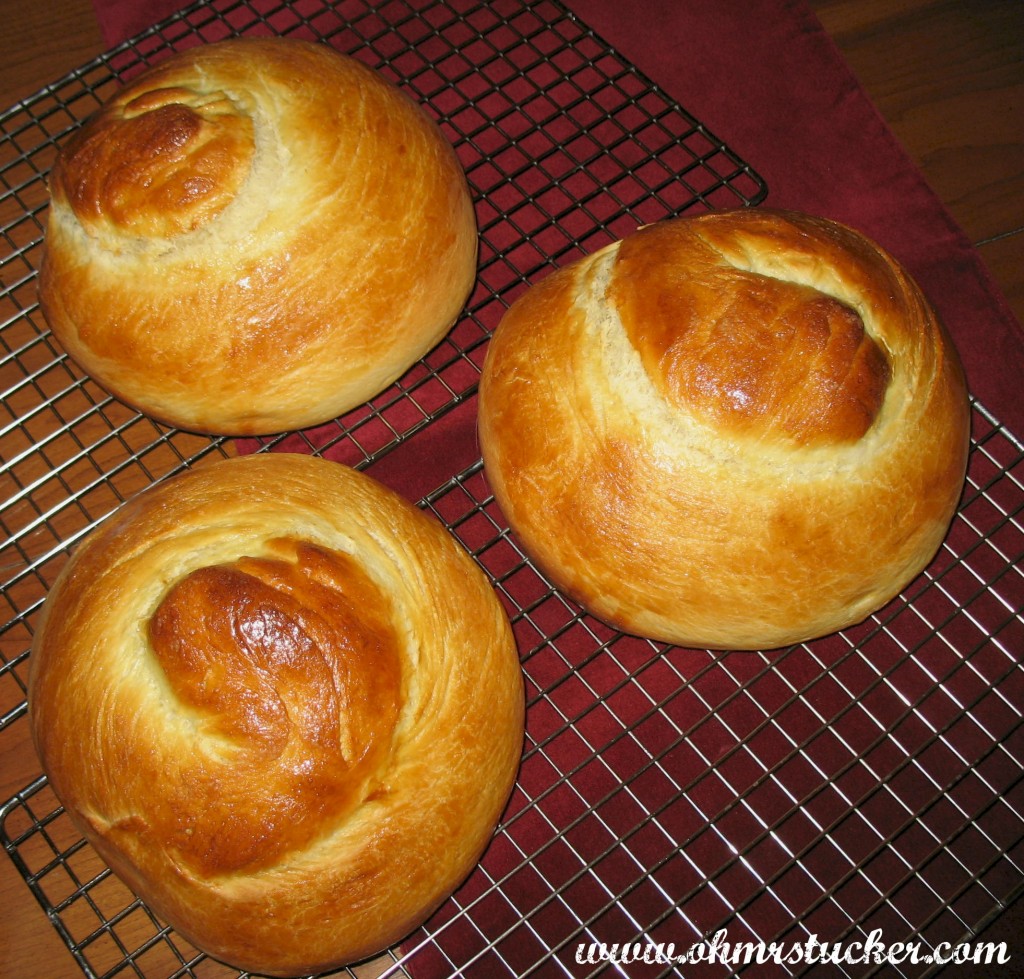 See that top knot of the snail?  You gotta be fast, because that's the part that everyone wants to eat.  It's crusty sweet on the outside, yet light and almost like eating butter-flavored air on the inside.  These knots have been known to disappear on full, uncut, loaves.
"NOOOOOOO!" Says the too-slow top knot snatcher.
The hardest part of the recipe is waiting for the double rise.  That and you gotta make sure you don't kill your yeast with water that's too hot.  Other than that, it's a veritable breeze.
Ingredients
2 packages active dry yeast
1/4 cup warm water (105-115°)
1 cup lukewarm milk (scalded, then cooled)
3/4 cup sugar
1 teaspoon salt
3 eggs
1/2 cup butter, softened
5 1/2-6 cups all-purpose flour
1 egg
1 teaspoon sugar
Instructions
Dissolve yeast in warm water in a large bowl.
Stir in milk, 3/4 cup sugar, 3 eggs, salt, butter, and 3 cups of flour.
Beat until smooth.
Stir in enough of the remaining flour to make the dough easy to handle.
Knead dough on a lightly floured surface until smooth and elastic, about 5 minutes.
Place in a greased bowl and let rise in a warm place until it is double in size, about 1 to 1 1/2 hours. (dough is ready if indention of finger remains when poked)
Punch down dough and divide in half.
Roll each half into a rope, then coil each to form a snail shaped.
Place each "snail" in greased round cake pan.
Cover and let rise until double (about 1 hour).
Heat oven to 350°F.
Beat 1 egg and brush over tops of loaves.
Sprinkle with 1 teaspoon of sugar.
Bake until loaves are golden brown, about 35-45 minutes.
Notes
* Instead of forming each half into snails, shape each half into a round, slightly flat loaf. Place each loaf in a greased round cake pan and proceed as directed.
* Preheating the oven is important when baking bread, as the initial heat-burst helps to "lift" the bread.
* Sometimes I make 4 smaller loaves instead of two bigger ones. Decrease bake time if you do this.
* Not sure the bread is done? Knock on the top and if it sounds hollow, it's done!
https://ohmrstucker.com/portuguese-sweet-bread/
My favorite warm Snail Bread topping is apple butter.  Decadence squared.
While the bread is a slice O'Heaven right out of the oven, it's also amazing toasted or at room temp with an actual meal like a civilized person.
One thing I love about this recipe is that if I'm giving it as a gift (Boy loves this bread), there's always an extra roll for my efforts!  I know, I really need to work on being selfless, but this bread gets in your head, people.  I dare you to make a batch without becoming a Snail Bread hoarder.
Get to baking, my lovelies!
Please Share on Your Favorite Social Media! ~ OMT thanks you! ~