19 months ago our lives changed when Sweet E entered the world on a stormy February day. Fat Tuesday lived up to the celebration that year and it's been a lesson in grandparenty love ever since.
I've kept tabs on what I've learned HERE, HERE, and HERE, but each new day is a surprisingly delightful experience, a humbling lesson in how one's heart grows to proportions beforehand unknown and frankly, unbelieved.
As a mom to an only, I wondered how I'd be able to love another child as much as I had loved Boy. Throughout Girl's pregnancy the thought that I might not have enough in my love well to draw from proved to be one of my most ridiculous worries to date (and as a mom, I think you know how many ridiculous worries there can be as you raise your kiddos). When you love, that love expands from an unending source of new love. The more you draw from the well of love, the more there is to draw.
I shouldn't have worried; there was more love than I imagined. Matter of fact it was an embarrassment of love riches. So. Much. Love.
Today, Sweet E is as loved as any grandchild that ever walked, or ran, or wrestled or climbed…
He's gone from this sweet sleeping babay: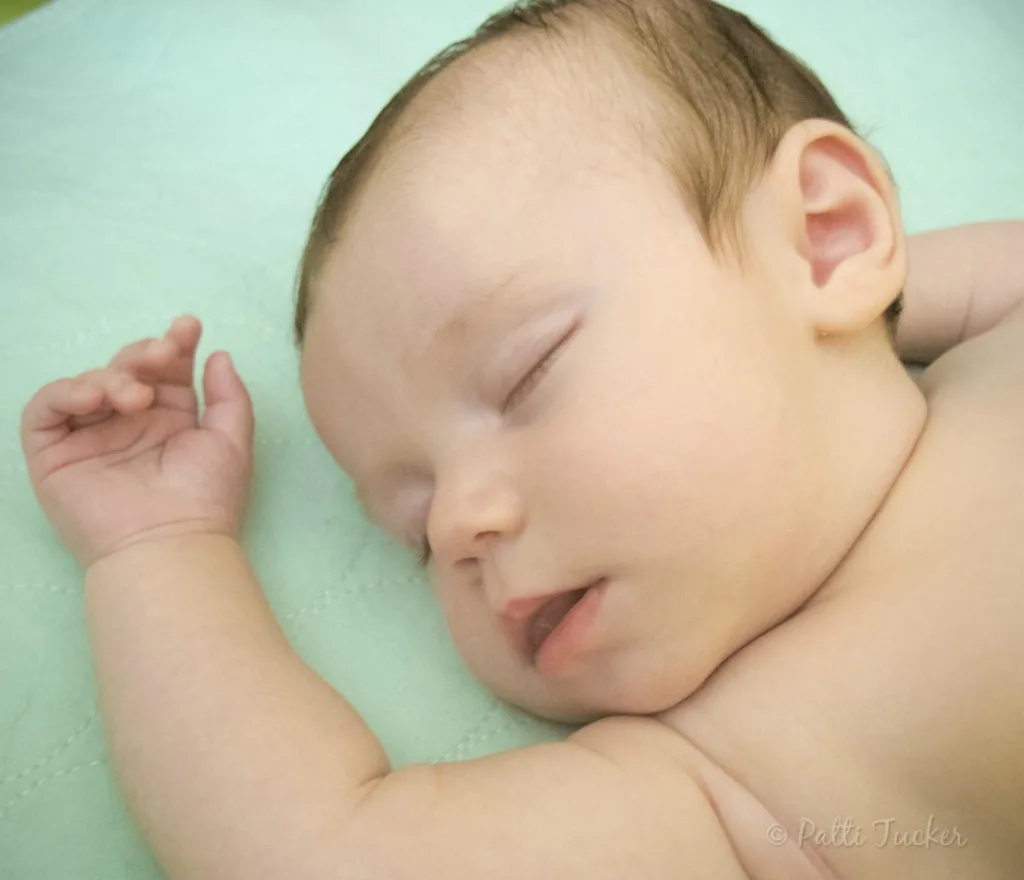 To this sweet wide awake toddler: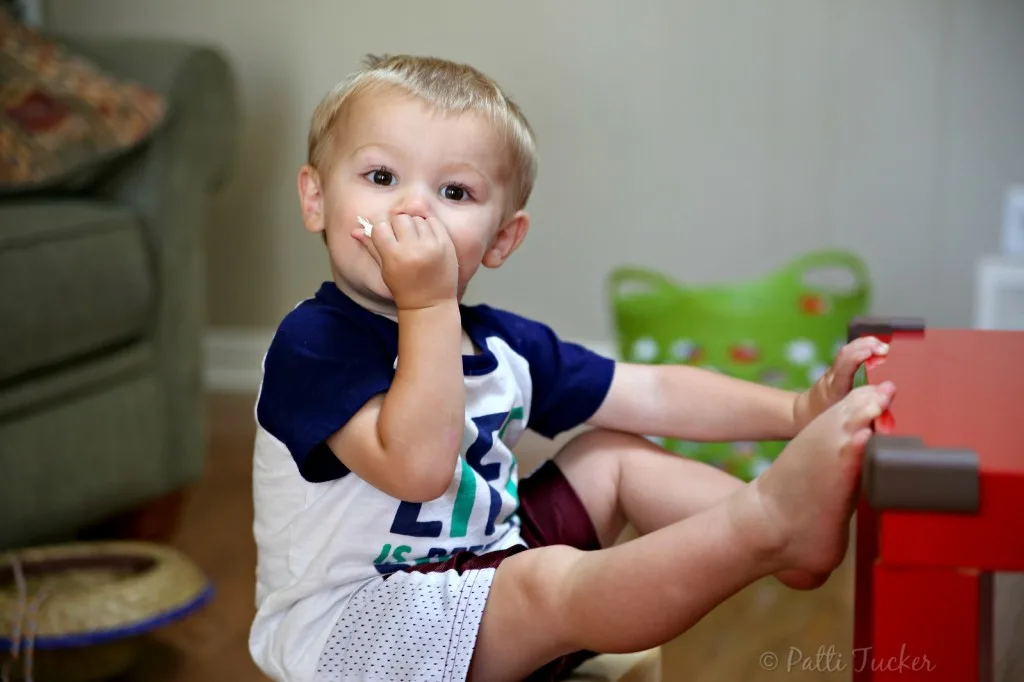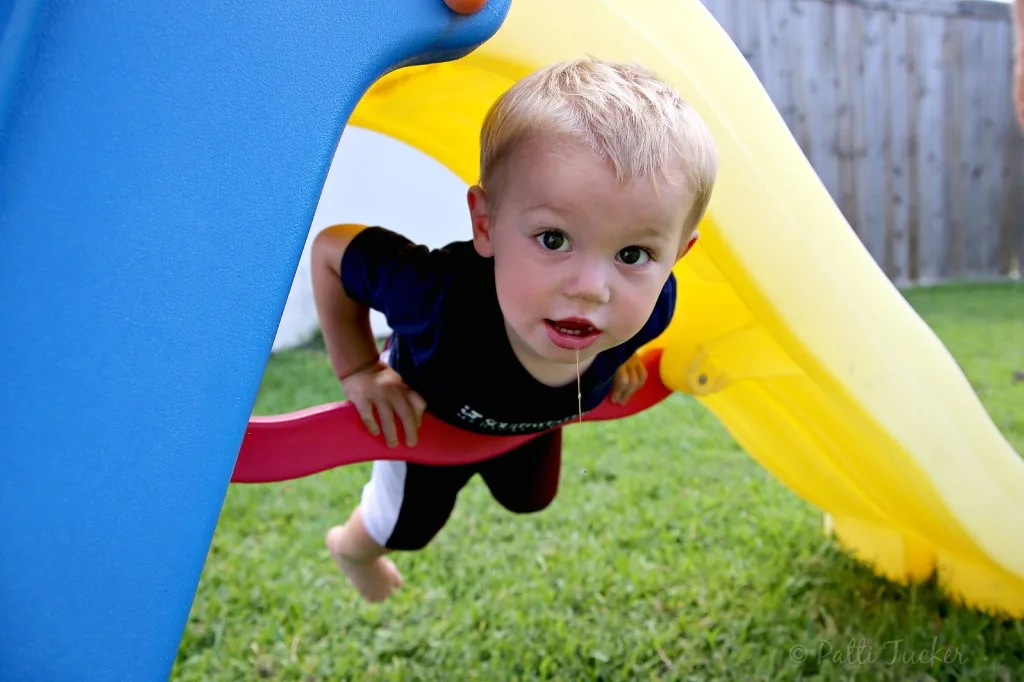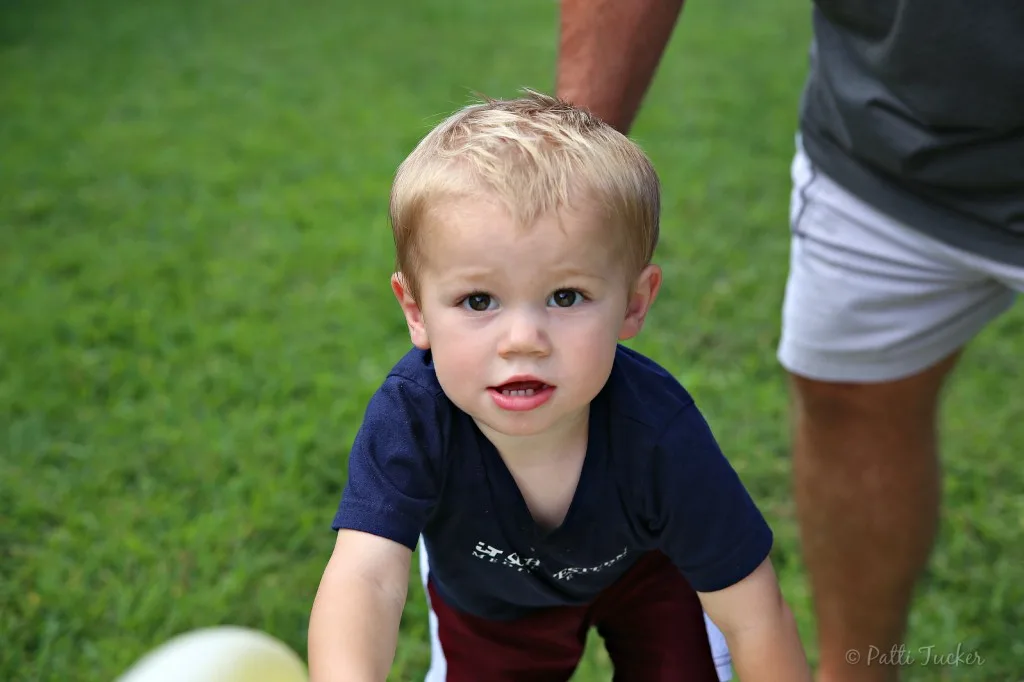 Be still my overflowing heart.
It's been 19 months, but I've lived a whole other life in that time and my granny education continues.
I've learned that boys are still boys, no matter the generation.
I've learned that I can still carry on a conversation when one of us is talking gibberish.
I've learned that my son can still surprise me with the tenderness of a father's heart to his son.
I've learned that the carefree young lady Boy married has become a fierce warrior momma, not to be trifled with when it comes to her son.
I've learned that if Boy and Girl ever move farther away than Dallas, that I might have to sneak in one night and abscond with my grandson. DON'T TAKE DAT SWEET BOY AWAY FROM ME!
I've learned that "Choochie" is going to be a difficult grandmama name to pronounce…correctly.
I've learned I like the name "Cookie" better.
I've learned that I will laugh every time when someone mistakenly says "coochie" instead of Choochie. (Dear Father God, don't let this be a thing, but if it is, please help me keep the delighted snorts and loud guffaws to a minimum.)
I've learned that Garry, aka G-Daddy, will agree to anything if I preface my request with, "It's for Sweet E…."
I've learned that Sweet E's great grandparents are as sappy as we are when it comes to that child.
I've learned I will do anything to make Sweet E laugh.
I've learned I couldn't love him more even if he was mine.
I come from a very small family. We didn't have cousins to grow up with, no aunties or uncles, nor grandparents that lived close. More and more I'm realizing how much we missed growing up, and now, as a grownup, I can't imagine missing any of Sweet E's moments.
Which brings me to the biggest thing I've learned: I want to experience it all as he grows into this world.
While we don't know how life will play out, maybe he'll always live close, maybe not, I'll always be here, with my love splashing all over the place, waiting until I can see him again, waiting on the next lesson of love.
I'm a lucky gal, y'all.