More cobbler, y'all! First there was this one, made with blueberries and strawberries.
Today, there is peach…PEACH COBBLER!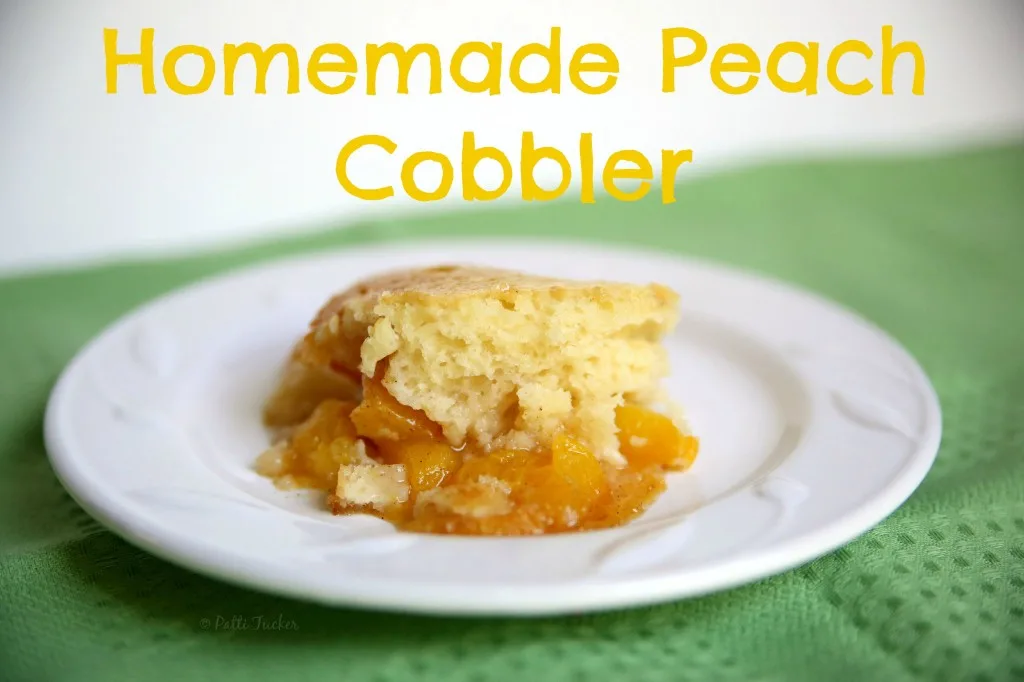 Nommy nom nom.
Before we get started, I did use fresh peaches in this cobbler, unlike last time when I used frozen blueberries and strawberries. Fresh or frozen works, but because it's summer and fruit is a'plenty, I decided to go fresh for this cobbler.
Let's start by blanching the peaches, to make them a breeze to peel. If you are unfamiliar with how to blanch fruit, last summer I wrote this tutorial, so start there: How To Peel Peaches Like a Peach Peeling' Pro
Once you've blanched and peeled the peaches, cut the fruit into slices or bite size pieces. Either way is fine.
Now you're ready for the recipe!
Ingredients
Fruit Filling

8 cups of sliced fresh (or frozen) peaches
1 cup of sugar
1/2 tsp cinnamon

Topping

3 large eggs
3/4 cup vegetable oil
1 1/2 cup of full fat milk
2 teaspoons of vanilla
3 cups all-purpose flour
1 tablespoon baking powder
1 tablespoon salt
2 cups sugar
Instructions
Preheat over to 350°.
Butter or spray a 13 x 9 x 2 baking pan.
Combine fruit, 1 cup of sugar and cinnamon and spread evenly in pan.
Mix together eggs, oil, milk and vanilla.
In large bowl mix all dry ingredients.
Pour the wet ingredients into the dry and mix just until combined.
Pour topping evenly over fruit (will come very close to top of pan).
Bake for one hour or until topping is baked through. (a toothpick comes out clean from topping)
Notes
I found it needed closer to 70 minutes, so watch carefully, so as not to burn. Simply check every 10 minutes or so, starting at around the 50 minute mark.
Adapted from an Express News recipe (so old I didn't have a date)
https://ohmrstucker.com/homemade-peach-cobbler/
This is the kind of cobbler you remember your grandmama making; it's that good. Obviously, it's easy to make using frozen fruit, but oh, momma, when you use fresh…SING!
While we're coming to the end of summer and the abundance of fresh fruit, it's nice to know you can make it year round using frozen (hello, Thanksgiving table!), whenever you get a summer craving.
Well? What are you waiting for?
Happy Baking, Y'all!