Oh, mah babies. THIS. This cobbler came out of my oven smelling of sweet summer fruit and light cakey droolgoodness. I had to remind myself not to take a bite until it had cooled enough so it wouldn't remove the skin from the roof of my mouth.
THE TORTURE!
As a good Southern gal, I try to keep up on the Southern classics: biscuits, cream gravy, sheet cake, and now fruit cobbler. Oh, momma.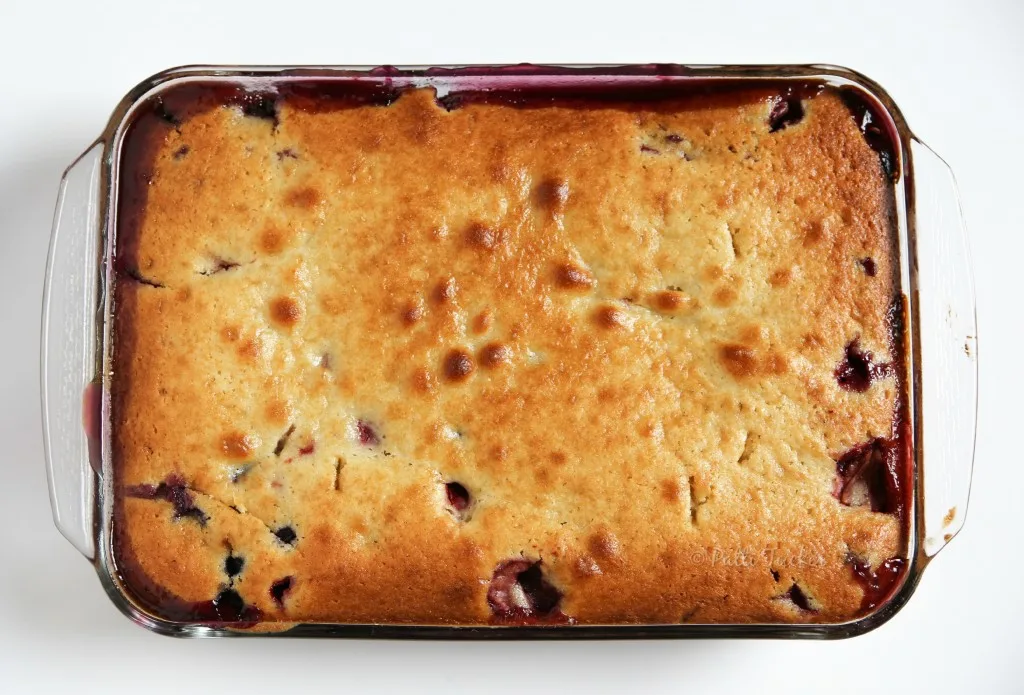 While I used blueberries and strawberries, you could use whatever fruit you'd like with minor adjustments to the ingredients. Wanna know a secret? I used frozen fruit. How easy is that?! I'll give you a hint: SO. EASY!
Homemade Fruit Cobbler That Will Make You Slap…Wait…Don't Slap Anyone
Ingredients
Fruit Filling

4 cups of blueberries
4 cups of strawberries, quartered
1 cup of sugar

Topping

3 large eggs
3/4 cup vegetable oil
1 1/2 cup of full fat milk
2 teaspoons of vanilla
3 cups all-purpose flour
1 tablespoon baking powder
1 tablespoon salt
2 cups sugar
Instructions
Preheat over to 350°.
Butter or spray a 13 x 9 x 2 baking pan.
Combine fruit and 1 cup of sugar and spread evenly in pan.
Mix together eggs, oil, milk and vanilla.
In large bowl mix all dry ingredients.
Pour the wet ingredients into the dry and mix just until combined.
Pour topping evenly over fruit (will come very close to top of pan).
Bake for one hour or until topping is baked through.
Notes
I found my cobbler needed closer to 70 minutes, so watch carefully, so as not to burn.
If using just blueberries, add 1/2 tsp cinnamon, if you like.
Adapted from an Express News recipe (so old I didn't have a date)
https://ohmrstucker.com/homemade-fruit-cobbler-that-will-make-you-slap-wait-dont-slap-anyone/
You looked over the directions, right? Mix. Put in dish. Bake. The hardest part of this is waiting for it to cool. As a friend said (Oh, hai, Jason!): Carpe Cobbler!
He has a point.
Go on now, git! Get to cobblerin'!
Happy Baking, y'all!