It's hot outside.
It's hot inside.
It's hot in the pool.
It's hot in ~your hot spot here~.
What's an ohsohot person to do?!
Enjoy a smooth summer smoothie, that's what!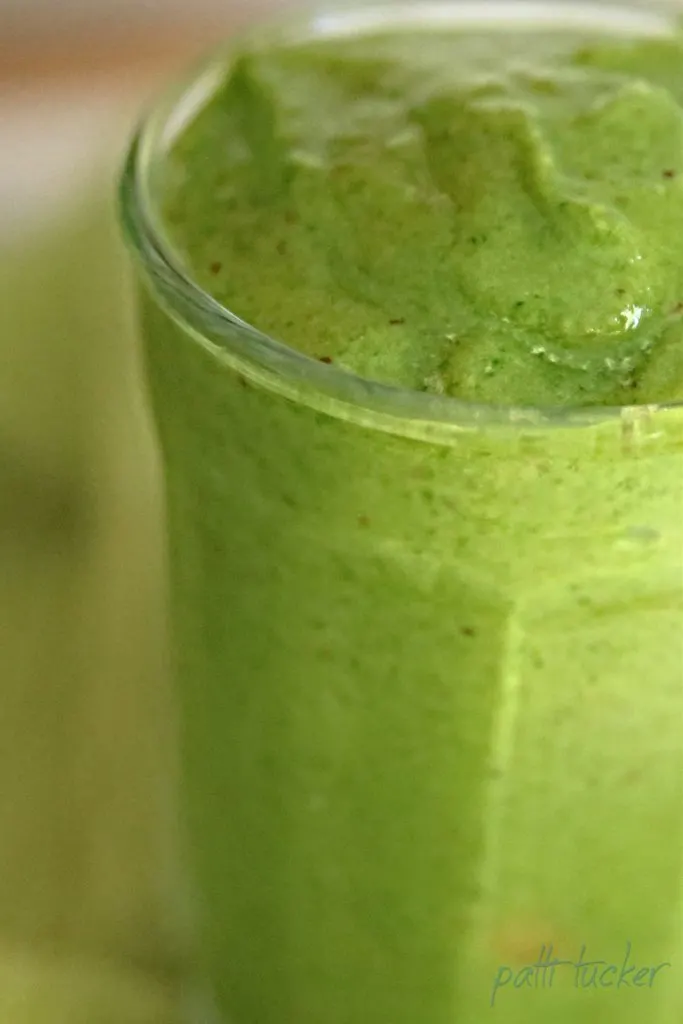 DON'T LEAVE!!!
I know, I know – it's green.
Try and ignore that for a minute. I swear it's refreshing and delicious.
OMT! won't lie to you – so hang in, baby.
I'm digging me some smoothies – this one in particular.
You know the rule here: If OMT! loves it, she shares it (whatever "it" is), so you can too.
Funny aside: I sent a pic of this smoothie to Garry (who enjoys them too). I told him to show his co-worker and tell him I'd be happy to bring him one.
I was told I could place it in his coffin, when he passed.
DRAMATIC MUCH?!
OMT! Confession: Three years ago I would have balked at drinking anything green.
Correction: I'd totally drink melted chocolate chip mint ice cream.
Dang it. Now I want ice cream…
So why in the world do I drink them now?
Cause they be tasty. You know, if you make 'em the way I do.
How To Enjoy This Smooth Summer Smoothie
#1: Throw the following ingredients into a blender that can handle itself.
~ 2 cuties or 1 orange – peeled (do I have to say that part?!)
~ 1 pear – cored, but not peeled
~ 1 small Gala apple – cored (not peeled) and annoying sticker removed
~ 1/4 cup of water (if needed)
~ 1/4 – 1/2 cubed cubed frozen pineapple, depending how thick ya like it.
~ 1-2 cups frozen/fresh spinach (by frozen fresh, I mean buy fresh spinach – clean thoroughly – freeze flat to use in smoothies)
#2: Blend the ever-livin' daylights outta those ingredients.
#3: Pour the ice-cold concoction (with or without vodka) into a tall glass.
#4: Grab a spoon or big straw and ENJOY!
Tastes like a cool breeze during a hot month. #pinkyswear
This particular smoothie is PACKED with antioxidants, has NOTHING processed, contains no preservatives, dyes or guilty feelings upon indulging.
It's pure goodness that achieves three wonderful thangs:
#1: Makes your taste buds sing love songs to the tropical islands.
#2: Offers fiber, nutrition, and other stuff yer mom told ya to eat in order to stay healthy, yet it doesn't taste like it!
#3: You. Can't. Taste. The. Spinach. #isiteveninthere
I know this for a fact because I made a smoothie with Popeye's secret-sauce, offered a taste to Sweet E, then upon approval we made frozen pops with it!
BOOMDIGGITY!
Go on.
Git.
Blend.
Cool down and enjoy.
Feel smug and call yer mom – let her know you're winning at life.
Smooth. That's you. Oh, yeah.
SALUD!