This post is a popular one here at OMT!  I first wrote about my love of strawberry smoothies two years ago and I thought it was worth a second look…cause y'all love it!
The great thing about this smoothie is that you can substitute any fruit or a variety of fruits.
You can also substitute the milk for almond milk or soy.
Kids love the milkshake thickness of this smoothie and adults love the sneaky boost of nutrition.  It's a win-win, baby!
~~~~~~~~~~~~
I'm a Southern gal and that means I politely decline ice in my smoothies, strawberry or otherwise. Ice is reserved for a Coconut Slush, a rainbow snowcone or rocks in my whiskey.
Ice in a smoothie? Oh mah dear, no thank you!
Oh, Mrs Tucker's No Fail, Ice-Free, Pick-any-Fruit Smoothie
Serves One
1 cup milk
Frozen fruit, dealer's choice.
1 tbsp sugar, optional
Pour milk into blender. Throw in sugar and about 1/2 cup of frozen fruit to start. As the blender breaks up the fruit, keep adding more in small amounts until your smoothie reaches your desired consistency.
Pour in a glass.
Enjoy!
While Husband prefers a mix of frozen blueberries, cherries and pineapple, I am a one-fruit per smoothie enthusiast. Husband prefers a consistency that is spoon-worthy, while I prefer mine to travel through a straw with a hint of effort.
Each smoothie is different and delicious. Not to mention packed with nutrition and antioxidants. Ahem, the kiddies will love them and never have to know they are good for them.
You can also blend a thick consistency, then fill Popsicle molds for a fun, frozen treat.
One caveat: If Mommy has had a hard day and happens to slip enough booze to put her out for the night a teeny splash of vanilla rum into a batch to freeze, make sure they are labeled and that the children (most likely the reason mommy spiked her batch that she has no plans on sharing with daddy), can't get their adorable tiny fingers on them. Social services frowns upon tipsy children….from what I hear.
~ A gentle reminder: OMT! uses Amazon referral links. When you do your shopping through the Amazon links on this page, you support the blog at no cost to yourself. It's much appreciated!~
I do love a cold Strawberry Smoothie with a fat red straw!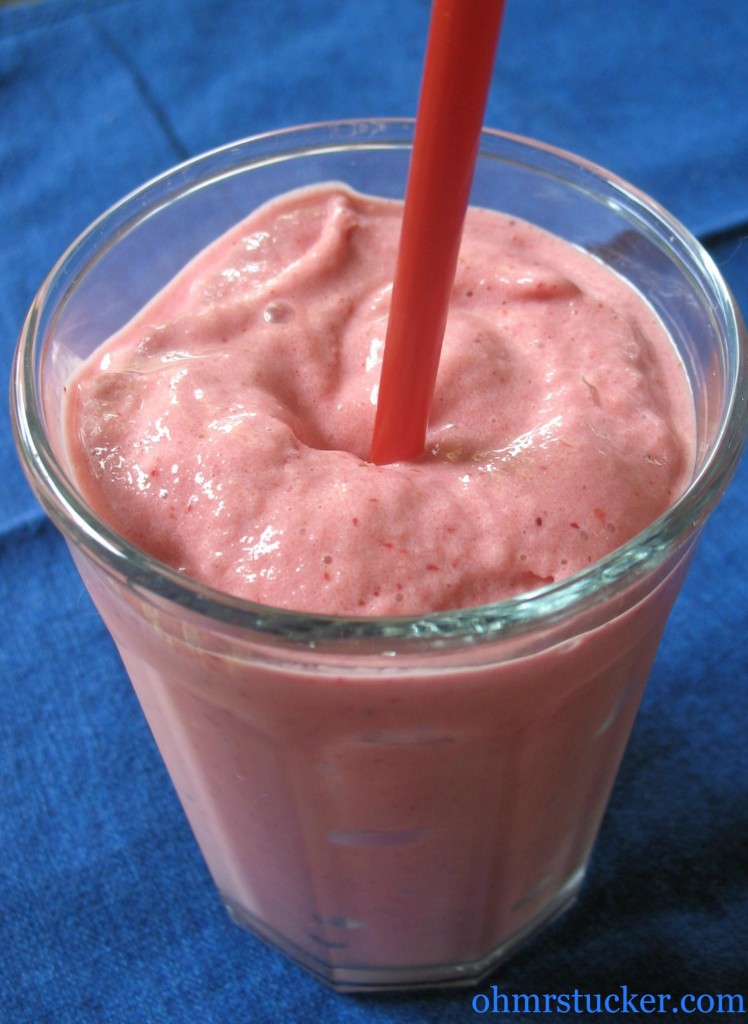 Happy Smoothie Makin', Y'all!
If you're interested in having the Top 10 OMT! Recipes in one place (no searching!), click anywhere on the image below ▼

Please Share on Your Favorite Social Media! ~ OMT thanks you! ~