Y'all. Have I ever done you wrong? HAVE I?!
Rhetorical, you in the back…
This – THIS – is one of the many ways I haven't done you wrong: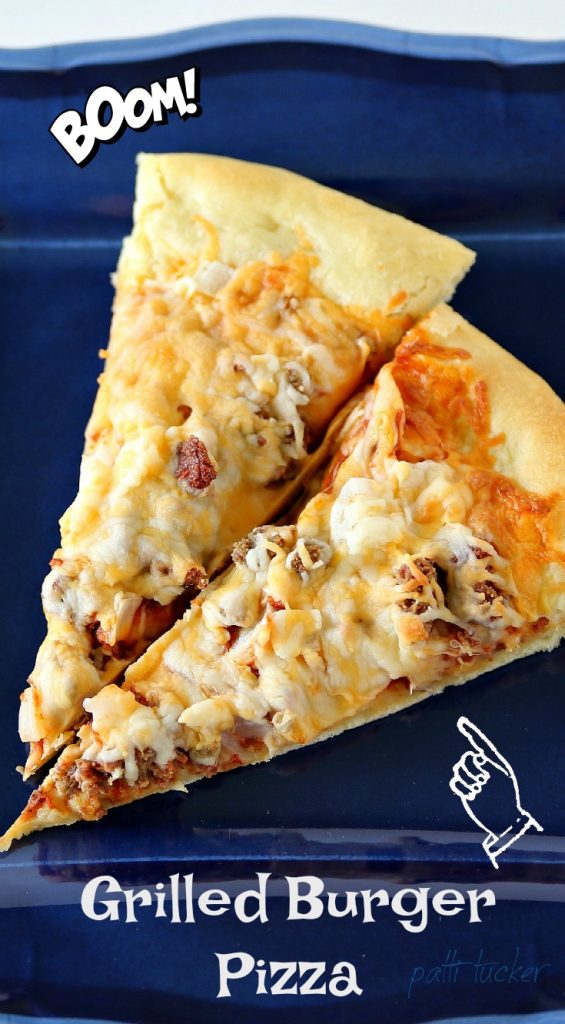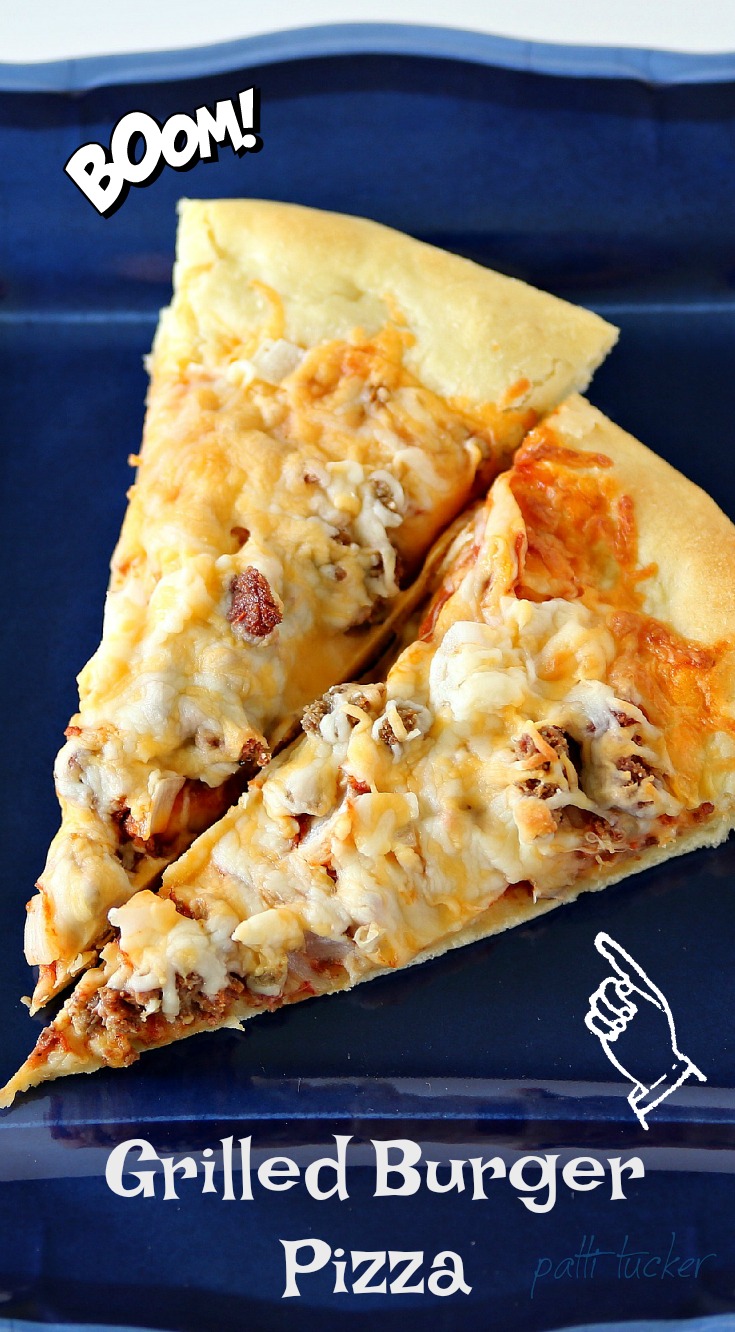 When Garry is smoking all the meats in the summer, he always includes burgers. That way we throw a stash into the freezer that we can pull out whenever we need a grilled burger fix.
That being said, there are only so many many many many times I can eat a burger as, well, a burger, until I need to get creative.
Enter the Grilled Burger Pizza: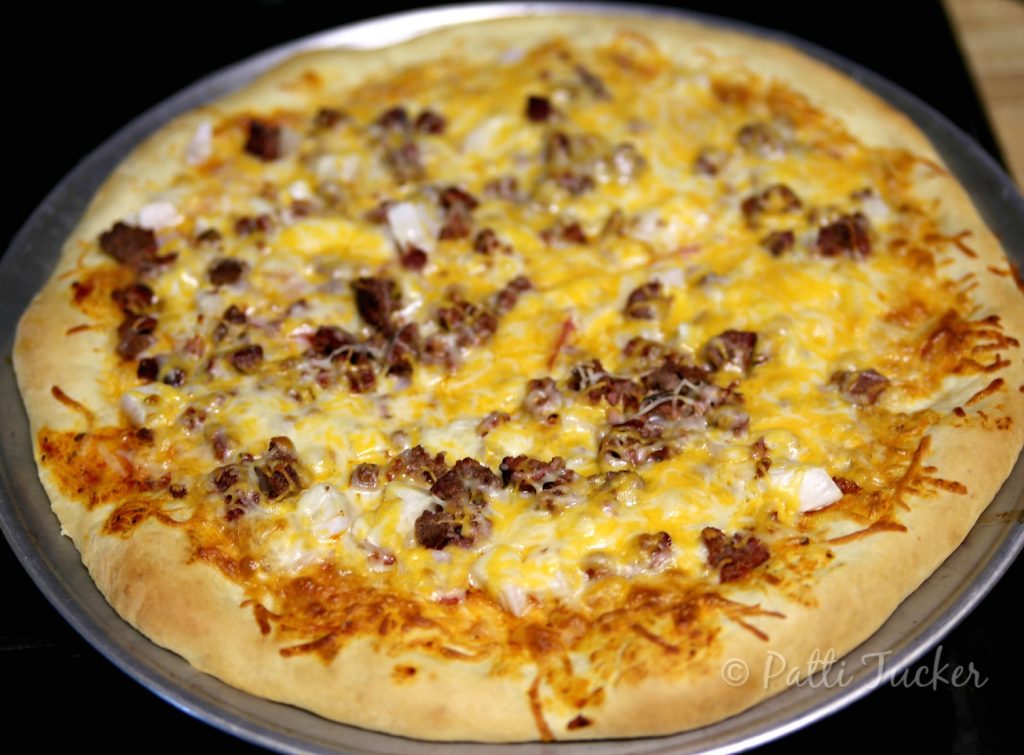 WARNING: This is THE most addictive pizza I have ever eaten and I have eaten way more than my share throughout my life. I know pizza.
Now, Garry likes to throw some 'pice on his: Grilled Burger Pizza w/Jalapeno: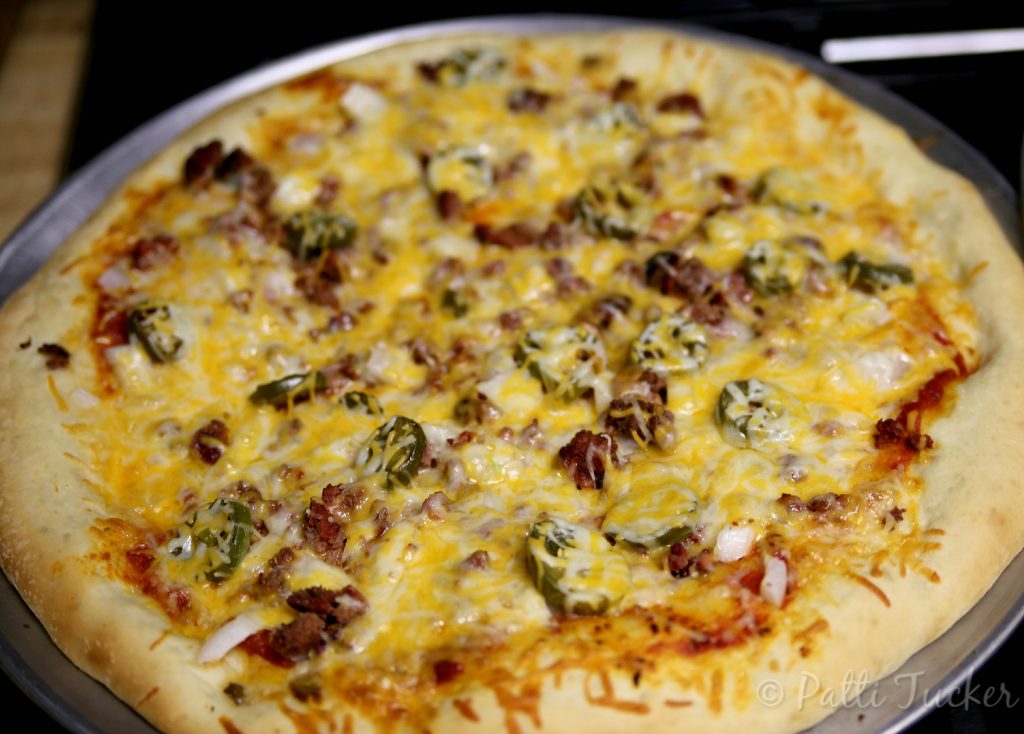 Yes, there are only two of us.
Yes, I cook for a crowd.
This will feed us for a few meals throughout the week (a lunch or two included). Anything else goes in the freezer for a lazier day. (y'all catching on that I like to cook and freeze thangs?!)
Lawsy, y'all, a Grilled Burger Pizza is an addictive flavor explosion.
IMPORTANT NOTE: We don't use a gas grill; we use a smoke pit that has a fire box on the side. The smokey flavor imparted to the burger is incomparable to anything you'll ever taste from a gas grill.
The cooked pizza can be sliced and frozen in a freezer bag, if it makes more than you need.
A few more things before I get to the recipe:
As a baker, this dough is the kind of dough that makes your heart sing.
It's soft and pillowy and makes me sigh the sigh of the baking content when I put my hands on it.
It's also a great beginner recipe for those of you with the skeerds to make anything dough-like.
Bonus: it's kid proof. Let your budding cooks get their hands all over this life-changing cloud of carbs!
I mean look at it: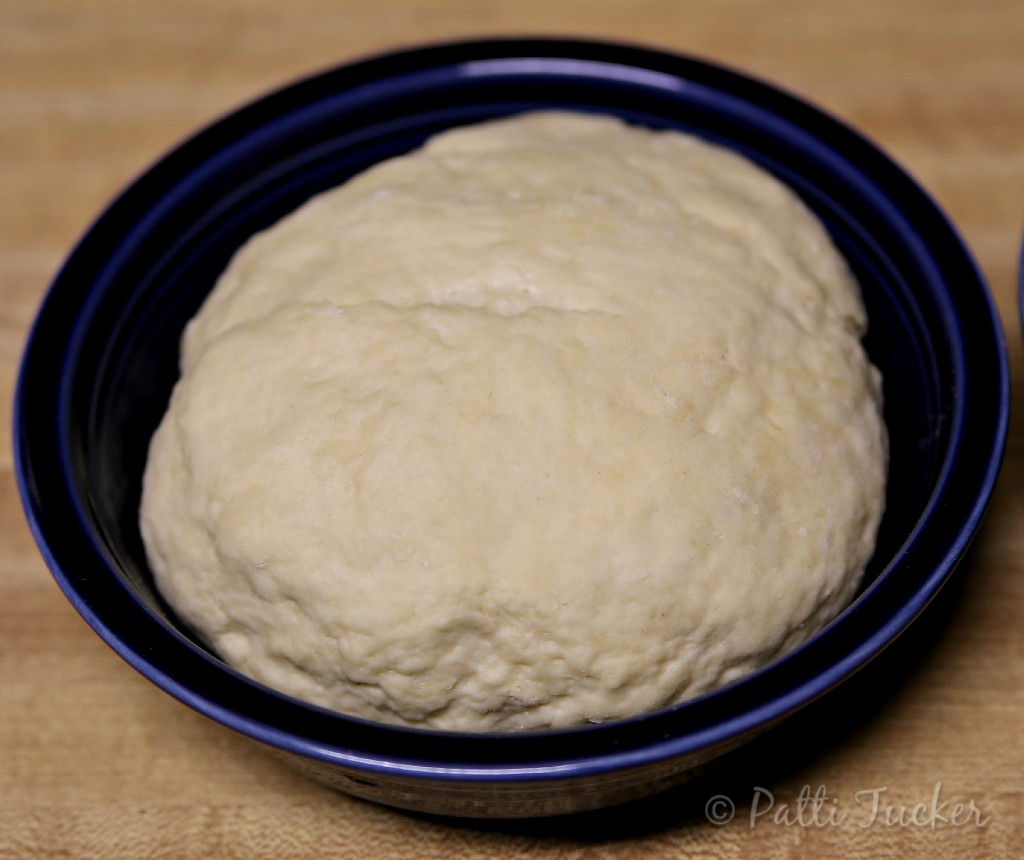 Really looook at it!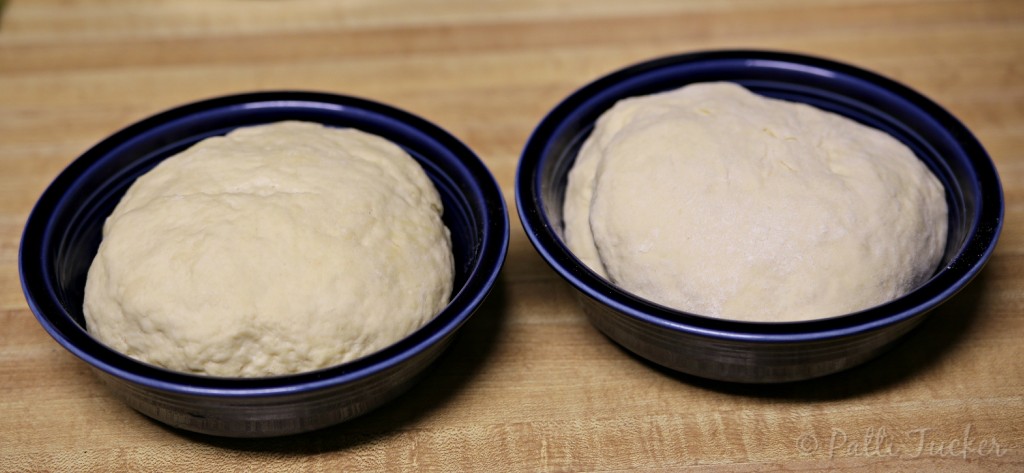 Ahhhh….
The dough is my absolute favorite recipe (thanks to Boy who passed it along to me).
Basically, I make the dough recipe twice, in two separate bowls (I do not double the recipe), chop some onion, crumble one burger per pizza and top with shredded cheese.
To the recipe!
Ingredients
1 cup very warm, yet not scalding, water (too hot and you kill the yeast)
1 tbsp sugar
2 1/4 teaspoons active dry yeast
3 tbsp olive oil or vegetable oil
1 tsp salt
2 1/2 cups all purpose flour
1/2 cup flour for kneading
Pizza sauce
Grilled hamburger, crumbled
Chopped onion
Jalapenos (opt)
Shredded cheese
Instructions
Combine water, yeast, sugar and salt and stir until the yeast is fully dissolved. Let yeast proof (get bubbly) for 5 minutes.
Gently add olive oil to the yeast mixture.
Place flour into a generously-sized bowl (1) and make a well in the middle. Pour yeast mixture into well and stir until well combined with a wooden spoon or spatula.
Knead into a smooth ball, adding the extra 1/2 cup flour as needed to prevent stickiness. (2)
Let dough rest 5-10 minutes.
Spray pizza pan with Pam or lightly grease with more olive oil.
Place dough in the middle of a pizza pan (or stone) and pat dough outward until desired size is achieved. You may need to dip your fingers into a bit of olive oil to prevent the dough from sticking to your fingers.
Spread with your favorite pizza sauce.
Add onions, crumbled burger and cheese.
Exclaim MOMMA MIA! Kiss your fingers, then do that explodey thing with them. Repeat! (3)
Bake at 425° for 15-20 minutes. (4)
Notes
(1) Use a bowl big enough to knead in. Makes clean up easier. (2) You may not need the entire 1/2 cup of extra flour. Use just enough so it doesn't stick. Add in small portions. (3) A seriously important step, especially is you're cooking with kiddos. (4) I bake on the low end, at 15 minutes.
https://ohmrstucker.com/how-to-make-the-most-addictive-pizza-ever/
One of the best things about having leftover pizza of the most addictive kind?
Eating it cold!
On a fancy-pants plate, no less.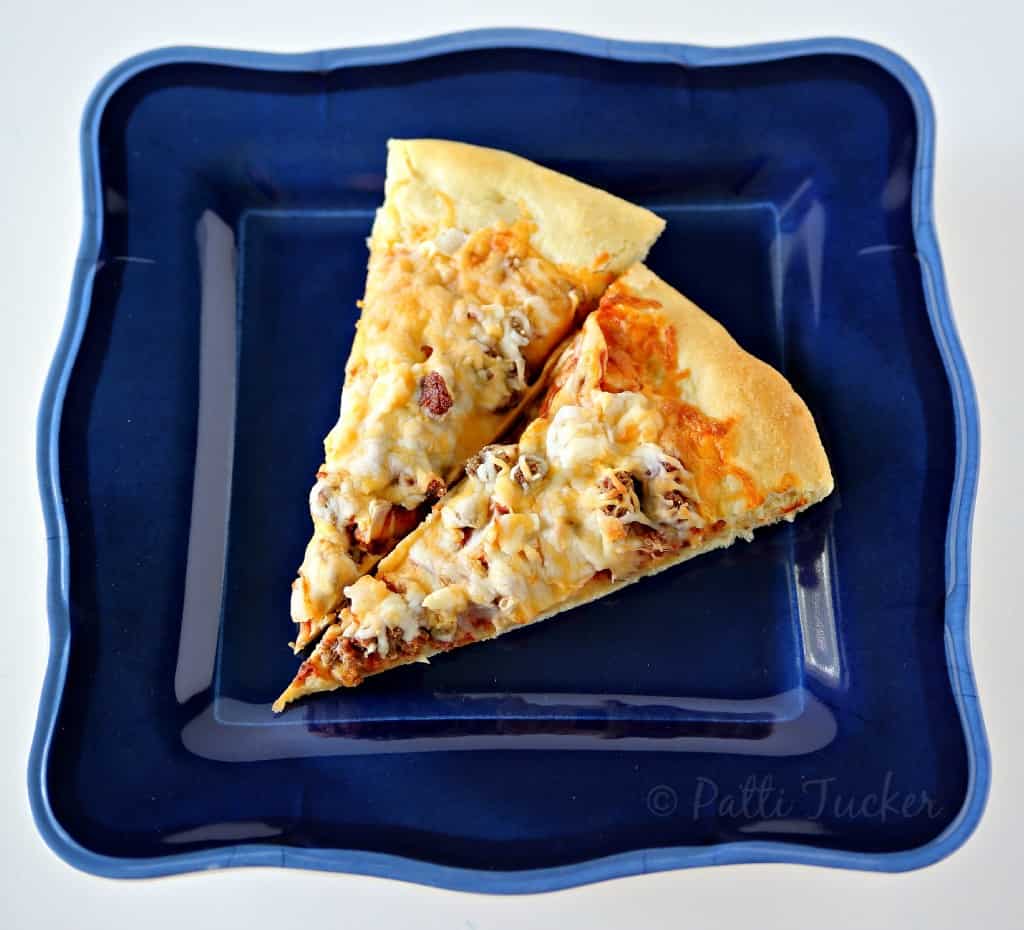 Welcome to your new addiction.