Easy Crock Pot Country Style Pork Ribs
Easy. Ribs. In the Crockpot. Set 'em and forget 'em. Let's go!
Crock Pot country style ribs, commonly known as pork shoulder ribs (boneless), are easy and delicious to make, especially if you have a slow cooker.
For anyone who prefers to go straight to the recipe, you can use the handy Jump To Recipe button.
I love ya enough to not waste your time!
Click that lover and get to the joy of cooking!
For everyone else who else just had a yummmmm reading that mouthful of a title?
You should.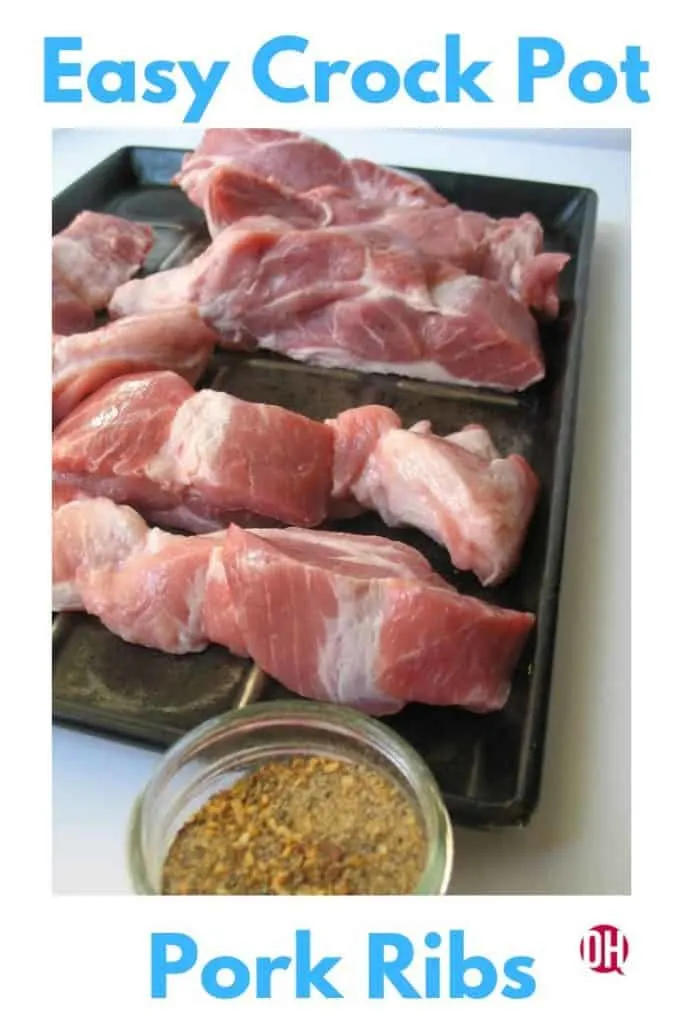 They're all good, but some days You need ribs.
And right after that mmmmm, you need to get thee to a grocery store for the ingredients and rush back home (or – HAVE THOSE GROCERIES DELIVERED!), because we're about get dinner, supper and breakfast DONE!
I say especially if you have a Crock Pot, but you can make these in the oven as well, but whhhhyyyyyy would you when this way is so simple?!
Country Ribs In Crock Pot
Two things you should know about easy country style Crock Pot pork shoulder ribs:
If you are new to OMT! and need a super easy recipe, this is it!
You've been an OMT! fan fo'evah, but you totally forgot the awesome sauce that is Crock-Pot Pork Ribs, here they are, baby!
These slow cooker pork ribs are good eats and you're gonna want to make them.
Keep your cool in the kitchen – get to slow cookin'!
Ready to learn how to impress your family?
More importantly, are you ready to make what will soon be your fam's new fav?
Yeah, you are!
How Easy Is This Crock Pot Recipe?
As easy as opening a package of ribs, using a dry rub on them, placing them in your slow cooker and setting the timer.
They're. That. Easy.
I Know You Like The Easy Recipes!
I've been a fan of easy recipes since I learned to cook.
Here's a shot of the finished ribs (they are pull apart yummy!):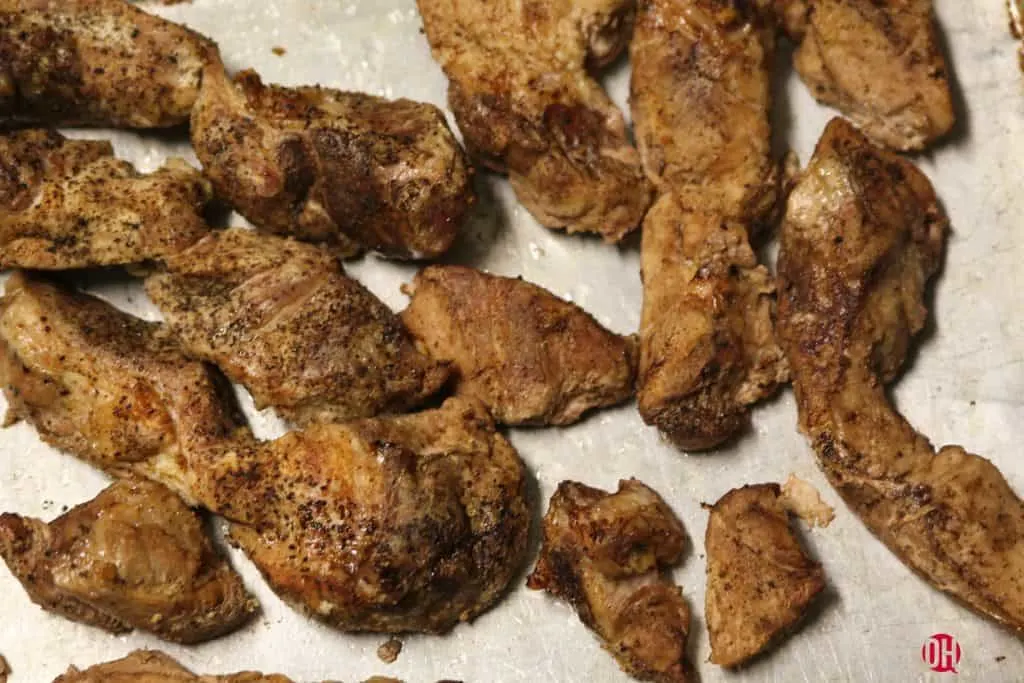 Pork Ribs In Crock Pot
If you have never made country style pork ribs in a slow cooker, you'll need to know a few things.
Country style ribs do have bones, just not the rib portion of the bone.
What what? Ribs that have no ribs?!
They contain parts of the shoulder blade, but no ribs – that's why they're called boneless, but they do actually have some bone.
While baby back ribs are smaller and leaner, country style ribs are the meatier counterparts – they are juicy and have loads of surface to sink your teeth into.
The bone that is in the ribs makes it handy to hold your sauce (added when under broiler).
I like me a competent sauce holder.
Use yer hands!
Pulled Pork Crock Pot Recipe?
Can you use this rib recipe to make pulled pork?
Yes!
The only difference is that you'll use a pork shoulder instead of pork ribs.
Cook times are basically the same in most slow cookers – and – the beauty of doing an actual pork shoulder (or a pork butt) is that you can include rough chopped onions in with the meat.
When everything is done, you simply shred in pot and you're ready to eat!
Slow cook a pork shoulder vs a pork butt:
For anyone not familiar with these cuts, both of them come from the shoulder of the pig.
The shoulder is positioned where you would think – on the shoulder!
The pork butt is located above the shoulder cut.
Each one does amazingly cooked in a slow cooker.
What Is A Pork Shoulder?
Shoulders may also include the word "picnic" on the label, but just know they are from the same spot.
Both the shoulder and the butt (heh-heh…y'all know I'm a 12-year-old at heart) are more fatty than other pork cuts and tougher (think of all that piggy movement – it gets more use, and that equals a tougher cut).
What do we do when we use tougher cuts?
We slow cook those delicious badboys into tender perfection!
Put a rub on it, throw in some onions, and slow cook the beegeebers out of it.
Once it's done (eaten whole or shredded), you can use what you need and freeze the rest!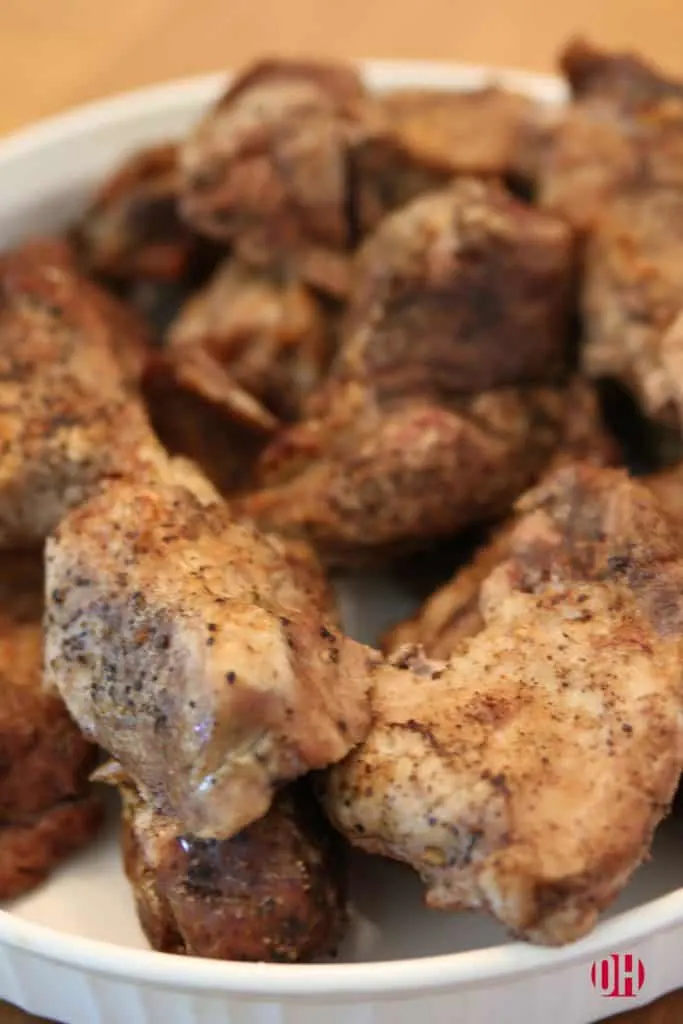 What Is A Dry Rub?
A dry rub consists of dried spices mixed together to obtain a specific and complimentary flavor for whatever you're using it on.
There are dry rubs for beef, chicken, pork, and even French fries!
You gotta let your mouth decide what it likes, or a combo of what you like, and go with those flavors.
Google Dry Rub Recipe
Do a quick Google search and you'll see there are tons for dry rub recipes.
We buy our favs, then either use them solo, or mix them with other dried spices to make our own signature blends.
Are you really a Southerner if you don't blend your own special rub mixtures (or use Dr Pepper when cooking ribs)?!
I'll leave that question for the Internet to blow up.
Simple Pork Rub
A simple pork rub is one that has a few ingredients. Nothing fancy-pants.
It can have a sweet element – brown sugar – and it can have a savory element – garlic powder.
It can be a one-ingredient rub or have several ingredients.
What really REALLY matter is that whatever rub you're using, you like the taste.
Pretty danged easy, right?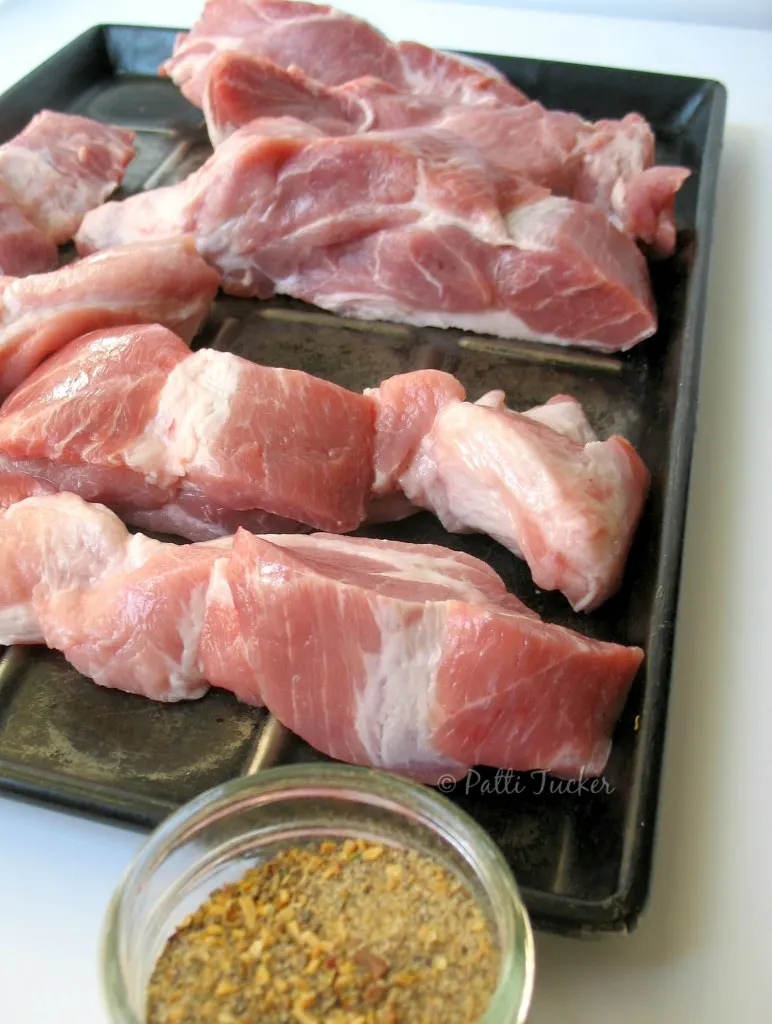 How To Cook Country Style Pork Ribs In The Oven
I realize not everyone has a slow cooker and I wouldn't want you to miss out.
If you're wondering if you can cook pork rubs in the oven, the answer is yes, YES, YOU CAN!
How To Make Oven Baked Country Style Pork Ribs:
Rub those ribs!
Place ribs, single layer, in a pan – fattier side up.
Cover with foil and cook at 325° for about 1.5 hours.
Take out of oven and place4 under broiler for a few minutes to crisp.
Nom your way to nirvana!
Ribs are technically done when they have an internal temp of 145° – BUT – if you continue to cook them to an internal temp of 190°- 203° the fats and collagen break down making them extra ah-mazing!
Do that!
And then go buy a large crock pot or put it on your list for Santa.
Easy Sides
Need a few ideas for easy sides for your oven baked country ribs?
You can make amazingly easy perfect corn on the cob in the oven at the same time you are making the ribs!
As a side's side – how about homemade garlic butter for your finished corn from the oven? You can never go wrong with this recipe!
Eat your veggies with a fresh self-dressing summer salad, made with tomatoes and cucumber.
Easy Crock Pot Country Style Pork Shoulder Ribs
This is how OMT! cooks her ribs, when G-Daddy isn't outside smoking them on the pit – if you prefer, I've included a printable recipe at end of the post.
#1: Line those boneless country style pork ribs on a pan and proceed with the sweet-talk.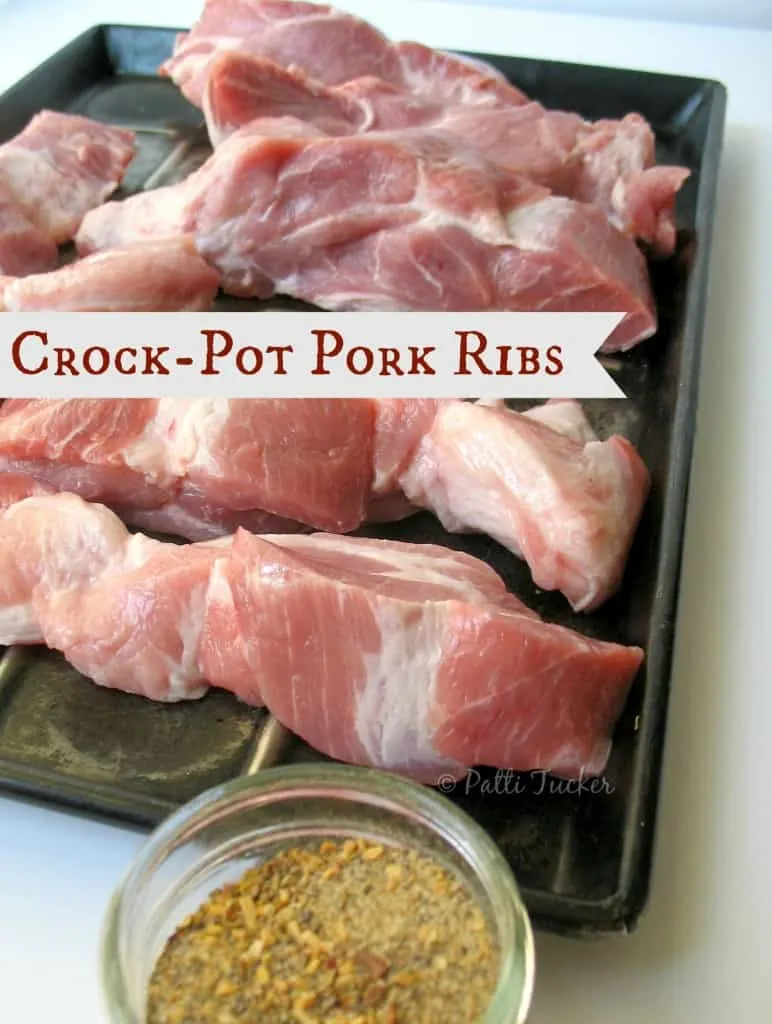 Look how fat and plump you are. You're gonna be delicious when I'm done with you!
Note the rub in the tiny mason jar ~gasp~, which was a gift…I swear.
(for anyone new here, the inside joke is that I'm not a fan of putting meals in Mason jars – or Ball jars. I prefer my salads in a bowl, like civilized folk…but you do you, baby!)
G-Daddy makes his own special rub, but you can buy any number of delicious rubs out on the market today.
~ A gentle reminder: OMT! uses Amazon referral links at no cost to you.~
The Fiesta brand rub is much-loved in Texas, in case you need a bit of a starting point.
Just match the rub with the type of meat you're cooking.
That easy!

Of course if you have a fav rub – use it!
What if you don't have a favorite rub, or this is the first time you're even hearing about rubs?
Don't worry!
You can use anything your taste buds love: onion powder, garlic powder, black pepper, cayenne ('PICY!)
#2: Cover the pork ribs with rub, and then…RUB!
This isn't an exact science, so if some spots are bare, meh, no biggie.
Some folks like to rub the ribs then wait about 30-minutes before cooking.
Since we're utilizing a slow cooker, there is no need for the waiting period.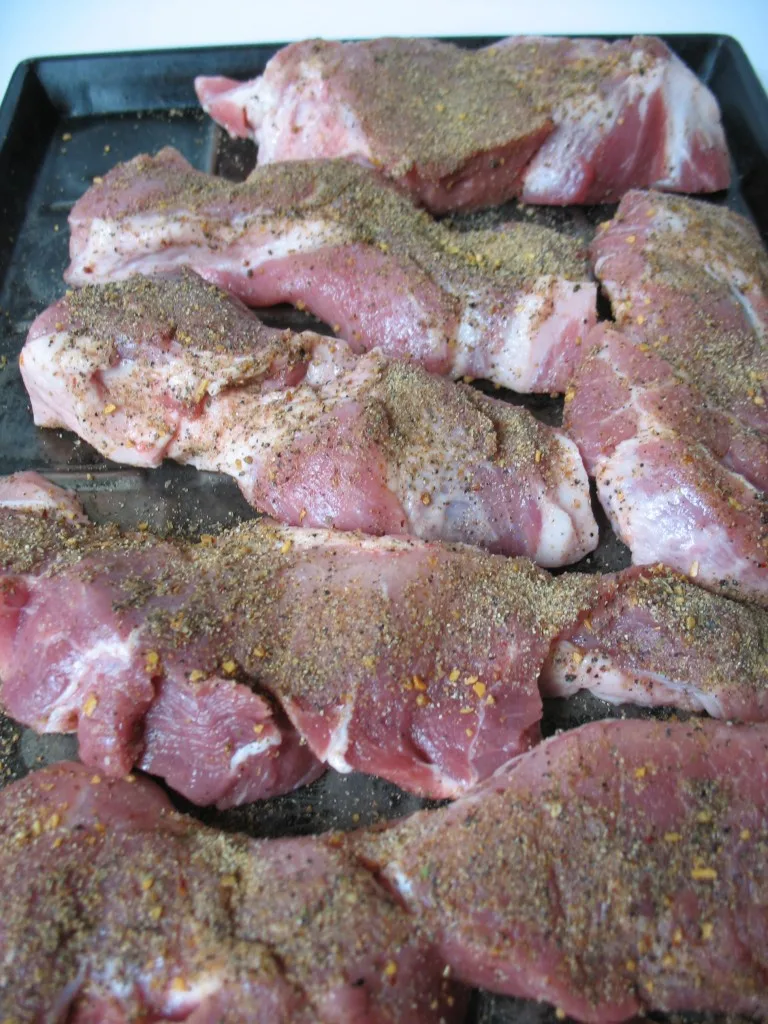 #3: Layer the fat ribs in your slow cooker.
They are meant to be stacked and not in a single layer, so toss 'em in and get cooking!
#4: Depending on how much time you have, you can cook your country style ribs in the slow cooker on high or low.

Decide how long you wanna cook those badboys: Low and slow? Or low and slooooooooow.
Country style ribs in the slow cooker on high:
I did 6-hours on low and then another 1.5-hours on high. with no additional liquid.
Country style ribs in the slow cooker on low:
You can do a 10-hour on low, also. Some folks like to add 1/2 cup of apple juice, or if you're in my house, add a 12-oz. can of regular Dr. Pepper (roll your eyes all you want, but until it adds an amazing complexity to the meat).
The day I made these, I knew I wouldn't have the time for a 10-hour cook, so I went for the faster method.
#5: Finish the ribs in the oven for a deeper flavor and texture.
They will cook down and be a bit wet in the crock-pot, so if you prefer, lay them on a pan and finish in a 350° oven for about 30 minutes.
This is also where you can add the BBQ sauce if you prefer (remember anything with a high sugar content will burn quickly, so add this in the last 10-minutes or so).
Because I didn't add any liquid to cook them in this time, when they were finished, I laid them out on a cookie sheet and put them under the broiler for about 5-minutes.
Option #1 – Take cooked ribs out from oven and place under broiler.
This last step, which I rarely skip, dries out the ribs to that perfect mix of juicy meat and crispy grilled finish.
You're missing out if you neglect this last step.
Coming out from under the broiler: Look at 'em! They're real and they're spectacular (nod to Seinfeld)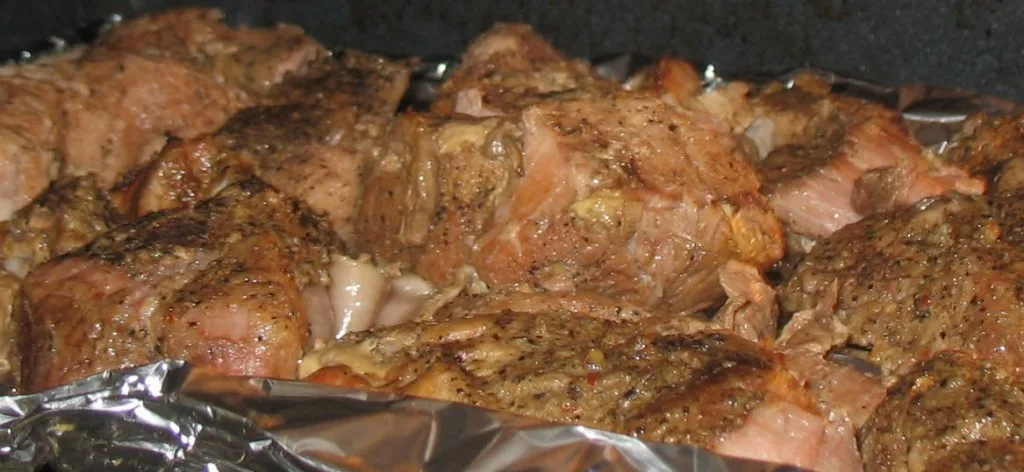 Option #2 – Country style ribs without BBQ sauce.
Some folks don't care for BBQ sauce and that also works great with these crock pot ribs.
Simply stick with the rub. It's delicious all by itself.
I would definitely finish under the broiler as well for that complexity of flavors.
#6) Nom your way into a pork rib coma.
It's that simple!
I usually get a large pack of ribs, so we can not only enjoy them the day we cook them, a day of leftovers, and also have some to throw some in the freezer for a day I'm pressed for time to make dinner.
They're great in tacos (breakfast or otherwise), chopped up in scrambled eggs, deboned and in a sandwich – the possibilities are endless.
Easy and incredibly delish!
A winning combo in my book.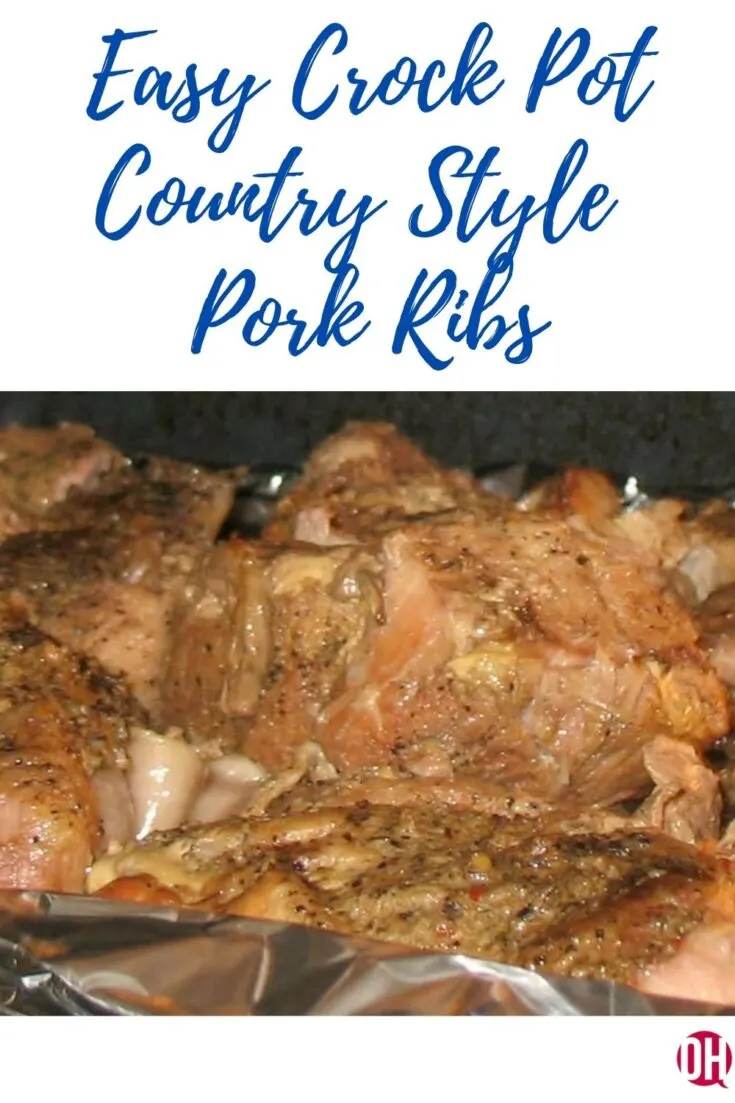 Speaking of tacos, one of my absolute favorite ways to eat these ribs is slathered in my homemade red sauce.
Looking at this gorgeous red sauce (um – yes, in a Ball jar. But, again, to be clear, that's what these jars were made for! No salad in a jar here!)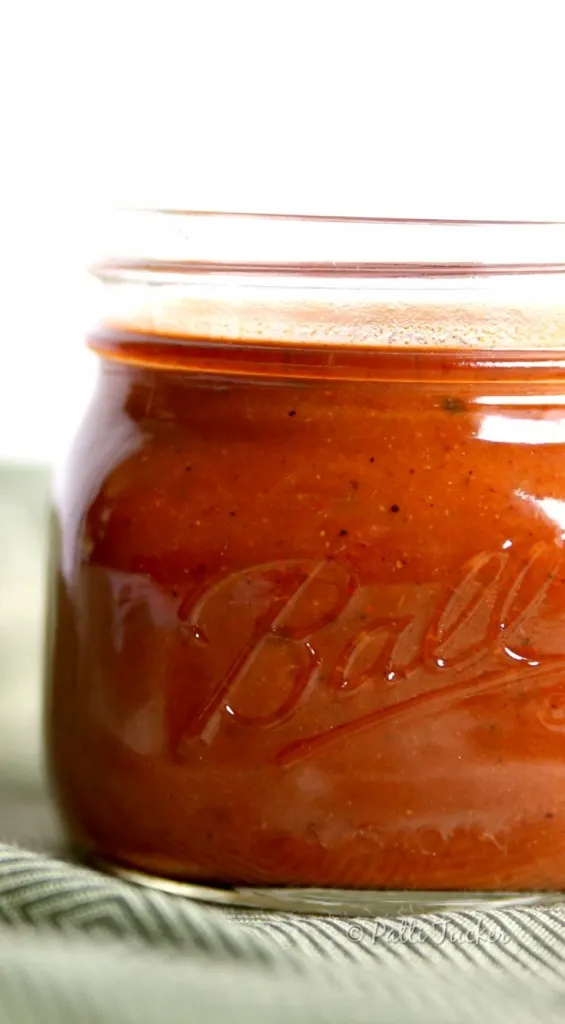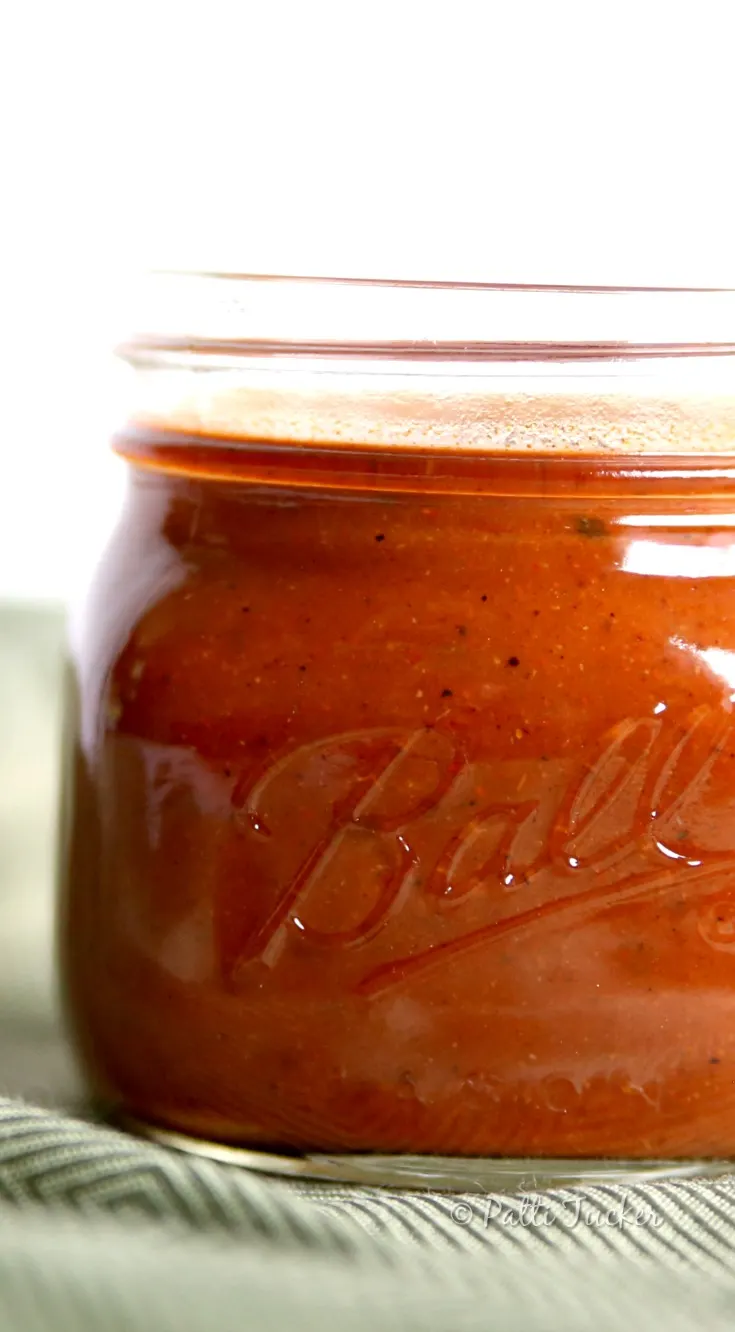 When I make red sauce there are no boundaries as to what we use it on.
Enchiladas, tacos, eggs, roast, meatloaf…endless options.
Go on.
GIT!
Yer gonna need to make these country style pork shoulder ribs STAT!
Happy cooking, y'all!
Wait…one more ribby thang:
Crock Pot Ribs
When thinking about amking ribs, pork or beef, the Crock Pot is yer friend!
What other ribs can you make in that beautiful slow cooker?
Each bullet point links to a recipe:
Pick your favorite ribs and get to slow cooking!
If you'd prefer a printable country style rib recipe, here ya go.
If you have never made these and you decide to jump in – please come back once you're done licking yer fingers and nomming all over God's green earth, drop me a comment and let me know what you think, or even how you customized the recipe for your family.
Also feel free to share this recipe with those you love!
This recipe is perfect for any season and especially for those times when you are entertaining larger groups of hungry folks.
Easy Crock Pot Country Style Pork Ribs
Cook Time:
6 hours
30 minutes
Additional Time:
10 minutes
Total Time:
6 hours
50 minutes
Easy crock pot country style ribs are easy and delicious!
Ingredients
1 large package of country style ribs (the big fatties!) - bones in or boneless
Seasoning of choice for rub (I have linked what I use below)
Optional: 8 ounces of apple juice ~ OR ~ one can of Dr Pepper (don't doubt me!)
Instructions
Line the pork ribs on a pan.
Sprinkle the pork ribs with rub, and RUB! This isn't an exact science, so if some spots are bare, meh, no biggie.
Layer in slow cooker. Nothing else needed.
Set time for either low or high, depending on your needs.
You can do 6-hours on low and then another 1.5-hours on high. with no additional liquid.
You can do 10-hours on low, also.
Finish the ribs in the oven, under the broiler for just a few minutes to get the tops a bit crispy.
Notes
Some folks like to add 1/2 cup of apple juice, or if you're in my house, add a 12-oz. can of regular Dr. Pepper (roll your eyes all you want, but until it adds an amazing complexity to the meat). Add at beginning of cook time.
You don't have to finish under the broiler, but I find it lends a nice deepening of flavor and texture.
Recommended Products
As an Amazon Associate and member of other affiliate programs, I earn from qualifying purchases.
Nutrition Information:
Yield:

6
Serving Size:

1-2 ribs
Amount Per Serving:
Calories:

106
Total Fat:

4g
Saturated Fat:

2g
Trans Fat:

0g
Unsaturated Fat:

3g
Cholesterol:

22mg
Sodium:

90mg
Carbohydrates:

11g
Fiber:

0g
Sugar:

11g
Protein:

6g
Nutrition information isn't always accurate. This recipe's calorie count depends on size of ribs and rib count in package.
Originally Post: October 7, 2013 – Updated Post: March 29, 2023
~~~~~~~
Tired of searching for a popular OMT! recipe?
Rest yer weary fingers.
Except to click on the image.
You still have enough strength for that.
COME ON!
YOU CAN DO IT!

You might like these sides to go along with your ribs: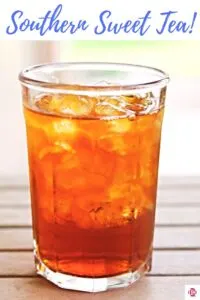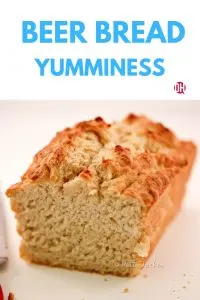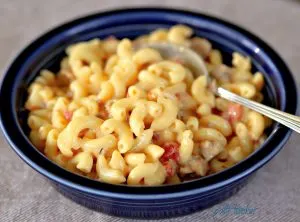 Now we've got a meal!
Easy Crock Pot Country Style Pork Ribs are easy and delicious!
Make these ribs in the slow cooker, or make them in the oven, just make them!
Let's cook smarter, easier, yummier! Let's start with ribs!