Did you know there are two types of

blueberries

: wild and cultivated?!
Say what what?
Those tiny blue spheres of yum fall into two groups?
I'm ahem-years-old, and I had no clue until recently.
NO CLUE!
Where the heck have I been living? In a strawberry patch?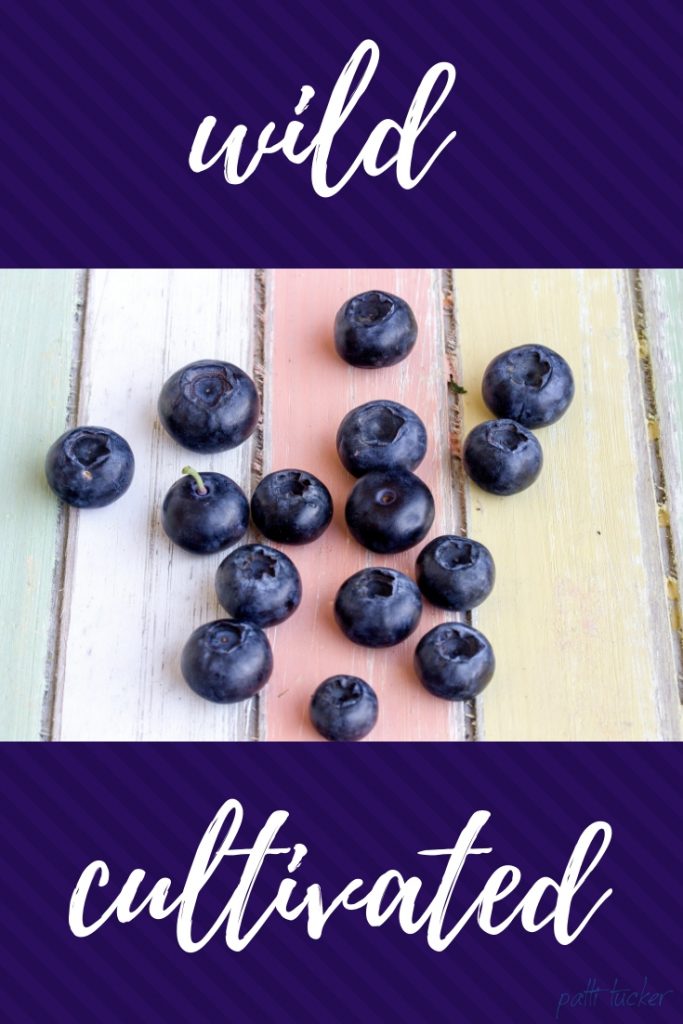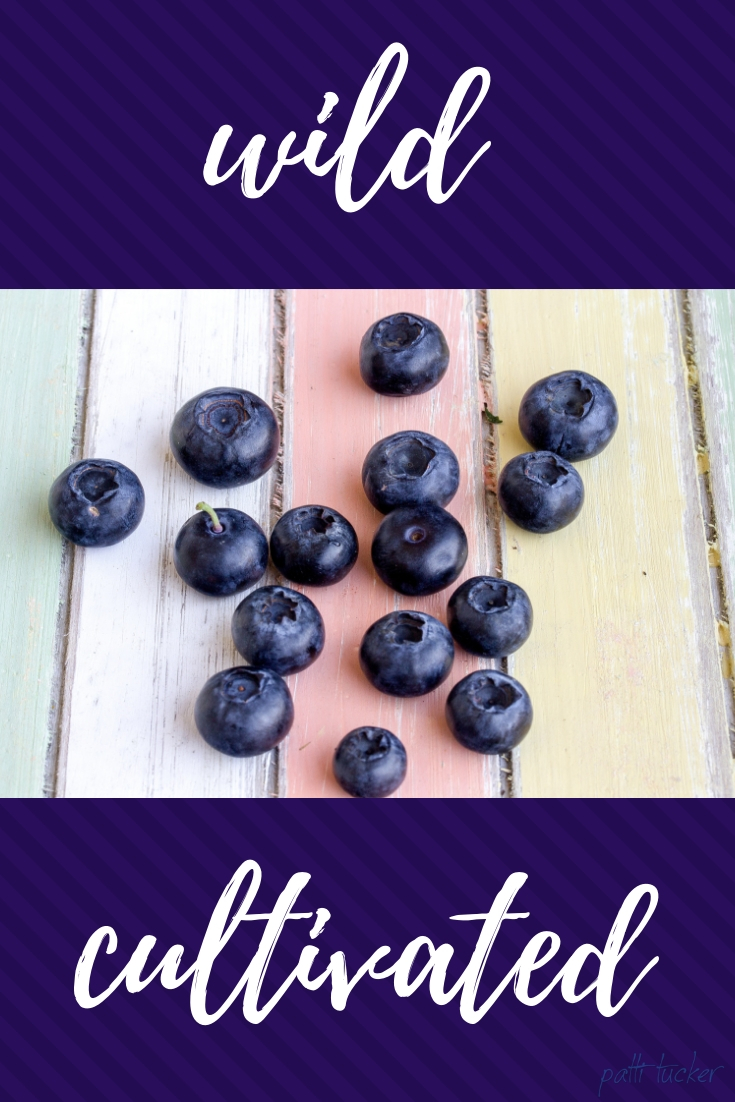 Let's talk about the delicious, nutritional powerhouse, blueberry.
I love a good discovery moment (don't you?) and this was one of them.
Before we begin – are your blueberries walking on the wild side?
Or – are your blueberries cultivated and speak with a fake English accent, gov'ner.
Do you how to tell them apart?
So. Many. Questions.
Luckily, I did some research.
Quick lists of distinction between types of blueberries:
Cultivated blueberries:
1) Cultivated (considered highbush) blueberries grow on bushes.
2) They are larger and plumper than their counterparts, containing a higher percentage of water content.
3) They have a less distinct blueberry flavor than wild, yet can be sweet.
4) While a nutritious berry, they contain less antioxidants than the wild berries, possibly because of their higher water composition.
5) Kidlets will eat 'em like candy (shhhh, no spilling the beans!).
Wild blueberries:
1) The smaller compact "wild"(considered lowbush) blueberries grow closer to the ground and spread by rhizomes.
2) Wild blueberries contain more of the antioxidant anthocyanin and more antioxidants per serving than their cultivated counterpart.
3) Anthocyanin, which is a powerful antioxidant AND responsible for the blue coloring, is believed to protect against brain aging and promote vision health.
4) You only need a 1/2 cup serving to get a powerful dose of the super powers of this delicious berry.
5) They are tiny taste bombs! Wild berries are sweeter (with just the right amount of tartness) than the bigger cultivated berries.
The benefits of blueberries are many, wild or cultivated.

I'm a snacker, hear me nom! But, snacking can get thee o'waistline in trouble.
That's why I tend to gravitate towards snacks that are packed with nutrition AND taste good (when yer snack tastes like candy, but isn't, all the better!).
I like when I can get a few servings of fruit without feeling deprived, don't you?
Blueberries bring a nutritional and antioxidant powerhouse to your snacking world.
A cup of wild blueberries will run you about 80 calories.
They are also the most nutrient dense berry that Mother Nature produces:
OMT likey! And you should too, if you're on the hunt for a delicious nutritious snack that likes to masquerade as candy (um, I LOVE candy!).
Another benefit of blueberries published in the test-tube study below, is its cancer fighting properties.
Blueberry Phytochemicals Inhibit Growth and Metastatic Potential of MDA-MB-231 Breast Cancer Cells Through Modulation of the Phosphatidylinositol 3-Kinase Pathway
The dose of blueberry in our in vivo study is equal to a fresh blueberry intake of 25 grams/kg. With a conversion to human dose (based on surface area) (49), this is equal to 2.03 g/kg human or 122 grams (4.3 oz) of fresh blueberries/day for a 60 kg person. A single serving of fresh blueberries is 6 oz. which is an attainable intake for the average person. Therefore, blueberry intake could be an important part of dietary cancer prevention strategies.
Where do blueberry bushes grow in the US?
Cultivated highbush blueberries: Blueberry bushes can pop up all over the U.S., and while 38 states grow blueberries commercially, ten states account for more than 98% of U.S. commercial production: California, Florida, Georgia, Indiana, Michigan, Mississippi, New Jersey, North Carolina, Oregon and Washington.
Wild lowbush blueberries: Maine is the largest producer of wild blueberries in the world. Maine produces 10 percent of all blueberries in North America, including wild and cultivated production.
Isn't it fascinating?
Until I discovered there was a blueberry I loved, a blueberry that didn't make me squinch at the thought of eating it, I had no idea there were different types available for my snacking needs!
The backstory that might help explain my tardy arrival at all things blueberry: I do not like cultivated blueberries, no matter how hard I try, and didn't know I had options.
In the past, about once a year, I would try to like cultivated berries; I'd convince myself that this time I'd love them.
Why?
Because so many of you do and your love of all thangs blueberry make me feel like I'm missing out on deliciousness.
I like deliciousness.
I WANT DELICIOUSNESS!
I would remind myself they're antioxidant powerhouses, they're nutrient-dense, low in calories and high in nature's goodness.
But, the minute I would bite down on one, I scrunch my nose and spit it out.
~ ALL THE BLECHS ~
I found them bitter and kinda flaky and just too weird for me to stomach.
Yet, I continued to buy them (because of their nutritional powerhousey ways) and throw 'em in smoothies.
I didn't like it, but I considered it important enough to include them in my diet.
Then, a simple Costco run changed my mindset about blueberries.
There I was, getting what we needed, not thinking anything odd about the bag of frozen blueberries I tossed in my cart, other than the new package design, and oh hey, they were organic and a bit higher priced than I was used to paying.
Meh.
We needed them, so I tossed them in the cart.
As soon as I got home, in the freezer they went and I didn't think about them again until I was making a smoothie and begrudgingly thought to add a few blueberries.
While the blender was blending, I absentmindedly popped a few berries into my mouth, hoping against all things hoped, that today I would love them…and. I. did.
I was making this smoothie (recipe card included at bottom of post) :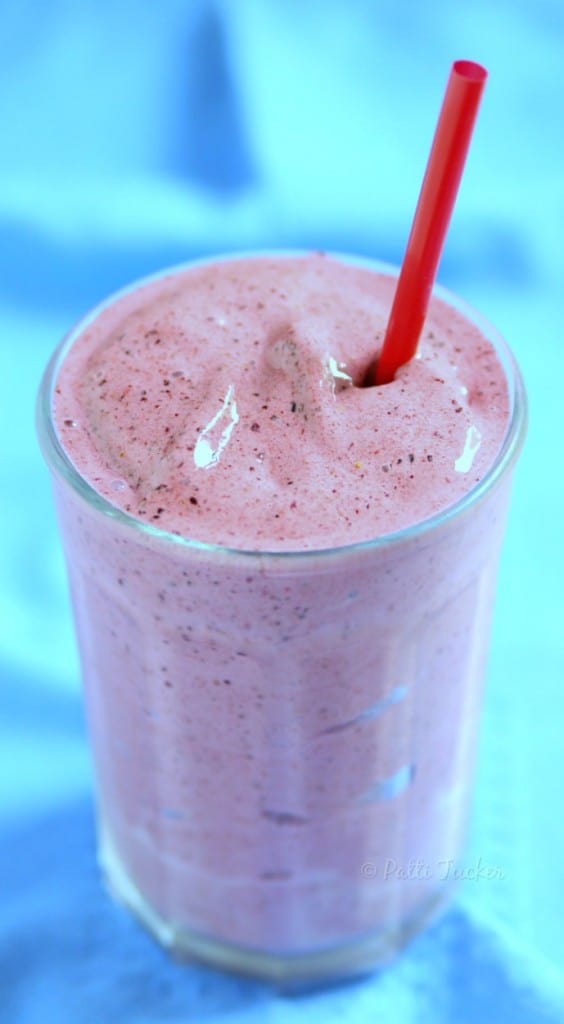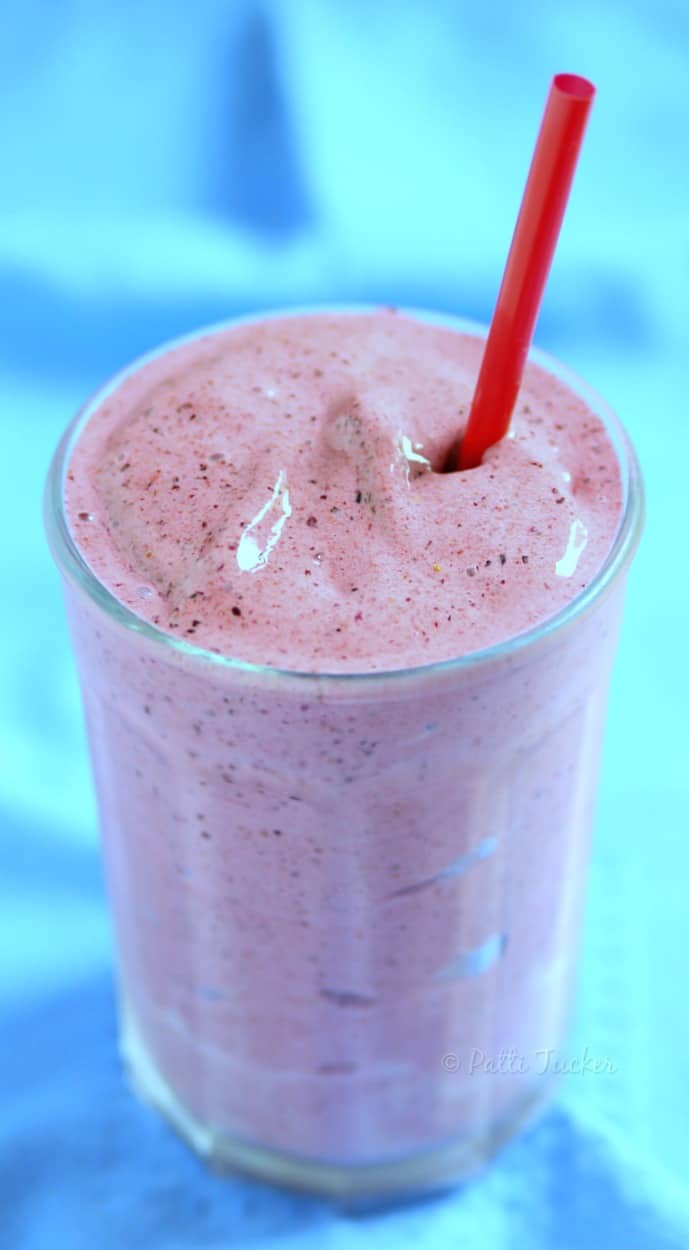 What the heck?!
I did a Scooby-Do double take.
I looked at the bag, then looked at the berries, then looked back at the bag and finally my brain kicked in: something's different here, Patti.
I love my brain. Always doing the heavy lifting.
The berries were much smaller and bluer (was that possible?).
I popped a few more in my mouth.
Yep, good!
Nommy Nom Nom.
Sweet, with no hint of the bitterness or weirdo flakiness of the cultivated kind.
It was then I carefully examined the bag and realized the berries I instantly fell in love with were of the wild variety.
Whoa.
Just like me…wild, sweet, and with just the right amount of tart.
~snort~
As soon as I was done smoothie making, I Googled blueberries, wild blueberries specifically, and my former hate of all things blueberry, gave way to the love of the wild.
Let's review wild vs cultivated blueberry benefits, shall we: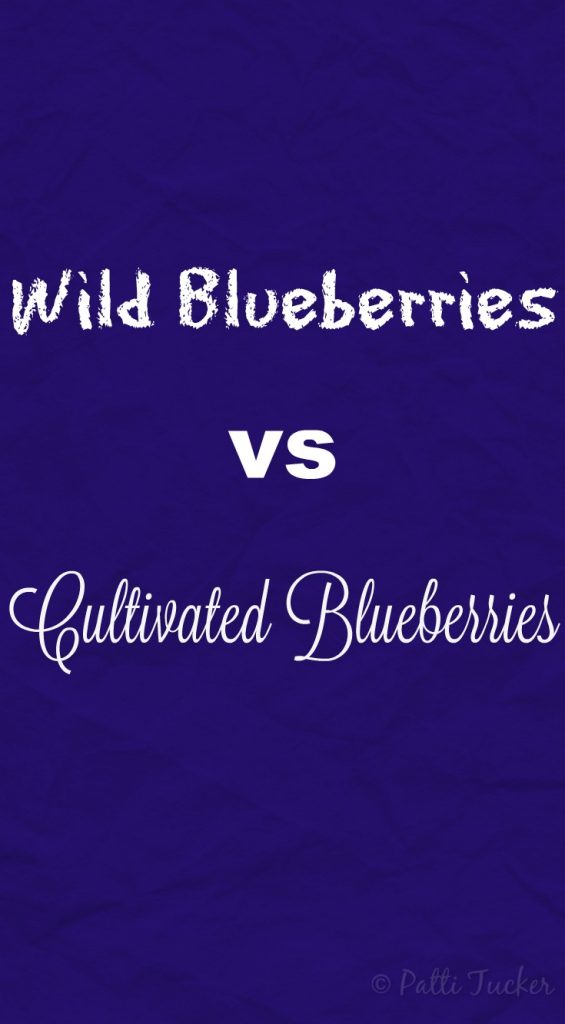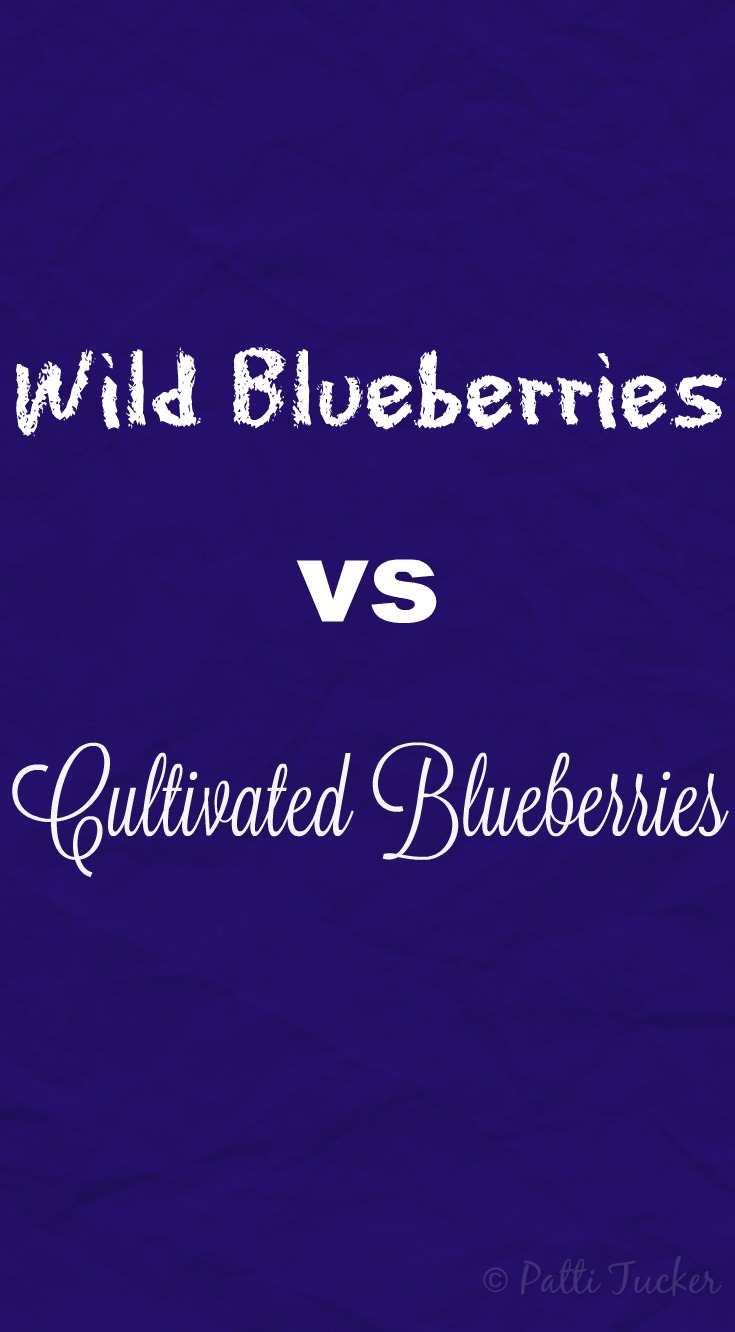 Not only are they sweeter, wild blueberries pack an even harder nutritional punch than their cultivated counterpart, as they contain more of the powerful antioxidant anthocyanin and demonstrate greater antioxidant capacity per serving than cultivated blueberries.
Laboratory studies show that wild blueberries are a leading antioxidant fruit.
Regular blueberries are great too, if that's all that is available.
Blueberries are packed with nutritional power.
The pigments (anthocyanins) that make them blue are potent antioxidants.
The berries are also a healthy low glycemic-index carbohydrate, a good source of vitamin C and fiber (two grams per one-half cup serving) and of ellagic acid, a natural compound that inhibits tumor growth in laboratory mice.
Like cranberries, blueberries contain a substance that can help prevent urinary tract infections by interfering with the attachment of bacteria to the bladder wall.
Fruit that tastes like candy and can combat disease and can help me see in the dark?
I'm in!
And you should be too.
If you're interested in the lowdown nitty gritty nutritional facts of wild blueberries: CLICK HERE.
All the info you can stand!
The one eye-popping bit of nutrition that stood out to me, as a woman with an eye on bone health: 1/2 cup of wild blueberries has 100% the daily recommended amount of manganese, which is vital for bone development.
Finally, the cherry on top of this nutritional good news, is that wild blueberries are available year round frozen.
I personally buy them frozen, so there is no waste (plus, you can't get the wild berries fresh year-round where I live, so there's that).
I eat 'em until they are gone, then make another Costco run for more.
HUZZAH!
Pro Life Tip: Buy organic blueberries whenever you can. Yes, they are a bit more expensive, but conventionally grown blueberries have a high pesticide load.
OMT, no likey!
So tell me: Did you know there was a difference between wild and cultivate blueberries?
DID YA?!
Happy snacking, smoothie-makin' and baking, y'all!
Psst, don't go yet, here's the recipe for that nommy smoothie: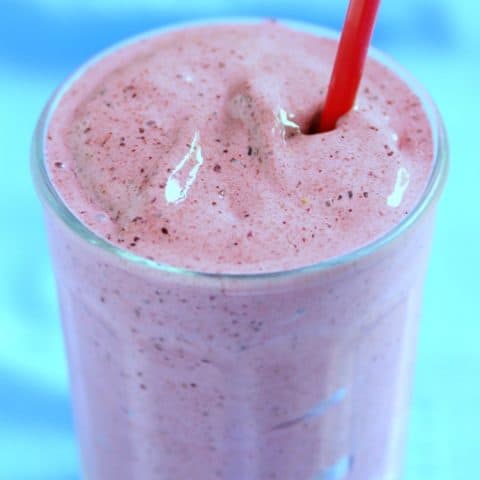 Delicious No-Sugar-Added Blueberry Strawberry Smoothie
Ingredients
1 cup frozen strawberries
1 cup frozen blueberries
1 cup milk (any type - I use whole milk)
Instructions
Place milk in blender.
Add frozen fruit.
Puree
Pour into tall glass, insert straw and watch for freezer brain!
Notes
If your blender struggles with frozen fruit, you can add small bits at a time - or - thaw fruit for a few minutes before adding to blender.
I prefer wild blueberries because of their sweetness.
This recipe works well with any combination of fruits.
Recommended Products
As an Amazon Associate and member of other affiliate programs, I earn from qualifying purchases.
Nutrition Information:
Yield:

1
Serving Size:

1
Amount Per Serving:
Calories:

269
Total Fat:

6g
Saturated Fat:

3g
Trans Fat:

0g
Unsaturated Fat:

2g
Cholesterol:

20mg
Sodium:

133mg
Carbohydrates:

48g
Fiber:

8g
Sugar:

22g
Protein:

10g
Nutrition information isn't always accurate.
~Please feel free to Pin, Tweet, Facebook or otherwise share this post. OMT smooches!~
Originally posted February 6, 2017. Updated April 14, 2019