I get mocked. I get rolled eyes. I get tight smiles and pursed lips. I get long silences and unspoken expectations, begging me to come to my senses.
I. Get. Mocked.
And that's OK. I count it as part of dreaming a dream that others might not understand.
To each of those moments I whisper to my heart, "Some have to see to believe, but you believe and see."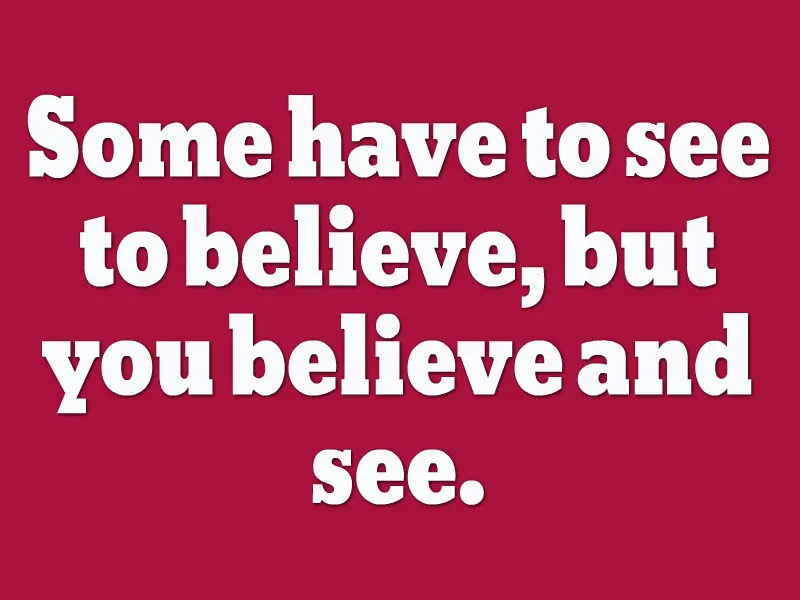 I see where it is I want to go and make decisions that will hopefully bear me home. Does it mean I'll succeed? Not even close.
If you see what you want, if you focus your energy on the task, if you believe, even in the face of unmistakable skepticism, does that trump failure?
Nope.
I'll continue anyway. I'll hang in. I'll push forward.
To be sure, there will be days I join the naysayers (which include my pride, my reason, and my experience) and feel the heaviness of doubt squashing my optimism. There will be days I consider the din of criticism and concern. There will be days I'll wonder what the hell I was thinking. I'll listen to depressing music. I'll search the classified section for job listings. I'll make a cake. I'll clean the house. I'll regret how deep I've dug my hole and the time I've wasted and vow, from this day forward, to listen to those who offered me their unsolicited counsel.
Yet, so far I've been incredibly lucky. When I've reached the point of convincing myself that I've experienced a colossal error of judgement, my heart kicks in, overriding the pessimism and fatalism, as it recalls the words I have spoken.
The naysayers will shake their heads, yet again (as will my pride, experience and reason).
And that's OK.
This thing I'm building, this dream I'm dreaming, is part of my drive, not theirs.
Remember that when someone who needs to see in order to believe tells you not to see because you believe.