Y'all know how much I love a Klutz book, right? See HERE and HERE if you've forgotten.
Klutz was our go-to publisher of fun-time kids books in the summer or whenever we needed something fun to do. When I find a book with a title and tagline this great, I gotta buy it: Kids Shenanigans: Great Things to Do That Mom and Dad Will Just Barely Approve Of
~ A gentle reminder: OMT! uses Amazon referral links. When you do your shopping through the Amazon links on this page, you support the blog at no cost to yourself. It's much appreciated!~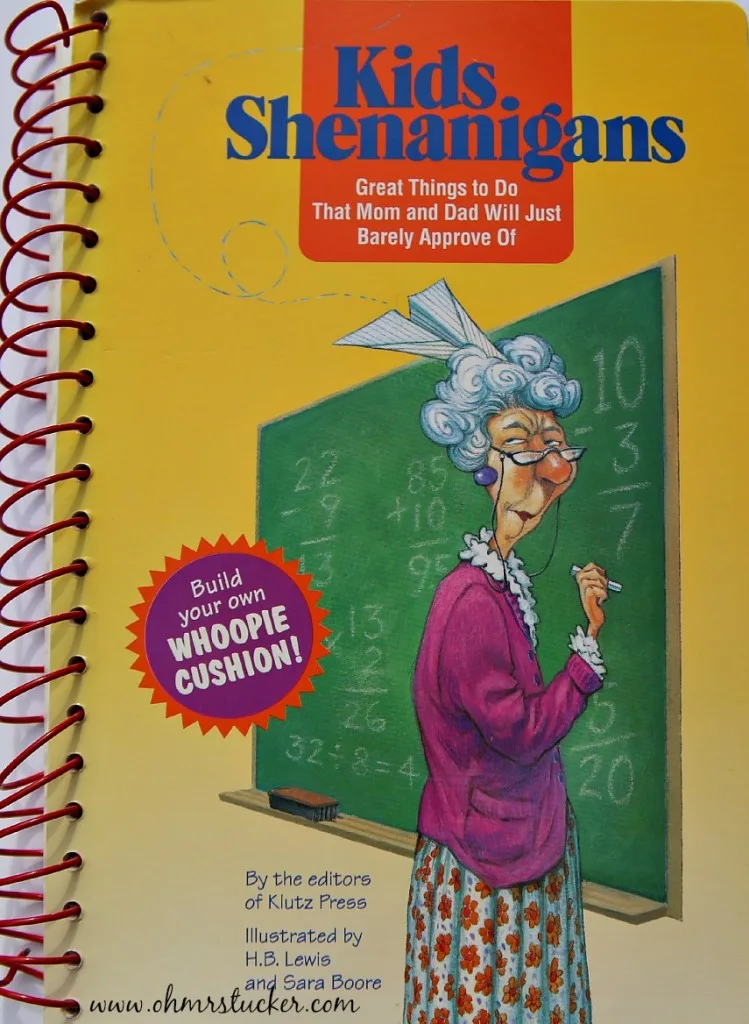 Oh, my…
Boy grew up with a library of Klutz books and they never ever failed to entertain him, his friends or us. Husband and I may be of grandparent age, but internally, we're stuck at 12-years-old. That should explain why one of my favorite tricks from the book, to-this-day, is Snapping Belt Loops. The short version of this shenanigan-move is that, when executed properly, there's a loud sound that mimics a belt loop being ripped off from behind the unsuspecting mark.
HIGH-larity, I tells ya!
Klutz tells us what's what about the book:
Our most proudly immature publication, this is one kids' activity book that contains stuff kids really want to do. Critical life skills, like how to hang a spoon off your nose and how to fake a really disgusting sneeze, are covered in definitive detail. Twenty-nine activities, all kid-approved and parent-tolerated.
PRODUCT DEETS:
Age Range: 3 and up
Spiral-bound: 70 pages
Publisher: Klutz Press; Spi edition (September 1992)
Language: English
ISBN-10: 1878257412
ISBN-13: 978-1878257413
Product Dimensions: 9.4 x 6.2 x 1.8 inches
Know a kiddo who would love to make a Whoopie Cushion? Or wants to stump a grown-up? Or neeeeds to learn how to hang a spoon from their nose? YOU DO?!
This book is for them.
If I remember correctly, this book was my go-to on hot summer days when we were indoors and had played all the games in the closet. As you can see from the pic (that's our copy), it is well-worn and much loved.
I'm hanging on to this book, along with all the other Klutz books, as we wait for Sweet E to age-in to the fun.
I can't wait to teach him The Grape Thru Your Head Trick, or Dead Finger, or How To Launch a Tennis Ball Off a Basketball, or any other shenanigans the book offers.
I imagine his mom and dad will just barely approve of our fun…