Cake? Yes, please. Is there ever any doubt? Never, even if it's hideous (yet delicious).
There are days I jones for a three layer monstrosity and there are days I'm happy with a sheet of cake that needs nothing more than whipped cream or a drizzle of caramel (you read that right).
This day I was happy to have a 13 x 9 sheet of marbled goodness, that combined bananas and chocolate.
Monkeys everywhere just started paying attention!
I'll preface the recipe with this: I'm not a banana fan. I can barely tolerate eating them straight out of the peel, but I do because they are not only a good fuel choice for runners, but they keep charley horses at bay during training. Still. Bananas. Ergh. ~shiver~ Yes, it's that bad.
The flip side to this info is that I adore banana bread.
Dichotomy much?
Knowing both these incredibly interesting tidbits about my love/hate of all things banana, when I read through this recipe for the first time, I knew I'd love it…and I totally did.
Ingredients
1/2 cup butter (less 1 tbspn)
1 cup sugar
1 egg
1 tsp vanilla
3 very ripe bananas, mashed
1 1/2 cup flour
1 tsp baking powder
1 tsp baking soda
1/2 salt
1/4 cup baking cocoa (1 ounce melted and cooled dark chocolate)
Instructions
Cream butter and sugar and vanilla until light and fluffy.
Add egg and combine.
Mix in bananas.
Add flour, baking powder, baking soda and salt.
Spread half the batter in a 13 x 9 pan.*
Add melted cooled chocolate to the other half, then pour on top of first layer and spread to cover.
Bake @ 350° for 20-25 minutes.
Refrigerate until completely cooled.
Serve with dollop of caramel or whipped cream.
Notes
* The 13 x 9 pan will seem too big. It's not.
Original (or modified) Recipe by: ShugarySweets
https://ohmrstucker.com/cake-fit-for-your-monkeys/
Two things threw me in this recipe:
#1: the 13 x 9 pan seemed waaaay too small, but interestingly, it wasn't.
#2: Refrigerating the cake afterwards goes against all one knows about cake. Fridge = dried out cake.
So, what was I to do?
I decided to eat a piece right away. ~urp~
First piece: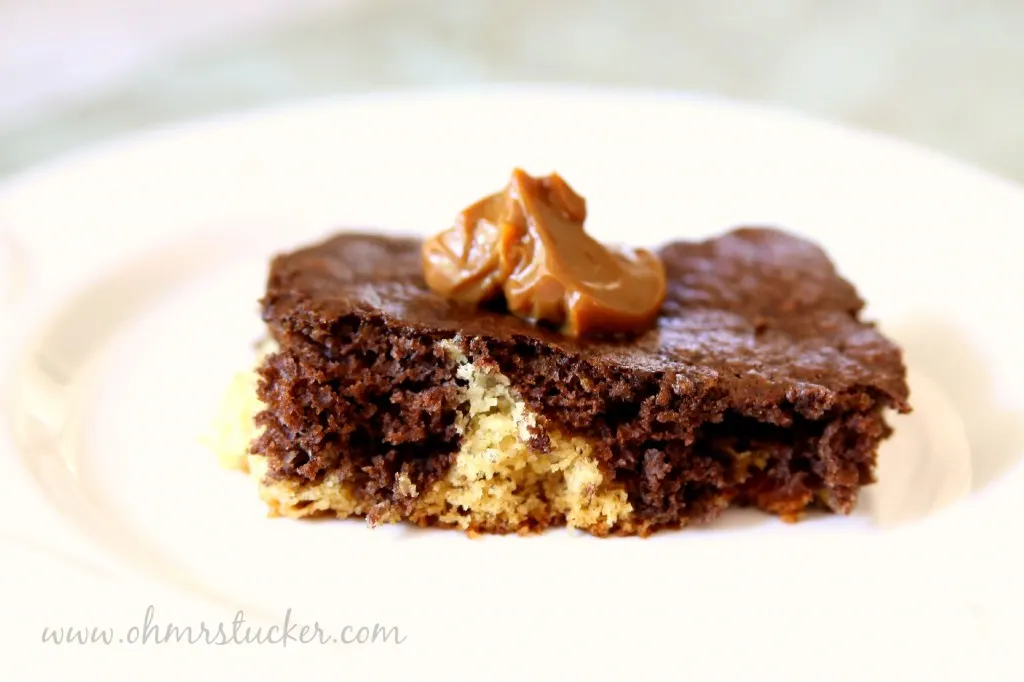 Yes, that is a dollop of caramel. On warm cake. ~faint~
Then, I did as instructed and ate a piece after refrigeration. Purely for science…for you!
Second piece:
WHERE'S THE PIC?!
Um, y'all know how sometimes there's a shaky slightly out-of-focus hastily taken pic because I'm so busy throwing things down my piehole? Yeah. This time the piehole(s) won. No after pic.
What I can do is describe the cake after refrigeration: dense banana-chocolate not-quite-a-cake-not-quite-a-brownie perfection. Just a wholly incredible, never experienced cake experience. Almost everyone who tried the cake after refrigeration had the same confused, yet delicious experience. We couldn't quite put our finger on it, but all agreed it was a recipe to put in the rotation.
Heads up mommas with hungray kiddos always looking for a snack: THIS.
Happy Baking, Y'all!