Tea bags to freshen a closet…a closet filled with coats…a closet that is notoriously what's-that-smell? It's what I set out to test when I came across the lifehack online.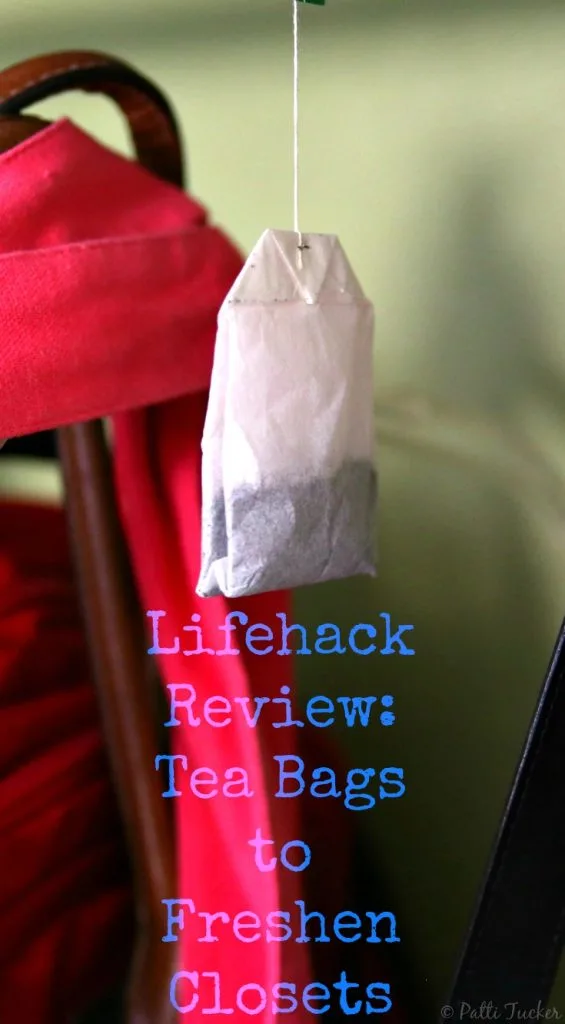 I already have a tried and true lifehack on how to Defunk a Musty Closet, so why would I try this the tea bag method?
Why, OMT, W-H-Y?!
You'll think I'm weird if I tell you. YES, YOU WILL!
Fine. The reason is 'cause I'm a sucker for tea bags; they're just so darned cute. You can find them with almost any aroma you like and they're natural, which as we all know, OMT likey!
This is not to say I'm a tea drinker, mostly I'm not. When I say mostly, I mean that while I do love me some ice cold sweet tea in the summertime, I don't drink tea any other way, during any other part of the year.
I consider it a personal failing. I WANT to like tea, because those bags!, but I have yet to find one I like and can stomach. When I see posts of y'all enjoying a warm cup in the winter, just know I have tea envy, but then squinch my face as I imagine every tea I've ever tried to love.
When I saw this hack, I though it would give me a reason to keep tea bags in my pantry. At least that way when you come for a visit, I'll be able to offer you something to drink. You know, other than vodka.
Tea Bags to Freshen Closet Instructions:
Hang tea bags of your choice within closet.
Wait for a few days and viola, freshened.
Tea Bags to Freshen Closet Rating:

I used the rating system of 1-5, one being BOOOO, you suckered me again, Pinterest! and five being Holy Moly! best new hack, ever!
Final rating: 2.5-3
On the first day, nothing, no change, nada.
On the second day, there was a tea-ish smell.
On the third and following days, their was less musty, more tea-y.
Conclusions:
I would say this could possibly work beautifully if you put enough bags in the closet. I used three for a small closet, so judge for yourself if it's worth the trouble.
The lifehack was a bit lackluster and left me wanting. I wanted to love it (more tea bags!). I wanted to share the love, but my final thought on this trial run: meh.
I think my original way works best and I'm sticking with it (see link above).
What say you? Tea bags to freshen a closet? Yay! or Nay!
~Please feel free to Pin, Tweet, Facebook or otherwise share this post. OMT smooches!~