Ask anyone who knows me: I love my chicken straight off the BBQ pit, slathered in sauce, baby!
But what's a gal to do in stormy weather or when it's too dern cold to BBQ, yet the delicious hankerin' refuses to quit?
Oven roast those chicken bits, that's what!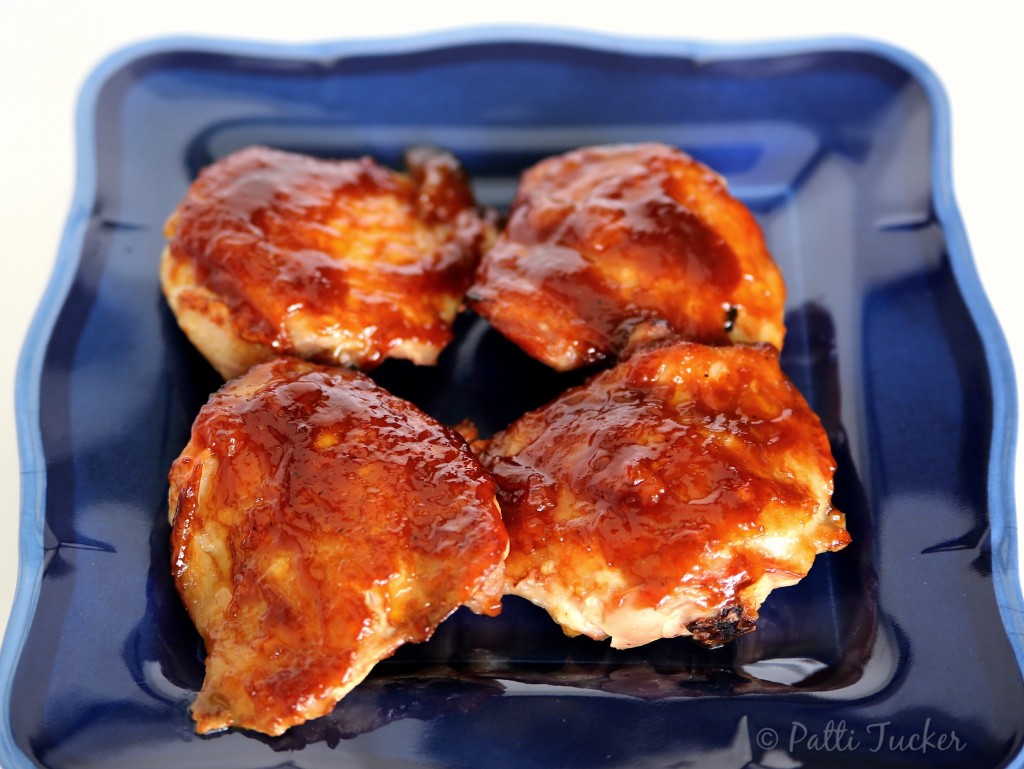 I've been making roasted whole chickens for years (I use Julia Child's method and it has yet to fail me) and have oven-roasted legs and thighs more times than I can count.  While I used chicken thighs for this go-around, you could certainly substitute your favorite cut and simply adjust the cooking time.
The biggest question to ask yourself when making BBQ chicken is what flavor combo are you craving.  A straight BBQ sauce poured right from the bottle?  A homemade concoction with some 'pice?  Sweetness instead of savory?
What is it that you want in your mouth NOW?
For me, it was a reminder of summer; a bit of sweetness with a twang.  I rummaged through my fridge and spice cabinet and settled on a Vidalia Onion-based BBQ sauce, coupled with some peach preserves from the Texas Hill Country and then added a bit of garlic powder.  The result was exactly what I had been craving.  The only thing to make this better is to actually make it on the pit outside.  Next time.
See those chunks of peach preserves?  Oh, my.  The vapors, I has them.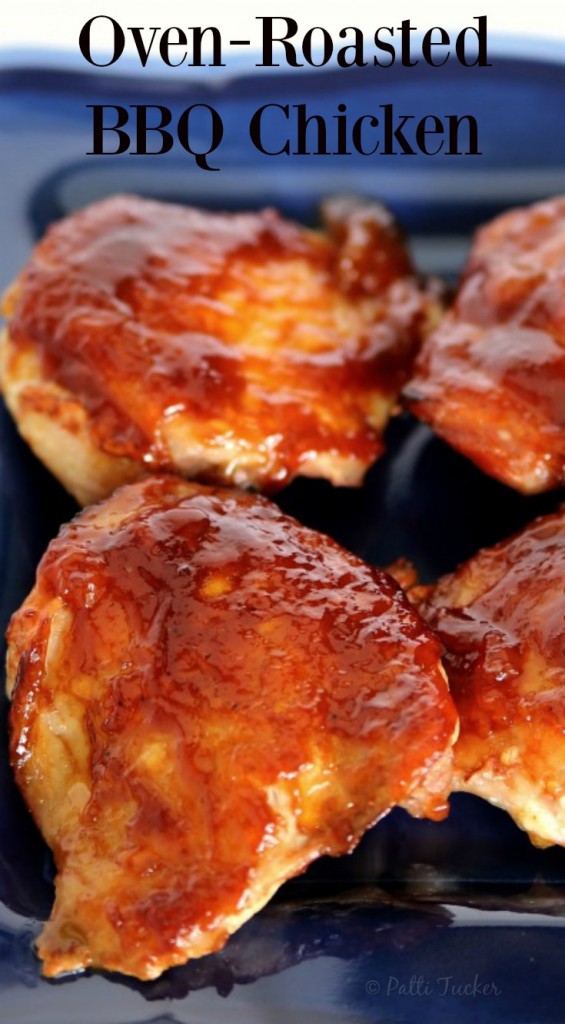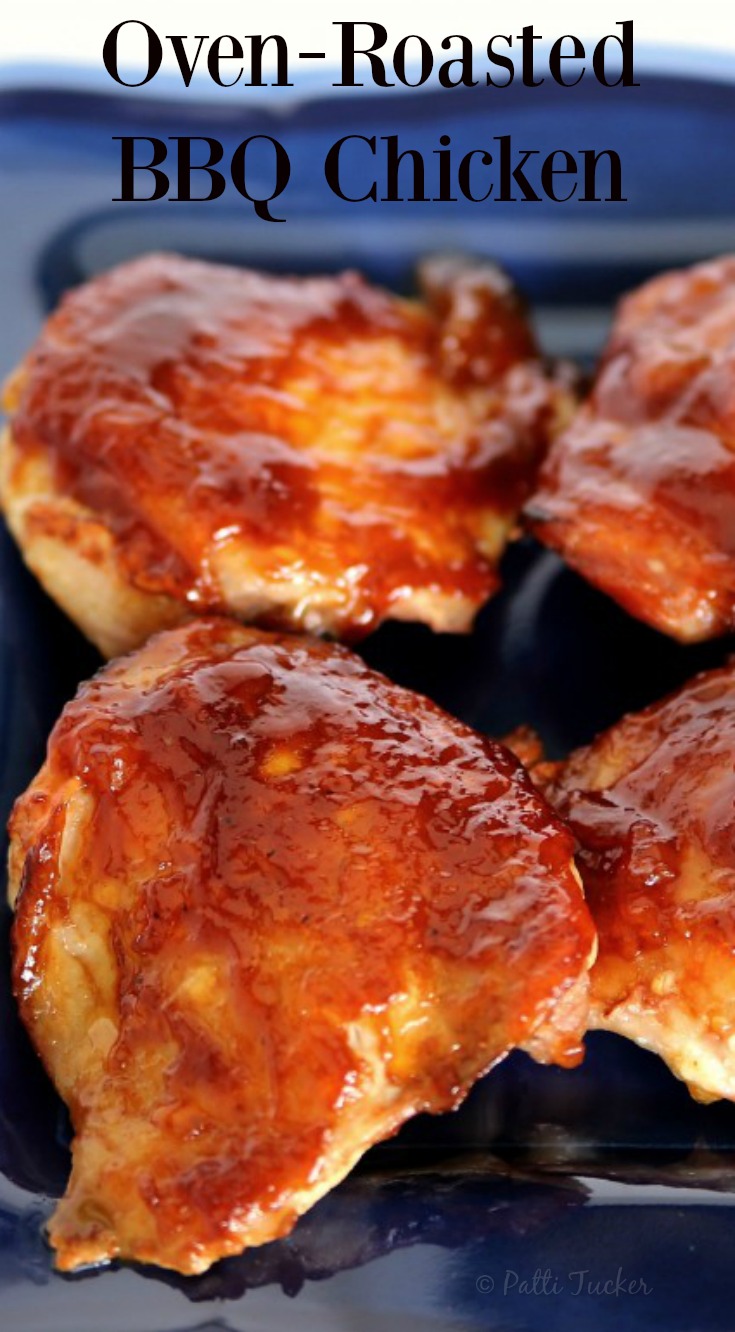 The great thing about this recipe is that you tweak it however your taste buds demand.  Feed your hankerin'!
I also whipped up Drunk Carrots to compliment the BBQ chicken, along with some homemade biscuits. I swear it's gonna be a meal they serve in Heaven because it's truly otherworldly.
Enough drooling!  To the recipe!
Ingredients
2 cups BBQ sauce
1 cup cup peach preserves
2 tsp garlic powder
1/2 tsp onion powder
8 whole chicken thighs, bone-in, skin-on
2-3 tbsp olive oil
Instructions
FOR SAUCE

: Combine BBQ sauce, peach preserves, onion powder and garlic powder in a medium saucepan and heat through. Turn off heat and set aside.
Preheat Oven to 400°
Pour olive oil on a rimmed baking sheet, spreading to coat.
Place chicken thighs skin side down in the pans.
Roast for 25 minutes.
Remove from oven briefly, brush sauce all over the thighs. Using tongs, flip them over, being careful not to tear the skin.
Brush the tops with more sauce and return to the oven for 7 minutes.
Remove from oven, brush on more sauce, and return to the oven for another 7 minutes.
Remove from oven, brush on sauce, and turn up the temperature to 425 degrees.
Continue roasting for another 7 to 10 minutes, or until the sauce is starting to brown around the edges and the thighs are totally cooked through.
Remove from the oven and let sit for at least 10 minutes before serving.
Notes
When making this recipe, go ahead and make more than you'll need for a meal. The chicken freezes well AND is great in tacos or on pizza!
Adapted from Pioneer Woman
https://ohmrstucker.com/oven-roasted-bbq-chicken/
Now, who's ready for some deelish BBQ chicken?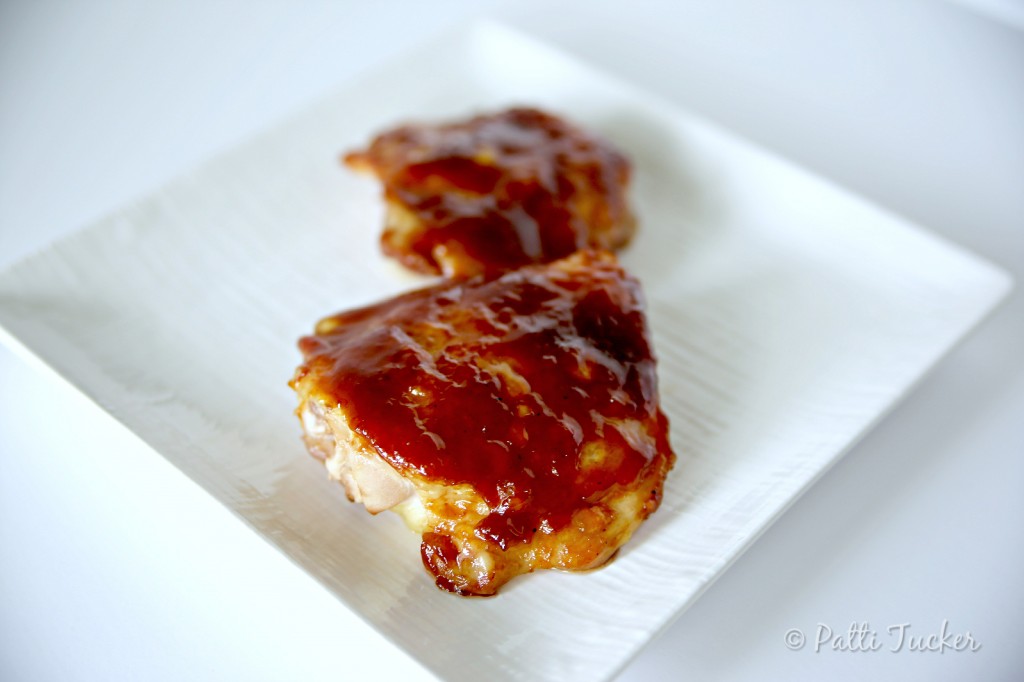 Happy oven roasting, y'all!
Please Share on Your Favorite Social Media! ~ OMT thanks you! ~