What happens when I'm bored and want to bake, all in one moment? I rummage through the pantry. I rummage through the fridge. I ask myself, "Mrs. Tucker, what's so weird that you've got to make it?" (head's up: some days grannies get so excited they revert to third-person)
Peanut Butter Chocolate Chip BACON Cookies. BAM!
I'm still not sure if I should be allowed to grandmother with such weirdness running through my culinary veins.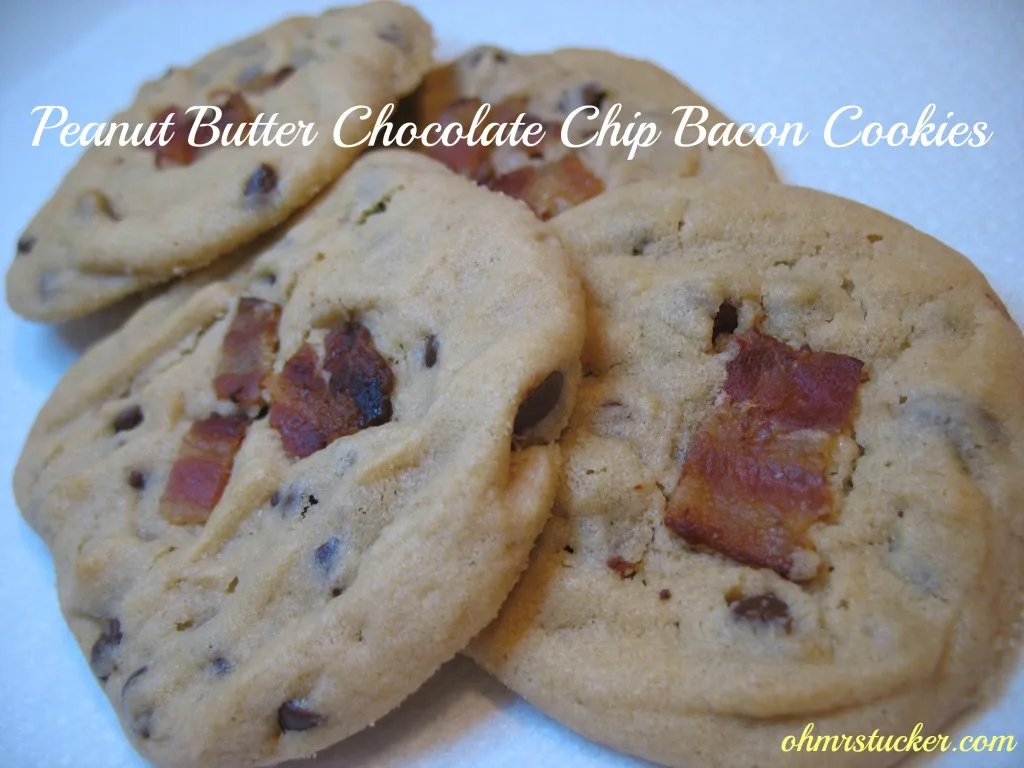 I know lots of kiddies have peanut allergies and for those sweet pumpkins, I'm sorry, but I'll have yours.
Want the OMGosh-That's-So-Easy Recipe? Read on…
OMT's This Little Piggy Cookies:
* Make bacon. Extra crispy. Drain. Cool. Chop.
* Make favorite peanut butter cookie recipe (you could even cheat with a tub o'store bought. Sandra Lee those badboys!).
* Incorporate two kinds of varying sizes of chocolate chips into your batter. Darker is better for these cookies.
* At this point in the cookie makin', Mrs. Tucker licks the beaters, even if raw eggs are involved. RISK-TAKER! Although, I could never recommend that to you because of the salmonella danger. Not all of us are blinded by sugar and butter.
* Roll batter into cookie balls. Place on cookie sheet. (follow recipe for a greased or ungreased cookie sheet)
* Poke small amounts of chopped bacon in cookie. Make sure dough covers the poked-in-bits.
* Make that peanut butter cookie design with a fork.
* Top with bacon. DO IT!
* Bake.
* Eat.
* SQUEEEEEEAL with delight, all the way home.
Bake on, my babies!