Garry loves him some pecan anythangs. (Anyone squinch at my mastery of the English language? ~snort~)
About a month before his birthday, he sent a cake recipe to me and the following conversation took place.
Garry: This looks good. Can you make this?
Me: As in can I or will I? Cause you know I'm a baker and can make pretty much anything, right?
G: I know, but will it be too hard?
M: Silly man. No. Not too hard. Now, do you want me to make this for your birthday or do we need to talk in circles some more?
(That last sentence never happened, but COME ON!)
I made the cake and it was pecan nirvana.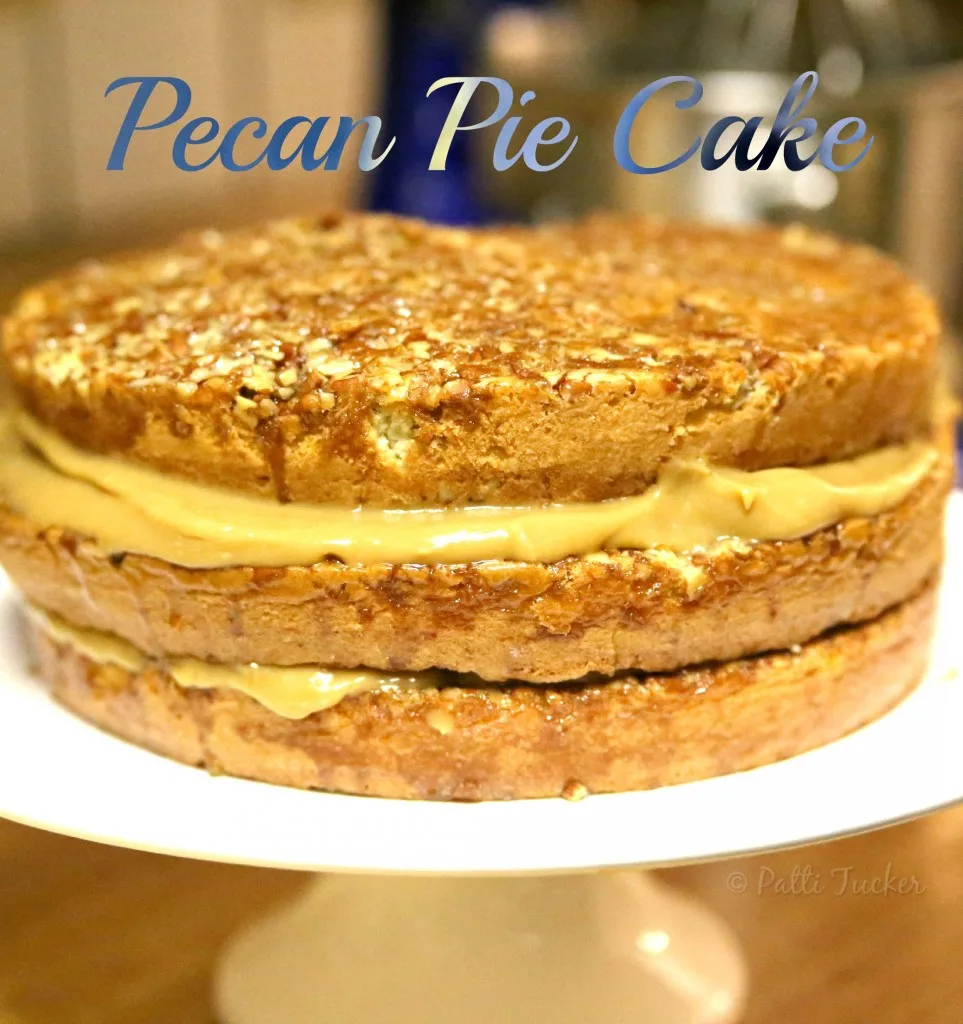 While I can't claim the recipe, I offer it here by way of the author, Bird on a Cake, with this addendum:
~ If you clicked over to the site, you saw a pic that looks different than mine. ~ahem~ Why does mine look so different? Is this a Pinterest fail?
~ Not technically a Pinterest Fail; I originally saw the recipe on facebook. (potato – pah-ta-toe)
~ The filling, while delicious, did not set up enough to hold it's shape, or the weight of cakes laden with pecans, like in the original pic.
~ I made my filling the day before to ensure proper thickness. Still. Nope. Didn't hold up.
~ I didn't make the crust leaves. #lazybaker
~ I stored in the fridge (cardinal cake rule breaker, as a refrigerated cake will dry out), because even though I made the cake in November and the temps were cool, that filling was not gonna stay together on the counter.
Minor details.
All that being said, as of this writing, I have had four pieces and I plan to eat one more tonight.
Yep. The cake was that good.
To the recipe!
Pecan Pie Cake
Ingredients:
Pecan Pie Filling:
1/2 cup dark brown sugar, packed
3/4 cup dark corn syrup
4 egg yolks
1 1/2 cups half-and-half
1/3 cup cornstarch
1/4 teaspoon salt
3 tablespoons unsalted butter (room temperature)
1 teaspoon vanilla extract
Pecan Pie Cake:
3 cups finely chopped pecans, toasted
1/2 cup unsalted butter (room temperature)
1/2 cup vegetable shortening
2 cups granulated sugar
5 large eggs, separated
1 tablespoon vanilla extract
2 cups all-purpose flour
1 teaspoon baking soda
1 cup buttermilk (or 1 c. milk mixed with 1 T. vinegar)
1 cup dark corn syrup
Pie Crust Leaves:
1 pre-made pie crust
1 large egg
1 tablespoon water
Instructions:
Pecan Pie Filling:
In a 3 quart saucepan, whisk together first 6 ingredients until smooth.
Whisk constantly while bringing mixture to a boil over medium heat.
Boil 1 minute or until thickened. Remove from heat; whisk in butter and vanilla extract.
Place plastic wrap directly on the surface of the mixture to prevent a film from forming and chill for 4 hours.
To chill quickly: pour filling into a bowl and place the bowl inside a larger bowl filled with ice. Whisk constantly until cooled (about 15 minutes).
Pecan Pie Cake:
Toast the chopped pecans: Spread on a lightly greased cookie sheet and bake at 350 degrees for 5 minutes.
Generously butter three 8 or 9 inch round cake pans. Divide 2 cups pecans evenly into buttered pans; shake to coat bottoms and sides of pans.
In a large bowl, beat butter and shortening with an electric mixer until fluffy.
Gradually add the sugar.
Add the egg yolks one at a time, beating well after each addition.
Mix in the vanilla.
Whisk together flour and baking soda.
Alternate adding the flour mixture and buttermilk to the butter mixture, beginning and ending with the flour.
Stir in remaining pecans.
Beat the egg whites with an electric mixer until stiff peaks form.
Fold one-third of the egg whites into the batter.
Fold in remaining egg whites.
Pour batter into prepared pans.
Bake at 350 degrees for 25-30 minutes, until toothpick inserted in center comes out clean.
Cool in pans on wire rack for 10 minutes.
Invert layers onto wire racks with wax paper underneath.
Brush the tops and sides of each layer with corn syrup, allow to cool completely.
Pie Crust Leaves:
Roll out and smooth pie crust.
Use a leaf shaped cookie cutter to cut out leaves and mark leaf veins with the tip of a knife. Whisk together egg and 1 tablespoon water; brush on pastry leaves.
Bake at 425° for 6 to 8 minutes or until golden on a parchment paper lined pan.
Cool on a wire rack 10 minutes.
Gently remove foil from leaves.
Notes:
Recipe Courtesy of: Bird on a Cake
I bet you know a pecan lover (maybe it's you!) who would love a Pecan Pie cake.
Get to it!
Happy Baking, Y'all!
~If sometimes you feel like a nut, consider sharing on social media. Smooches!~