As a mom of a grown son, I'm aware how fast time slips by, but people, I gotta tell you that I'm stunned three years are behind us since Sweet E entered this world.
THREE YEARS!
Someone grab a fan, and some sweet tea: the vapors are creepin' on me!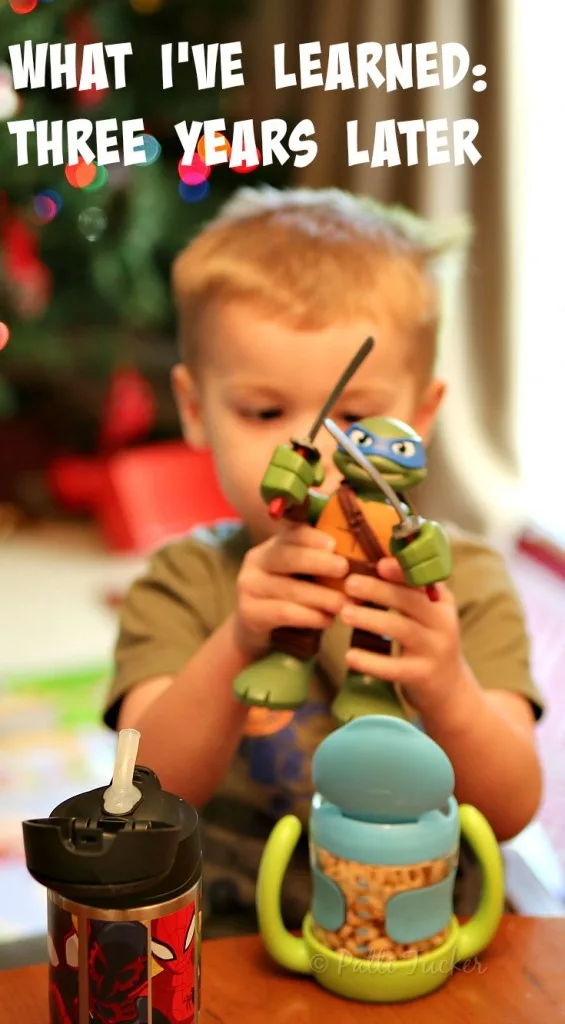 In case you're new here, I've been updating what I've learned about every six months since E snagged our hearts. You can catch up here:
Today, as our sweet little man turns three, I offer the next installation of What I've Learned.
~ E has asked to Skype us. Just when I thought he couldn't grab any more of my heart, his asking to see us via Skype does me in!
~ He understands that Choochie makes things in the kitchen and before they arrived for Christmas, he requested that we bake a cake together (or, more accurately, that I bake and he eat!). Having a toddler underfoot again fills me with joy. A love for cooking, for making kitcheny messes, passed on to his daddy and now to E = grandma giddiness.
~ I want this child in my house, hanging out with us, all the time and am not above begging Boy to make this happen, by way of moving to my neighborhood. COME ON!
~ Christmas was beyond fun this last year, but this year is where it's at! E is at the age where he "gets" holiday fun and I want in on all the sweet action!
~ E likes to dance, which means we now send him YouTube videos to help him get his groove on, then Boy sends us videos of E dancing, which we watch over and over and over.
~ A Texas accent presented in a toddler voice remains one of my favorite things in this life.
~ He is the proud owner of a funny hat with flaps, reminiscent of Choochie's.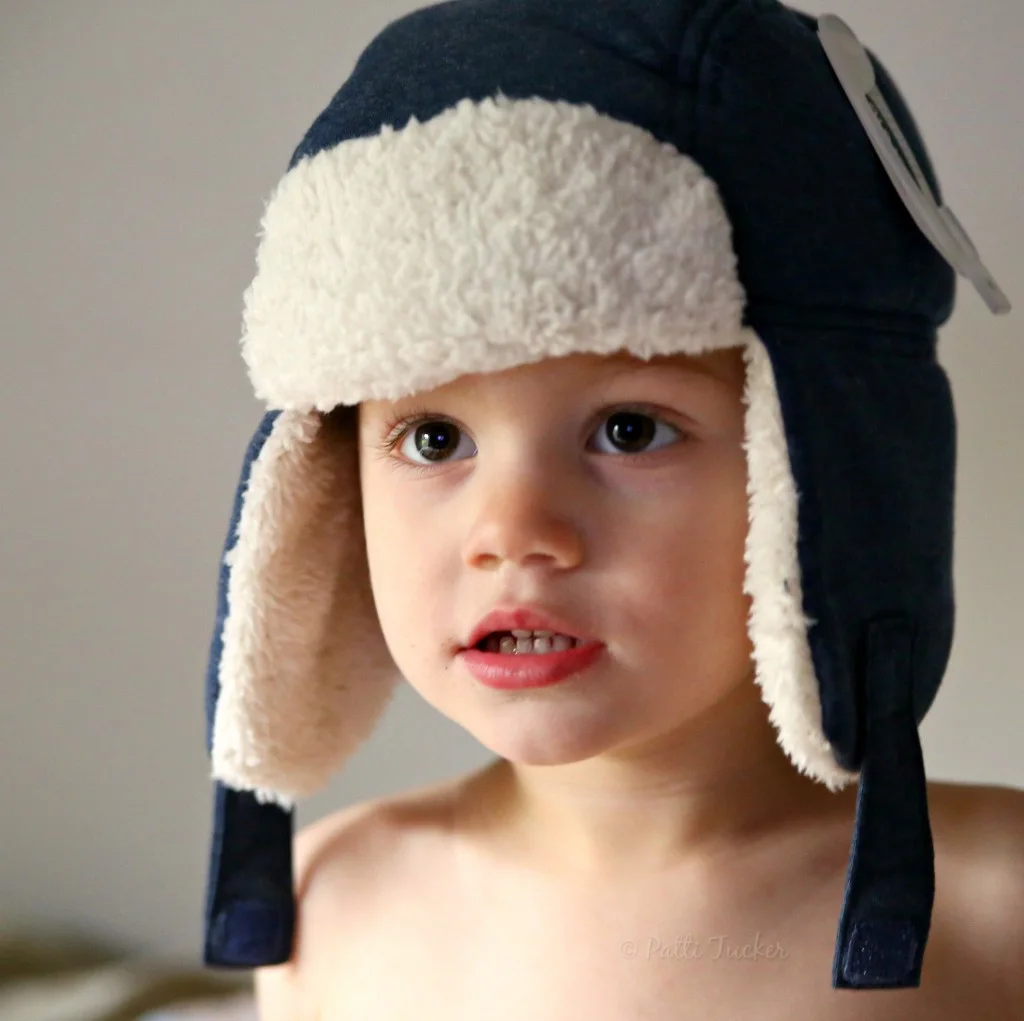 (Please forgive the photo quality. Garry was laughing so hard that there wasn't one shot that wasn't blurry.)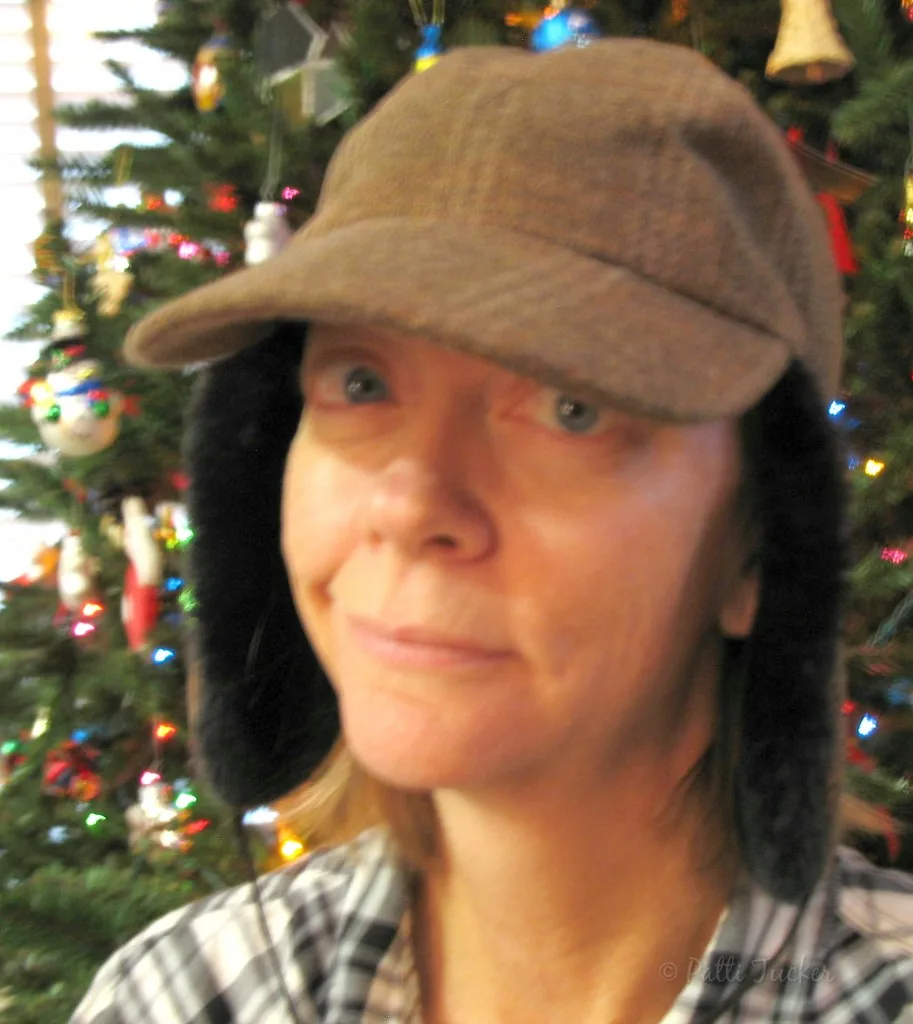 ~ That child is a talker/thinker. My love of listening to nonstop E jibber jabber, has not abated. Talk on, baby!
~ I know the time of chasing Sweet E through the house will come to an end. That day has not arrived.
~ Toddlers may be small, but they're smart. When I gave E a five-minute warning at the playground, he immediately climbed to the highest point, laughed the laugh of the devious and avoided my efforts to get him to come down so we could go home. What a great game…for him! In the end, I had to outwit him. I made a note to self: have another adult with you when you go to the playground.
~ Sweet E has toddler friends! When asked, he will regale you with toddler friend stories!
~ Spanish immersion: that's the kind of school E attends. While we're trying to keep up, most of what Choochie and G-Daddy know of Spanish is not fit for small children.
~ E and I share a love of M&Ms. Choochie candy DNA runs deep!
~ Did you notice the Ninja Turtle in the top pic? Boy wasn't allowed to have a Ninja Turtle growing up. Rules and all. E asked for one on a Target run, so I sent a quick text to Boy and was given the okay, and the rest is history. I felt bad and not bad all rolled into one confusing emotion. Never say never. I'm sorry, Boy. You're still my favorite.
~ When Boy was E's age, I couldn't get enough of him calling out for me: Momma! It's the same with E: Choochie! Fills me with joy.
~ If Sweet E asks for us to bring Dexter to his birthday party and we thank him for the thoughtful invite, yet say Dex probably should stay at home (long road trip and all), Sweet E WILL NOT APPROVE! (I'm still not sure if we're banned now after our grandparenty denial.)
I know as the new days turn into new years, I'll continue to learn from this child and the experience of being his grandmother and, baby, I'm looking forward to each of those days (and years!). So much happiness ahead!
Dearest Sweetest E: HAPPY BIRTHDAY, BABY!
We love you.
~If you celebrated this post by humming the birthday song, please consider sharing on social media. Smooches!~