Thanksgiving be coming, y'all! Like I had to remind you.
What kinda pies are you making? Pumpkin? Check. Chocolate Pecan? Check. Pie in a Jar? Um, say what?
To be clear: this has nothing to do with mason jars; I think we all know how I feel about food in a jar.
~ A gentle reminder: OMT! uses Amazon referral links. When you do your shopping through the Amazon links on this page, you support the blog at no cost to yourself. It's much appreciated!~
This Pie in a Jar is something altogether different and it's from a Texas company. YeeHa!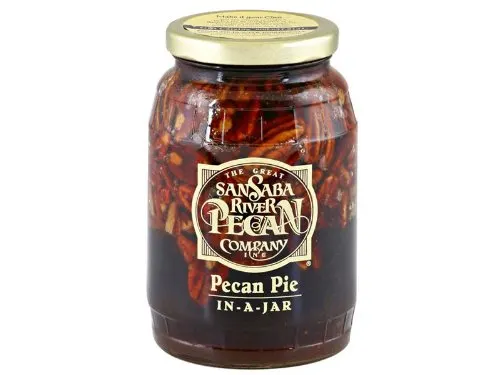 (source: AMAZON)
Pie. In. A. Jar. Oh, my word.
We have fallen in love with The Great San Saba River Pecan Pie Filling! We first tried it at the Atlanta Americas Mart where it took the Blue Ribbon for best dessert. One bite and it may become your favorite pecan pie too! It is as simple as Pie to make- just add eggs to the mix, pour that into a pie crust, and you have an amazing homemade Pecan Pie. You can also make your own pie crust with the recipe provided on the fold-out label. At the Great San Saba River Pecan Company approximately 10,000 pecan trees grow in a park-like setting bounded by the San Saba River. Located in the Hill Country of Central Texas, this is where all the pecans for this pie are picked.
They had me at San Saba River. Such a beautiful place.
Let me testify for a moment about my great state. If you've never had a Pecan Pie made with Texas pecans (puh-kahns), you are missing a culinary treat. For. The. Realz. (< you know it's serious biznezz when I add a "z" to a word.)
San Antonio is considered to be the foothills to the Hill Country and many of us have made day trips into the Hill Country to enjoy the beauty and the food. If you ever get the honor of visiting Texas, I hope you get to see and enjoy the Hill Country.
Back to the pie!
Remember how I mentioned that chocolate pecan pie up at the top? I love my recipe, but if you don't have a go-to, guess what?
That's right, Chocolate Pecan Pie in a Jar!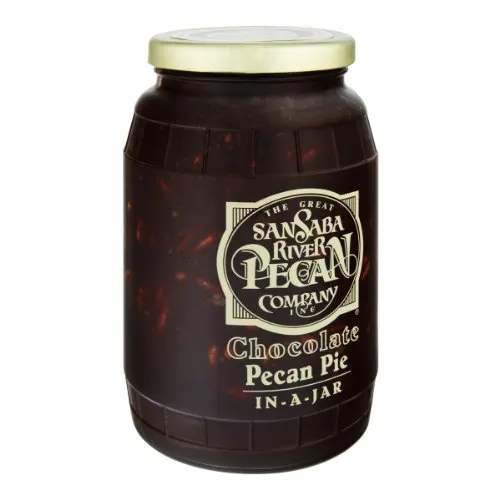 (source: AMAZON)
I think my work is done here.
One more thing, my babies: know someone who is just venturing into baking or do you need a fun something a stocking or under the tree? Pie in a Jar. A delicious gift.
Happy Holiday Pie in a Jar makin', y'all!