Every August, when it's blazing hot outside in Texas (today: 108° feels like 113°), I start thinking about holiday cooking. What to have, what to try, what to tweak.
I've had this recipe on my mind for a few weeks now and just as it started feeling like the innards of an oven outside, I turned on my oven inside.
Everybody sweat!
Seriously, though. These badboys were worth it.
Rise and Shine, mah babies!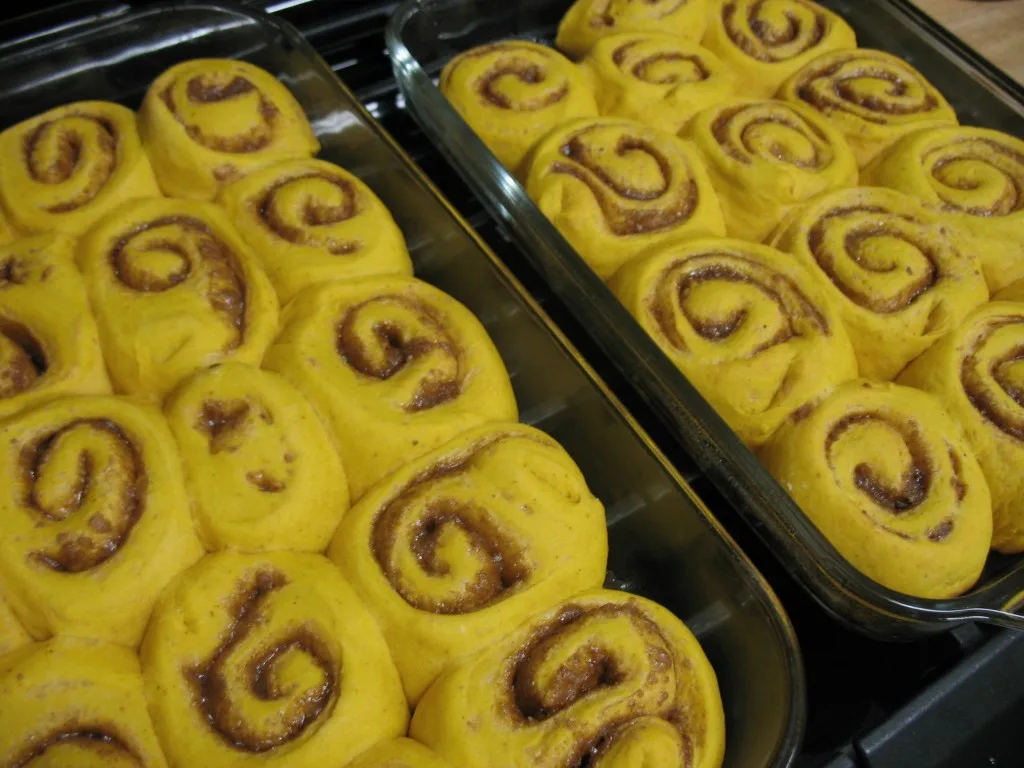 Hello, Luva…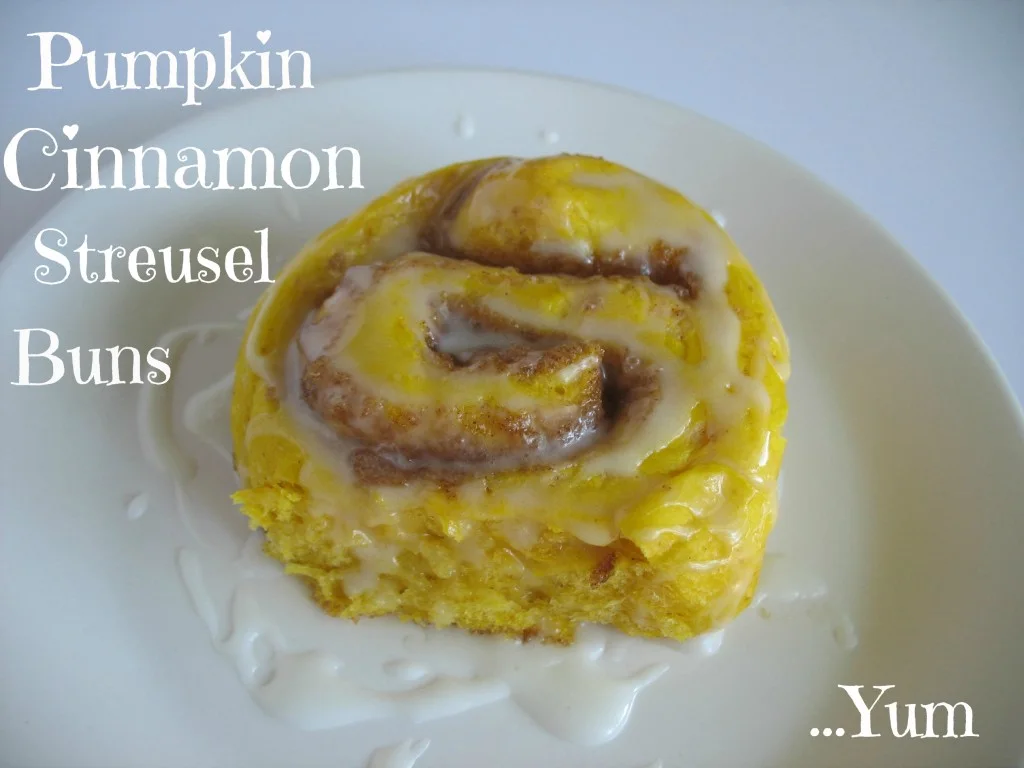 As is my M.O., I doubled the batch and froze the extras.
This recipe is good for a special breakfast, an afternoon snack or even dessert. While they are made with pumpkin, the pumpkin taste is very very subtle.
Try them and let me know what you think.
Yum.
Pumpkin-Cinnamon Streusel Buns
Ingredients
Buns:
1 package dry yeast (about 2 1/4 teaspoons)
1/4 cup warm water (100° to 110°)
2 3/4 cups all-purpose flour, divided
1/2 cup canned Pumpkin Puree
1/2 cup 1% low-fat milk
1/4 cup butter, melted
1 tablespoon granulated sugar
1 1/4 teaspoons salt
1/4 teaspoon ground nutmeg
Cooking spray
Streusel:
3 tablespoons granulated sugar
3 tablespoons brown sugar
2 tablespoons all-purpose flour
1 1/2 teaspoons ground cinnamon
2 tablespoons chilled butter, cut into small pieces
Glaze:
3/4 cup sifted powdered sugar
1 tablespoon milk, half and half or cream
1/4 teaspoon vanilla extract
Instructions
To prepare the buns, dissolve yeast in warm water in a large bowl; let stand for 5 minutes.
Lightly spoon flour into dry measuring cups, and level with a knife. Add 2 cups flour, pumpkin, and next 5 ingredients (pumpkin through nutmeg); beat with a mixer at medium speed until smooth.
Turn dough out onto a floured surface. Knead until smooth and elastic (about 10 minutes); add enough of the remaining 3/4 cup flour, 1 tablespoon at a time, to prevent dough from sticking to hands (dough will feel tacky).
Place the dough in a large bowl coated with cooking spray, turning to coat top. Cover and let rise in a warm place (85°), free from drafts, for 45 minutes or until doubled in size. (Press two fingers into the dough. If an indentation remains, the dough has risen enough.)
Combine 3 tablespoons granulated sugar, brown sugar, 2 tablespoons flour, and cinnamon in a small bowl. Cut in butter with a pastry blender or 2 knives until mixture resembles coarse meal.
Punch dough down; cover and let rest for 5 minutes. Roll the dough into a 12 x 10-inch rectangle on a floured surface. Sprinkle with brown sugar mixture. Roll up the rectangle tightly, starting with a long edge, pressing firmly to eliminate air pockets; pinch seam and ends to seal.
Cut roll into 12 (1-inch) slices. Place slices in a 9-inch square baking pan coated with cooking spray. Cover and let rise 25 minutes or until doubled in size.
Preheat oven to 375°.
Bake the rolls at 375° for 20 minutes or until golden brown. Cool for 15 minutes in pan on a wire rack.
To prepare the glaze, combine the powdered sugar, 1 tablespoon water, and vanilla extract in a small bowl, stirring with a whisk until smooth. Drizzle glaze over buns. Serve warm.
Notes
From Cooking Light October 2001
https://ohmrstucker.com/pumpkin-cinnamon-streusel-buns/