CAVEAT: This post contains the word "lube" and frank talk about sexy-time, during perimenopause. Enter if you dare.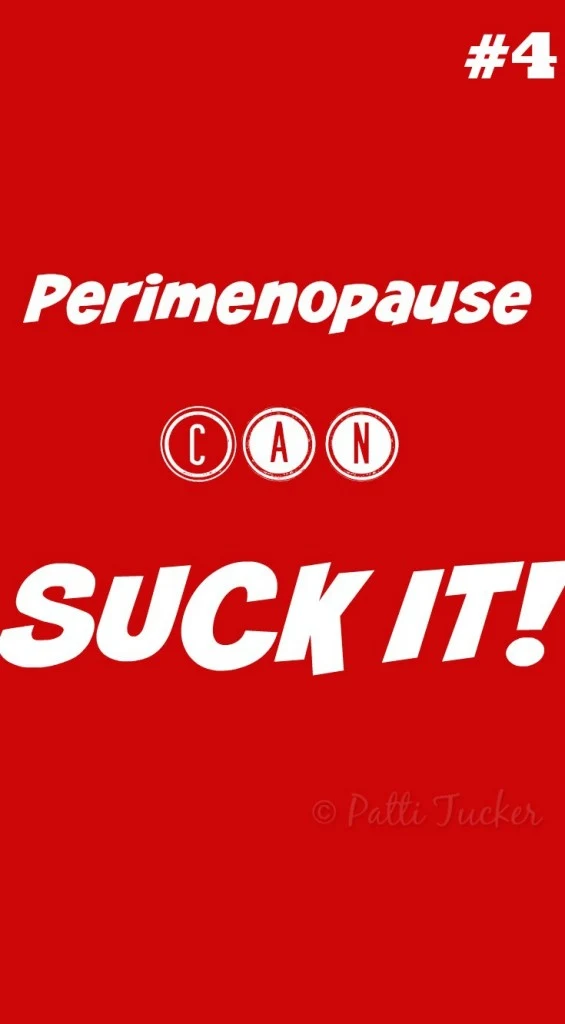 Oh, my. Lube? This is what I'm talking about these days? L-U-B-E?!
The German (my mother) is horrified: Pat-TAY! Have you no shame?
Nope, Mom. Not one drop.
I wanted to title this post: Just When You Thought You Had Found All The Uses For Coconut Oil…
But, I envisioned an unsuspecting nun clicking on the link, only to discover there's one use she hadn't thought of. And then I'd go straight to hell.
Perimenopause is working my last nerve.
Some days it's comical, like when I literally forgot my name or told my doctor if he didn't stop annoying me, I would cut him. (No worries. #1: I remembered my name! #2: The doc has a great sense of humor, plus I didn't have a sharp pointy object on me.)
Then, there are other days when my singular pissed-off emotion consists of one two-word phrase: F*ck. Seriously?
The day I ran across the following article, which in turn was the inspiration for this overly personal important post, fell on the comical side: Coconut Oil to Cure Vaginal Dryness
Oh, hai mon! How very Island Time of them!
Ahem. While I had a good laugh, I couldn't deny the article made a valid point. There comes a point when extra moisture, or put more indelicately, lube, comes in handy.
Stay with me, momma!
[Tweet "Perimenopause Can Suck It #4: Sexy Time Talk. Oh. My."]
By now, many of us are aware that as we enter and traverse perimenopause, our estrogen levels are decreasing. Less estrogen = a drying effect south of the border, er, in our vaginas. Less moisture in our vaginas = sex is gonna hurt. Sex is gonna hurt = excuses not to have sex. No sex = stupid vagina.
I know. Vagina can be a jarring word for some. Let's desensitize, by immersion. Ready?
Say it with me: vaginaVAGINAvaginaVAGINAvaginaVAGINAvaginaVAGINAvagina!
Hey, what do babies get pushed out of? A VAGINA! VAGINAvaginaVAGINA!
Ah, much better. Back to the lube!
There are basically three kinds of lube: oil-based, water-based and OMG-I'm-so-embarrased-based. Still reading? Good. That last one should read: silicone based.
Water-based: This one is safe to use with all your (ahem) latex products…like condoms and diaphragms! Water-based lubes are an easy clean-up, user-friendly, but tend to dry out quickly. The wisdom about perimenopause is this: conceivably there's a chance of pregnancy with unprotected sex. If you're past menopause, you really don't have to think about what kind of lube you're using; use 'em all!
Oil-based: Most everything you read about lube (and who isn't reading about it?!) advise that oil-based lubes should NOT be used for sex. Why? These lubes are NOT safe to use with latex condoms, diaphragms or (LOOK AWAY CHILDREN!) latex toys, because oil breaks down latex. Also note that oil-based lubes can leave a thin-coating on the vaginal walls, which can compromise the health of a woman's vagina.
To review: breaks down latex and possible vaginal compromise.
Sooo, what about coconut oil as lube? It's an oil, obviously, and there's lots of Internet-talk surrounding the pros and cons.
Pro: if your post-menopausal: GO FOR IT!
Con: If your perimenopausal: NO LATEX PRODUCT USAGE!
There is also talk of coconut oil being an anti-fungal which may or may not help ward off yeast infections. Also, some women tend to have issues with the addition ingredients in lube, which obviously, coconut oil does not have.
If you're in the midst of sucky perimenopause and using a latex product for protection against pregnancy, I'd like to go on record as saying you probably shouldn't chance it.
Silicone-based: Safe to use with latex and it takes a long time to dry out, are the top reasons folks will reach for silicone-based lubes. The top reasons folks won't? Silicone is hard to clean, is water-resistant and can have a greasy texture. Sexy!
There you have it. Lube 101.
I know talking about such things can be embarrassing, but don't we owe it to ourselves to continue to live the lives we want, to keep the fun alive, no matter what phase we're moving through?
Knowledge is power, my babies; pass it on!
Perimenopause CAN suck it.
* Disclaimer: All information in this series is based on my personal experience and is not intended to take the place of your doctor's advice.
~If you liked this post, please help me spread the SUCK IT love by sharing on your favorite social media. Thank you!~