Are you like me and already thinking about what kind of cookies you're going to bake for Christmas?
YOU ARE?!
This is why we're friends!
While I like to shake up my cookie rotation every year, there are a few traditional classics that get made no matter what.
Russian Teacakes are one of those classics.
They are a tiny ball of light and crumbly cookie, rolled twice in confectioner's sugar.
Many cookie connoisseurs think they are perfection, as is.
Me, not so much. I can take them or leave them.
Most of my family can't understand my ambivalence over these sought after gems, so to join the family fun, to find a way around my Russian Teacake meh-ness, I decided to experiment.
I looked around my kitchen for an ingredient that would make these badboys POP! with flavor. When I got to the cabinet that had a full bag of caramels, I knew I'd hit upon a solution.
Looky: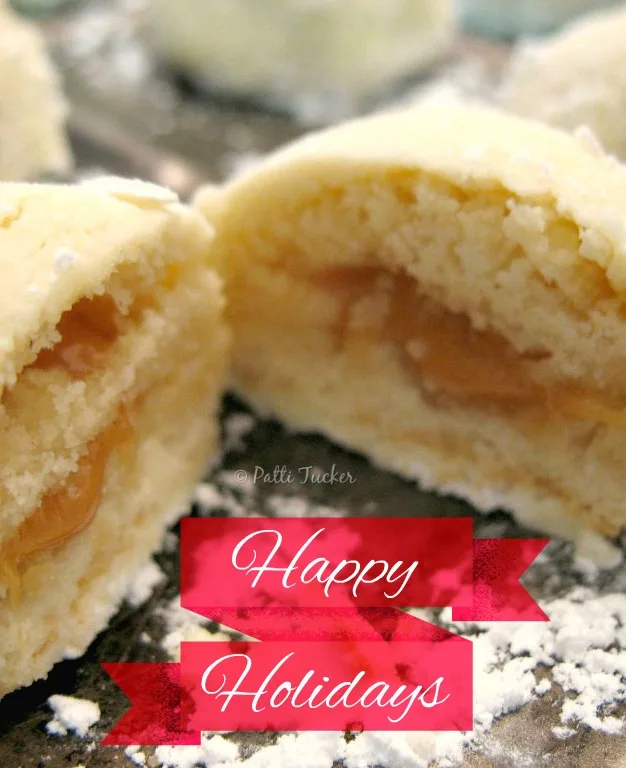 Oh, my.
Those who beg for this cookie at Christmastime, were dubious at first, (DON'T MESS WITH PERFECTION, MOMMA!) then, upon first bite, fell in love with the addition of a caramel center.
CARAMEL!
Seriously, isn't everything better with caramel?!
I simply unwrapped a Kraft caramel, cut it in half, molded the cookie dough around it, then baked as usual.
NirFREAKINvana.
Russian Teacakes
Ingredients:
1 cup butter, softened
1/2 cup powdered sugar
1 teaspoon vanilla
2 1/4 cups all-purpose flour
1/4 teaspoon salt
Kraft Caramel Candies, unwrapped and cut in half
Powdered sugar
Instructions:
Heat oven to 400ºF.
Mix butter, 1/2 cup powdered sugar and the vanilla in large bowl. Stir in flour, nuts and salt until dough holds together.
Shape dough around caramel piece and into 1-inch balls. Place about 1 inch apart on ungreased cookie sheet.
Bake 10 to 12 minutes or until set but not brown. Remove from cookie sheet. Cool slightly on wire rack.
Roll warm cookies in powdered sugar; cool on wire rack. Roll in powdered sugar again.
Notes:
Recipe adapted from Betty Crocker
I wouldn't blame you if you added this cookie to your holiday plate, too. Just prepare for the run on 'em.
You're probably going to have to make two double batches. #trust
Happy Baking, Y'all!