I can hear some of you thinking: Obsessed with Bacon Meatloaf much, woman?!
Yes, yes I am. And you would be too if you would just make the dang-blasted thang.
It's important to point to the obvious here: my recipe for Bacon Meatloaf, like most of my recipes, is for those who love leftovers. Luckily, that's us! And maybe you!
Just so we're clear: I made the Bacon Meatloaf, then the next night we had Bacon Meatloaf Quesadillas, then another night we had straight up leftover meatloaf, mashed tators with bacon cream gravy (again, not trying to kill anyone here) with a veggie. Finally, there was enough leftover meatloaf to crumble and throw in a mac and cheese recipe. Four meals! That's what I call winning.
Two Important Notes:
#1: If you're gonna freeze the leftovers, you can slice and crumble what you need ahead of time and then freeze. Makes the meals easier to put together, instead of thawing out a mammoth hunk o'meat and then trying to figure out what to make with it.
#2: When I made the Spicy Bacon Meatloaf Mac & Cheese, it made enough for that day's meal and another day of leftovers. The bonus? Husband and I had plenty, even after sending a large bowl home with Nephew #4.
The meatloaf that keeps on giving!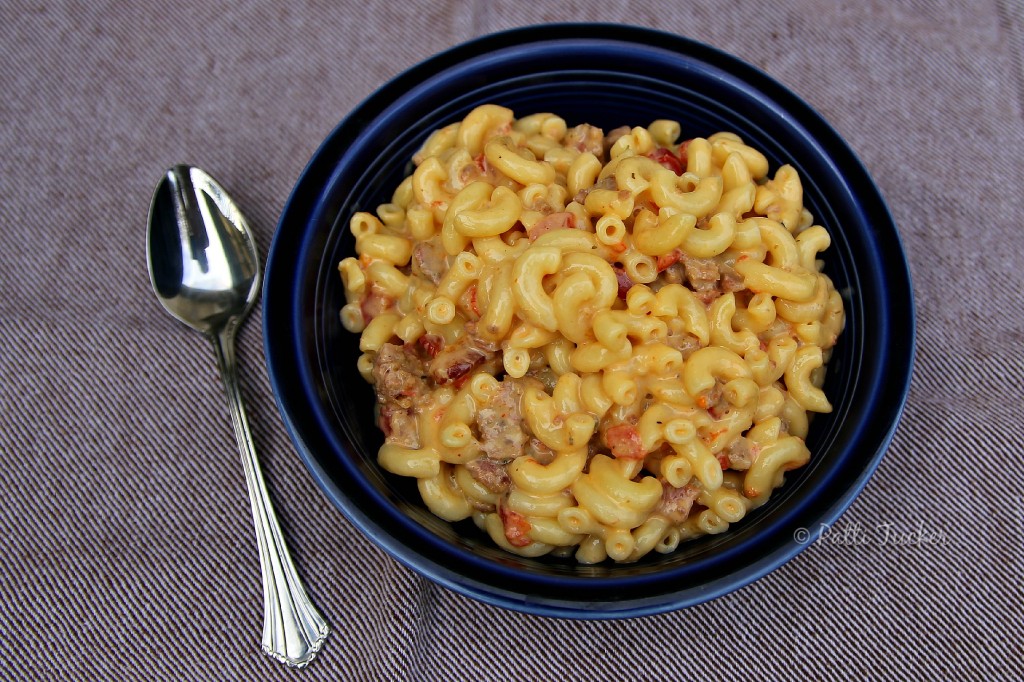 OMT's Spicy Bacon Meatloaf Mac & Cheese
Ingredients
3 cups uncooked small elbow macaroni pasta
16 ounces Velveeta
1 14-16 ounce can of diced tomatoes with green chilies*
1/4-1/2 cup of milk**
1 cup shredded cheddar cheese
1/4 cup pasta water from cooked pasta
1.5-2 cups of crumbled Bacon Meatloaf
1/2 cup grated Parmesan cheese
Instructions
Cook pasta according to direction and drain. After boiling, but before draining, set aside 1/4 cup of the pasta water.
While pasta is cooking:
Place Velveeta and diced tomatoes with juices into a heavy gauge pan and melt on low heat. Stir constantly, to prevent scorching.
Once melted, add 1/4 cup of milk to mixture along with the shredded cheddar. Keep stirring until cheese is melted.
Add 1/4 cup of pasta water from the cooked pasta.Stir to incorporate.***
If the sauce is too thick, you may add another 1/4 cup of milk to thin.
In large bowl, combine pasta crumbled Bacon Meatloaf and cheese sauce.
Pour in a 13x9 buttered pan, then top with Parmesan cheese.
Place in a 350° oven until the Parmesan is melted.
Serve.
Notes
* If your family doesn't do spicy, use a can of plain diced tomatoes.
** Adding the milk in 1/4 cup increments will ensure your sauce isn't too watery. We like it on the thick side, so I use a bit less.
*** Pasta water is full of sticky carbs. When you add it to the sauce, it helps it to marry the pasta to the sauce. Then they stick together through thick and thin.
https://ohmrstucker.com/spicy-bacon-meatloaf-mac-and-cheese/
Certainly, you can use any meatloaf recipe you love as a substitute, but do you really want to deprive yourself of a OMT's Bacon Meatloaf? Do you?!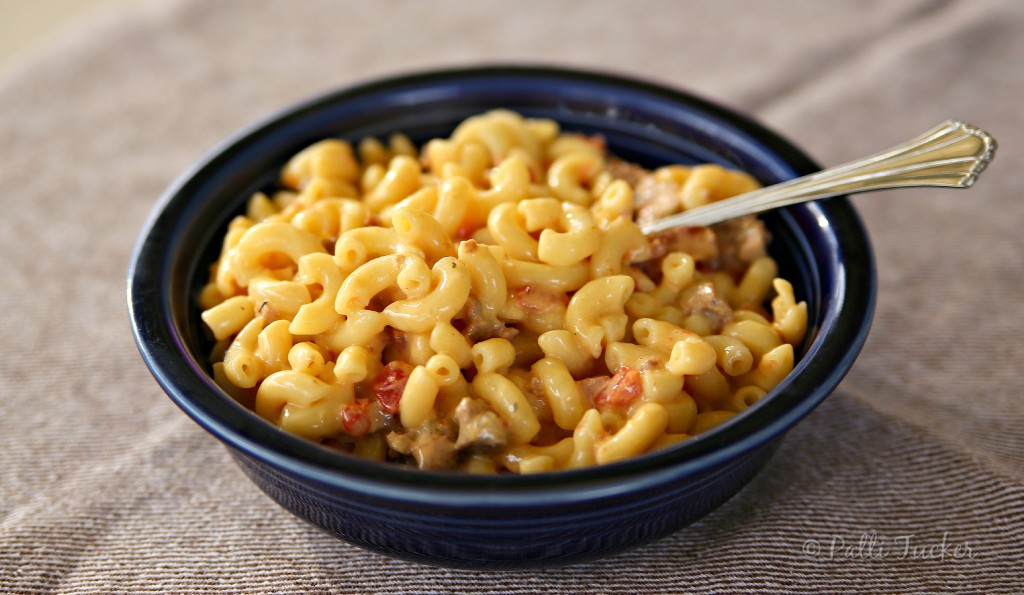 OF COURSE NOT!
Get to whizzing in the kitchen', mah babies!
* As Featured on FoodGawker!