* An oldie, but yummy post worth a second look. *
A couple of years back, I shared the story about how I would make my MIL a chocolate cake every year for her birthday. For years, she ooohed and awwwwed over the different chocolate cakes I made her, until one day, maybe 20 years in, she revealed, 'I don't like chocolate cake."
To say I was dumbfounded is an understatement.
I asked her why she hadn't told me earlier, like 19 years earlier. She said she didn't know how to tell me she wasn't a fan of chocolate cake.  It's still a running joke when her birthday rolls around. "I'll bring the cake. Chocolate, right?"
Since that revelation, I have made all kinds of things for her instead of chocolate cake.  Her favorite flavor is lemon, so I'm always on the lookout for great recipes in advance of her birthday.
For Mother's Day, I made Paula Deen's Lemon Bars (no, I'm not trying to kill her with butter):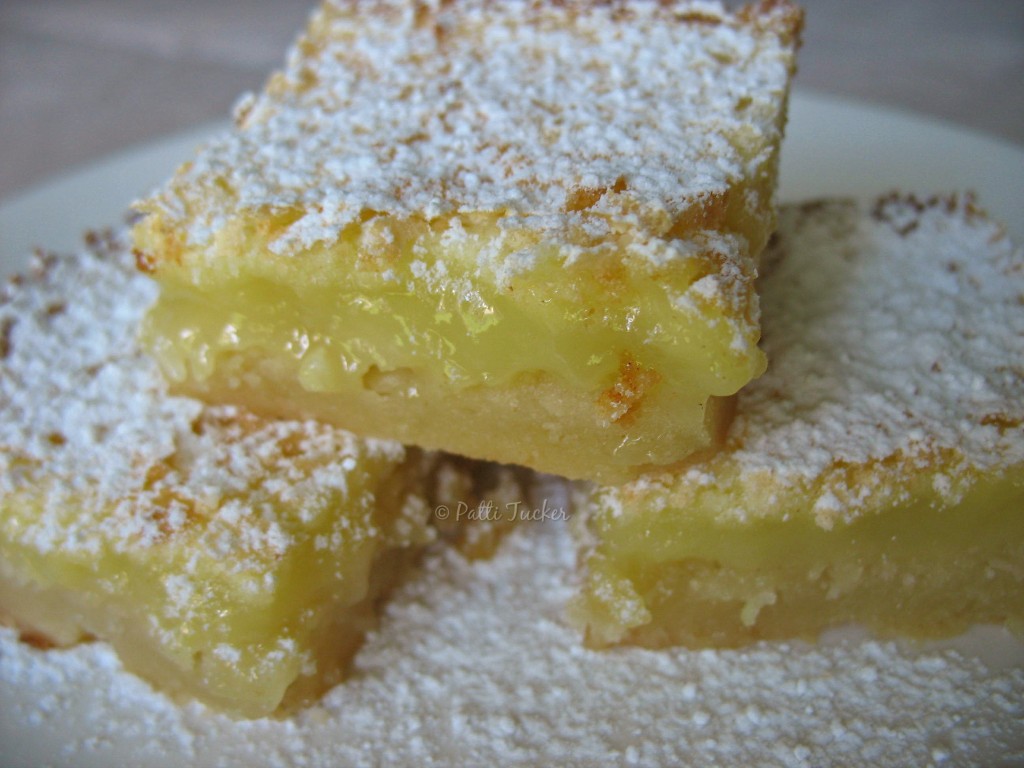 Lemon Bars
Recipe courtesy Paula Deen
Ingredients
Crust:
2 cups all-purpose flour
1 cup confectioners' sugar, plus more for dusting
Pinch salt
2 sticks butter, at room temperature.
Filling:
4 eggs
2 cups granulated sugar
6 tablespoons all-purpose flour
6 tablespoons fresh lemon juice
Directions:
Preheat oven to 350 degrees F. Lightly grease a 9 by 13 by 2-inch pan.Make the crust by combining the flour, confectioners' sugar, and salt in a large bowl. Cut in the butter to make a crumbly mixture. Press the mixture into the prepared pan. You may need to dip your fingers into a little flour or confectioners' sugar to keep the dough from sticking to your fingers.
Bake for 20 minutes.
Meanwhile, to make the filling, mix the eggs, granulated sugar, flour, and lemon juice. Pour this over the baked crust and bake for 25 minutes longer. Sprinkle with confectioners' sugar, if desired, when the bars are done.
Serves: 16 bars
The only modification I made to the recipe was using the butter before it reached room temperature, while it was still cool, yet not cold. I couldn't imagine making a crumbly mixture with room-temp butter. The crust turned out just fine.
My MIL loved these bars. I know because I asked her, as she was licking her fingers and wiping powdered sugar off her shirt. She gave me an OMGOODNESS eye-roll with a YES! smile.
Ahhh, that's what I was looking for!
Happy Baking, Y'all!
Please Share on Your Favorite Social Media! ~ OMT thanks you! ~