…or as I like to call them: Sweet Orange Rolls O'Yurm.
I do love a lip-smackin' sweet roll (hello, pumpkin-cinnamon streusel buns) and these Sweet Orange Rolls have been added to my ever-growing list. They are delicately delicious.
Freshly squeezed orange juice imparts a light flavoring. You could add an orange extract to bump up the oranginess (is that even a word?!), but I liked the subtle natural flavoring. Take a bite and the orange eases over you like a polite child: surprising and appreciated.
On to the rolls!
As it happens, I'm suffering through a running injury and my doc has advised me to wear my running shoes (with special inserts) if I'm gonna stand for long periods. What does this mean for this post? It means I baked in my jammies on a Saturday morning while wearing my running shoes: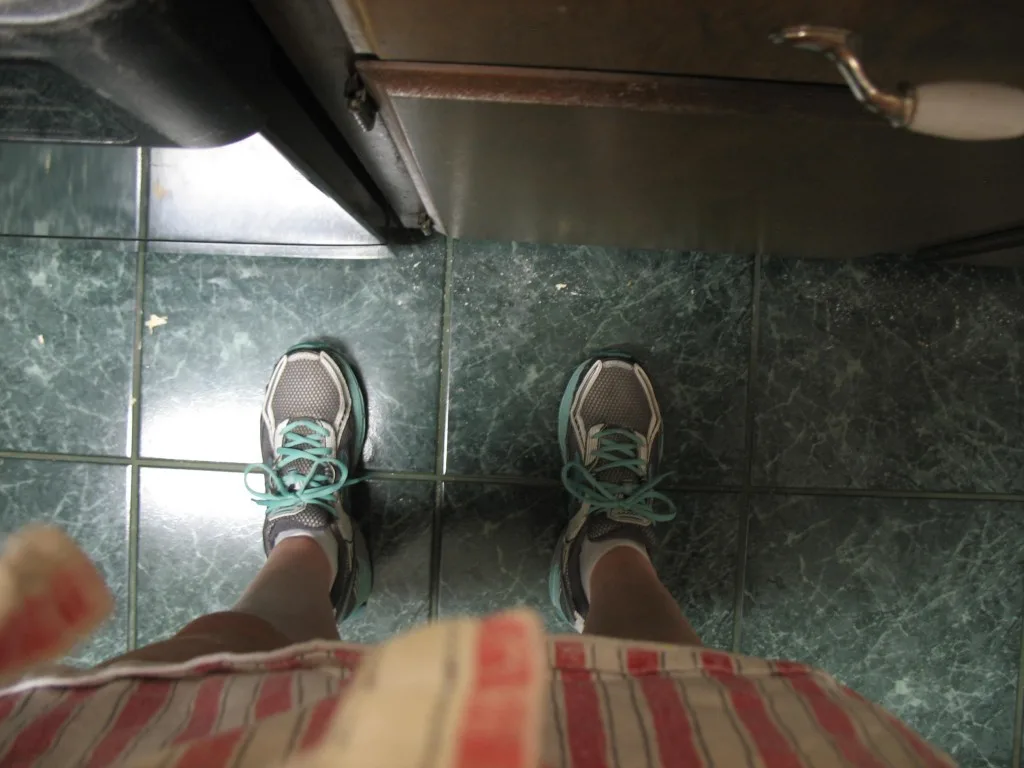 Oh, Mrs. Tucker!
The rolled out dough measurements are huge (16 x 24):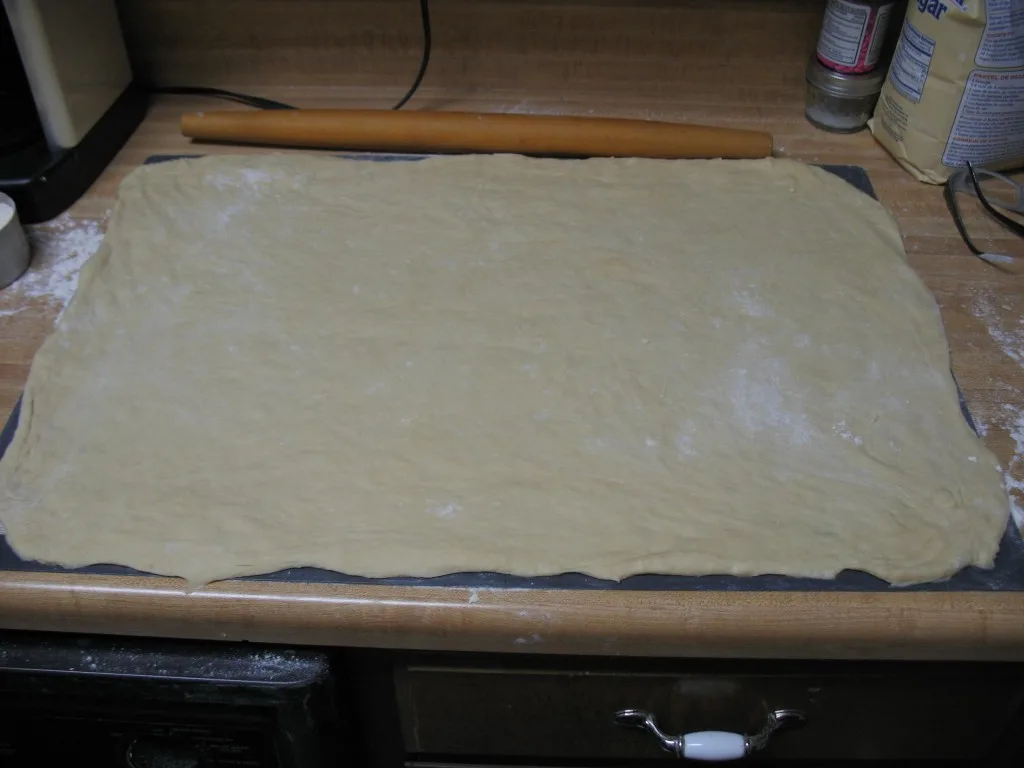 No, really. So big I actually measured it: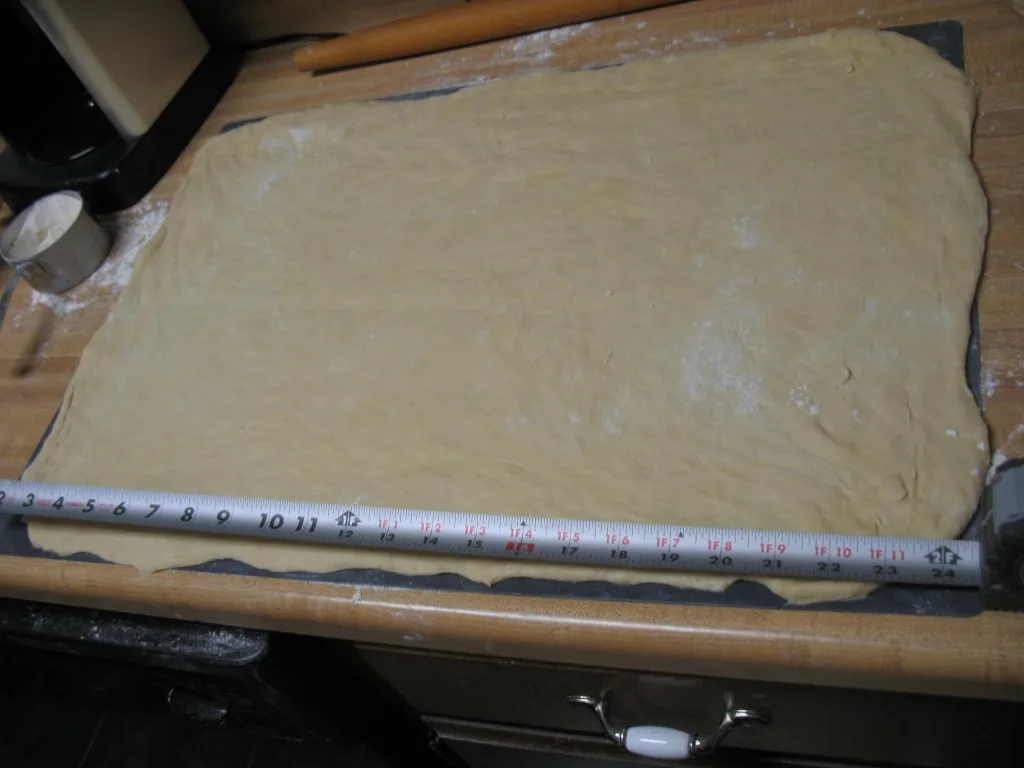 Dough with filling spread on it: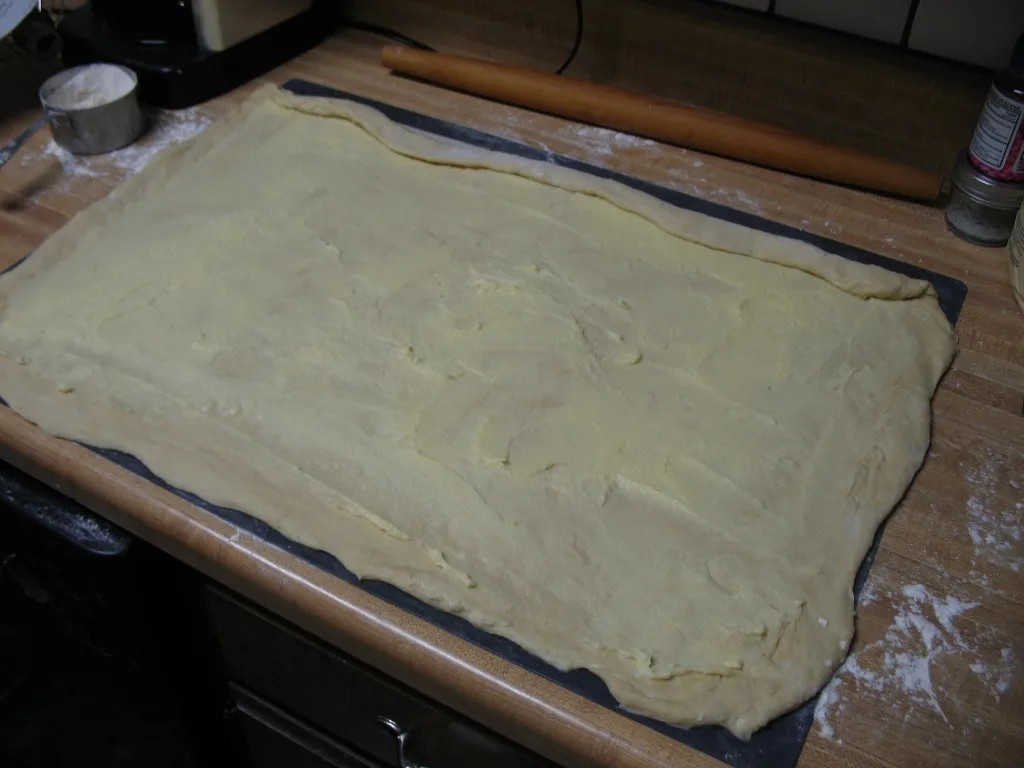 The rolls make a tight fit: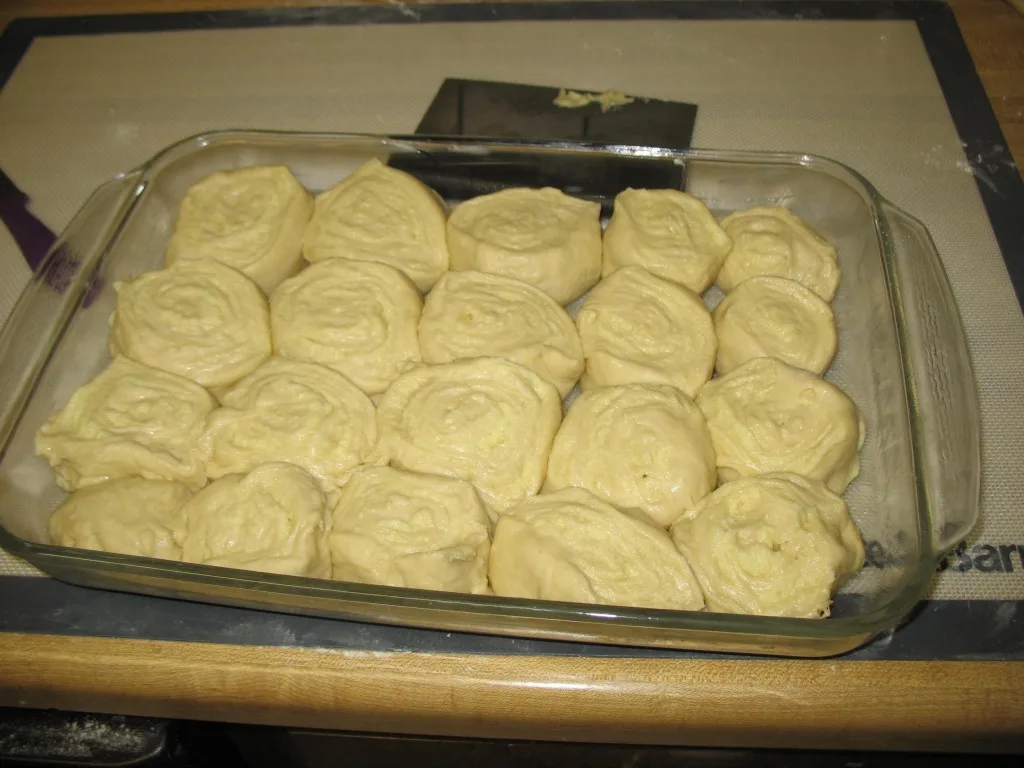 Finished and well-worth the wait, Sweet Orange Roll: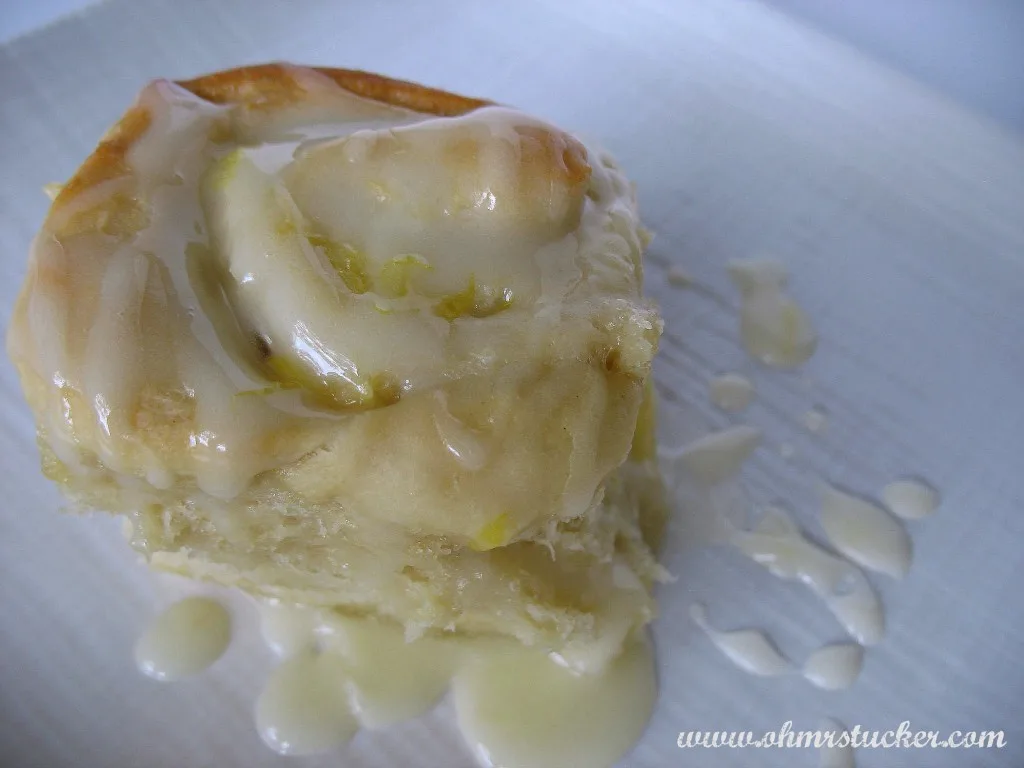 I wanted to get a close-up view so you could see that the pulp from the orange juice is minimal, just in case you are pulp adverse. Adding the pulp adds a bit of texture and a bit more flavor.
Does anyone else see a fox's face in that sweet roll? No? How about now: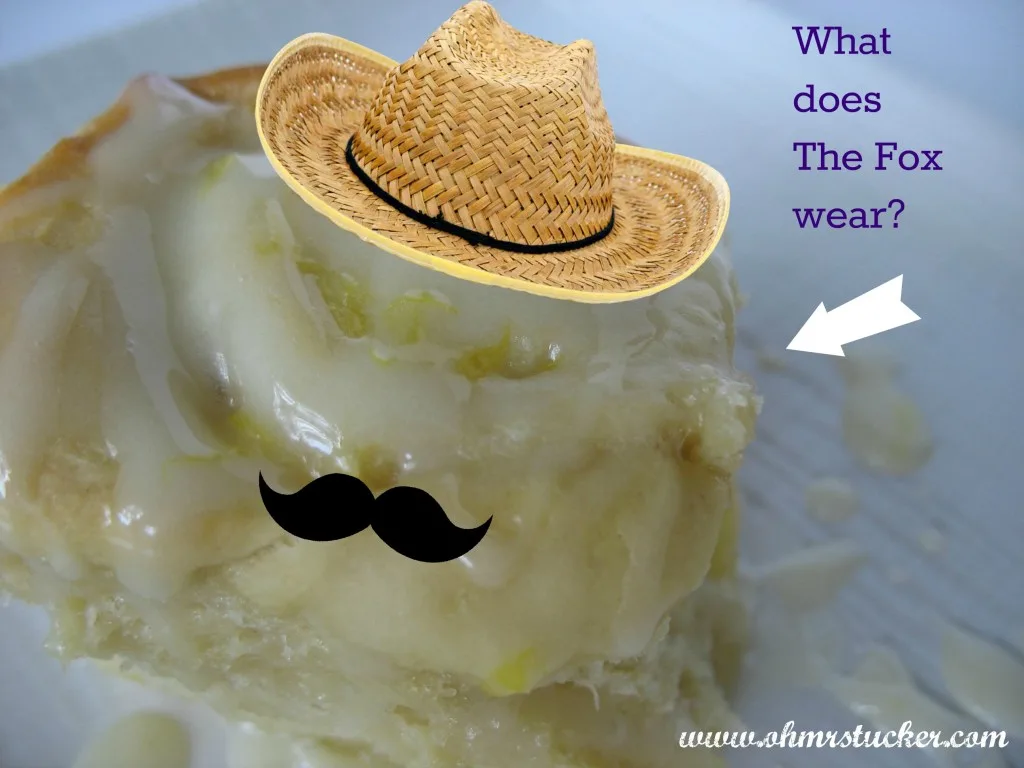 I have NOT been drinking! Sheesh!
A few words about how I modified the recipe: I baked mine for the time the original recipe called for (20-25 minutes) and the rolls in the center of the pan came out doughy, so I added more time to the recipe. Check them after 25 minutes to keep an eye on the browning. I would say when they are fairly uniformly brown on top, they are most likely ready to come out of the oven. I made the rookie mistake of under-cooking them and kicked myself the rest of the day.
I also modified the amount of flour used in the recipe. As a veteran bread maker, I knew the dough was entirely too sticky with just 4 cups of flour (original recipe called for 4-6). I used all 6 cups and then another 1/2-3/4 cup for kneading and sprinkling. It was perfect.
The last two modifications:
#1: adding the salt to the yeast mixture to boost fermenting. Yeast needs something to feed on (sugar or salt) in order to get a good bubble going. The original recipe called for adding the salt afterwards.
#2: the original recipe called for 2 1/4 TBSP x 3 of yeast. I think that was a typo, as each packet of yeast is equivalent to teaspoons, not tablespoons. I ignored the TBSP measurement and stuck with tsps, and everything turned out fine.
Enough jibber-jabber…the recipe:
Ingredients
Dough

3 (.25 ounce) packets active dry yeast (or 6 3/4 tsp.)
1 3/4 cups very warm water
1/2 cup raw honey
1/2 cup (1 stick) melted butter
2 tsp salt
2 large eggs, beaten
5 - 6 cups flour, plus more for kneading

Filling

1/2 cup (1 stick) butter, at room temperature
1 cup sugar
3 tbsp freshly squeezed juice from oranges

Glaze

2 cups powdered sugar
3 tbsp freshly squeezed juice from oranges (optional: w/ pulp for added flavor and texture)
1/2 cup half and half (more as needed to reach desired consistency)
1 tsp orange extract (optional, for added orange flavor)
Instructions
In a bowl, combine the warm water, yeast, and salt. Allow it to sit for 5 minutes until yeast begins to bubble.
Add the honey, melted butter (cooled a bit), and eggs. Use a whisk to combine.
Slowly add 5 cups of flour and mix/beat to combine. Mixture will be wet.
Add 1/2 cup of flour at a time until dough pulls away from sides of the bowl but is still slightly sticky. This will be a sticky dough. Your finger should stick to the dough but shouldn't pull any dough away with it.
Put the dough in a large bowl. Cover with dish towel and put in warm, draft-free spot.
Allow the dough to double in size, which will take about 45 minutes (if the dough isn't rising very well, you can preheat oven to 150° for a few minutes, then turn off. Place bowl in oven and finish the rising process there.)
After the dough has risen, knead it until smooth (or apprx 5-minutes), using sprinkled flour on your surface to keep dough from sticking.
Roll it in to a large sheet (using more sprinkled flour to keep from sticking), approximately 16x24 inches.
Spread the filling (see below for instructions) over the dough, then tightly roll into a jellyroll, rolling the long side around itself.
Preheat the oven to 375 degrees F.
Using a sharp knife, cut it into 1-inch pieces and place them into a buttered 9x13 pan. They will fit snugly in the pan.
Bake for 25-35 minutes, checking after 25 to prevent over-baking. Tops of rolls should be golden brown (not just the rolls on the outer edges).
Drizzle glaze (see below for instructions) over the top of the warm rolls.
For the filling - combine all the ingredients in a small bowl and mix. Spread evenly over rolled dough, leaving a 1/2" border along the edges.
For the glaze - combine all ingredients until smooth. Glaze should be thin enough to pour, but thick enough to coat the back of a spoon.
Notes
Adapted from The First Year Blog
https://ohmrstucker.com/sweet-orange-rolls/
Happy baking!