I feel like everyone in the South has a go-to baked onion recipe.
Why? 'Cause they're delicious and we know it!
Baked onions are great year-round. Think cookouts in the summer, addendum to crock pot ribs in the fall, a side dish with Christmas dinner and an ever-present Easter favorite. Plus you can totally throw them in ALL THE TACOS!
For that reason alone, you gotta try these.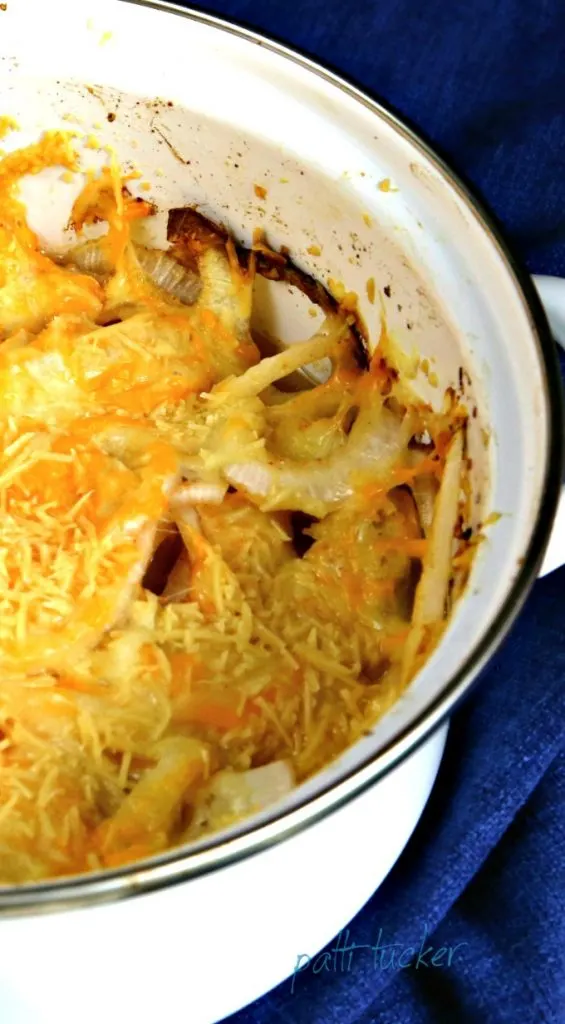 ~ A gentle reminder: OMT! uses Amazon referral links. When you do your shopping through the Amazon links on this page, you support the blog at no cost to yourself. It's much appreciated!~
Sweet Southern Onions That Will Make Grandma Proud

Ingredients:
3 medium sweet onions, sliced (not diced or chopped)
1/2 stick unsalted butter (4 Tbsp), sliced
3 cloves minced garlic
1/2 tsp salt
1/2 tsp Pinto Bean Seasoning (optional)
fresh ground pepper – to taste
1 cup cheddar cheese (mild is creamier – sharp is tangier), grated
1 cup mozzarella cheese, grated
1/2 cup Parmesan cheese, grated

Instructions:
Oven – 350°
~ Butter a 9×13 pan (or if you're like me, use bacon drippings you keep in the fridge).
~ Slice onions into your favorite thickness and separate the rings.
~ In large bowl, mix onions, garlic, salt, pinto bean seasoning (trust me) and fresh ground pepper.
~ Pour into prepared pan.
~ Place butter slices on top of onion mixture.
~ Evenly spread grated cheddar and mozzarella on top of onions. Top with the Parmesan cheese.
~ Bake at 350°, uncovered for 30 minutes – or – until bubbly and cheese starts to brown.
What say you? Never tried baked onions? Or, are you a long time lover of baked onions?
Tell us!
A community that eats baked onions together, sticks together.
Or something like that.