This y'all.
This is the best homemade Spanish Rice I've ever made.
Not to mention, easy!
It's Spanish Rice done right!

Homemade Spanish Rice
Ingredients:
4 bacon slices
1 cup chopped onion
1 1/2 cup diced green pepper
1 16 ounce can diced tomatoes
1 8 ounce can tomato sauce
2 tsp. sugar
1 tsp. salt
1 1/3 cup long grain white rice
1/2 cup shredded cheese

Instructions:
Preheat oven to 350°.
Cook bacon until crisp. Drain on paper towels and crumble. Set aside.
Save 2 1/2 tbsp of drippings.
Grease 1 1/2 quart casserole dish with 1/2 tbsp of bacon drippings.
Pour remaining 2 tbsp in the bottom of casserole.
In hot drippings, saute onion and peppers until tender (5 minutes).
Drain the canned diced tomato liquid into a measuring cup and add enough water to make 1 3/4 cup.
Add drained diced tomatoes to onion mixture, along with the 1 3/4 cup liquid, tomato sauce, sugar and salt.
Heat to boiling.
Remove from heat and stir in rice.
Cover and bake 35 minutes. If not quite done after cook time, add 5-10 minutes, being careful not to burn.
Once cooked, fluff with fork and sprinkle with shredded cheese.
Bake 5 more minutes
Garnish with bacon.
Notes:
* You can use sweet red peppers in place of the green.
* Don't omit the sugar. It cuts the tomato acidity and gives the dish a smooth taste.
* Using the bacon drippings to grease casserole dish with and saute veggies in gives the dish an amazing complexity.

* To test if the dish is done at 35 minutes, take off the lid and use a fork to grab a small bite of rice. If the rice had any stiffness left, or crunch, cook a bit more, checking every 5 minutes with this method.
[Tweet "Spanish Rice done right! Get to cookin'!"]
I make this dish a couple of times a year.
I make it when I need comfort food (Tex-Mex is my love language).
I make it for our Christmas Eve meal (we do a traditional South Texas tamale meal).
I make it when asked to bring a dish to a potluck.
It's simple, yet elegant.
It's the best Spanish Rice I've ever made, y'all.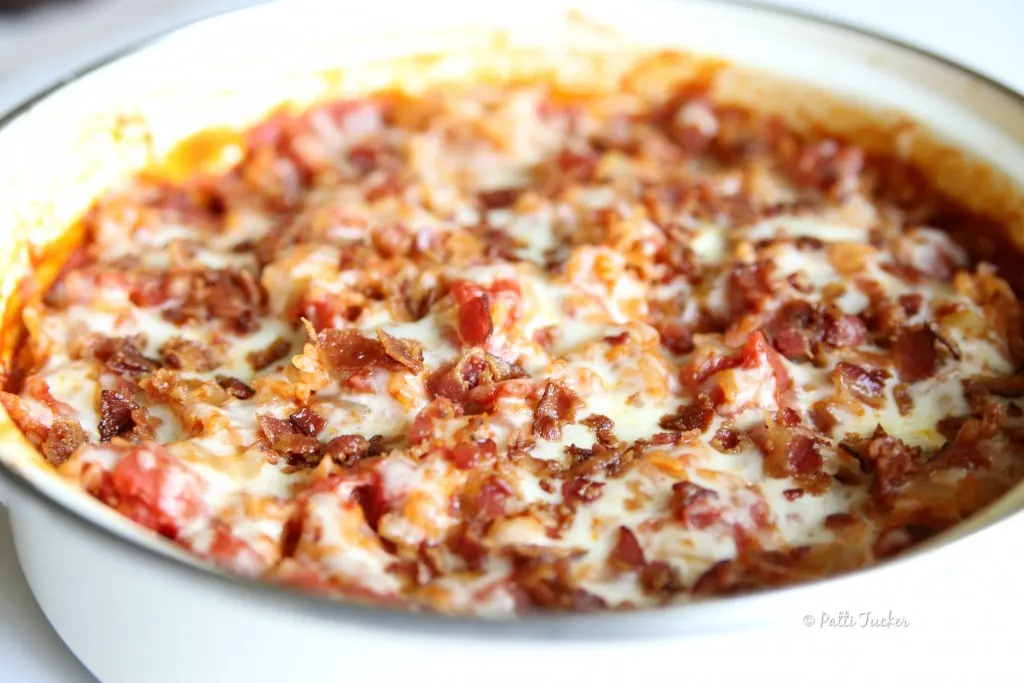 Tired of searching for a popular OMT! recipe?
Rest yer weary fingers.
Except to click on the image.
You still have enough strength for that.
COME ON!
YOU CAN DO IT!