Back in the early days of Sweet E babyhood, I ordered a booster seat for his visits and then wrote about it. I honestly didn't think we'd get much use out of it, but I figured we'd at least get the worth of what it cost us out of it. I was right and then some.
~ A gentle reminder: OMT! uses Amazon referral links. When you do your shopping through the Amazon links on this page, you support the blog at no cost to yourself. It's much appreciated!~
Fisher-Price Healthy Care Deluxe Booster Seat:
(source: AMAZON)
PRODUCT DEETS:
Healthy care feeding tray with snap-on lid keeps feeding surface clean wherever you go

Easy-clean seat with no crevices to trap crumbs

Three height adjustments and three-point harness adjusts to hold growing child securely

Adjustable shoulder straps make it easy to carry

Front and rear seat straps adjust to fit virtually any chair
MANUFACTURER DEETS:
The Healthy Care Deluxe Booster Seat has a feeding tray you can sanitize right in the dishwasher. With the snap-on lid in place, the tray will stay clean until you're ready to use it! So you can take it wherever you go (it folds compactly) and always be sure that baby's feeding tray is dishwasher clean! Three height adjustments allow for a custom fit to any table. Front & rear seat straps adjust to fit virtually any chair and three-point harness adjusts to hold growing child securely. Folds compactly for portability, with a carry strap so you can take it anywhere!
While my initial testament to easy clean-up and storage still holds true, I'm also happy to report that it not only secures a wriggling a baby, but an on-the-go toddler. Sweet E was just as happy to sit in this seat when he was a baby, as a toddler. It indeed works as our small-fry grows.
WHAT OMT! KNOWS NOW: The snap-on tray isn't worth the effort, as little fingers can easily pry it off and use as a baby frisbee. The adjustable seat is an easy-to-adjust dream. The last time Sweet E was here, we adjusted the seat and he fit right up to the table without having to use the tray. Big Boy!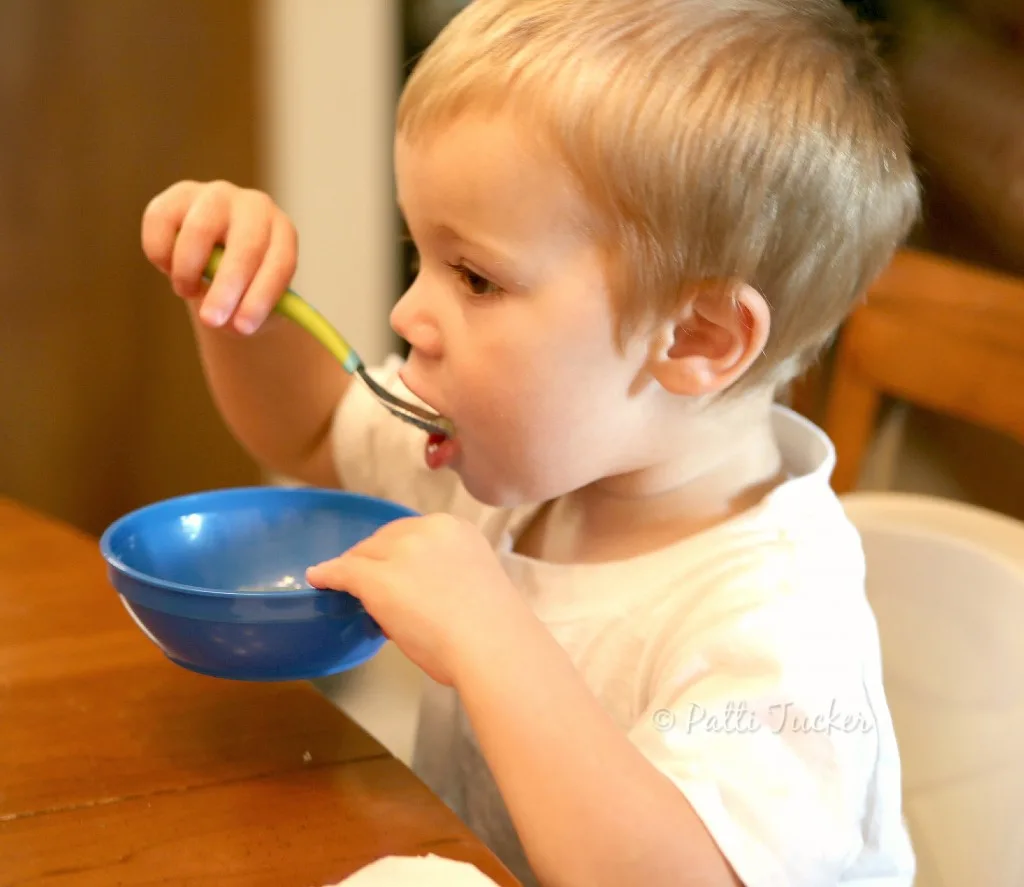 Clean-up is easy, with a dishwasher safe tray. For the seat, I would simply get Sweet E out of his chair (buckled in or not) and then wipe the seat and arms with a wet cloth. DONE!
For the cost, you truly can't beat the value. Fisher-Price for the win…again!
For all you new mommies, or folks needing a baby shower gift, or for families wanting a leave behind at Grandma's house so you have one less thing to lug around…THIS.
Happy Shopping, Y'all!