Bruschetta is a family fav during the summer tomato season. Done as a meal, it's easy, light and satisfying. Can I get an AMEN and a HALLELURIAH!
If you're a long time reader, you know I have trouble following recipe directions exactly as written and like to add a twist to suit our tastes. Bruschetta is no different.
Bruschetta is properly defined as such: thick slices of bread grilled, rubbed with garlic, drizzled with olive oil, often topped with tomatoes and herbs, and usually served as an appetizer.
Easy enough! 'Cept when it isn't.
While my garden was running over with tomatoes: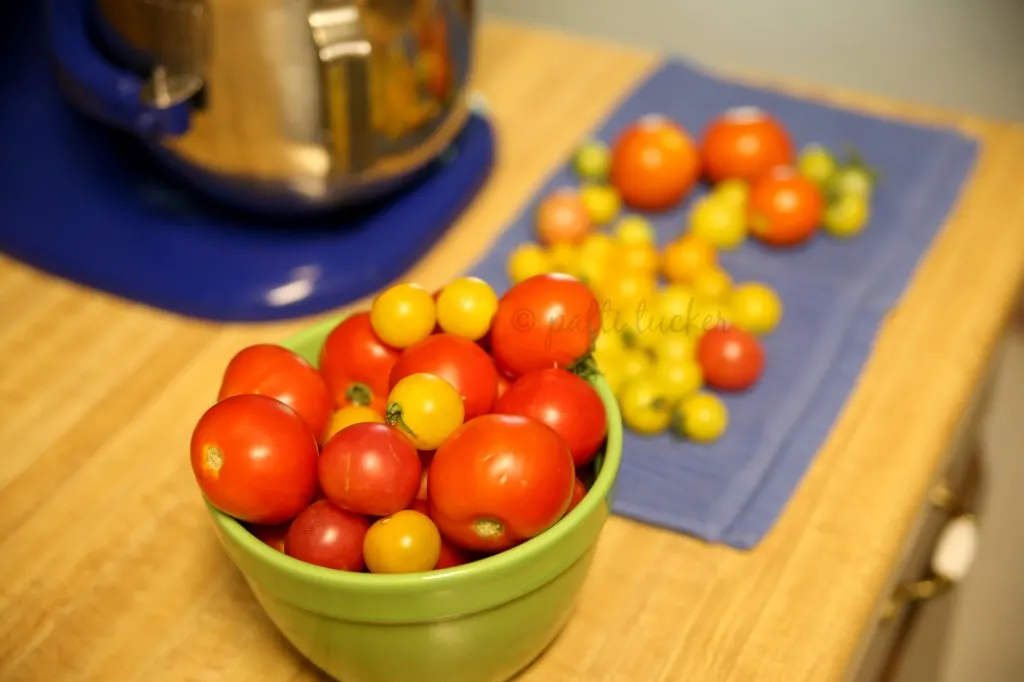 …and I had plenty of garlic, olive oil, and fresh mozzarella, I didn't have a hearty bread that I could slice and toast. Hmmm, so what's a hungray gal with a hungray Husband to do?!
Check the pantry and let's see what we can substitute!
Remember this post with the meatloaf sandwich twist (OMT is sooo twisted)? Well, just so happened that I had a few thick pieces of Naan in the pantry. SCORE!
The beauty about using Naan bread was that it already had a garlicy taste, so I could skip that step. I also decided to skip the olive oil because the bread was soft and the tomatoes were juicy. I didn't want to make a soggy mess.
That basically left me with tomatoes, cheese and seasonings. PERFECT!
I apologize in advance for the quality of the pics. It wasn't until the meal was being constructed that I thought you guys might want to see too. Add that we were incredibly hungray and I knew it was either grab these shots or get the ones after with us wearing a smile.
YOU GET THESE!
We started with two Naan bread rounds; one for me and one for Husband. Husband layered the bottom of his bread with freshly cut tomatoes from our garden, topped with fresh mozzarella slices, then finished with a freshly ground pepper. I opted for cheese first, then tomatoes, then pepper. His is ready for the broiler, mine is still being constructed because I ran to my office to grab my camera!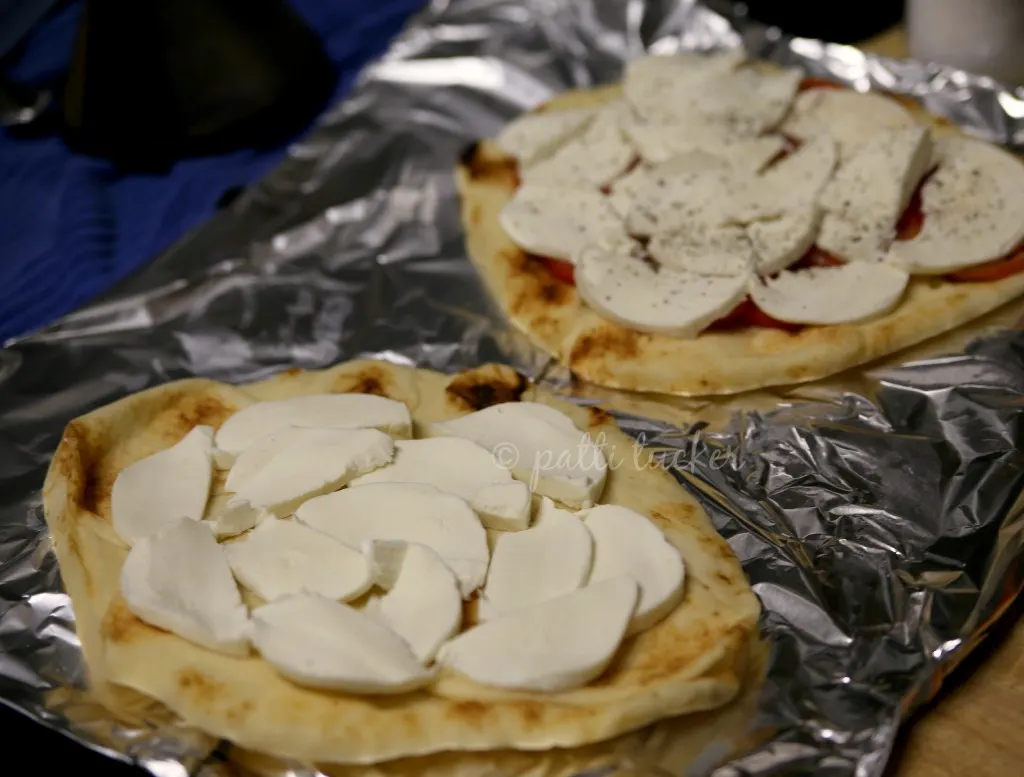 Next up, all the tomatoes I can stand.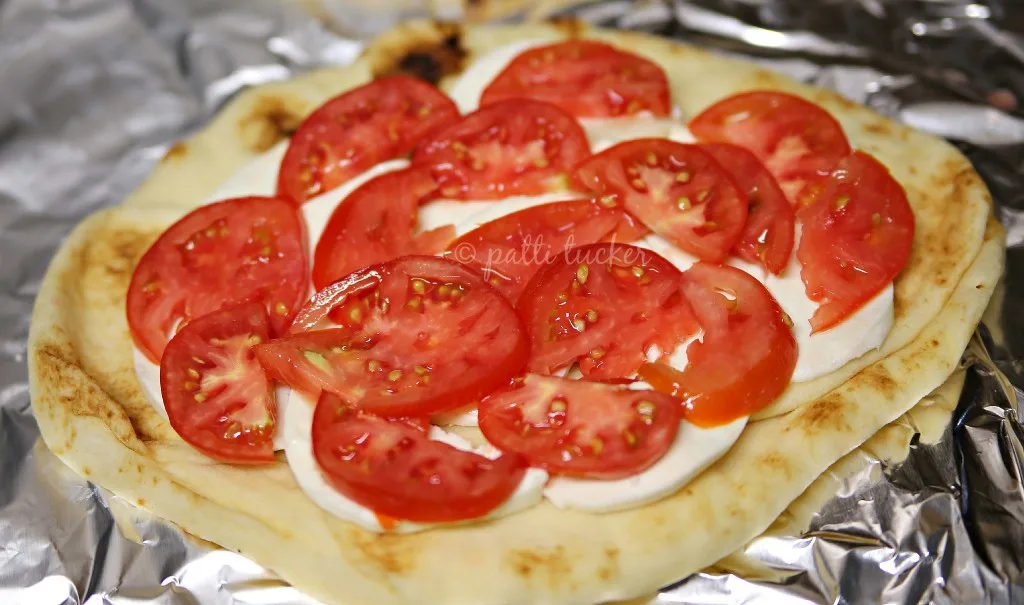 Then I grind some pepper over the entire thing and pop under the broiler.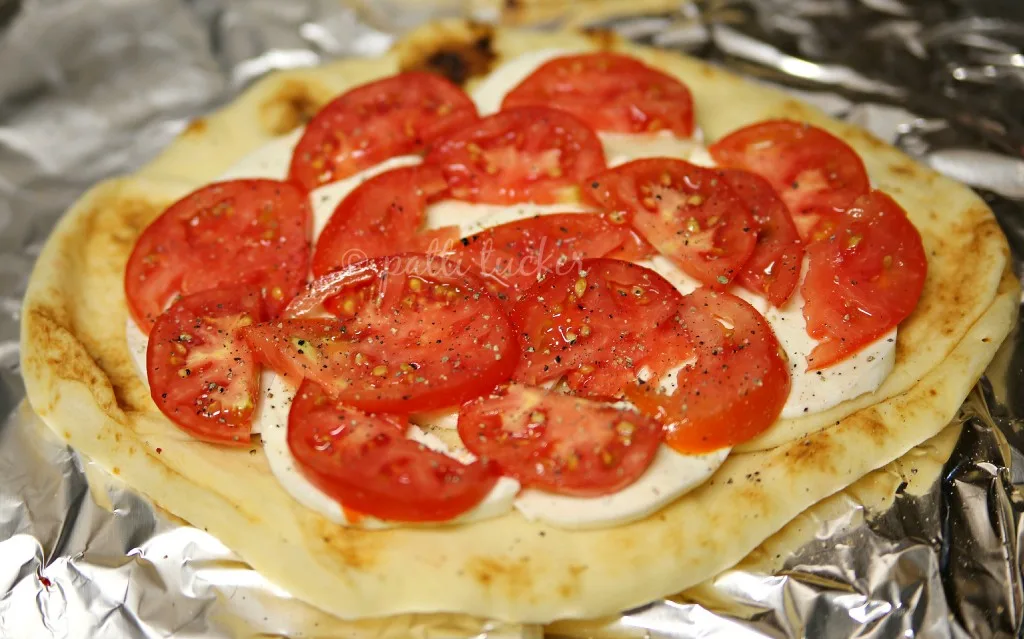 Throw underneath a broiler for 3-5 minutes, all the while keeping a close eye on your bread and cheese so they don't burn. Looks something like this when done (depending on how toasted you want the top):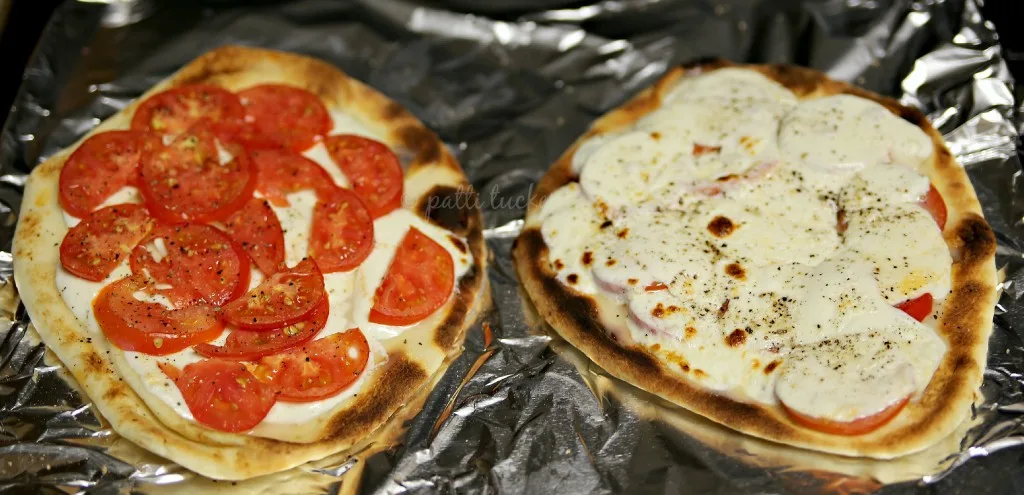 Once out of the oven, I used a pizza cutter on these bad boys and we sat down to eat. I could have gonna a bit longer under the flame, but I mentioned we were hungray, right?
It was delicious. The freshness of the tomatoes and mozzarella + the garlicy softness of the Naan = Slap yo momma good!* Perfect meal.
Bruschetta doesn't have to be fancy or cut into finger foods, although you could certainly cut these into appetizer pieces and wow everyone lucky enough to be invited to your party.
Get to makin'! Get to eatin'!
* no mommas were actually slapped.