Back in 2013, I wrote You Are More Than A Number.
Cliff Notes: what the hell are we doing letting a number define us, instruct our behavior or allowing us to diminish or expand our feelings of self-worth?
WHAT. THE. HELL.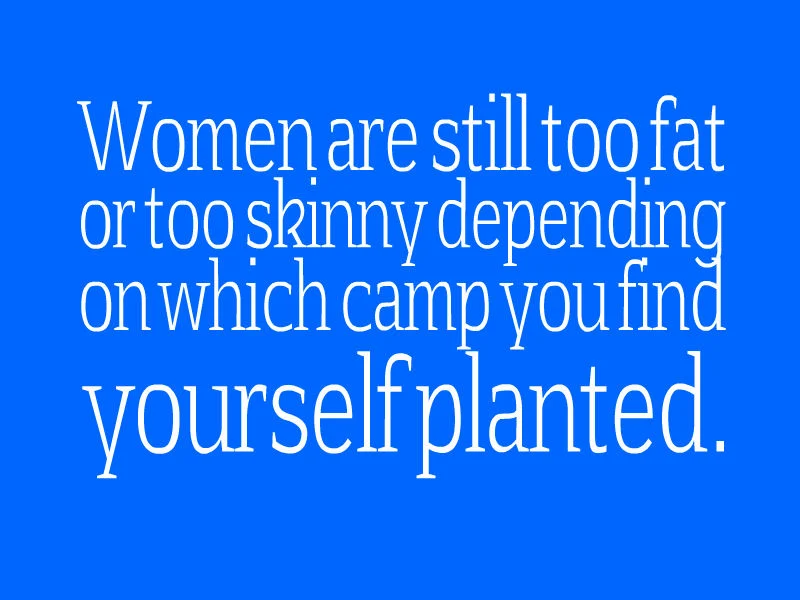 Yep, 2014. I just looked.
The funny thing is that almost a year later we're still in a heated debate about those numbers. Women are still too fat or too skinny depending on which camp you find yourself planted.
When I hear women debating this particular issue, they tend to be brutal, not only with their number, but with other women's numbers. It's when I stand outside the white-hot debate, wondering why we are still obsessed, that I want to point out the bigger issues of the day we could concern ourselves with like war, famine, or the yoga-pants-are-not-pants firestorm that is happening right here in our own country, ladies!
Everything has a cycle. It's our nature to like this and not that until this begins to bore us and we're on to that again. For me, the whole conversation makes my eyes roll back in my head from sheer exasperation and shock that as women we choose to waste our time on such unimaginative nastiness.
Be who you are, where you're at. If you like who you are, whoohoo! If not, make a change based on you, not them. Embrace you, baby. And while you're at it, embrace other women and girls and puppies, oh the puppies.
Have you heard Meghan Trainor's song "All About The Bass" this summer? She's catching flack because some think she's bashing skinny girls in a song that's an anthem to accepting your beautiful self if you're bigger than a size two.
"Go ahead and tell them skinny bitches Hey!
No, I'm just playing I know you think you're fat…"
Folks are riled because it's the whole Hey! Here's an insulting slur about you, but I'm just kidding. thang. Just because it's presented as kidding, a silly disposable joke, doesn't mean it's not demeaning.
See what you think.
The song is catchy and truth be told, I've already hijacked her "I'm bringing booty back" line more than I'd like to admit, but I'd prefer she own her number without bashing someone else's.
To tear down others while lifting up yourself is weak. While OMT can take some fun poked, I think of young impressionable girls who are still trying to figure out their body image issues (I was a much made fun of skinny girl growing up) and it makes me sad we're still in this place of using a number to define others and ourselves.
It's bullshit, ladies and gentleman, and I propose we stop it on both sides.
Seriously, the more pressing matter of yoga-pants-are-not-pants demands that of us, don't you think?