This is the fourth and final installation of the Running For Your Life series.
The title of this series, Running For Your Life, was intentional. It encompassed being a runner. When you start running, and continue running, it changes your life in a deeper and wider way than you expect.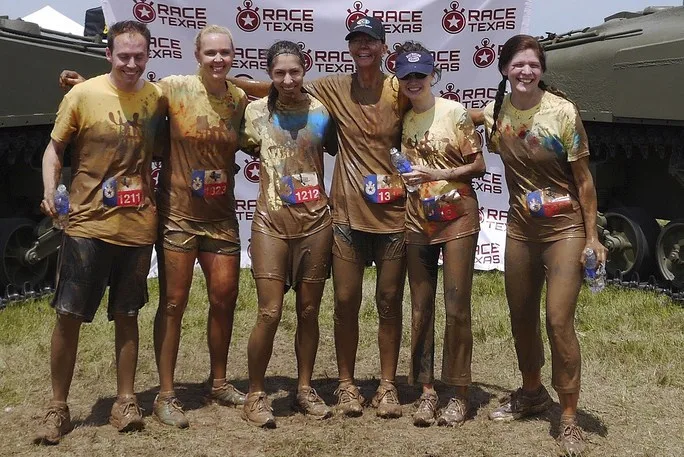 Here are a few more topics worth discussing.
Training:
Even if you're running minimal miles per week, it's still a good idea to have a training plan. A plan will serve to move you forward and reach new goals. If done wisely, it will also help guard against injury.
But, how much is too much? A good rule of thumb: never increase your mileage more than 10% per week. While many runners will tell you that they have successfully done so, it can lead to injury from overuse. The idea is to keep running for years, so slow it down! We are training FOR LIFE!
Training for endurance and strength should also take the form of cross-training. A good running program includes lifting light weights (on off days) for upper body strength and possibly biking, walking or swimming as well. The idea is to prevent overuse of running muscles while strengthening the supporting cast.
Keeping track of what you're doing, can be as simple as jotting notes on a calendar (my current method) or using a running log (my past method). Do whatever keeps you motivated to actually document your journey. Looking back on unexpected progress can inspire you to achieve goals you previously thought unattainable.
Injuries:
Injuries suck. Injuries are inevitable. The best advice I can give you is to train the smartest way possible for your challenges (weak hamstrings, gitchy back, sore hips), thereby minimizing down time. But you will have injuries, so plan ahead.
In my youth, I was a devil-may-care runner, consequently, I was injured all the dadgum time. In my advancing age, I run smart…er. Some things take a lifetime to learn. Do as I write, not so much as I do.
Common injuries are, blisters (had it), chafing (had it and a product called Glide is invaluable to prevent it), plantar fasciitis (had it), I.T. band syndrome (had it), knee issues (had it), stress fractures (had it), sprains (had it), and pulled muscles (had it). Your chances of having each of these injuries can be greatly diminished with solid training.
The bulk of my injuries were suffered during my marathon training (miles and miles of training) and in my youth (youth…need I say more?!). Currently, my running program sees few injury days. It's very possible to stay relatively injury–free if you follow a sensible program.
Beyond:
This small series for beginning runners barely covers anything on the subject. If you want to learn more (oh, how I hope you do), the Interwebs is teeming with great sites. Some of my favs:
If you have started a running program, if you are getting acquainted to streets, trails or treadmills, I offer my congratulations! If not, what are you waiting for?!
Running is more than movement, my friends; running is moving.
Happy Trails!