Dearest Sweetest E,
You're gonna need friends as you stiff-arm your way through life; pick them well and they'll be the lifeblood of your strength.
Good friends make you believe you aren't alone in the expanse of this world. Good friends are there even when physically absent, hell even in death. Good friends tell you truths no one else would dare. Good friends lie straight to your face when you're too fragile for the truth. Good friends know which salve you need and when you need it.
Many of my friends, the fearless ones, have been with me through most of my life. This means more than I can adequately express. When you're lucky enough to have someone know you from the inside out, someone who has seen your worst and has stuck, damn, it's holy ground, baby. Never, and I mean never, take that for granted.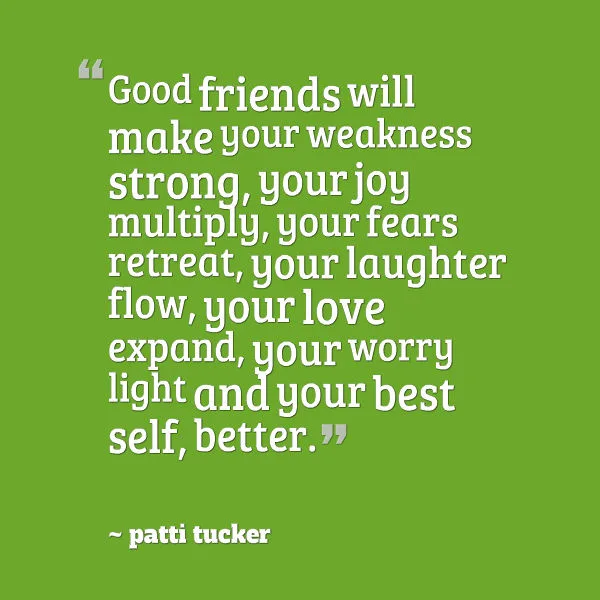 I used to tell your daddy that if he was a good friend (especially when he thought it sucked to be one) then he would have good friends in return; that advice is still true today.
Good friends, if you're lucky enough, brave enough, and smart enough, will become your family.
Take a look around. See all your aunties and uncles that aren't blood-related, but love you to the moon and back? It doesn't matter one whit (that's a very itty-bitty small nano-sized matter) that they aren't your biological family; the fact is that they are your family because they were first your parent's family.
But how will you know if a friend is good?
Good friends don't care that you slobber when you cry; they care that you're hurting. Good friends don't care that you're goofy when you're in love; they care about your happiness. Good friends don't care that you disagree with them; they care that you're honest. Good friends don't care that you have more or less than they do; they care about you, not your possessions. See the binding thread? Good. Friends. Care.
Good friends may get annoyed, they may get mad, and they may get even, but the best ones forgive and forget, just like you will.
Good friends will make your weakness strong, your joy multiply, your fears retreat, your laughter flow, your love expand, your worry light and your best self, better.
When you find the good ones, do all you can to keep them.
Good friends will carry you home, sweet boy.
With more love than I dreamed possible,
Mrs. Tucker