OMT! is a recipe tinkerer.
I tinker – then, post results, pics and recipe.
I tell ya who liked it and who didn't!
After all my tinkering shenanigans, you get to decide if it's a NAILED IT! or FAILED IT!
Today's NAILED IT (for me) is a twist on the Rice Krispie Treat.
BACKSTORY: Sweet E and I made these sweet treats with Cheerios, while we dreamed of Halloween.
He put his stamp on it with the traditional dumping of chocolate sprinkles!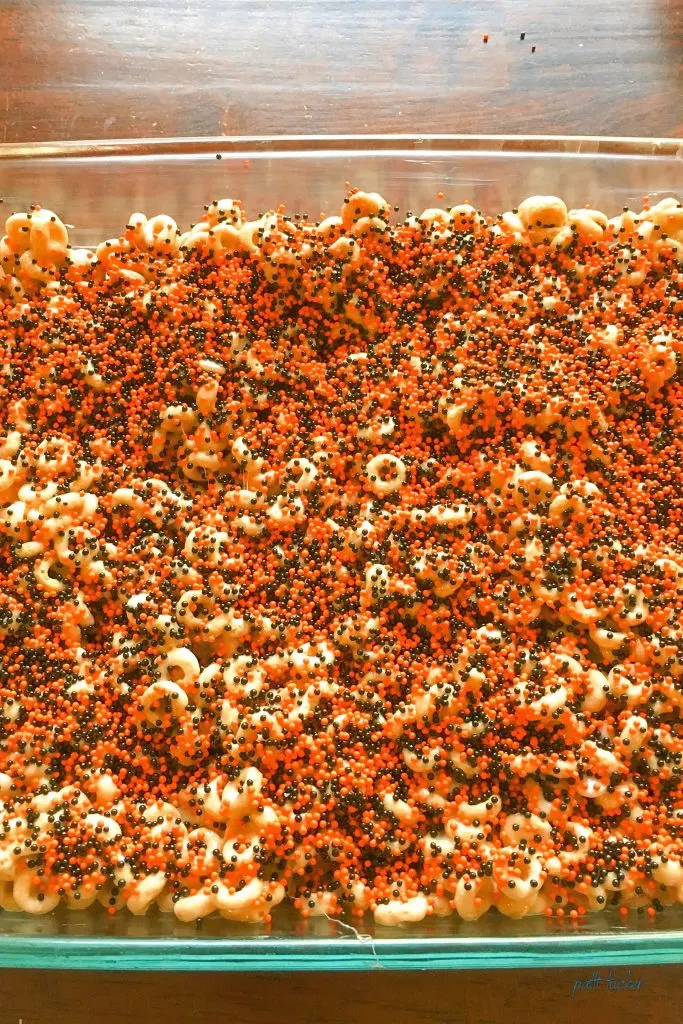 I was trying to think of a healthier after-school snack (ha!), hence the Cheerios.
They were delish!
Not overly sweet – not too bland.
After Sweet E and I threw this batch together, Boy and Girl insisted I take most of them home because they would have no willpower against their not-too-sweet addictive siren.
I reluctantly (bwhahahaha) agreed.
Sure, sure, I'll help y'all out.
~more to throw down my piehole~
You know these were a NAILED IT! for me, Boy and Girl (Sweet E is not a huge sweet eater – yet), but what about Garry?
What did he think?
Garry upon tasting these: "Well, I do like the original Rice Krispie Treats."
W-H-A-T?!
Yep, he wasn't as enthusiastic as the rest of us were.
He said things like "they're good, but not my favorite" and "Are you making Rice Krispie Treats too?"
~sheesh~
My SIL, a trusty taster of all things experimental, gave these an enthusiastic, "Yum!"
So, it looks like Garry was the odd man out.
FAST FORWARD TO NEW RECIPE: Wanting to find a recipe that Garry would like better, I experimented with Froot Loops.
Oh, momma, they were delicious!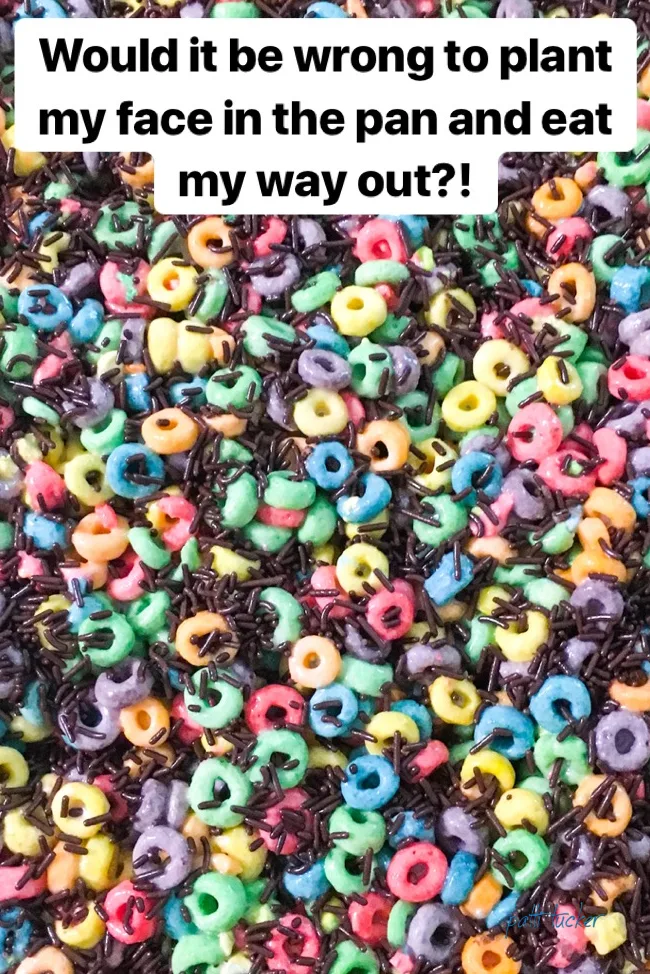 As the pic reads: Would it be wrong to plant my face in the pan and eat my way out?!
NOT rhetorical.
Would it be wrong?!
Up Close, doncha-wanna-bite-it, Yum: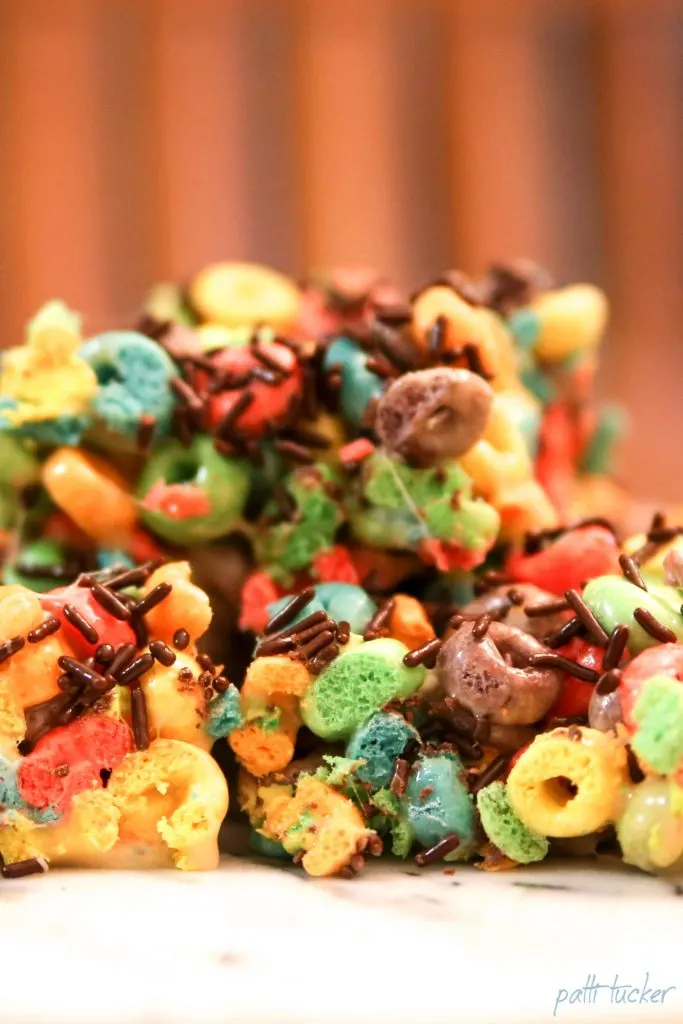 All I see is the gloriously sticky, choco jimmie, Froot Loopy goodness.
For those of you who need a more refined view (can you get more refined when cooking with Froot Loops?!), I present Froot Loop Treats on a platter: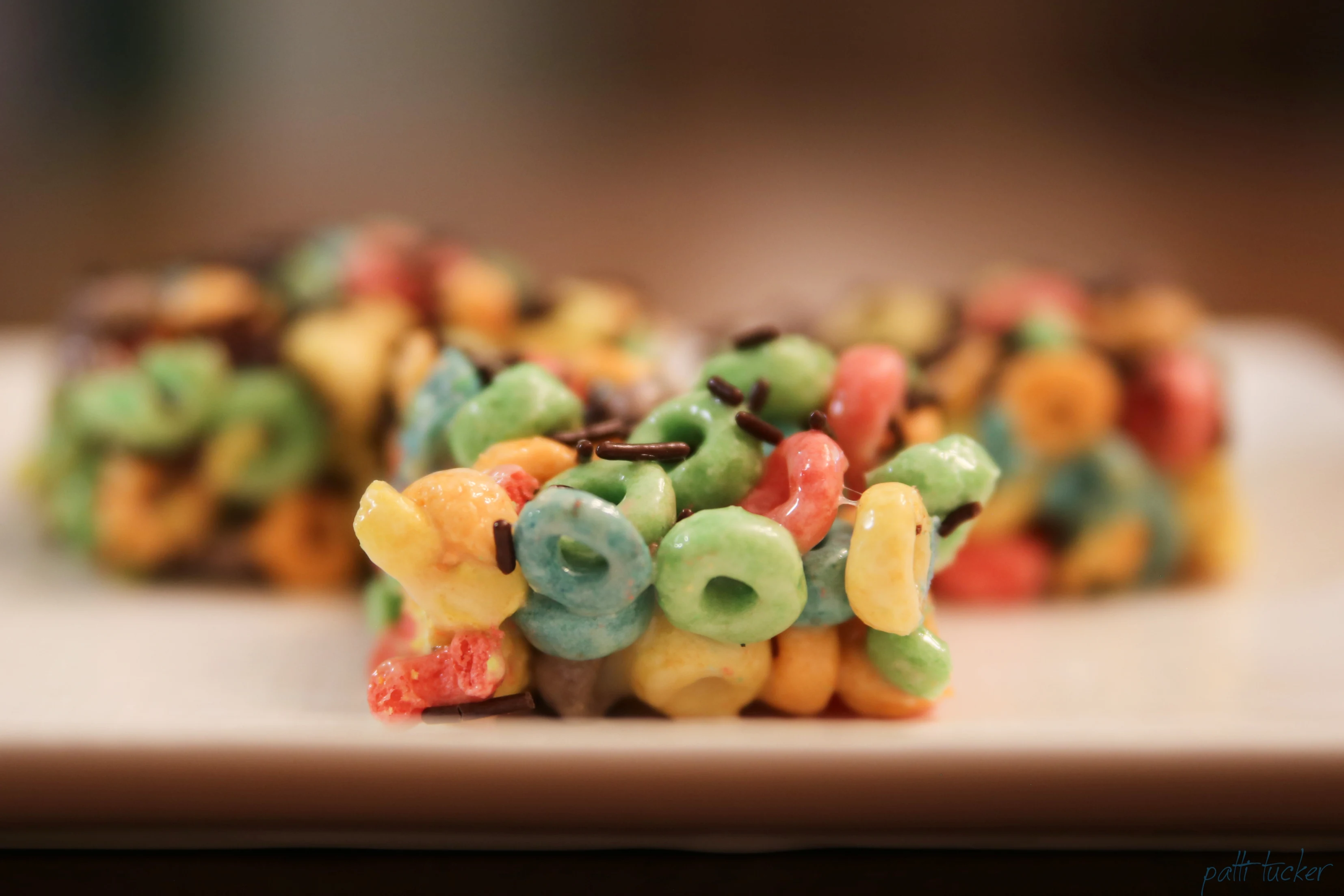 Wow. Those look positively dignified.
So, what did Garry and SIL think about these: NAILED IT!
They were fruity and fun and, to me, just as addictive.
To the recipe! (this recipe is basically the same for the Cheerios or Froot Loops)
OMT!'s Froot Loop Treats
Ingredients:
1 regular-sized box Froot Loops
1 package (12 ounce) marshmallows
1/4 cup unsalted butter
1 container, 2.5 ounces or larger, chocolate jimmies or sprinkles – dealer's choice!
Directions:
Butter a 13 x 9 pan and set aside.
Melt butter and full package of marshmallows over low heat, careful not to scorch.
Once fully melted and combined, pour in the entire box of Froot Loops.
Stir to coat.
Pour into buttered pan.
(here's where it can get tricky)
Butter hands and press mixture into pan.
Grab a 5-year-old (or mentally equivalent!) and let them use ENTIRE container of chocolate jimmies to decorate treats.
Viola!
Deliciousness!
FUN OMT! FACT: I prefer them cold, straight from the fridge. They hold together a little better and don't seem as sticky (as if that actually matters!).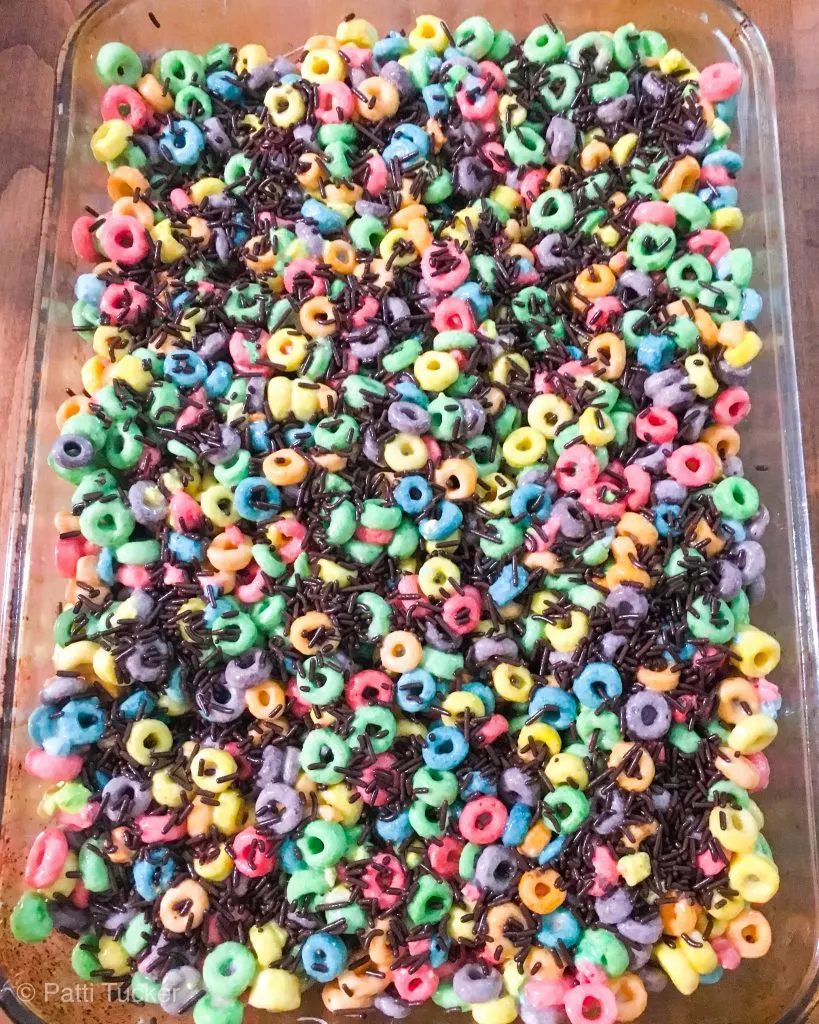 The remaining burning question:
Since Froot Loops are considered a breakfast cereal (lawsy, not even close in my world – but go with me here), and we use butter on toast, and marshmallows in our hot chocolate, this is basically a breakfast mashup, right?
RIGHT?!
If in need of a tie-breaker, ask your jimmie-sprinkler for their opinion.
BREAKFAST!
Happy treating yo'self!