Please a crowd with roasted potatoes?!
Are you wondering if I've lost my ever-living?
SPOILER ALERT: I haven't.
Roasted potatoes can be a most humdrum dish, right? Snoresville, baby.
WAKE UP!
Not these flavor bombs of OHMYGOSH-WHAT'S-IN-THESE?!
They are a true crowd pleaser, throwing a FlAvOr FiEsTa for your mouth.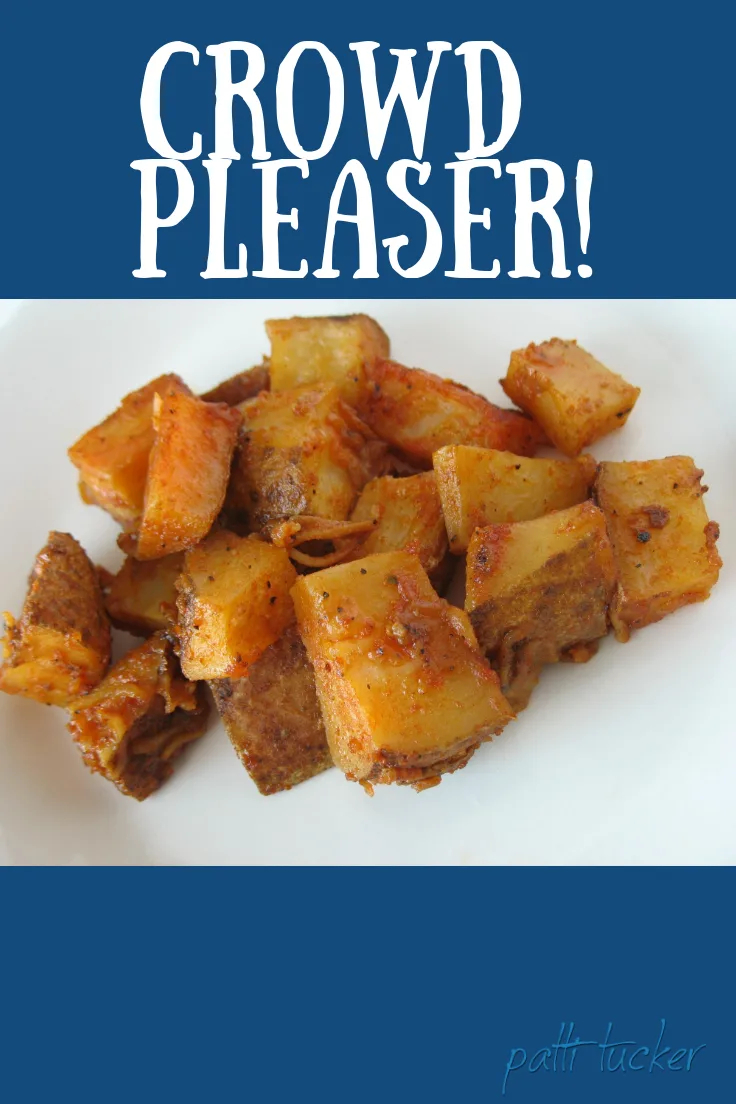 Ingredients:
4 cups fat-diced potatoes, skins on (or off, if you prefer)
3 tbsp olive oil
2 tsp smoked paprika
1 tsp freshly ground pepper
6 tablespoons freshly grated Parmesan cheese
Instructions:
~ Preheat your oven to 425 degrees.
~ Spray large baking dish with cooking spray. Set aside.
~ In a large bowl, combine all ingredients and thoroughly coat potatoes.
.~ Transfer potatoes into prepared baking dish.
~ Bake for 15 minutes.
~ Remove from the oven and stir potatoes.
~ Bake for 10 more minutes.
~ Remove from oven and stir once more. Potatoes are ready when fork-tender (cook a bit longer if you like crispy edges).
~ Remove from oven, add a bit more cheese on top if desired and EAT!
(modified from whatsgabbycooking)
~~~~~~~~~~~
I didn't have quite enough potatoes to double the recipe (does anyone else automatically double every recipe they make?), but I made do.
~ A gentle reminder: OMT! uses Amazon referral links. When you do your shopping through the Amazon links on this page, you support the blog at no cost to yourself. It's much appreciated!~
I baked them in a large glass Pyrex dish.
NOTES:
#1: I substituted Asiago cheese for the Parmesan. If you're a salt person, you can add a teaspoon of salt to the ingredients, maybe even some coarsely ground salt. Yurm.
#2: I have made them with a bit of crushed garlic, but you have to vigilant it doesn't burn – so mostly I leave it out now.
Work with what you gots, people!
They are slap yo' momma good (don't slap yo' momma – that's not nice).
~ Delicious hot out of the over. Yep.
~ Perfection at room temperature as you clean the dinner dishes. Oh, yeah.
~ Insane as pan-fried leftovers (flavors got married and kept it a secret!). HALLELURJAH and pass the plate!
Garry wouldn't stop eyeballing the potatoes on my plate after he ate his.
From this day forward, when asked to bring something to a pot luck, you can contribute Parmesan Roasted Potatoes along with Slutty Brownies, so we can all die happy and fulfilled.
It's OK to go to the light; you've had Slutty Brownies and Parmesan Roasted Potatoes!
Happy Cookin', Y'all!