Slutty brownies are the best brownies you'll ever put in your mouth – ever ever!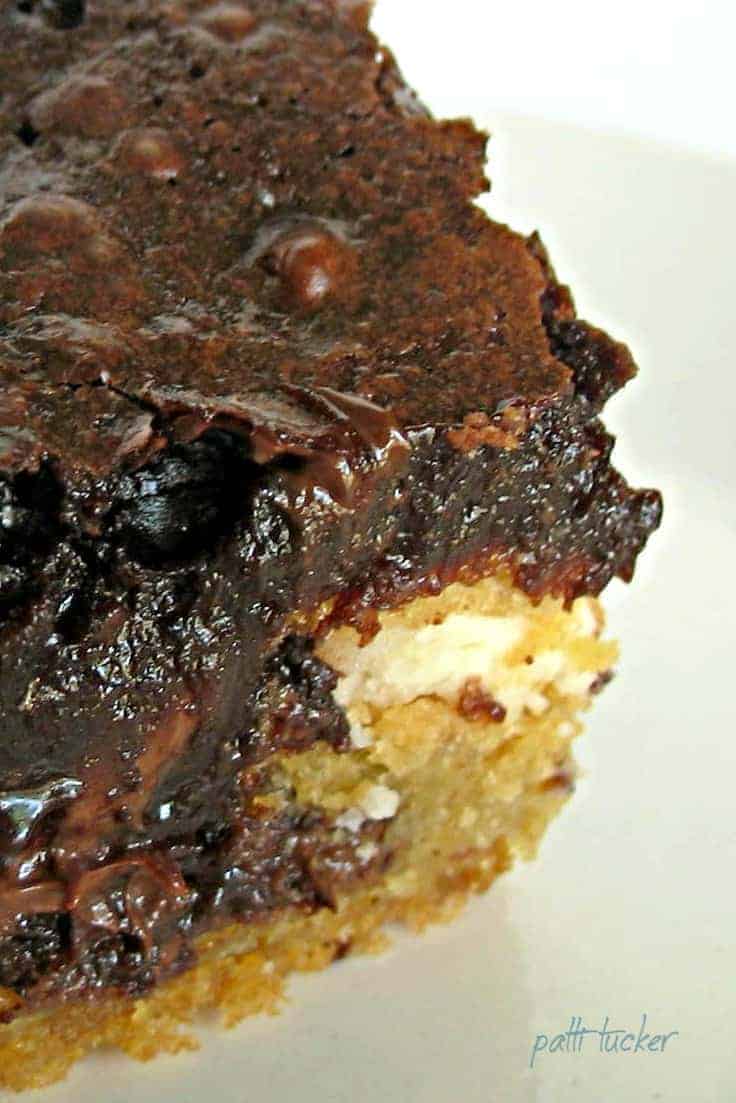 Plus, if you share with your mom, she won't mind the name…so much.
Slutty brownies are one of my most requested recipes. Make them and you'll understand. #gamechangers
Let's get to it!
OMT!'s SLUTTY BROWNIES

Ingredients
Brownie layer:
10 tbsp unsalted butter
1 1/4 cups white sugar
3/4 cup cocoa powder
1/2 tsp salt
2 tsp vanilla extract
2 large eggs
1/2 cup all purpose flour
Oreo layer:
1 package of Oreo (any flavor and/or double stuffed – the ones pictured are made with Golden Oreos)
Cookie Dough layer:
1 cup unsalted butter (at room temp)
1/2 cup brown sugar
1 1/2 cup white sugar
2 eggs
2 1/2 tsp vanilla extract
2 1/2 cups all purpose flour
1/2 tsp salt
1 tsp baking soda
1 tsp baking powder
2 cups semi-sweet chocolate chips
Instructions
Brownie layer:
In a medium sauce pan, melt the butter over medium high heat. Add the sugar and cocoa powder once the butter is melted. Whisk to combine and remove from heat. Add the salt, vanilla and eggs and continuously whisk until the eggs are combined.
Add the flour and continue to mix.
Set batter aside.
Cookie Dough layer:
Cream together the butter and sugars in a mixer.
Add the eggs and vanilla, making sure to scrape down the sides of the mixing bowl.
Add the flour, salt, baking soda and baking powder and mix on low until everything is incorporated.
Fold in the chocolate chips.
Set dough aside.
Assembly:
Pre-heat the oven to 350 degrees.
Spray the bottom of a 9×9 baking pan with baking spray.
Layer 1/2 the cookie dough on the bottom of a 9×9 baking pan, pressing down to form the bottom of the slutty brownies. (save other half of cookie dough recipe to make cookies, if desired….or….see notes)
Layer as many Oreos that will fit on top of the cookie dough. No need to overlap. One single layer will do.
Pour the brownie batter on top of the Oreo layer and make sure it's evenly layered on top.
Bake for 30-35 minutes. Test with a knife to see if the center is done. If the knife comes out clean, let the brownies rest before serving. If the knife comes out with batter still on it, allow the brownies to bake about 5 minutes more.
Notes:
Adapted from The Londener.
The lowdown on how OMT rolls:
I double this recipe and bake in a 10 x 15 inch pan because:
#1) Slutties freeze well.
#2) if I'm going to the trouble of making these, I want some stashed in my freezer for later.
If you double, you'll want to increase bake time by about 10-15 minutes (keep an eye on your brownies and pull out when toothpick comes out clean from center)
By "doubling" the recipe I mean that I only double the brownie portion, because the recipe already calls for cutting the cookie dough in half. If you double the brownie portion, you basically use an entire package of Oreos and the full cookie dough recipe. (let's be honest: if we half the cookie dough, we're just gonna eat it raw…salmonella be damned!).
*** To make things really easy, substitute the brownie recipe above with a package of brownie mix (two packages if doubling).
I use Ghirardelli Triple Chocolate mix, but feel free to use what you love.
~ A gentle reminder: OMT! uses Amazon referral links. When you do your shopping through the Amazon links on this page, you support the blog at no cost to yourself. It's much appreciated!~
Link to the brownie mix I use: Ghirardelli Triple Chocolate mix.
*** If you wanted to make things reeeeeaaaallllly easy, you can substitute brownie mix and cookie dough mix. No one will mock you for going the non-homemade route, but if they do, slam a brownie in their pie-hole to convert their black heart.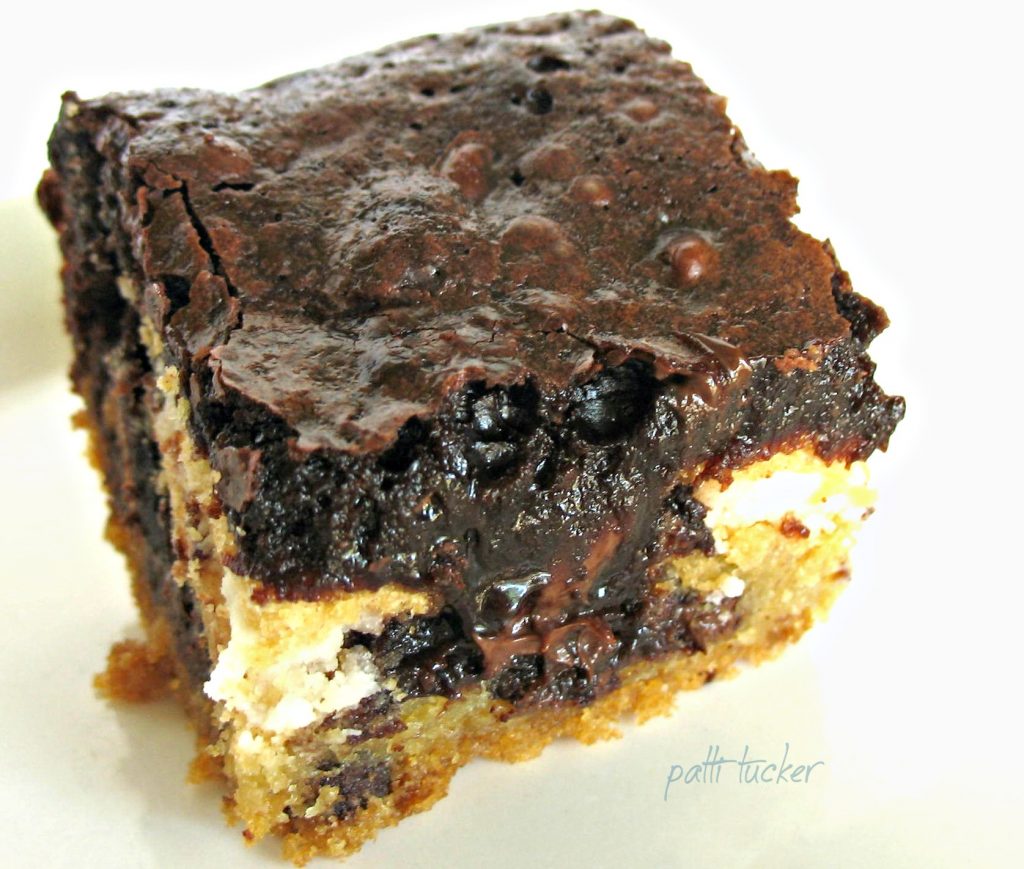 Seriously – loooook at it!
Stop wasting time, man. Get to the store. Grab ingredients. BAKE!
Then kiss your mother. She deserves something sweet, too.
Happy Baking!