It's gonna be a long hot summer, y'all. What better way to one-up the heat than surprising the family (or just you…however you wanna play this deliciousness) with homemade cookies? Better yet, with some no bake Chocolate Yummies.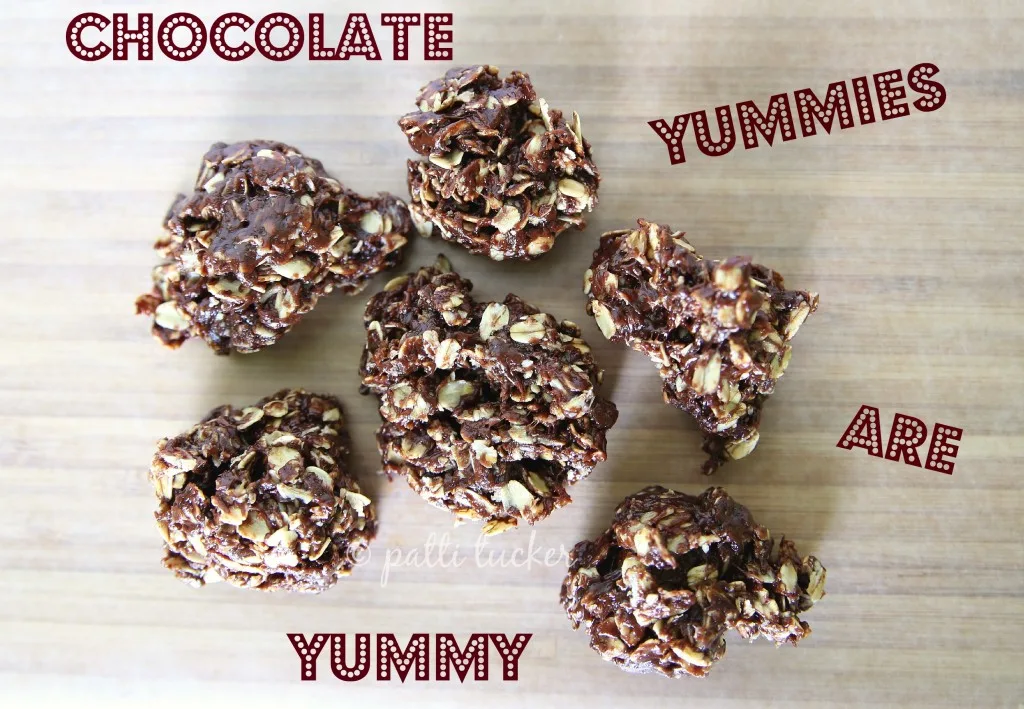 Take that oven set to 350°!
I've been making these as long as I've been baking (be polite now, don't ask). The German made them before me and was happy to pass along the recipe. Mostly, because I think she thought I couldn't burn down the house if I was determined to be in the kitchen. No oven = no burning house!
Little known OMT! fact: I'm a self-taught cook and baker. My earliest run-ins with cooking were not pretty nor edible; The German thought it best I refrained from anything but setting the table. It wasn't until I was out on my own that it dawned on me that maybe I should get the hang of that hot thang by the cold thang.
Little known OMT! fact: When I decide I'm going to learn something, I'm all in. Exhibit A. Exhibit B. Exhibit C. OK, I'll stop now.
Chocolate Yummies are one of my favorite cookies to make at Christmas. They are the simple and fast yin to the complicated and long yang of the season.
They're also a great first cookie for your budding bakers to attempt. They may need a little muscle when it comes to stirring everything together, but it will be so worth the smiles of their culinary I did it!
Let get to it. Try not to faint at the ridiculous easiness of the recipe.
No Bake Chocolate Yummies
Ingredients
12 ounces of semi-sweet chocolate chips*
2/3 cup of butter
32 large marshmallows
1 tsp vanilla
4 cups of regular rolled oats (not instant)
Instructions
Melt chocolate, butter and marshmallows in a double boiler; stir until smooth.**
Remove from heat.
Stir in vanilla and oats and mix thoroughly.
Drop by teaspoons (oh, who are we kidding...TABLESPOONS!) onto waxed paper.
Cool.
Notes
* Do not use milk chocolate. It doesn't come together properly.
** If you keep your flame on low and watch the pot carefully for scorching, you can use a big soup pot instead, which is how I do it.
https://ohmrstucker.com/no-bake-chocolate-yummies/
Here's what goes through my mind every time I make these and they're ready to eat, which is pretty much as they come out of the pot:
Eat.
Stop eating.
Well, just one more.
Oh, and these little pieces that don't actually make a cookie.
OMGosh, where did they go?
They're good for us, right? All that dark chocolate and oats.
Better make more.
Just one more. Gonna need my strength for all that mixing.
~and scene~
I've even been known to eat these for breakfast. Obviously, there's the health benefits of oats, and dark chocolate is an antioxidant, y'all! Chocolate Yummies = a great start to the day!
One more thing, before you leave me and run to your kitchen to make these. I store mine in the freezer. When I need a chocolate bomb, they're there for me. Crunchy and hard and satisfying. Some of my family thinks I'm crazy for eating them that way, but I suggest you give it a try.
Join me in the cool zone, wontcha?
Now, git. No bake you some cookies.