Brownies are one of my favorite types of dessert bars, but some times (not often) I like to branch out to see what the world of non-chocolate bars holds for me.
Oh hai, OMT's Salted Brown Sugar Butter Bars!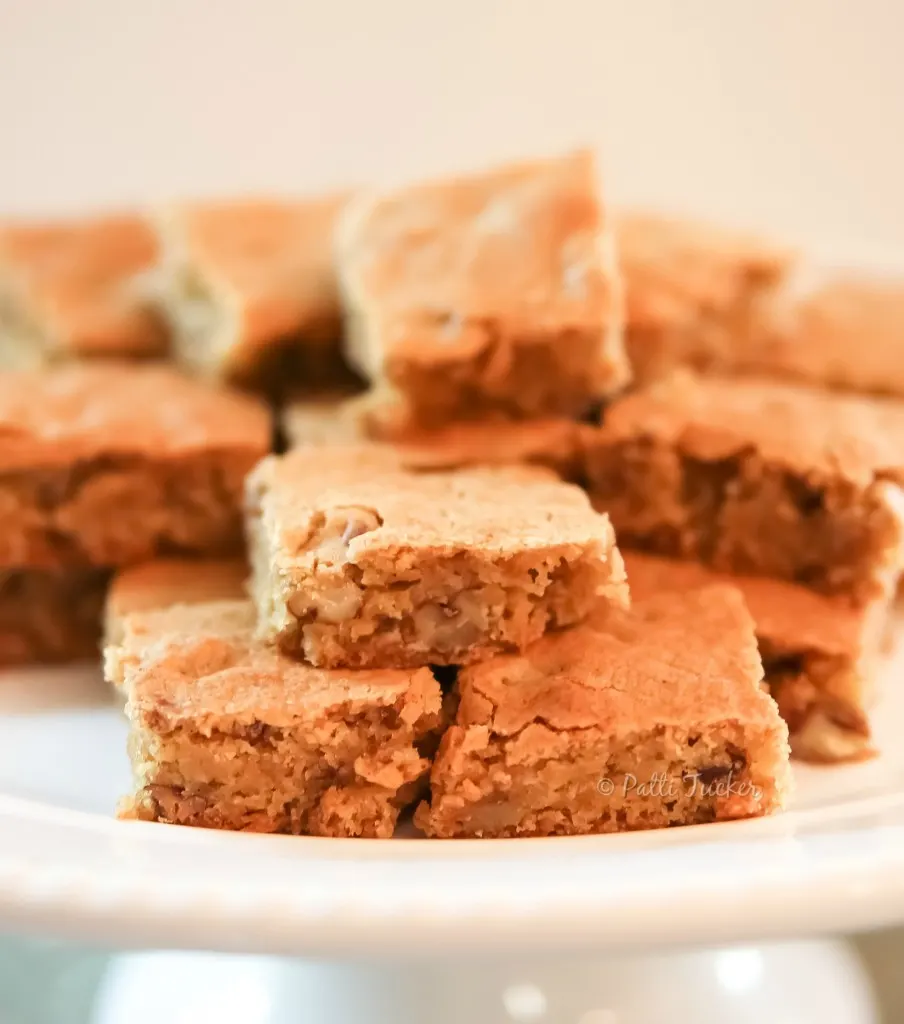 As y'all know, I never met a recipe I can't adapt or change to my family's preferences. This is one of those recipes. (can't. stop. changing. things.) Since Girl is not a huge chocolate fan, I'm always on the lookout for recipes that will give her a YIPPIE!
To the recipe!
OMT's Salted Brown Sugar Butter Bars
Ingredients
3 eggs, well beaten
1 stick of butter, room temperature (1)
2 1/3 cups of brown sugar, not packed
1 cup pecans, toasted and chopped
2 cups of all purpose flour
2 1/2 tsp baking soda
1 tsp salt
1 tsp vanilla
Instructions
Toast pecans, then cool and chop. Set aside (2)
Cream butter and sugar and vanilla. (3)
Add eggs and mix well.
Mix flour, baking soda and salt together and then add to sugar mixture gradually.
Stir in pecans
Pour into a 9x13 buttered pan. (4)
Bake @350° for 25-30 minutes.
Cool a bit before cutting into bars.
Notes
1: I typically take a stick of butter right out of the fridge, throw it in my KitchenAid mixer and set on high to mix/soften when I'm in a time-crunch.
2: I toast in a toaster oven set on 400°-425° for a few minutes (don't burn them!).
3: I find adding the vanilla with the butter and sugar allows a richer vanilla flavor.
4: You might question if you need a 9x13 pan (I did), because it doesn't look like the batter will fill it. It does.
Adapted from Night Owl Corner's Brown Sugar Brownies
https://ohmrstucker.com/omts-salted-brown-sugar-butter-bars/
After I made them, I couldn't resist eating one hot right from the pan. It made me wish I had ice cream in the house, because the hot bar + ice cream would have been to die. So good.
After I took pics of the bars for OMT!, and they were completely cool, I ate a couple more and decided the next time I make them, they'll get a topping. Say like a light cream cheese frosting or maybe a slather of melted chocolate chips or caramel. (can't. stop. changing. things.)
[Tweet "I'm always on the lookout for recipes that will give non-chocolate lovers a YIPPIE!"]
If you or the kiddies aren't fans of nuts, I feel certain you could omit them and still have a pretty good bar. Although, the nuts, especially when toasted, add a complexity of flavor that I loved, so I'll be leaving them in.
For a non-chocolate bar, I was happy to have made these. They are very Sea Salt Caramelesque and as usual, I like 'em frozen. Now you go make them for your non-chocolate lover and see if they don't agree.
Happy Baking, y'all!