Mrs. Tucker has been writing here, and referring to herself in third-person, for about eights months now. Some of you are new to the site (Welcome!) and some of you are gluttons for silliness and just can't get enough (Welcome back!).
As the days have run into weeks and and the weeks have run into months, I keep an eye on the popularity of the posts you see here on this site.
Posts about anything sweet are always a hit, but this one has been the absolute most popular: Chocolate. Brownie. Cream. Cheese. Frosting. As of this writing, the post has been Stumbled over 3,458 times!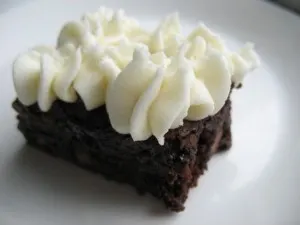 Some posts you probably rolled your eyes at because I totally underestimated your abilities (forgive me?): Skype Made Simple
You've opened your hearts to the What I'll Tell Sweet E series and I am humbled.
You've laughed along with me in the Perimenopause Can Suck It series and I'm so grateful that you weren't offended by the honest telling of this gut-punch of a life event.
You've indulged me as I've shared products that I've loved or will love (if Santa will just give in). Some of you have even supported this site with your hard-earned dough when you not only clicked on a link, but you bought from a link.
Do you know how that makes me feel?! It overwhelms me with your generosity. It makes me a careful nurturer of your trust. It delights me. It reminds me to only bring you the best, like this: Adult Big Wheel. (I think we should form an adult BW gang. Who's in?)
You haven't judged my failings (nope, still not done), you've let me keep it real, and you've allowed me to pass on some real world help for our babies and grandbabies.
Thank you, thank you, thank you, for all the love and fun you've brought to my life as well.
If you want to share your favorite post, I'd love to hear from you.
Come on…tell us!