The holidays are upon us and that may mean you'll be entertaining family, maybe family with babies. What a great time for an infant CPR and choking primer!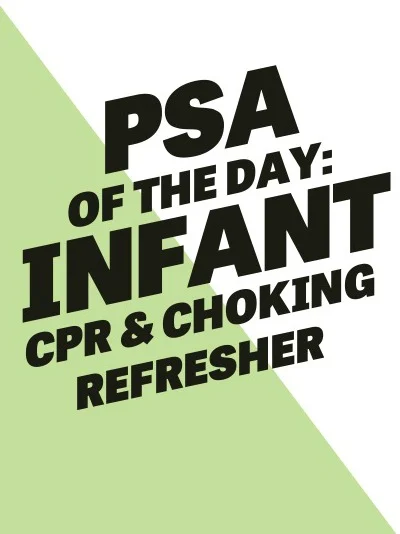 Y'all know I love a PSA. Check it HERE, HERE and HERE.
Years ago, I worked in a hospital and we had to take CPR classes regularly. Today, I feel I could successfully perform CPR on an adult in an emergency. But, what about babies or small children? Their needs are different, and the techniques for CPR or choking, modified.
To the film! Someone get the lights:
NOTE: Rescue breaths given to an infant are smaller, just enough to see their chest rise.
Here are two good sites to reference for more info:
Infant first aid for choking and CPR: An illustrated guide
Infant CPR and choking aren't the most pleasant topics, but ones that needs to be periodically addressed.
Thank you for taking the time to read through the post. Hopefully, you'll never need to perform infant CPR (it's more likely you'll have to respond to choking), but if you do, you've got the information you need.
Now go enjoy this holiday season confidant that you can save the day…if necessary.