These drool-worthy oatmeal cookies are made exclusively with coconut palm sugar, which is touted as having a lower glycemic index than white sugar.
Looky: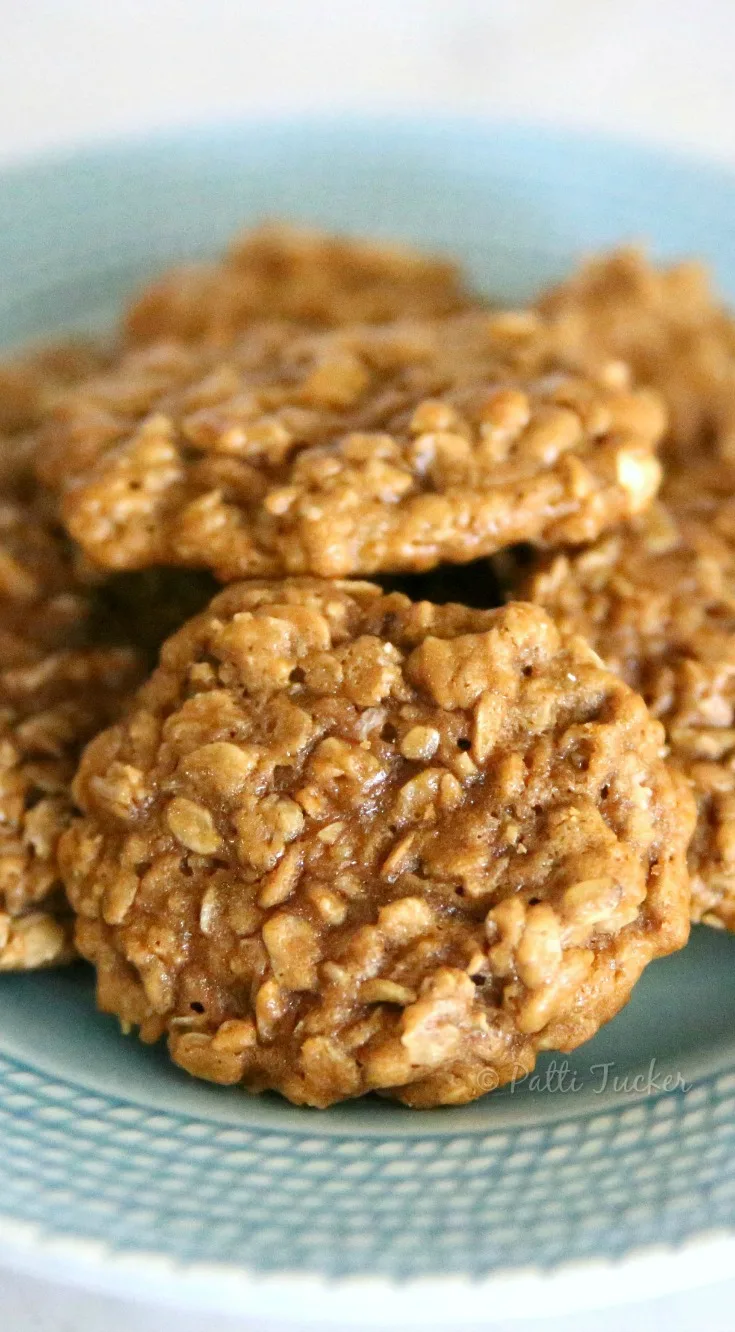 Oh, momma!
I figured if it has a better glycemic index, lower than white sugar (there's controversy whether that is true or not), that's a plus.
It does have some nutrients and antioxidants, also a plus. It contains a fiber called Inulin, which may slow glucose absorption and prevents the highs and crashes sugar causes.
Dr Weil's take: "…coconut sugar is 70 to 79 percent sucrose and only three percent to nine percent each of fructose and glucose. This is an advantage, because you want to keep your consumption of fructose as low as possible, and cane sugar is 50 percent fructose."
Sounds good. But then, "Overall, there isn't much difference between white table sugar and other natural sugars including coconut, honey, maple syrup (my personal favorite), molasses and sorghum. To the body they are all sugar to be converted to glucose for metabolic fuel."
Coconut Palm Sugar Oatmeal Cookies
Ingredients:
1 3/4 cups all-purpose flour
3/4 teaspoon baking soda
3/4 teaspoon baking powder
1/2 teaspoon salt
1/2 teaspoon Siagon cinnamon
1/2 teaspoon freshly ground nutmeg
1/2 lb butter, softened
1 3/4 cups coconut palm sugar
2 large eggs
2 1/2 teaspoons vanilla
1 1/2 cup Craisins (optional)
3 1/2 cups old-fashioned rolled whole oats
Instructions:
Preheat oven to 350°F.
Whisk together thoroughly flour, baking soda, baking powder, salt, cinnamon, and nutmeg.
Beat butter, coconut sugar, eggs, and vanilla.
Combine flour mixture into butter mixture until well blended.
Stir in Craisins (optional) and oats.(1)
Drop by spoonfuls, about 3 inches apart, onto cookie sheet lined with parchment paper. (2)
Bake at 350°F for 9-11 minutes.(3)
Remove cookie sheet and let stand for a minute or two until cookies are slightly firm, before transferring cookies to wire racks to cool.
Notes:
1) I have subbed with raisins and chocolate chips, but my favorite substitution is chopped dried apricots, which I'm generally not fond of, but in these cookies…WOW!
2) If you've never used parchment paper, DO NOT BE AFRAID! Go get some and use it, my babies. It is wonderful. Clean up consists of wadding up the paper and tossing! The best part though, is that the cookies bake more uniformly when you use parchment paper. Get some; bake like a boss!
3) Purists will tell you one sheet of cookies in the oven at a time. BOOO! OMT! is a busy gal, and I bet you are too. I always throw caution to the wind and bake two giant sheets at a time. This means that cookies may need to bake a bit longer than 9 minutes. Keep an eye on the first sheets you throw in and bake accordingly.
BONUS NOTE! Of course you can use regular cinnamon and nutmeg, but these two particular ingredients, as written, are the secrets to these cookies being perfect…step outside your comfort zone and try it!
Happy Baking, my babies!
Please share this post with all your oatmeal cookie-lovin' peeps!